J.D. Power Award Winner
"Highest in Customer Satisfaction with Freestanding Ranges"
A Microwave Design That Brings the Heat
LG NeoChef™ countertop microwaves have reheating down to a science. Enjoy better defrosting without overcooked edges thanks to the precise, even heating of LG's Smart Inverter.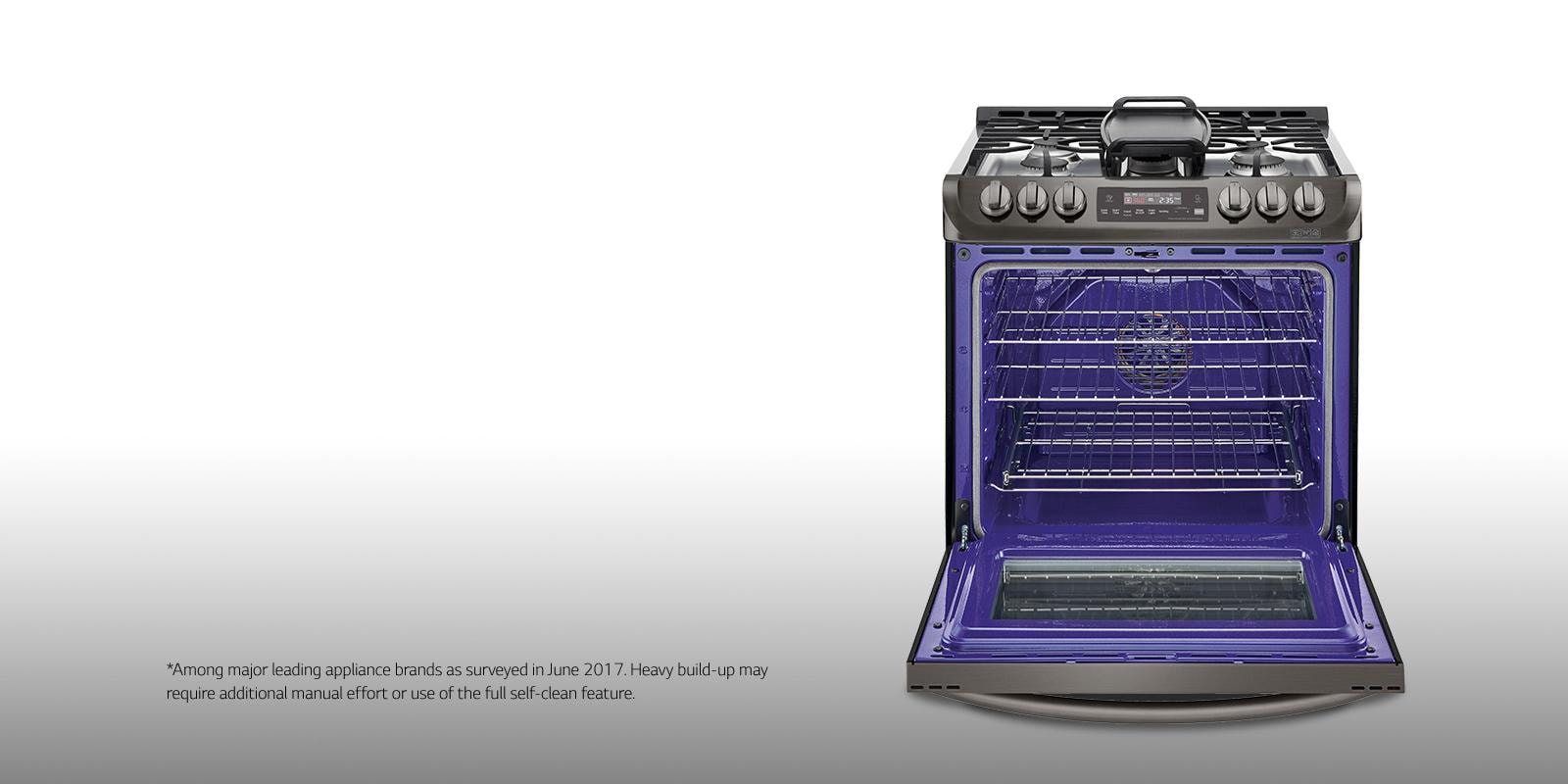 10 Minutes. 1 Spotless Oven.
Enjoy a sparkling clean oven without strong chemical fumes or high heat using LG EasyClean®, the only 10-minute oven cleaning cycle technology.*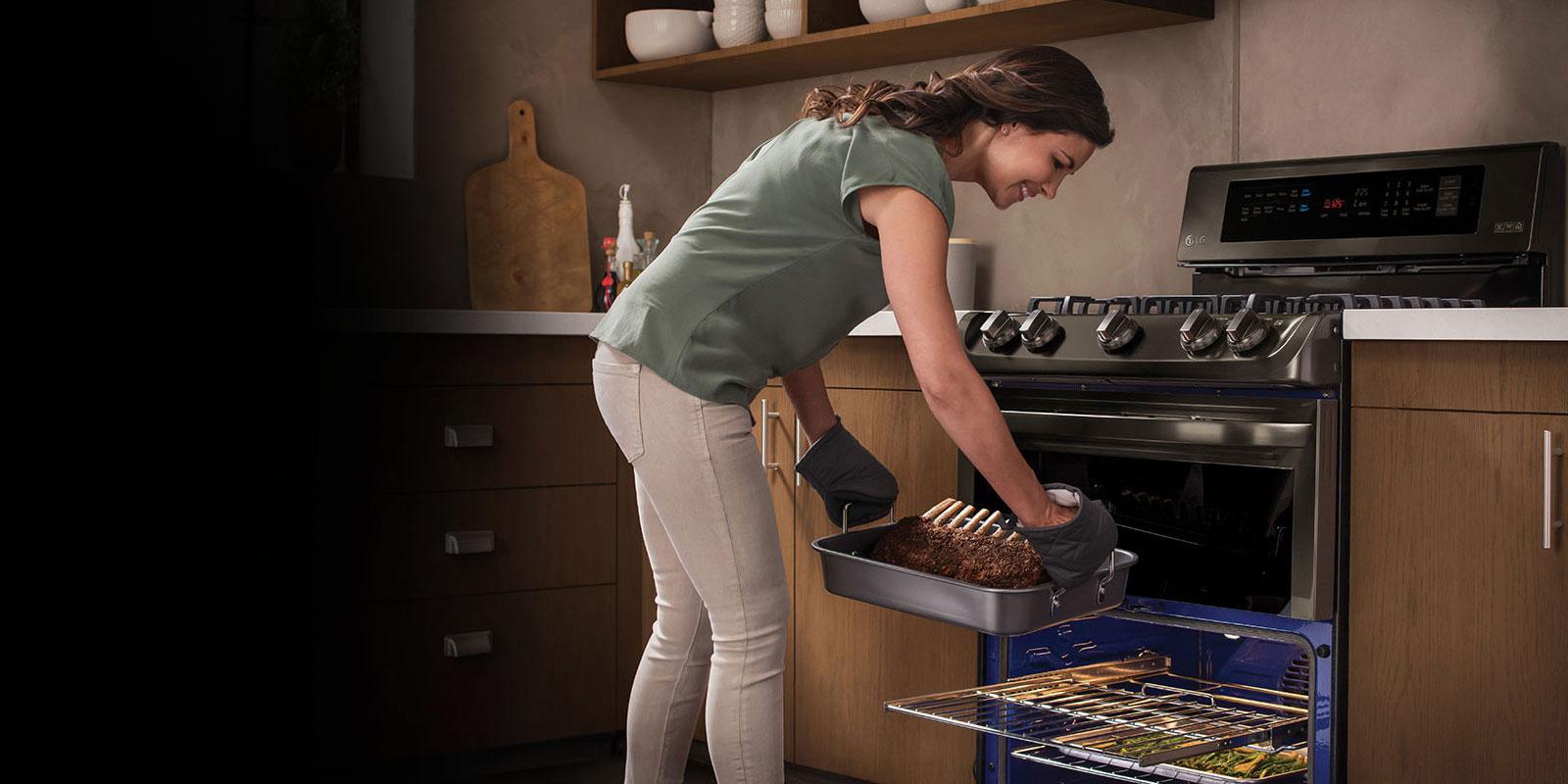 From Rare to Well Done, It's Always Done Well.
With innovations like ProBake Convection® and high-powered cooktops, LG cooking appliances will give you that perfect golden crust, savory roast or velvety smooth sauce every time.
TIMELESS. BOLD. YOU.
Make a statement with LG STUDIO appliances by Artisitic Advisor Nate Berkus.
Save Big This
Fall Season

Check out the latest offers on LG
refrigerators, ranges, dishwashers and more.

Selecting a checkbox will update the products displayed on screen.
Refine Your Search
62
Total Results
All Cooking Appliances
Create the kitchen you've always dreamed of. LG cooking appliances perfectly blend form and function -- giving you stylish designs and innovative technology that will bring your culinary skills to a whole new level.
WHAT CUSTOMERS ARE SAYING
Average Rating for All Cooking Appliances
Nice Style/Design

Liked the slide-in models from an appearance perspective much better than the traditional style. Did look at several traditional from various manufacturers. Liked the cooktop layout better on this one overall. Nice usage of space. Oven is pretty large. However, due to the oven size, you do lose a good bit of space in the drawer underneath - if you previously stored pots/pans in that compartment. So you'll be relocating several of those. Features are excellent. Initially didn't think we'd like

...

read more

the controls on the front, but actually do. And for those postings that indicate a safety issue with knobs turning by mistake, I'm not sure I agree. You do need to push in to turn, so not as much of a chance. And if concerned with kids doing, well, perhaps other issues instead... :-) Haven't used much to date as just received a few days ago. Would recommend based on experience so far.

Sweepstakes entry received for review.

love the slide in design without traditional back.

bought this 2 months ago and pulled out the new Cuisinart pots and pans. if the stove top gets dirty, I clean it right away with the liquid paste provided and the scrub pad..so it needs to be pampered. convection oven has improved my cooking results.

Sweepstakes entry received for review.

Attractive Styling

The stove is very attractive. Have had it 2 months. Cooks and bakes well --have only used the regular bake so far (not the convection). When broiling using the top rack you can't see the food through the door -- must open it to look. The heating rings on the cook top are hard to distinguish (until they light up). The storage draw is very small. The Weiman's glass top heavy duty cleaner and the glass top wipes do a good job of keeping the top clean (the wipes are especially good for quick clean ups.)

Sweepstakes entry received for review.
efficiency

The size an shape of this microwave is perfect for any countertop. The walls literally shed any food that might be spattered when heating. It also runs quieter than my pervious microwave which is definitely a plus.

Very Easy to Use Microwave

I bought this microwave for my parents, to replace their very old microwave (which was starting to act up on them). It is very light weight, just had to take it out of the box and plug it in. Easy to set clock and was using in less than a minute! My parents only use the time setting so all the automatics are of no use to them, but I found them to be very easy to use, and the manual was easy to read when I did have a question about one of them. The only item they had problems with was...the

...

read more

numbers were small and hard for them to read. This is the black microwave, so I added WHITER/BRIGHTER numbers over the ones on the Microwave and they have NOT had a single problem. They love it!

Great Features

One of the few compact microwave ovens with an interior Light. Very efficient power usage, quick even cooking. The 12" turntable & 1.1 cubic feet interior volume are each the largest for this class, while the exterior dimensions are the smallest. I have only two concerns: The surface touch control screen is unlighted, and the numeral/buttons are "shadowy" and that makes it difficult to read, particularly in a darkened room. The oven is susceptible to loud vibrations, particularly when using

...

read more

low power (pulse) settings.

Sweepstakes entry received for review.
Awesome!

I bought this range for the convection and proofing features as well as the smooth top, all of which work great, but there are so many other great features. I also love the blue oven interior that lets you see when it needs cleaning as opposed to just a black hole. The quick clean cycle makes oven cleaning a breeze! Love it! I don't think I have ever had such a clean oven before. Alarms are not just beeps but short tunes that even my hard-of-hearing husband can hear! Oven temp can be switched

...

read more

between Fahrenheit and Celsius. Cook time is another great feature where the oven shuts itself off once the time runs out. I really love my new range, and the price was right, too.

Sweepstakes entry received for review.

It had me from hello

Cannot get over how great this stove is! I could not get a gas stove in our house and this electric proved to be the one that did win me over to electric cooking! And to have such pleasant sounds to let me know all the important stuff!!! AND THE BLUE INSIDE!!!

Sweepstakes entry received for review.

Have used this stove for 6 months and it is great. No issues with regular bake or convection. Stove top heats up fast and as pre a glass top it does hold the heat for awhile. Lots of oven space. Purchased this prior to remodeling our kitchen which we are just about done with.

Sweepstakes entry received for review.
My first new stove ever! And I love it!

We converted to gas in our new (old) home to convert our furnace and for a gas range. I've always wanted a double oven and now I have one. It's terrific in all respects so far. I would recommend it to anyone.

Just Installed

We are in the process of redoing the kitchen. I had to get a cook top as the new granite was being installed. I was looking for a 5 burner to replace the 4 burner that we have and be stainless. I ordered online without looking at one and what a great surprise when we opened the box. The look is just what we were looking for. Love the heavy cast grates and the 5 burners. Be warned this is stainless and the grates are cast and will scratch the appliance if you are not careful. The LED on the

...

read more

controls is a great bonus. With the low simmer setting it is easy to forget that it is on. If it performs and good as it looks this will be a top rated appliance in our house. Now just have to buy 4 more to finish.

Works well, except for the worthless knobs

in less that two years we have had every knob on this cook top break. First off, we like how well it works and the overall design. Our daughter has not yet learned to turn down the heat when she is cooking soup, pasta, etc and the boil overs are easy to clean. The individual burners are quick and easy to put back into place with little fussing to get them re-aligned to their proper position. I have had zero issues with this cook top EXCEPT for the knobs. They are absolute garbage. They look very

...

read more

nice when new, there are three little blue LED lights that light up when you turn on a burner and the light shines through the top of the knob. It never occurred to us that LG was using cheap plastic to make these knobs when we bought the cook top. Using plastic is not necessarily bad, but when every one of them has broken in almost the exact same spot where the knob attaches to the stem, its pretty obvious that its either a design flaw, or inferior materials were used. Given the rest of the cook top is well designed and has not had a single problem I think LG went too cheap with the knobs.
LRG3081ST Gas Range

Looks sharp and performs as advertised. The Wife LOVES it

Sweepstakes entry received for review.

Great stove!

This stove was part of an appliance package I purchased and it hasn't disappointed! I love the looks of it, the design of the top and the heavy steel burner grates. They are a bit heavy but very durable and sturdy. I found that if I wipe them down with a damp cloth after cooking a meal, the grates look nicer and they don't get all stained up and discolored from food dropping, splattering or spilling. The oven seems to be baking at perfect temperatures, heats up quickly and it's nice to have the

...

read more

option of using the convection or not. I love this stove!

Sweepstakes entry received for review.

Amazing

I got this stove prior to moving into my new home, got to use it for the first time last night and it was so easy to use, so easy to clean and large enough for almost any large meal.

Sweepstakes entry received for review.
Finally, my gas range!

I have been wanting a gas range for many years, but something always pushed me to the electric. Finally, it was time for the gas. We have been so happy! Oven and burners heat up quicker. The controls on all burners are easy to regulate and it is an easy stove to keep clean. As one friend said, "that looks like a professional range."

Sweepstakes entry received for review.

picture misleading

Bought this item 11/23/2016. Loved features. When opened door and found no sliding rack as the picture shows I was disappointed to say least. That was one of the reasons I purchased this model number. They need to take the open door off their picture or tell people the sliding bottom rack is optional.

Sweepstakes entry received for review.

Great Features

I bought this range about a month ago and love it. We considered the double oven but so glad we got this one as the oven is so large and comes with 3 racks. It cooks food evenly and we love the blue interior. I have used the griddle a couple of times and love it, didn't dirty my stove top too much. Really enjoy the different burners and their different options for flame strength.

Sweepstakes entry received for review.
great appliances, we bought 4 products

Bought LG dishwasher ( you can barely tell it is on , very quiet ) LG French Door Refrigerator , great functions, adjustable shelves, also very quiet, LG Range with convection, Best oven we ever had!! Period!! Cleans like a breeze with steam no hard detergents. Cooks everything in 30-40% less time!!! Everything tastes better. LG Microwave. Works great easy. We love the little "song" the dishwasher and the oven make when you turn them on.. Just great professional products. Perfect appliances !

Sweepstakes entry received for review.

So far, it's excellent

Have only had it a month, but, so far, I'm very pleased. This is my first foray into cooking on a glass top stove and that's proving to be a big learning curve me - but I think it's glass top cooking, not the stove. The reason I chose this particular model is because I wanted the knobs on the front of the stove and did not want to have to reach across the cooking pots to get to the controls. But you have to do that anyway for other controls, so it probably didn't matter. I like the stove,

...

read more

how it handles and how it looks - love the fact that it offers regular and convection baking.

Sweepstakes entry received for review.

Great stove

It looks great. I love where the knobs are, it looks like a gas stove. Many, many, many great compliments. It cooks fantastically.

Sweepstakes entry received for review.
So far so Great!!

I purchased this less than a month ago, so far it works so Good!

Sweepstakes entry received for review.

Very nice appliance

This is my first LG stove and I am really enjoying it! It has cooked and baked everything to perfection. My only small complaint would be that I wish the knobs had a safety feature so that they could not be turned on so easily. I have accidentally turned the knobs on several times by simply brushing up against them or leaning over them to reach something in a cabinet above the stove, only to smell gas a few seconds later. Otherwise, I'm quite happy with everything else.

Sweepstakes entry received for review.

Love this stove!

We bought this a couple months ago. My wife has wanted a gas stove and has not been disappointed. It is a really nice stove!

Sweepstakes entry received for review.
Large, easy-to-clean interior, works well

We do like most of the features and love the interior for space and easy clean-up. The worst feature is the hard-to-read touchpad. It should've been either back-lit or have a brighter print color. Most of the time we need to turn on an overhead light to read the panel. Maybe LG can come up with a brighter decal overlay to place on the touchpad panel? The button to depress to open the door is also a little bit clumsy/awkward to use. Seems like it's too narrow and that you really have to depress it evenly.

Better & More Powerful Than Expected

I purchased an LG microwave counter top oven after my old microwave bit the dust. The LG is rated identical to my old unit, but the cooking time is 1/3 faster. It fits on my counter top perfectly even though it is 2 cu ft - one of the largest made. Good looking and easy to operate. Much more than I expected from a microwave oven. I live alone and depend on my microwave for breakfast, lunch and dinner and even a bag of popcorn as a snack. Great value for the money.

Sweepstakes entry received for review.

Excellant Puruchase

We really like this unit. It is very quiet and easy to use. I especially love the soften and melt features!

Sweepstakes entry received for review.
LG Product Service and Support
Get your questions answered about product setup, use and care, repair and maintenance issues. We can help.
Telephone
Call an LG Support Representative.
(800) 243-0000 Consumer (7am-midnight CST)
(888) 865-3026 Commercial (8am-6pm CST)