J.D. Power Award Winner
"Highest in Customer Satisfaction with Freestanding Ranges"
A Microwave Design That Brings the Heat
LG NeoChef™ countertop microwaves have reheating down to a science. Enjoy better defrosting without overcooked edges thanks to the precise, even heating of LG's Smart Inverter.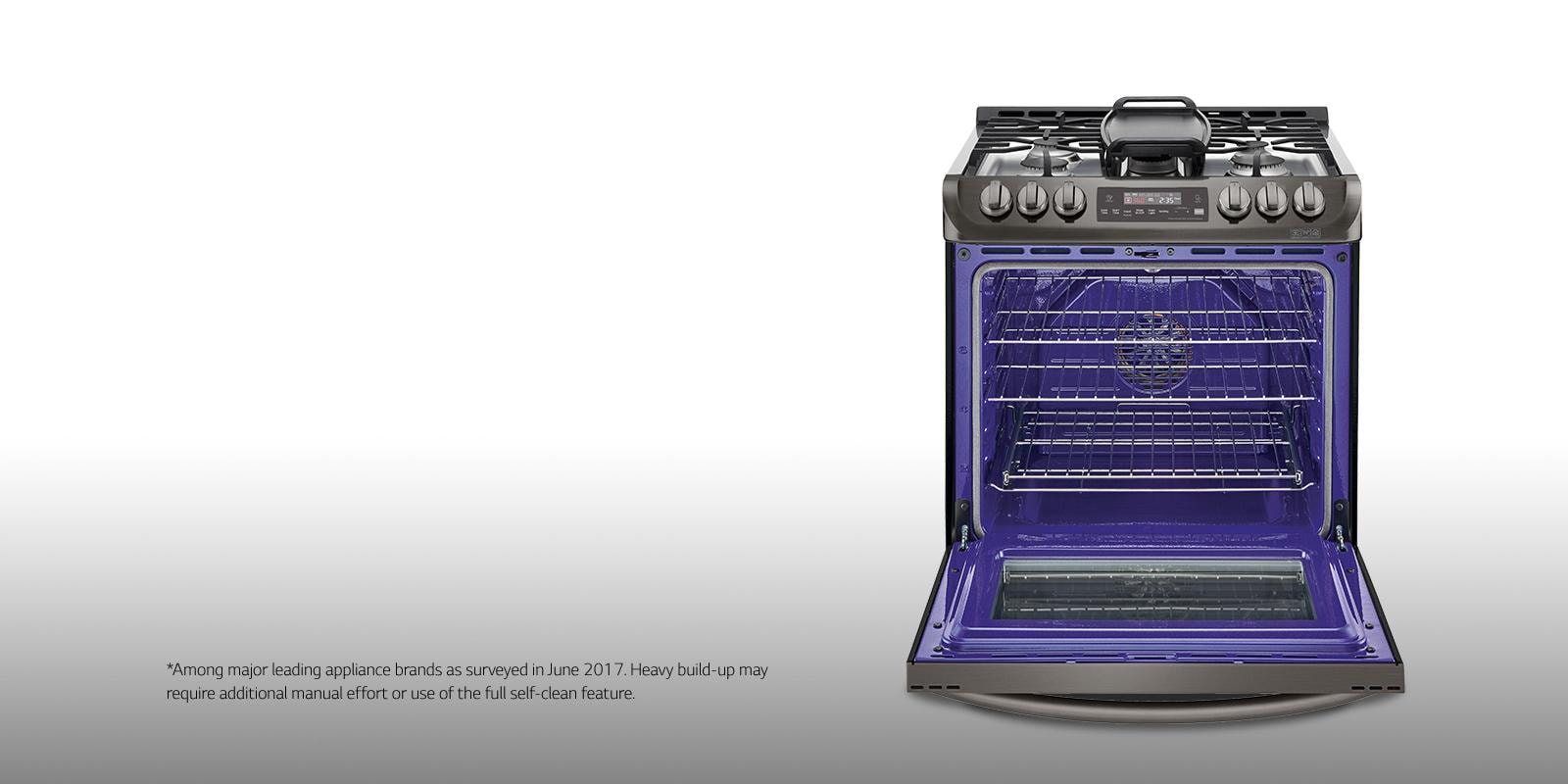 10 Minutes. 1 Spotless Oven.
Enjoy a sparkling clean oven without strong chemical fumes or high heat using LG EasyClean®, the only 10-minute oven cleaning cycle technology.*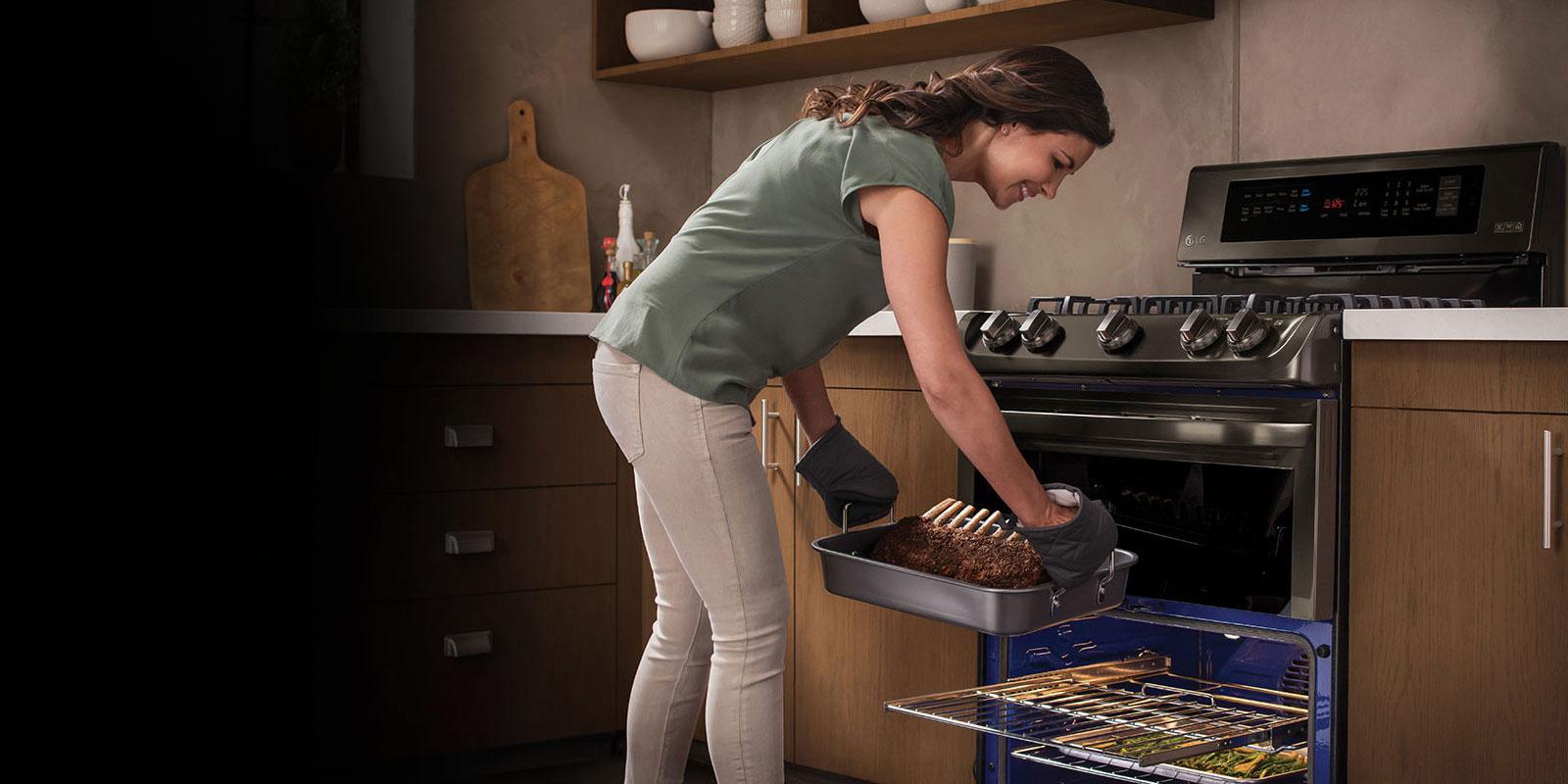 From Rare to Well Done, It's Always Done Well.
With innovations like ProBake Convection® and high-powered cooktops, LG cooking appliances will give you that perfect golden crust, savory roast or velvety smooth sauce every time.
TIMELESS. BOLD. YOU.
Make a statement with LG STUDIO appliances by Artisitic Advisor Nate Berkus.
Bundle Up More Black Friday Savings
Save an extra $300 after rebate with Black Friday savings when you buy an LG 4-piece kitchen bundle.
Selecting a checkbox will update the products displayed on screen.
Refine Your Search
65
Total Results
All Cooking Appliances
Create the kitchen you've always dreamed of. LG cooking appliances perfectly blend form and function -- giving you stylish designs and innovative technology that will bring your culinary skills to a whole new level.
WHAT CUSTOMERS ARE SAYING
Average Rating for All Cooking Appliances
Quick to heat up

Compared to my last stove/oven, this brand/model is super quick on heating up. Last one (major store brand) would take 3xs as long to preheat. The only downfall I have with this LG is the front oven control knobs. They are easy to turn on just by leaning on them to reach up for something. LG definitely needs a better locking mechanism for these.

Sweepstakes entry received for review.

Love it

Only had it a couple of days. So far I love it. Very handsome. Love the double ovens blue interior. Have to watch the cooktop knobs in front. If u unconsciously lean against one they can easily turn on a burner without your being aware. Not a big problem. Just be aware of it.

Sweepstakes entry received for review.

Nice double oven!

Our oven died 2 days before Christmas and we had to get a replacement quickly! We shopped around and the only one we could find in stock was this LG double oven. I was a bit skeptical of the flat top electric stovetop but boy have I grown to love it!! The burner size is adjustable and fits my extra large cast iron skillet. It cooks so evenly! I LOVE the double oven and the setting options. I'm so glad we wound up with this oven!

Sweepstakes entry received for review.
Perfection!

After getting rid of my 27 year old electric range/oven that came with my house, I had this new LG range installed. It had all the new features I was looking for. Front controls, glass top burners, and electric and convection oven with self clean feature. So far, it's everything it claims to do. I love the tunes it plays when it gets to desired temps, and it cleans easily. I haven't had it long enough to use the self cleaning feature, but plan to use it soon. I'm looking forward to making my

...

read more

Thanksgiving meal in and on my new range. I can't help it, but honestly, every time I open the oven door and see that beautiful blue color, it makes me smile!

Sweepstakes entry received for review.

heats up very quickly

We are very happy with the LG line of products. We purchased a stove dishwasher microwave and fridge and are very happy with all of them. Our friends went out and bought the same set!!!

Sweepstakes entry received for review.

Glad we bought it!

After reviewing many brands of kitchen stoves it was clear that on paper I liked this one. After seeing it in the store I was convinced that this was the one for us. I have had it two weeks now, it is very easy to clean, the burners heat up quickly as well as the oven. It looks great in the kitchen. Very satisfied.

Sweepstakes entry received for review.
efficiency

The size an shape of this microwave is perfect for any countertop. The walls literally shed any food that might be spattered when heating. It also runs quieter than my pervious microwave which is definitely a plus.

So Easy To Use

I love this microwave!!! It is so easy to use and the auto cooking times and temps are spot on....it is the perfect size for my countertop and looks great with my other appliances....and one thing that is not mentioned is the easy clean, non-stick interior...it is so easy to just wipe with a damp sponge...food really does not stick! Best Christmas present I've ever bought for myself!

Sweepstakes entry received for review.

nice looking microwave

Running noise a little louder than I would expect but then I'm no expert on how quiet a microwave should be. Only problem is the power level button stopped working when you push it. It stays on Hi (10) and won't reduce to 50% or what ever you need. It does heat food properly so I can live with that.
elegant looking

I've had the stove for a year. It looks wonderful combined with the other black stainless appliances. I still am not used to the touch controls requiring several touches to get to the temperature setting I want. It does heat up very quickly! The oven is not all that easy to clean. They include a spray bottle to use steam to clean the oven, but it still requires reaching into the oven to scrub off the residue. Having some physical limitations makes that difficult. The blue is pretty, however.

Sweepstakes entry received for review.

Good quality at a very fair price

I like all the features and the cool color of the inside of the oven. The proof and warm feature is also a plus, the broiler only has a high & low temperature adjustment .The large display is also a plus I would say you can't go wrong purchasing this Range.

Sweepstakes entry received for review.

Beautiful, easy to use and very modern

We bought this to improve our kitchen as we are selling our house. Now, I don't want to leave it. It looks so good, and the touch screen controls are a dream. It seems to boil water at light speed. I literally am disappointed with every new house's kitchen we view because they have new stainless ranges, but not as good as mine. I'm trying to plot buying a new house, switching ranges and then selling mine. Wish me luck. :) It actually plays a little tune when the oven reaches temperature.

Sweepstakes entry received for review.
Cooks well, but controls have some issues

We have had this range for awhile and it cooks very well, but we have some issues with the controls. The top elements are quite easily turned on if you lean over the stove. Our microwave is above the range and reaching to get food in and out of the microwave has resulted in accidental actuation of the top elements. The oven timer and oven on/off buttons are next to each other and easily confused. We frequently turn off the oven when we meant to turn off the timer. The oven on/off buttons

...

read more

should be on the far left side of the control panel where the rest of the oven controls are located and the timer buttons on the far right.

Sweepstakes entry received for review.

Looks good

Burners work very quickly and generate quite a lot of heat. I like the controls for the burners in the front instead of the back but have to be careful not to lean on them and accidentally turn them on. The stove top is easy to keep clean. I'm not impressed with the ovens. The fan in the back of both seems to produce uneven heat. Everything is burned on that side unless it is rotated frequently. The pizza function has never worked satisfactorily through many trials. I don't use it

...

read more

anymore. The cleaning feature with steam is a nice feature for very lightly dirty surfaces.

Sweepstakes entry received for review.

Learning Curve - but good experience

I've had this range a few weeks. Great Features. Infrared cooking is certainly different. One must get used to it, but it's an asset. It cooks more slowly than regular electric heat, but that's more of a plus than a minus. I baked Cornish hens in the convection oven but found it no faster than a regular one. I miss the drawer on the bottom for skillets; even though I'm only 4'11", I find it inconvenient to all but get onto my knees on the floor to insert and remove items from the lower

...

read more

oven, which is the largest. I find that due to the positioning of the racks, and the small windows on both oven doors, even with the light on, you cannot see your food while baking. Still, it is a learning curve. I am anxious to use the infrared broiler on fish. I bought on a friend's recommendation and it had a small dent in an inconspicuous part - so I paid half price. Not sure I would have spent full price on it. I find it rather awkward.

Sweepstakes entry received for review.
Love the double oven

Flexibility with the double oven is great. I can use the small upper oven for individual items and save on the utility. Both being available with separate temps will be great for larger meals. The only thing negative is the knobs turn on too easily for the burners when not wanted. They should have to be pushed in to use or better placement

Sweepstakes entry received for review.

I love it

I bought this a few weeks ago and I love it. It preheats so quickly and bakes all of my cookies and cakes perfectly. I love that I can use both ovens at the same time to bake.

Sweepstakes entry received for review.

I love this stove

Purchased this stove several months ago and love it. So easy to cook, bake and clean. The best one on the market.

Sweepstakes entry received for review.
Love this range

I love the way this range bakes and convection bakes. Love the blue interior and it's so easy to keep clean. The front-mounted cooktop controls are excellent and so much easier to use than the models that have the controls on the back. The burners heat up very quickly and glow an impressive red. The clock is very accurate. I love the chimes that sound when the oven's set temperature has been reached. My only nits are that the glass cooktop is very difficult to keep clean and streak-free and the

...

read more

timer is could be a little more intuitive. Otherwise I just love this range and would buy it again in a heartbeat. Highly recommended.

Sweepstakes entry received for review.

great appliances, we bought 4 products

Bought LG dishwasher ( you can barely tell it is on , very quiet ) LG French Door Refrigerator , great functions, adjustable shelves, also very quiet, LG Range with convection, Best oven we ever had!! Period!! Cleans like a breeze with steam no hard detergents. Cooks everything in 30-40% less time!!! Everything tastes better. LG Microwave. Works great easy. We love the little "song" the dishwasher and the oven make when you turn them on.. Just great professional products. Perfect appliances !

Sweepstakes entry received for review.

So far, it's excellent

Have only had it a month, but, so far, I'm very pleased. This is my first foray into cooking on a glass top stove and that's proving to be a big learning curve me - but I think it's glass top cooking, not the stove. The reason I chose this particular model is because I wanted the knobs on the front of the stove and did not want to have to reach across the cooking pots to get to the controls. But you have to do that anyway for other controls, so it probably didn't matter. I like the stove,

...

read more

how it handles and how it looks - love the fact that it offers regular and convection baking.

Sweepstakes entry received for review.
Good stove

We bought this stove about 6 months ago. I really like this range, but it is hard to keep clean. Every time you use it, you have to take off the grates and clean it. It is not hard to do, but sometimes just a pain. I finally found the secret to make it easier, just use a wet cloth, no soap, and wipe it out and dry it. Looks as good as new when done. It takes some getting use to with the open grates. Also, the timer is harder to use, it only goes to 59 minutes. I think they should change

...

read more

that and make it easier.

Sweepstakes entry received for review.

Best oven ever!

Ok, I admit that the blue interior is one of the reasons we bought this particular oven. It makes me happy every time I open the oven door. But it has everything going for it. The convection setting bakes everything perfectly, and with less heat than the normal setting. The burners are the right size in the right places. The timer has taken some getting used to. On previous ovens, I could set the time and walk away. On this oven, I have to push the timer button again after setting the time.

Sweepstakes entry received for review.

Love the blue

I bought this oven last month and love it. My previous oven would never get up to temperature and I dealt with that for 7 years!!! Baking was difficult if not impossible. The inner blue color is just fun too. Makes me happy when I open the door.

Sweepstakes entry received for review.
Beautiful

This range bakes, fries, broils to perfection. It is beautiful as well. So happy for this range. Now to save for the fridge.

Sweepstakes entry received for review.

Great appliance

We have been needing a new stove for some time now. I fell in love with the blue interior. My husband liked all of the other features this stove offered. Great product. Great price!

Sweepstakes entry received for review.

Beautiful

I love this oven. It bakes and broils to perfection. Such a well designed and beautiful oven. Now on to the LG French Door fridge.

Sweepstakes entry received for review.
LG Product Service and Support
Get your questions answered about product setup, use and care, repair and maintenance issues. We can help.
Telephone
Call an LG Support Representative.
(800) 243-0000 Consumer (7am-midnight CST)
(888) 865-3026 Commercial (8am-6pm CST)