Freshen Up Your Appliances For Spring
Shop now and enjoy big savings on qualifying LG washers, dryers, refrigerators and ranges just in time for spring.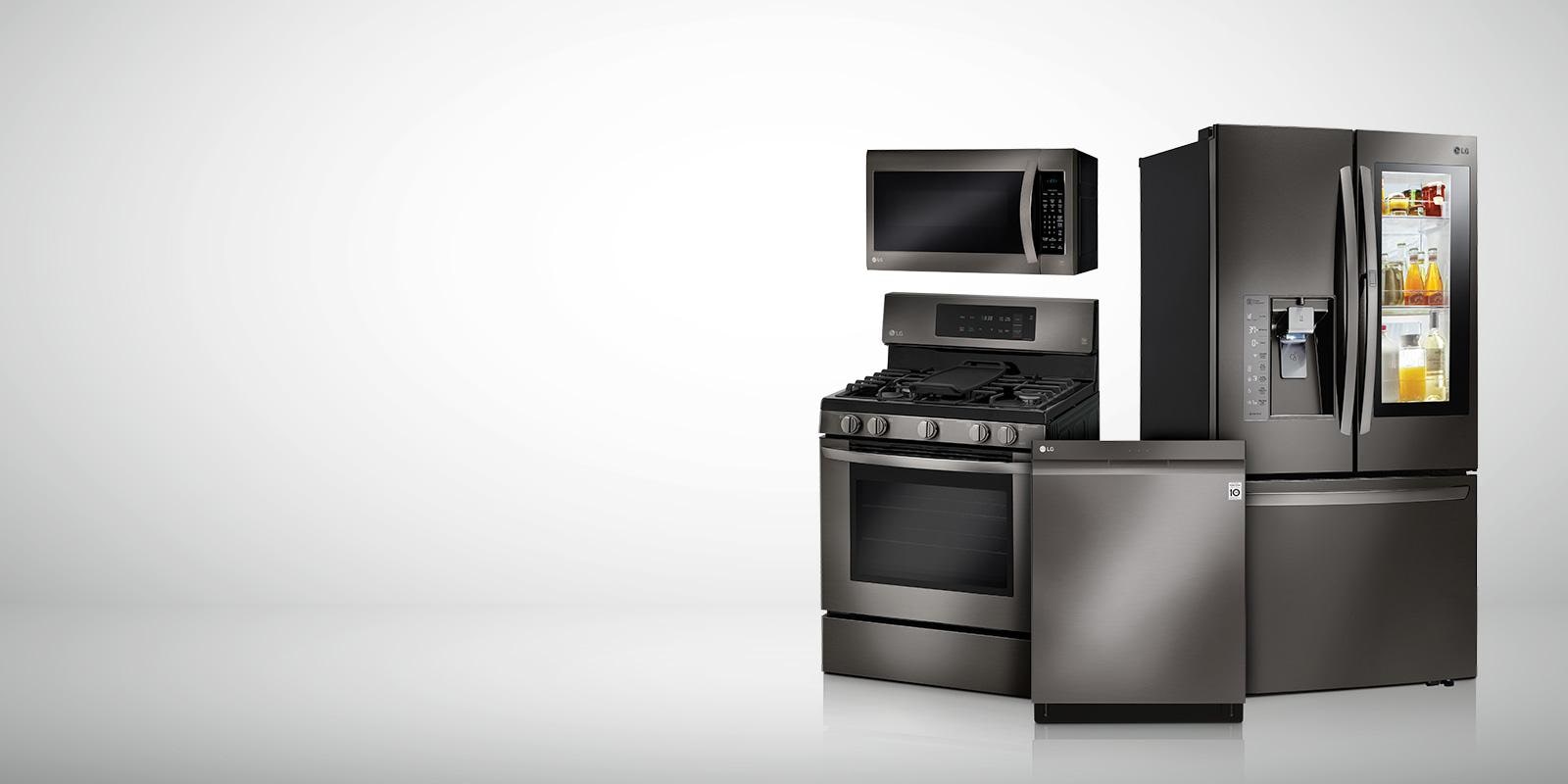 Buy More Save More Kitchen Bundle Offer
Get an LG Visa® Prepaid Card worth up to $500 by rebate when you bundle eligible LG and LG STUDIO Kitchen Major Appliances.

Welcome MATTE
Experience the style of LG's exclusive MATTE Black Stainless Steel appliances.
J.D. Power Award Winners
"Highest in Customer Satisfaction with Freestanding Ranges"

A Microwave Design That Brings the Heat
LG NeoChef™ countertop microwaves have reheating down to a science. Enjoy better defrosting without overcooked edges thanks to the precise, even heating of LG's Smart Inverter.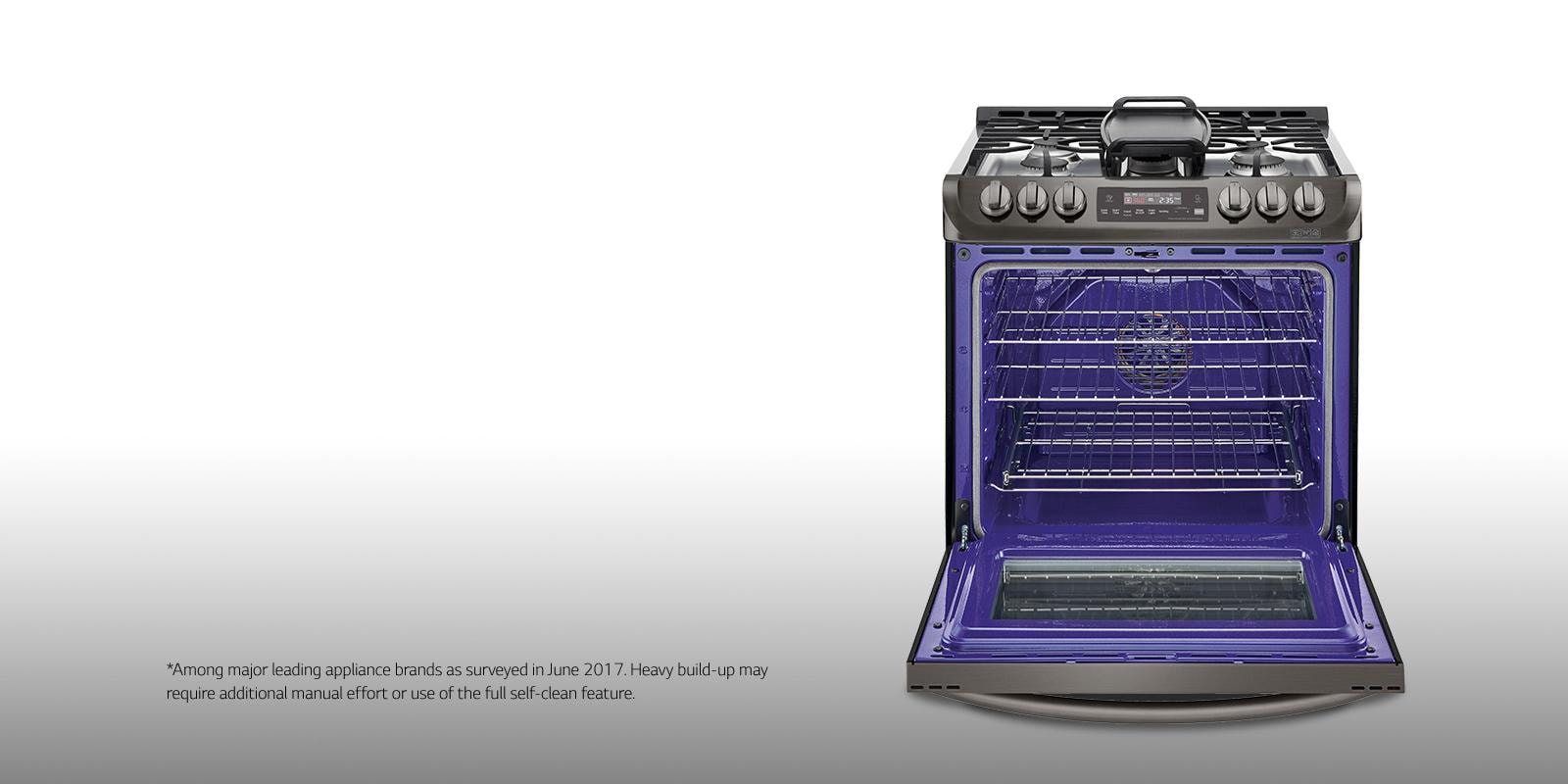 10 Minutes. 1 Spotless Oven.
Enjoy a sparkling clean oven without strong chemical fumes or high heat using LG EasyClean®, the only 10-minute oven cleaning cycle technology.*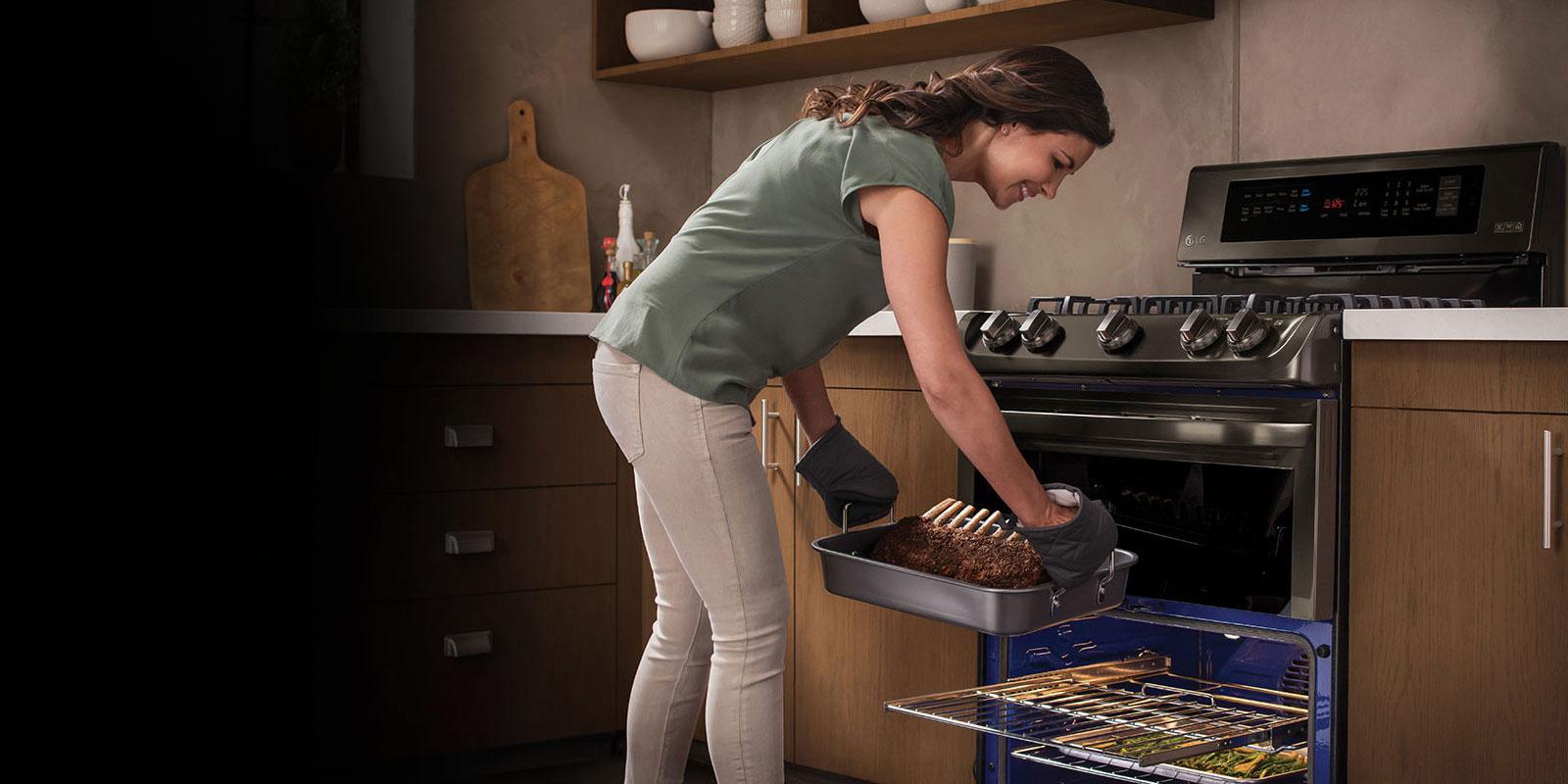 From Rare to Well Done, It's Always Done Well.
With innovations like ProBake Convection® and high-powered cooktops, LG cooking appliances will give you that perfect golden crust, savory roast or velvety smooth sauce every time.
TIMELESS.
BOLD. YOU.
Make a statement with LG STUDIO appliances and enhance the look of your home with timeless appliances.
Selecting a checkbox will update the products displayed on screen.
Refine Your Search
62
Total Results
All Cooking Appliances
Create the kitchen you've always dreamed of. LG cooking appliances perfectly blend form and function -- giving you stylish designs and innovative technology that will bring your culinary skills to a whole new level.
WHAT CUSTOMERS ARE SAYING
Average Rating for All Cooking Appliances
Love the convection oven!

I've had my stove for almost one month and simply love how the convection oven bakes and roasts my meals and desserts! My only complaint is the white print on stainless knobs, which are difficult to read; other than that, it's been a terrific purchase!

Sweepstakes entry received for review.

Had this wonderful stove for 1 month now. I'm in LOVE . The convection oven is awesome, food comes out so juice, pretty brown. Like that you can change the cook settings. I give this stove 10 out of 10 !!

Love the look and the quality!

I've had this stove for a little over a month and I am loving it. It's easy to use, as well as it looks very nice.

Sweepstakes entry received for review.
HAPPY CHEF

I really enjoy cooking on my new LG BakePro stove. The heat cooks even on the top and in the oven. After baking a large batch of cookies I noticed that it did not create a lot of heat in my kitchen. I am very satisfied with my new stove.

Sweepstakes entry received for review.

Very good performance.

One disappointment, it is difficult to read numbers of the settings on the range front knobs specifically on black stainless steel finish. Baking temperatures on both top and lower ovens are held as per settings.

Great Features!

I am so happy with this brand, very good performance and nice interior color!

Sweepstakes entry received for review.
Love that it doesn't have knobs to clean around!!

I am very happy with this stove! I love how quickly the oven preheats and the little melody it plays once it has met the temp set. Food cooks evenly and i love the digital temp. The pretty bluish/purple inside of the oven is a fun accent to a great stove!

Nice Range

Still getting used to it, but overall very nice. The cooktop on my previous range was dark with a charcoal grey/white speckled finish which I liked better - this one is pretty much all black and shows every little speck of dust/dirt, etc., even streaks from wiping it off. Also which there was a better "handle" to open the bottom drawer - the design is a little clunky, so it can be difficult to open.

Sweepstakes entry received for review.

An amazing upgrade!

This oven is amazing. The interior size is very nice; I can fit my long casserole dish in length wise without it hitting the door. I cook for a grouppretty often, so being able to fit four casserole dishes at a time will come in very handy. It cooks so even and quick. The first cake I made came out evenly golden. The stove top gets hot quick. I love that you can adjust the heat in increments of .5 and .2. I appreciate that it not only tells you the surface is hot, but tells you exactly

...

read more

which one. I love the easy cleaning without knobs to clean around/under.

Sweepstakes entry received for review.
A really nice stove

Awesome stove that can really heat up fast. My wife is a chef and she says it's just as good as her commercial one at work.

Sweepstakes entry received for review.

I couldn't use my range when I first got it as I left on holiday a couple days later. I have been able to use it now and am getting used to it. So far it has been good. Still trying to get used to different aspects of my range.

Sweepstakes entry received for review.

It sings!

Okay I know it sounds silly but I love everything about my new stove it has a lot of great features, even cooking and baking, specialty burners, an awesome Bluey- purple coating to make it easy to clean but I especially love the fact that when it gets to temperature after preheating it plays a melody and lights up so I know it's ready to bake. I am a somewhat impatient cook so this feature helps me immensely

Sweepstakes entry received for review.
Convection Oven, Cobalt Blue inside Oven

Problem with the controls just above the oven handle. We have accidentally turned the top burner units ON!!(without knowing it) WOW, not Good.

Sweepstakes entry received for review.

Wow

We love it. Always wanted a smooth top stove and very pleased with this one. No more pots boiling over. Oven cooks very nicely. Love the easy clean feature. There is a control lock out that we use all the time. Makes cleaning the rear touch controls a lot easier .

Sweepstakes entry received for review.

I bought this 6 months ago, I absolutely love this Range. It is my first Electric range and I am so amazed at how fast the burners get hot and cool down. Virtually it is like working with Gas , this Stove is that responsive. It looks amazing in my beautiful kitchen. When people come over its ohs n ahs, and then they open the oven and see this fantastic blue interior. The next thing asked is what kind is this ? an I say LG...its awesome ! Thank you...going to bake some cookies now...
We purchased this LG gas stove in August of 2016. It has the double ovens and I absolutely LOVE having 2 ovens. I don't know how I ever cooked huge meals before with just one oven. This is an awesome stove. It has great features, heats up to the proper temp. in such a short amount of time. ( I was having to wait about an hour or so for the oven to get to the temp. on my old gas stove.) So this is amazing. I LOVE my LG Double Oven Gas stove.

Sweepstakes entry received for review.

Love the double oven

The double oven is so versatile - I can bake in the upper oven and roast in the lower oven at two different temperatures - at the same time! The oven is easy to clean and easy to use. The musical timers took some getting used to, but now I really like them - it makes my kitchen unique. The ultra heat burner is also a winner - it quickly heats up a large enamel dutch oven, just be careful not to rest your cooking utensils on the side of the pot - they can heat up quickly! Overall, I'm so happy

...

read more

with this purchase.

Sweepstakes entry received for review.

GREAT FEATURES EASY TO USE !!!!

I BOUGHT THIS LG GAS RANGE FOR MY WIFE FOR VALENTINES DAY BECAUSE OUR PREVIOUS STOVE WOULD NOT BAKE ANYMORE,WHAT A GREAT LOOKING AND PERFORMANCE LOADED PRODUCT THIS LG GAS RANGE TURNED OUT TO BE I LOVE MY NEW APPLIANCE!!!!

Sweepstakes entry received for review.
Awesome Cooktop

The only thing better than finding out that your house does, in fact, have gas, is to have a gas cooktop that performs outstanding. It has a super quick ignition and cooks food evenly and quickly. Love it!

Sweepstakes entry received for review.

The Numbers around the knobs has worn off

I purchased the 30" gas cook top in December 2009. The numbers around the knobs started to wear off right at the 1 year mark. It's not from over use but just wiping around the knobs with a wet dish cloth has worn the numbers off. Other than the numbers wearing off, the cook top delivers and cleans up nicely. The grates are very sturdy and easy to clean.

Great overall product!

I LOVE this cook top. The only drawback is that the burners may be too powerful where one will need to use quality cookware and keep a watchful eye while cooking to keep from burning the food. It has excellent heating power on all burners and it is so easy to clean up. The grid is sturdy, level, substantial and strong. The middle burner is excellent for high heat stir frying in a wok. The stainless steel sealed cook top easily cleans up with with just wiping with a damp cloth. I am so pleased

...

read more

with this cook top's performance I recommend it to everyone. Great appliance and I look forward to many years actually enjoying cooking with this cook top.
Very Nice Gas Range

I am very happy with my new LG Gas Range except for a items - the back of the range has no indention, so therefore, I am not able to slide the range back to be flush with the wall. It is about 2 1/2 inches away from the wall and it looks silly. The only thing I might be able to do is cut out the wall behind the range and have the electrical box and gas line moved to inside the wall. The other thing is the lip on the bottom of the control panel sticks out, so a larger pot placed on the back

...

read more

burners actually sits closer to the front burners and that causes an issues with the pots placed on the front burners. It also seems like the top oven does not cook even and there are hot spots when baking items. I really like the range and hate that I have a few concerns. I have been very happy with my LG french door refrigerator and I also love my LG front loading washer and dryer. Thank you for making great products.

Sweepstakes entry received for review.

Works Great, looks good, makes cooking a pleasure.

Two ovens mean less household cost and provides more room in our kitchen, removed the toasted oven from the kitchen that ran on electricity, reducing the electric bill. The kitchen has more of a modern look to it. The top oven makes it easy to heat up items, pizza, leftovers etc, cooked Prime Rib in the bottom for the holidays and it came out perfect.

Sweepstakes entry received for review.

Awesome contols

Fun to cook with this new LG gas range! Affordable professional grade appliance. Fingerprint black stainless steel is really nice!

Sweepstakes entry received for review.
cooks nicely

It is definitely an upgrade for me, easy to clean and cooks nicely.

Sweepstakes entry received for review.

Beautiful range

The black stainless finish is beautiful. However, the top is not black stainless and does show fingerprints and water spots, but overall it looks beautiful. The best feature is how the convection bake automatically adjusts the temperature to what it would have been in a conventional oven. And and low and high broil setting - I've never had that option before. I used the broiler to cook steaks last night and they were cooked perfectly.

Sweepstakes entry received for review.

Love the looks

Actually haven't had that much time using my new range, as we are also doing some other remodeling. But it is a beautiful looking range, and I'm very excited to start learning how to use the convection oven better. So far I'm loving it.
LG Product Service and Support
Get your questions answered about product setup, use and care, repair and maintenance issues. We can help.
Telephone
Call an LG Support Representative.
(800) 243-0000 Consumer (7am-midnight CST)
(888) 865-3026 Commercial (8am-6pm CST)