LG ThinQ® Speaker
Smart Never Sounded So Good
The WK7 speaker uses voice commands to control compatible devices via LG ThinQ® or Google Assistant.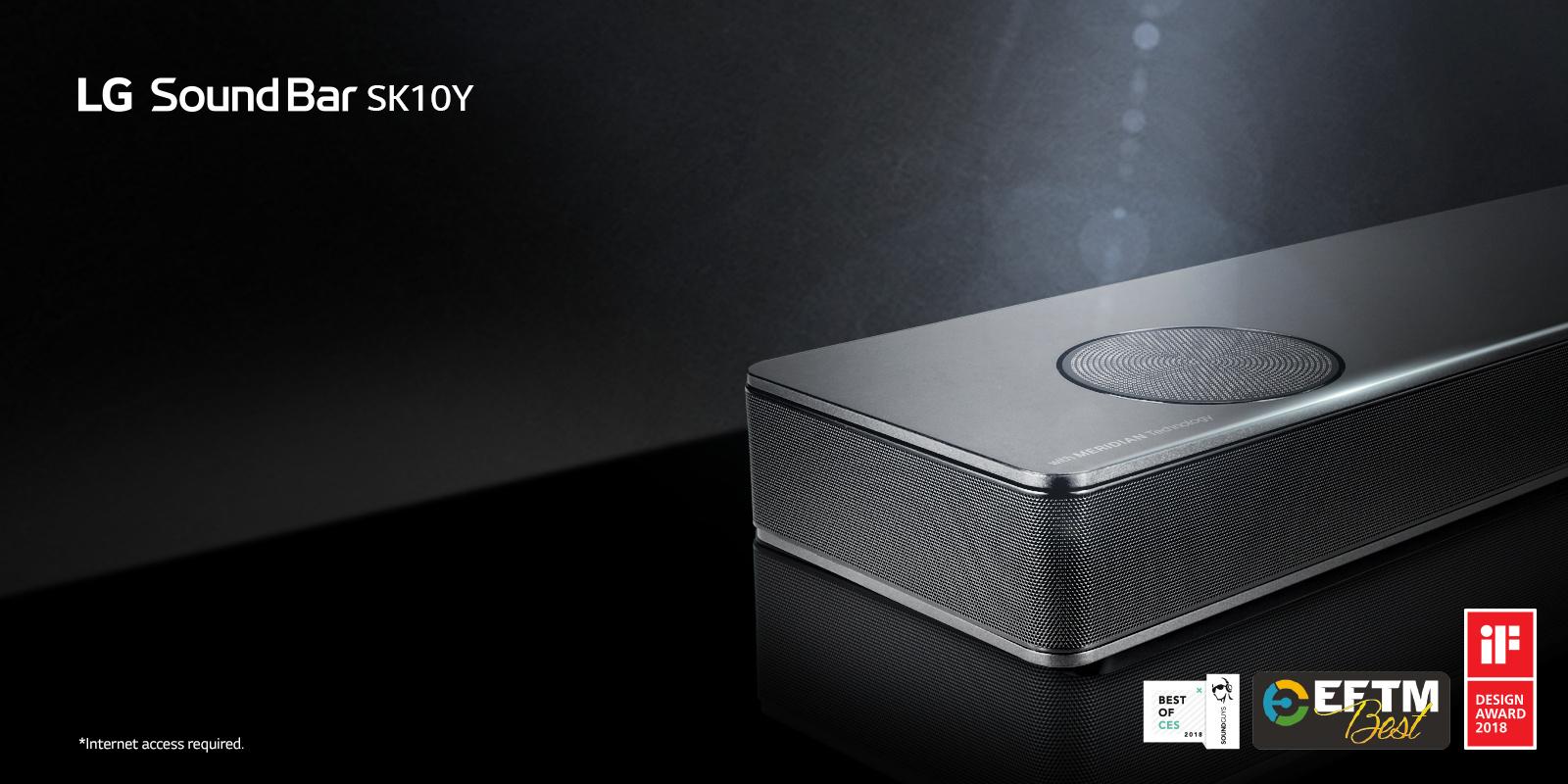 Experience Home Theater
The SK10Y High Res Audio Sound Bar with Dolby Atmos® and Meridian Audio technology is also smart home-ready, designed to work with Google Assistant voice control as well as Chromecast built-in*.

The Portable Party Machine
Take the party anywhere! With 100 booming watts, a full array of DJ controls, and LED lighting effects, the RK8 keeps the party going for up to 10 hours on one charge.

Selecting a checkbox will update the products displayed on screen.
Refine Your Search
59
Total Results
All Home Audio
Get larger-than-life sound from LG's newest home audio devices. Featuring innovative technology and sleek designs, our single- and multi-speaker systems give you powerful performance you have to hear to believe.
WHAT CUSTOMERS ARE SAYING
Average Rating for All Home Audio
Great addition to my LG OLED

Got this about 3 weeks ago. Very easy to set up and connect to my LG OLED tv set. I love that I can control both the TV and Soundbar with just the TV"s remote. I had experienced the sound drop outs that others have had but I updated the firmware and it seems to be a lot better now. The sound is really impressive. The addition of the subwoofer really fills the room with great bass without being overly boomy. Overall, I'm very happy with the purchase. Great build quality too. Does not look or feel cheap.

Sweepstakes entry received for review.

Great sound, easy to install

Love the product. Came well packaged with clear installation instructions. We were enjoying the great new sound within minutes of discarding our old out of date surround sound with the huge wire mess buried behind our entertainment center. It was also nice that it came with everything needed to get it up and running, instead of having to run back to the store to buy things that were not included for set up and operation.

Sweepstakes entry received for review.

Great improvement over TV speakers

I bought this and have not regretted it. The sound is rich and the ranges are covered well.

Sweepstakes entry received for review.
Super CD player

I received it as a Christmas gift and it has more features that I expected. I can transmit songs from my computer right to the CD player with Bluetooth. I just love it, especially the quality of the sound and Bluetooth feature.

Sweepstakes entry received for review.

Very satisfied Bought LG Product. Great Features, Quality and price.

Sweepstakes entry received for review.
AWESOME!

My husband bought me this for Christmas. I absolutely love it!

Sweepstakes entry received for review.

Great Sound

I bought this for my wife at Christmas and she is so happy with it. She loves listening to music and wanted a boom box. This product is far better than a boom box, has great features and is very portable. She loves it!

Sweepstakes entry received for review.

Great sounds

Bought this LG for a Christmas Party at our home. The music sounded fantastic. This LG is easy to use both with CD's as well as our local FM Stations. Would highly recommend for any household that wants to enjoys CD's .
Great Features

I bought this two weeks ago. It is just what I was looking for. The sound quality is great, love the lights and different vocal setting. It awesome for a party of any kind and karaoke nigh. I like that it came with a microphone.

LOVE IT ..BIG , BOLD & POWERFUL

This model ,have smaller version, >> DRFH6.. BUT i went with this BIG DADDY .. LOVIN IT, Sound VERY CLEAR, Great mix with bass & highs dont over power each other & LOADED with DJ feathers effects & this model comes with MIC & CD PLAYER Too, GOT a APP in Google store, can download..so U can control the system/lights an all with ur phone or tablet too , I like that ...Love the lights on different colors & that breathing LCD in the middle rolls around is AWESOME & eye catcher

...

read more

...just the whole package very nice & attractive, is 1800W ,so VERY POWERFUL & LOUD..Great for parties or outdoor yard or pool parties ..is heavy, but have handle grips to pick it up around...VERY happy with it, Bluetooth connection is like a Breeze..no problem AT ALL ,everything works like a charm!

Sweepstakes entry received for review.

The Life of The Party!!!

This Speaker is unbelievable! It is the talk of the neighborhood! The Life Of The Party! And when I come home from work it gets me in Fiesta mode after a long day. Superb quality. The best toy for us grown ups. I highly recommend it.

Sweepstakes entry received for review.
Great product!

I bought this for my basement and it works great! It is powerful enough to fill the space with rich sound. Set up is a snap, and it looks great too. I like it!

Love it

My daughter and boyfriend got this stereo for my birthday and I love the sound and the size is perfect for my living room

Sweepstakes entry received for review.

easy to set up

bought for my husband. just wish it had AM radio band also

Sweepstakes entry received for review.
Soundbar is a must

Only in use for less than a week but so far - so good. I need to use the remote to actually get a better understanding of the capabilities. I will return and then give it the true rating w/stars. With my limited use - seems high quality for the money plus you have to use something with a large/er T.V.

Sweepstakes entry received for review.

Good Product

Great features, great sound! But, not that reliable. Thought speaker needed repairing, returned twice, was told nothing was wrong. However, I continued to have the same problem; i.e. transferring sound from television to sound bar. No sound, except occasionally. Tried everything. All other equipment perfect. Not a big fan of HMDI/ARC. Just gave up!

Sweepstakes entry received for review.

RICH SOUNDING

I replaced a left/right speaker system, along with powered subwoofer, system, and bulky amplifier, with this almost invisible soundbar/woofer and I'm very happy I did. The sound quality and quantity is terrific in my medium sized setting.

Sweepstakes entry received for review.
Great little unit

need a new Blue ray player and this was a great replacement.

Sweepstakes entry received for review.

good home theater system

I purchased this system to replace a 1000 watt DVD home theater system that died on me. Even though the 500 watt home theater is only half the power it has other features that the other home theater system didn't. I live in an apartment so I could never utilize the full potential of the 1000 watt home theater system without running the risk of having the cops called on me for a noise complaint. The 500 watt LG Blu Ray home theater system is a much better fit for apartment living.

Sweepstakes entry received for review.

Quality product that is easy to use at a great pri

I recently purchased this sound system around one month ago, and I have not been disappointed yet. The performance and response time is very good, especially while streaming Hulu and Netflix. The sound quality is very good, and can be adjusted with ease in the devices settings (speaker distance, etc.) I have also found the speakers, for being g small, do not distort, and can put out some really large sounds considering. For the price, I would definitely recommend.
amazing sound quality !!

I purchased this as a complete package along with an LG 55 inch 4k TV.--Great sound upgrade --Super Bass sub-woofer--Easy installation--Great Sale price--Excellent value !--I highly recommend.

Sweepstakes entry received for review.

Amazing Sound quality

I purchased this soundbar at the same time as my tv (60uj7700) and the set up was super easy. Being LG they synced togethwr effortlessly and the bluetooth subwoofer has great range. My family loves to watch movies and now we enjoy being immersed in the sounds around us. Recently watching Avatar in 4k made it seem like we were really in the movie. Highly recommended with any flat screen TV.

Sweepstakes entry received for review.

good starter set up

works well , it would be nice if the options were more visible , the different effects have no visual affect

Sweepstakes entry received for review.
Good Quality

lg soundbar was gifted to me and i am loving the quality.

Sweepstakes entry received for review.

Great value

I received the Sound Bar as a gift and am very happy with the sound quality.

Sweepstakes entry received for review.

We Love it!!

Get this sound bar a few days ago for a great price at Wal-Mart I was very surprised and the sound it blew us away really brought the movies to life! it was a great addition to our LG Tv we got a month ago . I can not express the sound and Bass quality for what your buying your getting great sound!

Sweepstakes entry received for review.
LG Product Service and Support
Get your questions answered about product setup, use and care, repair and maintenance issues. We can help.
Telephone
Call an LG Support Representative.
(800) 243-0000 Consumer (7am-midnight CST)
(888) 865-3026 Commercial (8am-6pm CST)