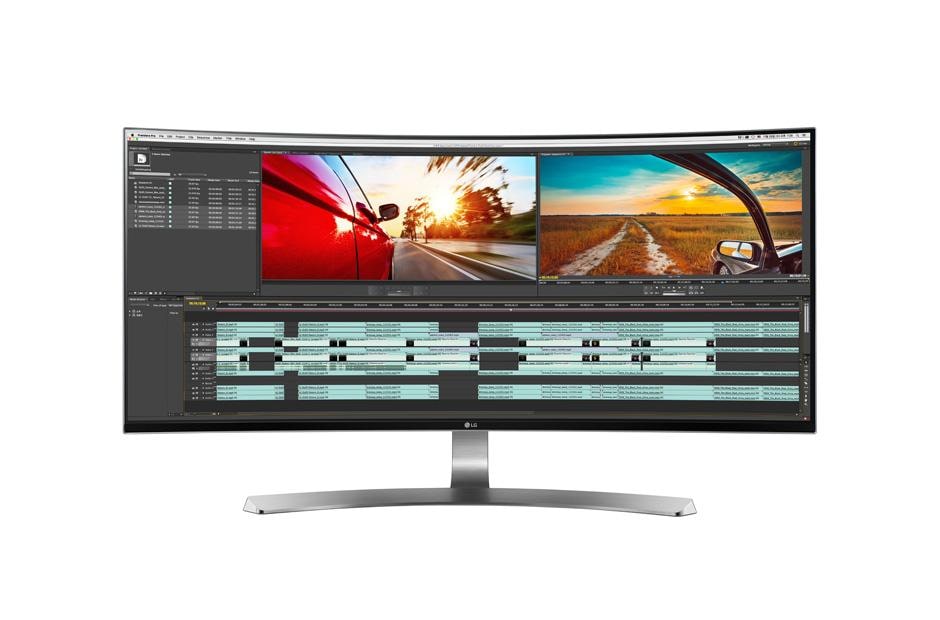 Key Features
34" 21:9 Curved WQHD IPS Display
sRGB Over 99%
Thunderbolt 2.0 (x 2)
Screen Split 2.0 (PIP Mode)
USB 3.0 Quick Charge
34" Class 21:9 UltraWide® WQHD IPS Thunderbolt™ Curved LED Monitor (34" Diagonal)
21:9 UltraWide® Curved WQHD
The immersive viewing experience of the 21:9 UltraWide Curved QHD display* is about 1.8x larger than an UltraWide Full HD 21:9 monitor, and about 2.4x larger than a Full HD 16:9 monitor. In MS Office programs, it displays 47 columns, 63 rows in Excel.
Thunderbolt™ 2.0 (x2)
Two Thunderbolt input/output ports allow you to connect compatible devices to move data between them with incredible speed of around 20-gigabits-per-second throughput in both directions. 4 times faster than USB 3.0.
USB 3.0 Quick Charge
Charge the battery of a connected device quickly using the USB 3.0 port. This port charges USB 3.0 Quick Charge compatible devices much faster than typical USB 2.0 cables, so waiting for a full charge doesn't hold you up.
On-Screen Control
On-Screen Control puts a host of essential monitor settings into a handy window for quick, easy access. Volume, brightness, picture mode presets, Screen Split 2.0 and Dual Controller and more can now be adjusted with just a few clicks of the mouse, instead of hard buttons on the monitor.
Screen Split 2.0
Customize your monitor layout for multitasking with the latest version of LG Screen Split. Resize and display multiple windows at once, with 14 options including four different picture-in-picture (PIP) choices.
sRGB Over 99%
sRGB is the standard color space of ideal color reproduction. So, with over 99% coverage of the sRGB spectrum, this LG monitor is a great solution for professional photographers, graphic designers or anyone looking for highly accurate color.
Screen Height & Tilt Adjustable
Thoughtful ergonomic design such as adjustable height and tilt of the display for optimal eye level assures you a comfortable work space setting.
Game Mode
Game Mode, consisting of FPS, RTS, and Custom modes, provides a customized gaming experience that can be optimized to suit your favorite game genres.
Honoree Award
The award-winning 34UC98 was
a featured product at the 2016 Consumer Electronics Show. Check out all
of the awards for this product, and see our entire award-winning
lineup.
AND THE WINNERS ARE...
PANEL SPECIFICATIONS

| | |
| --- | --- |
| Screen Size Class (diagonal) | 34" |
| Panel Type | IPS |
| Color Gamut (CIE1931) | sRGB over 99% |
| Color Depth (Number of Colors) | 10bit (8bit + A-FRC) |
| Pixel Pitch (mm) | 0.2325 mm x 0.2325 mm |
| Response Time | 5ms GTG |
| Refresh Rate | 60 Hz |
| Aspect Ratio | 21:9 |
| Resolution | 3440x1440 |
| Brightness (cd/m2) | 300 cd/m2 |
| Contrast Ratio | 5M:1 |
| Viewing Angle | 178 / 178 |
| Surface Treatment | Hard Coating (3H), anti-glare |
INPUTS/OUTPUTS

| | |
| --- | --- |
| HDMI | 2 (ver 2.0) |
| Display Port | 1 |
| Thunderbolt 2.0 | 2 |
| USB 3.0 | 1 |
| USB Up 3.0 | 1 |
| USB 3.0 Quick Charge | 1 |
POWER

| | |
| --- | --- |
| Type | Adapter |
| Input | 100~240V |
SPECIAL FEATURES

| | |
| --- | --- |
| Picture Mode | Yes |
| PIP | In Screen Split |
| PBP | Yes |
| DDC/CI | Yes |
| HDCP | Yes |
| Key Lock | Yes |
| Response Time Control | Yes |
| Quick Charge | Yes |
| FreeSync | Yes (DP 55~75Hz) |
| Game Mode | Yes |
| DAS Mode | Yes |
| Black Stabilizer | Yes |
| Flicker Safe | Yes |
| Automatic standby | Yes |
| Reader Mode | Yes (included in Picture Mode) |
| Six Axis Control | Yes |
| Color Calibrated | Yes |
| Dual Controller | Yes |
| Screen Split 2.0 (in OSC) | Yes |
| My Display Preset (in OSC) | Yes |
| OnScreen Control (OSC) | Yes |
| Dual EDID (H/W) | Yes |
| One Click Stand Set-up | Yes |
| Tilt (Angle) | -5~15 Degree |
| Height (Range) | 110mm |
| Audio Output | MaxxAudio 7Wx2 |
DIMENSIONS/WEIGHT

| | |
| --- | --- |
| Without Stand (WxHxD) | (Down) 32.2" x 9.1" x 17.8" / (Up) 32.2" x 9.1" x 22.1" |
| With Stand (WxHxD) | 32.2" x 3.5" x 14.2" |
| Shipping Dimensions (WxHxD) | 38.5" x 8.2" x 19.9" |
| With Stand Weight | 17.2 lbs |
| Shipping Weight | 24.7 lbs |
CABINET / ACCESSORIES

| | |
| --- | --- |
| VESA® Size (mm) | 100 x 100 |
| Power Cord | Yes |
| HDMI | Yes |
| Display Port | Yes |
| Cable Holder | Yes |
STANDARD

| | |
| --- | --- |
| UL(cUL) | Yes |
| TUV-type | Yes |
| FCC-B, CE | Yes |
| CCC (for China) | Yes |
| BSMI (for Taiwan) | Yes |
| ErP | Yes |
| Windows | Yes |
| DisplayPort | Yes |
WARRANTY / UPC

| | |
| --- | --- |
| Limited Warranty | 1 Year Parts & Labor |
| UPC | 719192199378 |
What People Are Saying
Rated

5

out of

5
by
rpvDavid
from
Good Functioning and quality.
I am happy with the functioning and picture quality of my monitor. It was easy to setup on my mac for thunderbolt.
Date published: 2016-06-30
Rated

5

out of

5
by
Angel M
from
Amazing Monitor!
I purchased this monitor a week ago because of a recommendation from AMD, after they gave me their top GPU. I most say it has exceeded my expectations on ever respect: quality, picture quality, aesthetics and form factor.
Date published: 2016-05-30
Rated

5

out of

5
by
Steve from CO
from
Just Brilliant
I've had this for two days now and the 'out of the box' experience was simply stunning. The colours are great and using a Macbook Pro Retina and Mac Mini required no extra software or drivers. I've had a previous LG widescreen (flat screen) and I just couldn't live with the back light bleed. This is in a different league in many ways; I have no discernible backlight bleed, it's absolutely beautiful to look at (and not just the screen - everything about this monitor screams quality) and the price! It's more expensive than my last but worth every single penny. One thing that surprised me though so hopefully this will be a tip for others. There are two HDMI ports and two Thunderbolt ports - the HDMI are selectable meaning you can pick which one you want to display. Thunderbolt only has a single selection meaning the first device active gets the monitor and the other port effectively becomes the daisy chain port for other devices (but not another computer). Given I wanted to put a Mac Mini and MBP on the same monitor using Thunderbolt is a little disappointing - however, there are other options such as HDMI or Displayport which will achieve the same ends. Bottom line: It's so good I want another!
Date published: 2016-05-04
Rated

5

out of

5
by
Mundgyver
from
Love these two monitors.
I bought two of these monitors to do genealogy with. They are absolutely perfect as I have them side by side for a 65 inch arc of display length and can put up an enormous amount of data and research material. Great monitors.
Date published: 2016-04-20
Rated

5

out of

5
by
Krzych
from
Outstanding screen, almost flawless
I got it 2 weeks ago and I love it. LG really learned from issues of previous ultrawides and this one is nearly perfect. Almost no backlight bleed, beautiful picture, slim and light build, aggressive curve. Best ultrawide on the market and I had few before so I know what I am talking about.
Date published: 2016-03-25
Rated

5

out of

5
by
iCappie
from
First Ultra Wide Curved Display
I was completely shocked at how the experience with an UltraWide Curved Monitor was so positive. I currently have it connected to my MacBook Air (Thunderbolt), PS4(HDMI), Xbox One(HDMI), and Alienware Area 51(DisplayPort). I could not think of a better setup. The only CON I notice so far is that there is so light bleeding in the lower left corner. It's noticeable when Black but when color shows, I can barely notice it. Love it!
Date published: 2016-01-25
ASK & ANSWER
Ask your questions. Share your answers.
Please first review the detailed product information and help guides in the Product Support section for this product prior to posting a question.
I can't get my cord to the computer to fit on it anywhere
We regret the trouble you have experienced with this monitor. On the back of the unit is the input connector. There are 3 different connection types you can use. HDMI, DisplayPort, or Thunderbolt. You will need the appropriate cable for the connection type you wish to utilize.
Date published: 2016-06-06
Can I used a nvidia graphic card with this monitor
You can, I use it with 980 Ti. FreeSync won't work and thats it.
Date published: 2016-04-21
I run Windows7 on a MacBook Pro and will connect the monitor via Thunderbolt port. Is a Windows reboot required to get Windows to recognize the monitor? Or should it automatically recognize the monitor when connected to a running Windows boot?
We appreciate your interest in this monitor. According to our information, it appears that the Thunderbolt technology works as a Plug and Play connection. As such, if the cable and the port in use are all correct, the setup should not require a reboot of the system.
Date published: 2016-03-23
Can you hack the refresh rate to get it to 100?
I apologize, but no; this monitor is not designed for compatibility with resolutions at 100Hz refresh rates. The highest compatible refresh rate listed is 60.317Hz, but the recommended refresh rate is 60Hz while viewing the full 3440x1440 resolution, as listed on page 32 in the product specifications.
Date published: 2016-03-10
LG has the most beautiful 34" curved monitors on this planet. Why don't you put G-Sync modules into one of them? All these other "gaming" oriented monitors are not adequate for a living room.
We are right now trying to find a way to do that for everyone.
Date published: 2016-03-29
Does this new model Hide backlight bleed better than the uc97?
Sorry it took so long but yes it hides it so much better than our older models
Date published: 2016-04-22
I have MacBook 15'' retina and regular PC. I want to connect Mac with thunderbolt and PC with display port. Is this monitor capable of split screen so I can have half screen Windows display and half screen OS X from thunderbolt?
Yes,it is but it is very difficult.
Date published: 2016-03-04
Does LG have any utlra-wide monitors that have two DVI input jacks? I have an HP latptop and HP dockingstation that has two DVI outputs. I've been using two separate monitors. I'd rather one physical monitor with split screen.
We have 51 monitors in our line up of varying sizes and features. Some have 2 x DVI-D inputs and some have Thunderbolt input/output ports that allow you to connect up to six compatible devices, moving data between them with incredible speed. Most come with the software to run the 4-Screen Split feature which divides the screen into as many as four customizable segments, two-by-two so you can see four different windows at the same time. There is also a Dual Linkup feature that allows two compatible portable devices--such as a computer, camera, phone, or Blu-ray player--to be connected to the monitor, and both can be viewed on the same screen simultaneously. Note: To use Dual Linkup, one device must be connected to the DisplayPort while the other is connected to either the HDMI or DVI port. Please visit our site at http://www.lg.com/us/monitors/all-monitors and you can use the filters there to refine your search...^IFV
Date published: 2016-04-13