FOR SERIOUS WATCHERS
webOS 3.5 Smart TV
Access your favorite shows and movies with ease when webOS brings together all the most popular streaming video apps, including Netflix, Sling, FandangoNOW and Channel Plus.

webOS Smart TV
FandangoNOW
Experience Wonder Woman and over 50,000 movies and TV shows in Superior Resolution.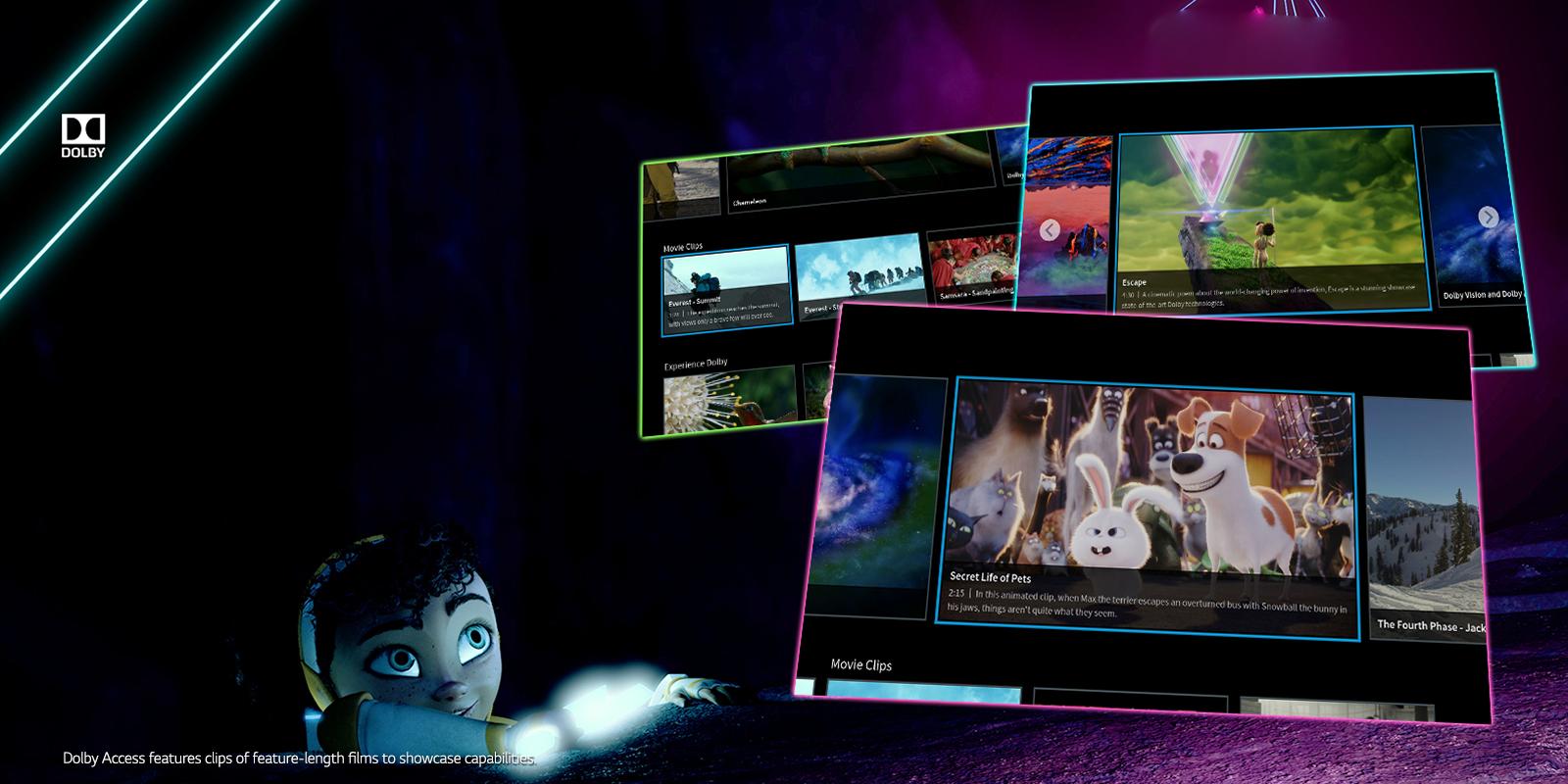 Dolby Access App
Experience Dolby Vision and Dolby Atmos on LG OLED TVs to turn your TV into an entertainment powerhouse.
Channel Plus
Channel the Internet
Get 100 free IP channels including Got Talent Global, Outside TV Shorts, Just for Laughs, and more integrated right into the television. Discover premium new entertainment, sports and lifestyle programming or enjoy old favorites any time.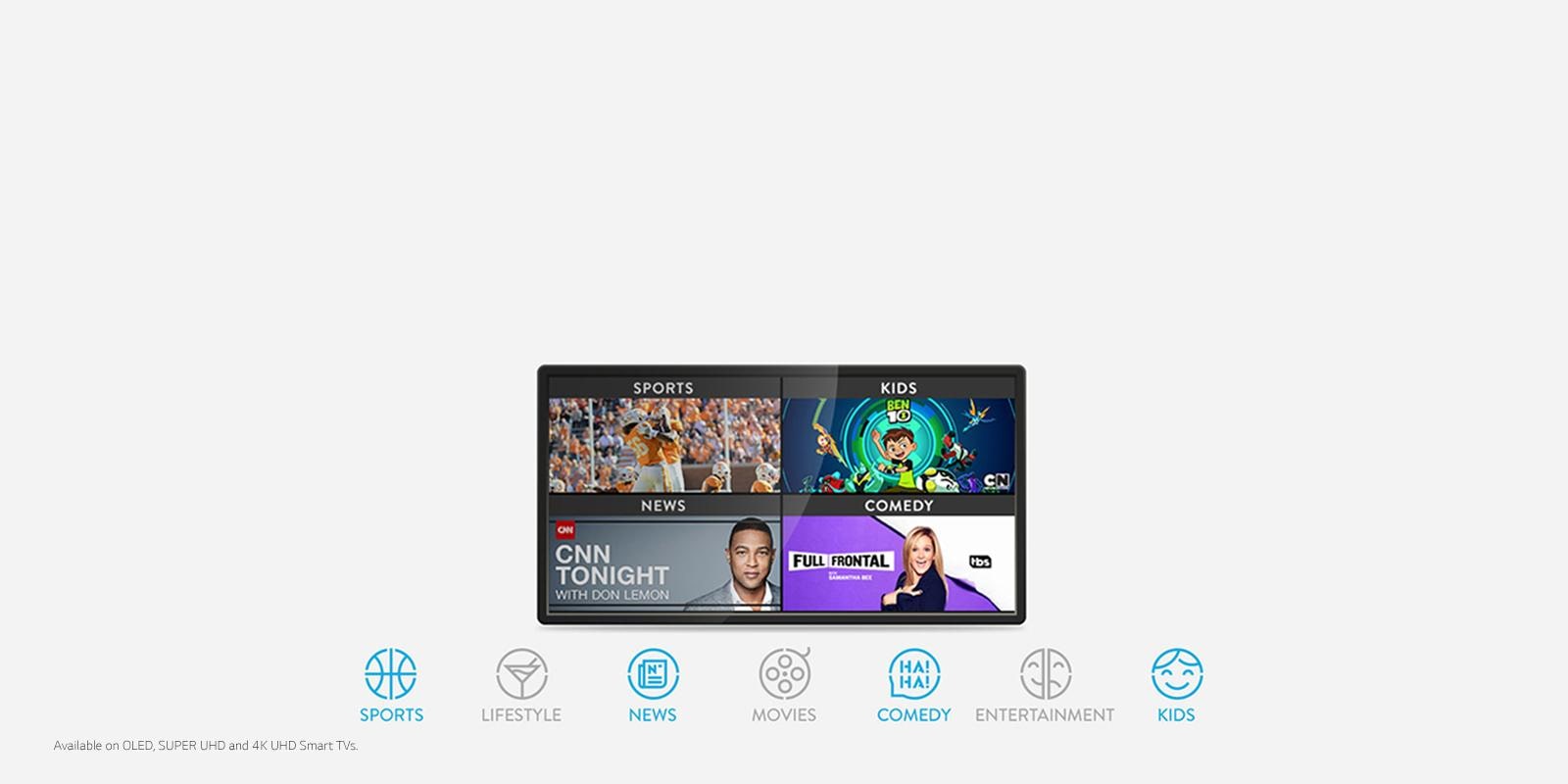 SLING TV
Introducing A La Carte TV, the only live TV service that lets you personalize your channel lineup and save. Customize with your favorite extras like Sports, Comedy, Kids, News, Hollywood, Lifestyle and more. Watch 7 Days Free! Restrictions apply.
Google Play Movies & TV
Rent or buy, stream instantly and watch across your connected smartphone, tablet or PC, too.
Selecting a checkbox will update the products displayed on screen.
Refine Your Search
44
Total Results
Smart TVs
Get more from your TV. With an LG Smart TV*, you can watch programming from your favorite broadcasters, access streaming content with the touch of a button, seamlessly share content between devices and more.
WHAT CUSTOMERS ARE SAYING
Average Rating for Smart TVs
Just upgraded from a smaller LG, very happy, 2nd LG tv

Sweepstakes entry received for review.

Best TV ever!

I love this 3D TV! Great colour & resolution. WebOS makes it one of the most intelligent televisions ever. Easy to navigate and utilize. I'm now addicted to 3D content; what a difference!

Sweepstakes entry received for review.

Awesome picture

I purchased this TV last year. The picture is very realistic, even on some of the older movies I watch. The 3D is amazing! The set up was easy and I'm not tech savvy by any means. The remote is nice sized. The buttons are easy to operate without hitting two at the same time. It's extremely easy to use. I still haven't mastered all there is to know about the TV but over all I'm extremely happy I bought it.

Sweepstakes entry received for review.
Great all around package!!

When I first saw the price of an OLED tv I was in sticker shock for a while, but after learning all of the TV's capabilities it truly started to look like a smart buy (or what I call future proof). I play games and watch 4K movies and am amazed at just how awesome everything looks. Contrast between blacks and whites are unreal (because each pixle is its own light source). Gaming lag is unoticable to me. I did a lot of research and this TV kept coming out on top. You will it be disappointed....

Sweepstakes entry received for review.

Far superior to all other HD TV's.

Amazing picture with advanced OLED technology. The smartest way to control all your internet streaming and local stored media.

Sweepstakes entry received for review.

The BEST TV Ever /Outstanding Product

I bought this TV after much research and in-person shopping & comparing picture quality. I am blown away by this TV every time I watch it. Old black & white movies come alive with this TV because it has true BLACK. I Love My LG OLED TV

Sweepstakes entry received for review.
Great Feautures

I bought it about 6 months ago and i'm so happy i did.

Sweepstakes entry received for review.

Outstanding picture quality.

I did a lot of research into OLED vs quantum dot MBI technology the OLED is Superior 4 picture quality deep blacks and I also use the LG C7P as PC monitor for my gaming rig which produces outstanding quality on all AAA games with a low input lag of 22 milliseconds.

Sweepstakes entry received for review.

I purchased my tv a couple months ago and wished I had purchased it sooner

Sweepstakes entry received for review.
Great Tv only one bad thing wish they kept the 3D

noting to complain about .Great Tv got it for great price

Sweepstakes entry received for review.

Amazing: 2-D or 3-D

Various reviews, including CNET, completely born out in this first month of my experiencing this TV. Black, black as it can be; clarity beyond belief; 3-D better than I have experienced on any theatre screen. Couldn't be happier. Can only hope that the longevity of the product matches its initial quality.

Sweepstakes entry received for review.

LGOled 55E6P 2016 model

Had this 55E6P 2016 model over a month now and i just love it. The picture is great and the 3D is out of this world.Love the HDR feature as it is so clear.Just hope it lasts for many years as thisTV experience as for now has been a wonderful experience......................................

Sweepstakes entry received for review.
Great TV Poor Sund Quality

I seem to be having trouble adding a bluetooth surround system to my set

Sweepstakes entry received for review.

Amazing picture

I have had this for about 8 months. I am still in awe of the amazing picture. When in a dark room, you can see the side led projection a bit, but it is not bothersome, and this style of led tv is not really made for dark dark room. The sound is good but I have added a Zvox external speaker box anyway. 4K DVD is perfect, and to be honest, so is regular blu ray. Would buy this again for sure. The remote is easy to use as is the internet enabled apps.

Sweepstakes entry received for review.

WOW

I'm use to having Samsung TVs but after seeing this on display I feel in love. Brought one home and now I'm glad I did.

Sweepstakes entry received for review.
OLED 77G6P THE BEST TV

AFTER BEING CHECKING THE QUALITY OF TV LIKE QLED THE BEST OF LED, OR THE SERIES Z OF SONY 3D ACTIVE LENS IS UP OF THE LEDS, BUT THE BEST IN IMAGE DEFINITELY WAS OLED BY THE PURE BLACKS AND THE WAY LIKE THE TV SEES WHETHER IN FILMS OR SPORTS THAT IS WHAT I SEE, THE MODEL 77G6P WAS THE ONE THAT BUYS AS I AM LOVER OF THE 3D PASSIVE LENS ON THIS TV YEAR 2016 IT IS THE ONLY OLED TV THAT HAS IT, SINCE THERE WILL BE NO MORE 3D TV, BEFORE I HAD A SONY 3D 4K FROM 3 YEARS AGO PRETTY GOOD, BUT AS YOU SEE

...

read more

THIS OLED TV IN 3D THERE IS NO WAY TO EXPLAIN YOU DOWNLOADS IN THE MOVIE AND THE AWESOME EFFECTS, SIMPLY A BLUE RAY MOVIE SEES IMPRESIONSNTE LIKE THE HOOBIT, NONE ANOTHER TV SEES LIKE THIS OLED, HAD DOUBTS TO BUY IT AS IT SEES SOME NEGATIVE REVIEWS AND COSTS A LOT OF MONEY THIS OLED TV BUT THANKS TO GOD, IT SEEMS INCREDIBLE, PURCHASES AN EXTRA GUARANTEE I HOPE NOT TO OCCUPY, A GREETING TO LG FOR THIS NEW DOMENSION TO SEE TV. LASTIM THAT 3D WILL NO LONGER EXIST

Sweepstakes entry received for review.

Best overall picture

This TV provides brilliant colors with vivid detail. The 4k upscaler improve regular HD content to the point that it is sometimes hard to tell if it's just HD or 4k. The smart portion of the TV works without a hitch. If you're into 3D, this TV has good performance in that arena. Some content looks like real 3D in the upscale mode. (football)

Sweepstakes entry received for review.

BEST TV EVER....SERIOUSLY!

I specifically sought out this model because it still had 3D going for it. I was really disappointed to see LG drop the 3D on its 2017 models because they have absolutely nailed the formula for near perfect 3D. I have never seen a TV display the level of color, clarity, and brightness without any significant ghosting all in the same package. It really is a sight to behold. 4K imagery is also expectedly top notch. The black levels are nothing short of incredible. This statement applies to

...

read more

all content - not just 4k, but with HDR engaged, the difference is that much more noticeable. LG really put out a top-tier TV here and I'm so thankful that I could find one of the 77" units. I actually upgraded from the same year's E6 model once I learned that I could acquire one. Finally, and I don't say this lightly, I haven't found a single thing wrong with the TV. For me, it IS the perfect TV. Sure, it would have been nice to see an 85" model, but this looks wonderful in my home theater as it is. Well done, LG!

Sweepstakes entry received for review.
Quality, Features and Price

Compared this TV in the store side by side versus higher price models. Picture was same as or better than the higher price models . So why wouldn't ulyou buy the LG, more bang for the buck!

Sweepstakes entry received for review.

Awesome Picture and Sound

I definitely enjoy the "Smart" elements of the TV. The apps are a major plus. The TV has great sound without any sound system connected. The picture is crisp clear, and great to watch. The only downfall to me is the remote which is tough to use when typing in emails, scrolling, or searching on the web browser. The phone app remote does make up for this a bit, but is only usable once the TV is on and still has its own glitches.

Sweepstakes entry received for review.

Outstanding performance, amazing price.

We have owned this T.V. for about 6 months and have loved every moment of watching it. Whether it's viewing our favourite shows on Netflix or playing great games on our Xbox, the UHD/4K content is phenomenal. To be able to sit back from the screen but still feel fully immersed in what's happening is awesome. The sound quality is adequate from the T.V. but we added a sound bar and subwoofer for extra depth. All in all it's been a fantastic purchase.

Sweepstakes entry received for review.
A Great Product

I decided to buy a bigger screen TV for my old one was over 10 years old. I saw the picture quality of the LG and was amazed with the clarity and sharpness. My old set was a very well known brand....but when viewing LG was was sold! Had it over a month and enjoy every minute of viewing!!!

Sweepstakes entry received for review.

More than expected

We wanted a new TV for the house we just bought. We looked at all the other brands and although for an LED 4k screenscreen they were close in quality of picture LG won us over with its WEB OS. When we set the TV up in the family room we were so much more surprised how user friendly the hook up was to the Internet wi-fi and how simple the OS was to use. We use Netflix, Hulu, a few Internet browser sites and we attached a computer to the TV as well where we play family games like Just Dance from

...

read more

Ubsoft. I am very pleased and will look at LG first for future purchases.

Sweepstakes entry received for review.

Everything you need

This TV has all the builtin apps you need. Netflix, amazon, etc. The TV Guide is well organized. The Internet channels are an added bonus. The picture is outstanding.

Sweepstakes entry received for review.
LG Product Service and Support
Get your questions answered about product setup, use and care, repair and maintenance issues. We can help.
Telephone
Call an LG Support Representative.
(800) 243-0000 Consumer (7am-midnight CST)
(888) 865-3026 Commercial (8am-6pm CST)