FOR SERIOUS WATCHERS
webOS 3.5 Smart TV
Access your favorite shows and movies with ease when webOS brings together all the most popular streaming video apps, including Netflix, Sling, FandangoNOW and Channel Plus.

webOS Smart TV
FandangoNOW
Experience Wonder Woman and over 50,000 movies and TV shows in Superior Resolution.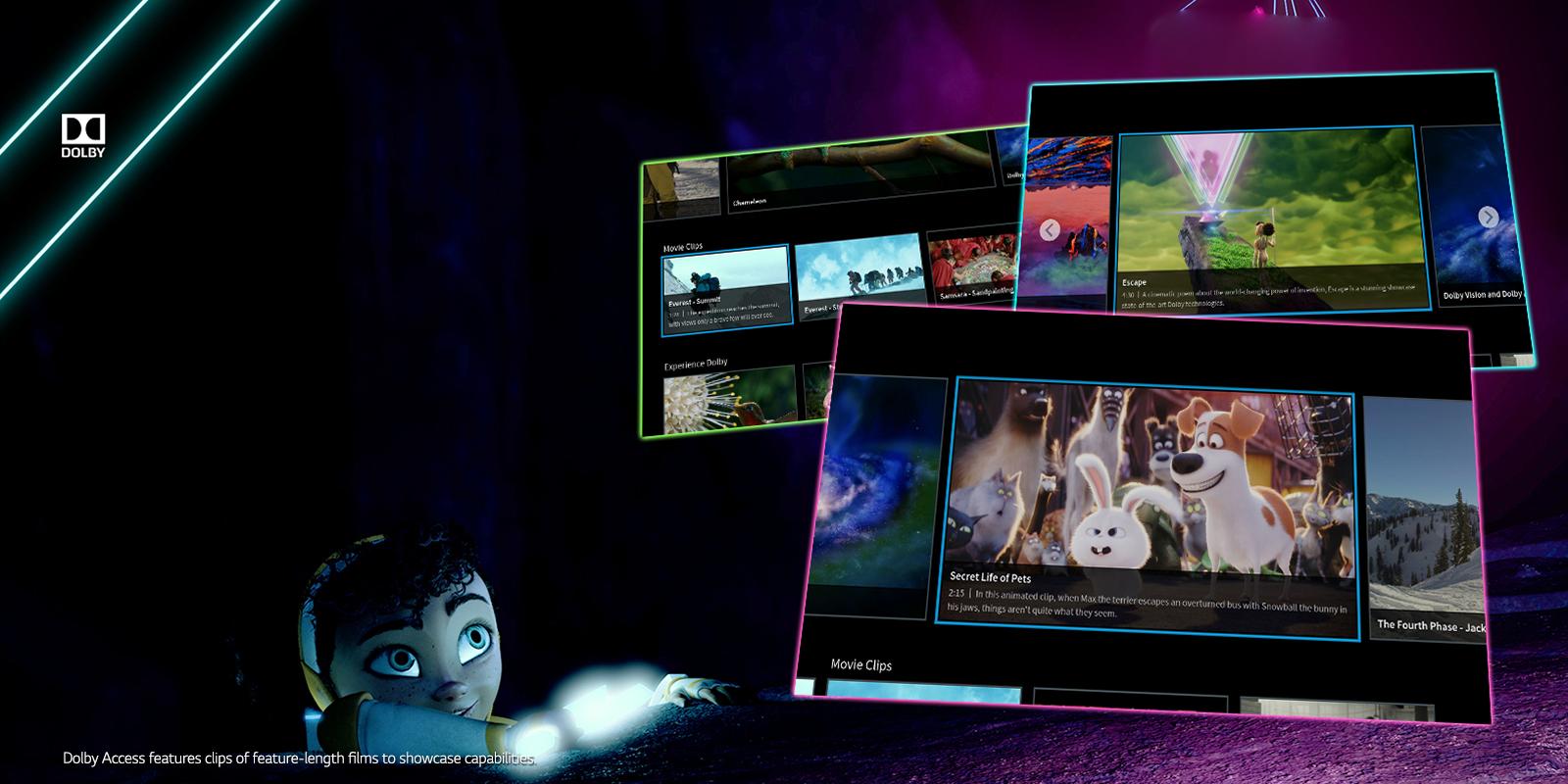 Dolby Access App
Experience Dolby Vision and Dolby Atmos on LG OLED TVs to turn your TV into an entertainment powerhouse.
Channel Plus
Channel the Internet
Get 100 free IP channels including Got Talent Global, Outside TV Shorts, Just for Laughs, and more integrated right into the television. Discover premium new entertainment, sports and lifestyle programming or enjoy old favorites any time.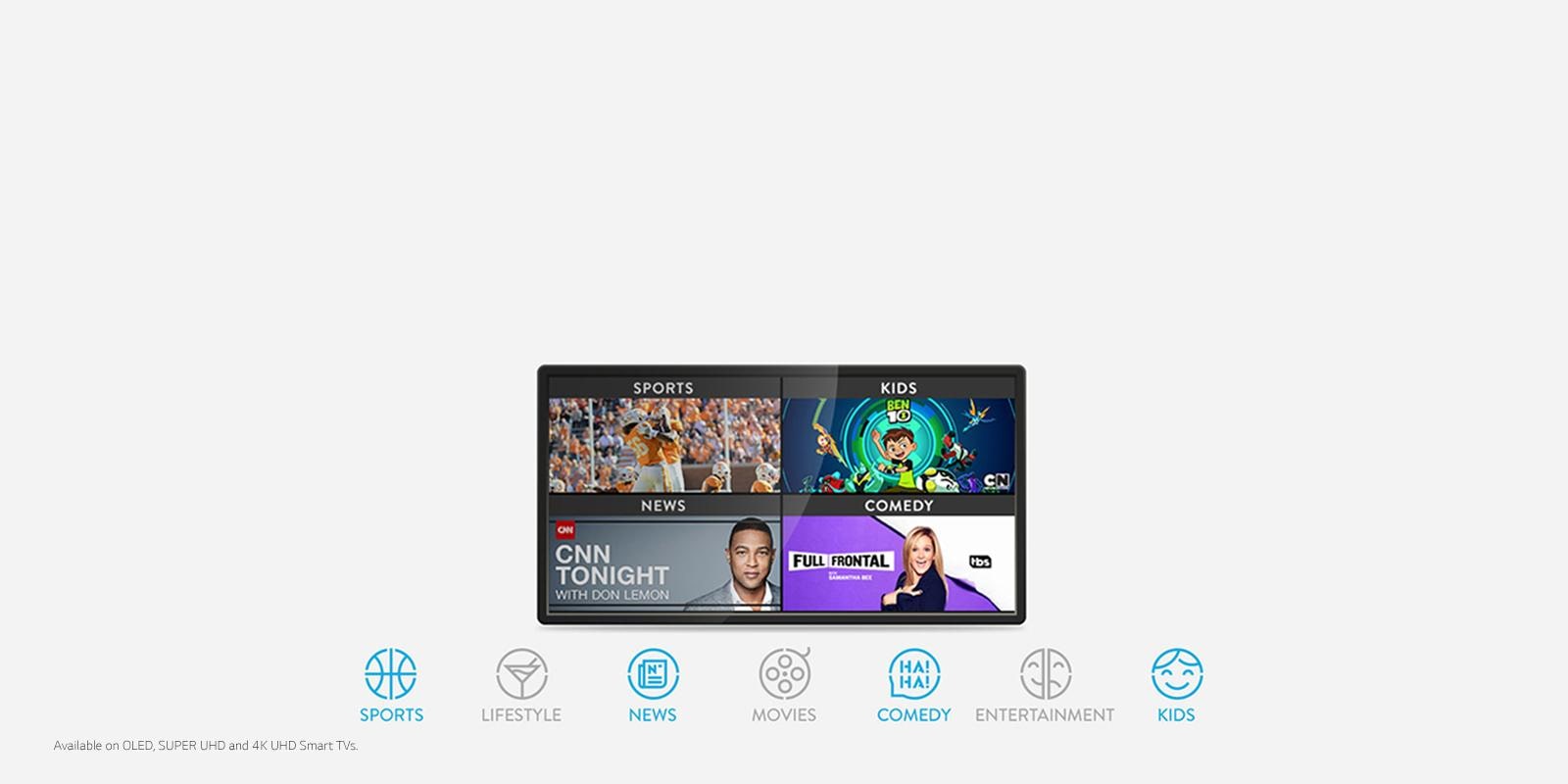 SLING TV
Introducing A La Carte TV, the only live TV service that lets you personalize your channel lineup and save. Customize with your favorite extras like Sports, Comedy, Kids, News, Hollywood, Lifestyle and more. Watch 7 Days Free! Restrictions apply.
Google Play Movies & TV
Rent or buy, stream instantly and watch across your connected smartphone, tablet or PC, too.
Selecting a checkbox will update the products displayed on screen.
Refine Your Search
44
Total Results
Smart TVs
Get more from your TV. With an LG Smart TV*, you can watch programming from your favorite broadcasters, access streaming content with the touch of a button, seamlessly share content between devices and more.
WHAT CUSTOMERS ARE SAYING
Average Rating for Smart TVs
TV looks like art on my wall

I bought this 65" beauty a few weeks ago and I can say for sure that the picture is a huge level up from my previous. I did not intend on hanging art in that space on my mantle but there it freakin sits. The remote is motion sensitive so that takes some getting used to. My Destiny 2 game has definitely improved too. If I have a complaint, it would be that I could barely lift it by myself and had to have help mounting it to the wall.

Sweepstakes entry received for review.

Perhaps the best 3D we've seen on a TV.

I bought this TV as a birthday gift for my wife. It replaced another brand 3D television that we had purchased only 6 years ago (when the unit failed). Although some of the onscreen controls are a bit challenging for us, the overall functionality is superb. The picture is exceptional. The built-in digital TV receiver does an excellent job. The 3D is off-the-scales great! There are MANY MANY Internet apps available! We do truly love this unit!!

Sweepstakes entry received for review.

Solid 4k/HDR performance with good built-in apps

I've had this TV for over 6 months now, and I've used it with many external devices. the color quality is excellent, it starts up quickly, and the remote control is versatile. Experiencing streaming videos in 4K is impressive, and the built in apps are above-average, compared to other built-in apps on Smart TVs. The voice recognition for searches on the remote is convenient, and it is as accurate as you would expect (which is to say, far from perfect, but usable). The default list of apps

...

read more

running down the bottom of the screen is a bit inconvenient, but I consider these two minor details not as important as the quality of both audio, video, built-in OS apps, channel listings, and other strong capabilities of this TV.

Sweepstakes entry received for review.
Excellent TV

I got this tv because I love 3D movies and this product has a great 3D panel . It's a shame LG stoped manufacturing 3d TVs . Also , this tv is 4K , HDR and Dolby Vision capable and overall looks amazing .

Sweepstakes entry received for review.

LGOled 55E6P 2016 model

Had this 55E6P 2016 model over a month now and i just love it. The picture is great and the 3D is out of this world.Love the HDR feature as it is so clear.Just hope it lasts for many years as thisTV experience as for now has been a wonderful experience......................................

Sweepstakes entry received for review.

Best TV Yet !

I bought this without seeing it,based on my last TV being an LG plasma which I still love . I went from 50 to 65 inch and love it ! The quality of the picture is like watching a whole new format ! The contrast that this OLED produces changes the whole ballgame ! These OLED TV are the future !

Sweepstakes entry received for review.
A Great Gift

We receive this 55 inch LG TV as a housewarming gift. What a wonderful addition to our home! We are very pleased with the additional features and streaming capability via a number of apps that are included or can be added to the TV. Love the slim trim. One of two small hiccups, but they are normally fixed with updates that are easily accessible. I would buy this TV again (as a gift too) - in the blink of an eye.

Sweepstakes entry received for review.

Awesome Picture and Sound

I definitely enjoy the "Smart" elements of the TV. The apps are a major plus. The TV has great sound without any sound system connected. The picture is crisp clear, and great to watch. The only downfall to me is the remote which is tough to use when typing in emails, scrolling, or searching on the web browser. The phone app remote does make up for this a bit, but is only usable once the TV is on and still has its own glitches.

Sweepstakes entry received for review.

Everthing I expected

I've had my 60UH6150 for a year now and it is by far the best TV I've ever owned. Some people said something about some white lines on the side at times. That is nothing at all to really complain about. I've seen them as well. Out of a year maybe 8-10 times.Change to another channel and its gone. I would for sure buy this TV again WOW the reception on 4k or through the Smart TV like Hula WOW.

Sweepstakes entry received for review.
Very Good But

I bought this TV in April 2017. Picture quality is outstanding. Sound quality is so, so. Biggest problem is that when we take a power hit and the power is restored, TV sometimes loses the internet connection. None of my other TVs have this problem. A battery backup should be recommended with this TV to keep interruptions to a minimum. LG should provide that backup. Also, YouTube is not a selection on this Smart TV. Maybe LG is hiding it, because neither I nor a Geek Squad Tech could find it.

Sweepstakes entry received for review.

Beautiful picture,love my Lg 4K tv.

If a 75 inch version of this set would have fit into my suv,well it my be in my family room,instead,all kidding aside to date this is the BEST FLAT PANEL television I have ever owned,it has smart app functions which I love for vacation pictures/videos,YouTube concerts,and 4k movies are breathtaking.

Sweepstakes entry received for review.

Great TV Poor Sund Quality

I seem to be having trouble adding a bluetooth surround system to my set

Sweepstakes entry received for review.
A Great Product

I decided to buy a bigger screen TV for my old one was over 10 years old. I saw the picture quality of the LG and was amazed with the clarity and sharpness. My old set was a very well known brand....but when viewing LG was was sold! Had it over a month and enjoy every minute of viewing!!!

Sweepstakes entry received for review.

color impact

easy setup beautiful picture very happy, great value

Sweepstakes entry received for review.

Surprise! Love it!

Awesome. We went from a much smaller, non-Smart TV to this baby! I will admit that I don't know how to use it yet as I haven't had time to really study it since my husband brought it home. But our daughter picked it right up and I'm sure I'm going to love it's features. Great picture!

Sweepstakes entry received for review.
Great all around package!!

When I first saw the price of an OLED tv I was in sticker shock for a while, but after learning all of the TV's capabilities it truly started to look like a smart buy (or what I call future proof). I play games and watch 4K movies and am amazed at just how awesome everything looks. Contrast between blacks and whites are unreal (because each pixle is its own light source). Gaming lag is unoticable to me. I did a lot of research and this TV kept coming out on top. You will it be disappointed....

Sweepstakes entry received for review.

Amazing TV Beyond Comparison

I'd been researching buying a new TV for several months and decided on what I felt was the best on the market, the LG OLED55B6P. The image quality is beautiful right out the box but once I had an opportunity to calibrate my individual devices and tweak some TV settings I saw jaw-dropping results. The sound quality is an additional bonus you don't find many places. The on-board Harmon Kardon speakers which produce crystal sound quality and almost rival my third-party sound bar are a great

...

read more

inclusion to this set. I understand price may be a factor for some but if you can shop around and find a deal on an LG OLED you won't be disappointed.

Sweepstakes entry received for review.

blacks in picture

very much enjoy the picture. Just moved and had to remount the TV it's super light compared to my other TV's

Sweepstakes entry received for review.
Hard to improve upon

I bought this television earlier this year because I wanted a television that would properly display dark colours. I was tired of having trouble watching dim scenes that would be washed out on other televisions. This OLED television matched and exceeded all my expectations. The blacks and dark colours are displayed perfectly. I was concerned about the curve a little, but I havent had any issues with the curvature of this television. The remote control is easy to use, similar to using a

...

read more

computer mouse. Obviously, the major downside to this television is the high cost.

Outstanding picture quality.

I did a lot of research into OLED vs quantum dot MBI technology the OLED is Superior 4 picture quality deep blacks and I also use the LG C7P as PC monitor for my gaming rig which produces outstanding quality on all AAA games with a low input lag of 22 milliseconds.

Sweepstakes entry received for review.

Amazing! Hypnotic!!

I have been using my LG 4K OLED TV for a few months. Picture is sharp, bright and pitch black where expected. HDTV upscaling looks great. Standard TV is what it is. You can only do so much to improve a low res picture. Played 3D 1080P DVDs and 4K home videos on it with no problems. I chose because it also supports both HDR standards. Really like watching Netflix 4K, Amazon Prime Video and YouTube using the TV apps. Also has Fandango Video app. Menus are easy to use and understand. A bit

...

read more

pricey but prices will come down... eventually.

Sweepstakes entry received for review.
Great TV I love it!

I bought this TV one year ago during Black Friday. I am so happy with it. There are three things that I love. First, is the picture quality. The blacks are truly black. I see details that I don't see on other TVs. And 4K movies are breathtaking. I also like the 3-D. The 3-D effect is so immersive. And I like that the glasses are light weight and low cost so that I can afford to provide glasses for all my guests. Second, the viewing angle. I have a long sofa facing the TV and I can view the

...

read more

picture from any angle. Third, the sound. When I first considered buying this TV I was thinking of buying two standing speakers and a receiver. But the sound is so good that you don't need extra speakers.

Sweepstakes entry received for review.

Picture and sound quality is amazing

I've had this set about a month and it really performs with good source material, especially bluray and UHD. 3D is error free and looks terrific. The sound is also a step up but this kind of picture really demands separate sound systems.

Sweepstakes entry received for review.

Stunning Picture

I waited a long time to go from Plasma to OLED. I read the reviews but was apprehensive, but to the dive and bought my first OLED. LG was first, and now everybody else is getting in on it. Regular HD programming is fantastic. Although limited on actual 4K , it's a whole new experience watch movies and documentaries. There is now some incredible programming in 4K. Always looking forward to sit down and watch my LG>

Sweepstakes entry received for review.
LG Product Service and Support
Get your questions answered about product setup, use and care, repair and maintenance issues. We can help.
Telephone
Call an LG Support Representative.
(800) 243-0000 Consumer (7am-midnight CST)
(888) 865-3026 Commercial (8am-6pm CST)