FOR SERIOUS WATCHERS
webOS 3.5 Smart TV
Access your favorite shows and movies with ease when webOS brings together all the most popular streaming video apps, including Netflix, Sling, FandangoNOW and Channel Plus.

webOS Smart TV
FandangoNOW
Experience Wonder Woman and over 50,000 movies and TV shows in Superior Resolution.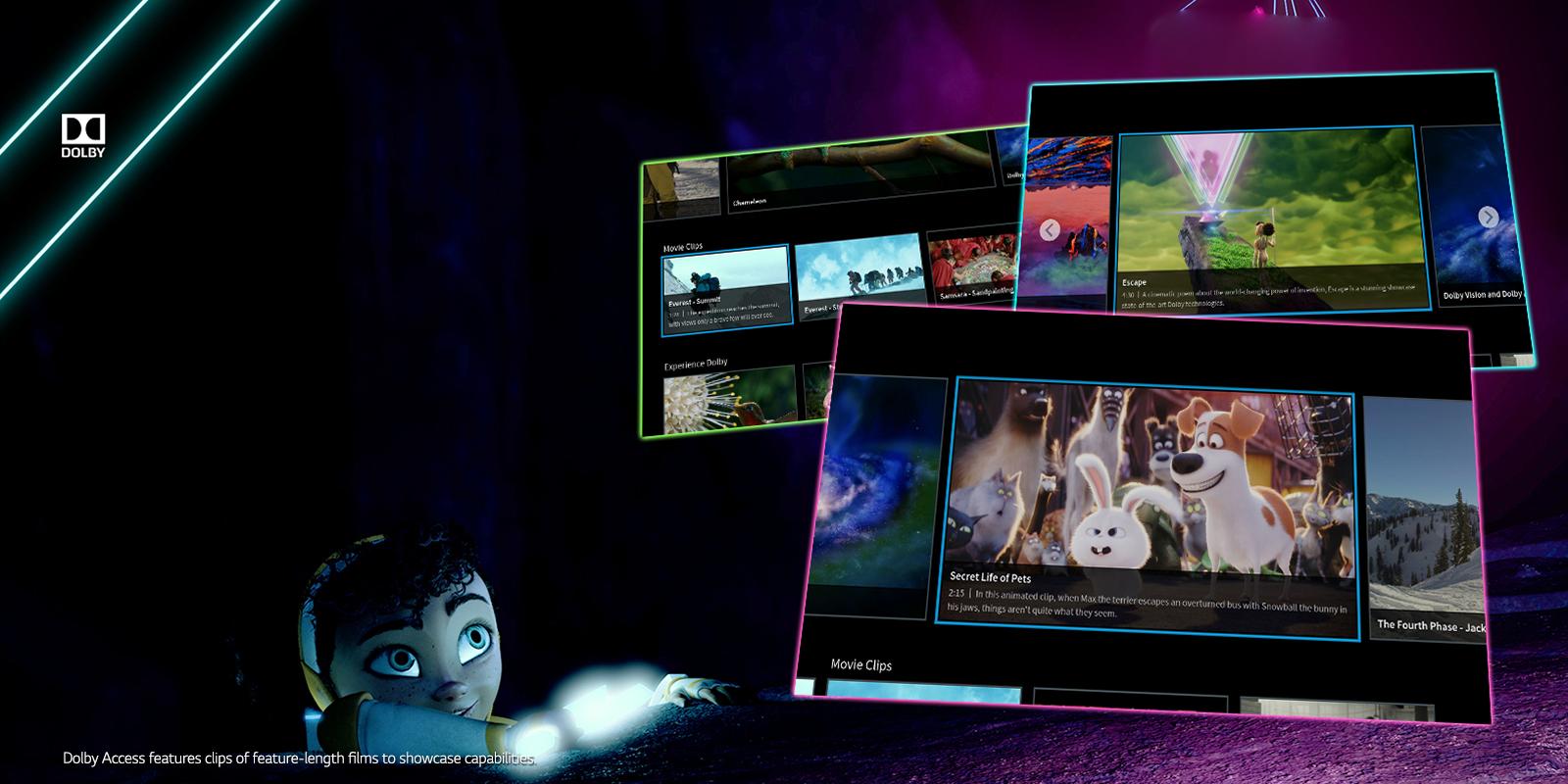 Dolby Access App
Experience Dolby Vision and Dolby Atmos on LG OLED TVs to turn your TV into an entertainment powerhouse.
Channel Plus
Channel the Internet
Get 100 free IP channels including Got Talent Global, Outside TV Shorts, Just for Laughs, and more integrated right into the television. Discover premium new entertainment, sports and lifestyle programming or enjoy old favorites any time.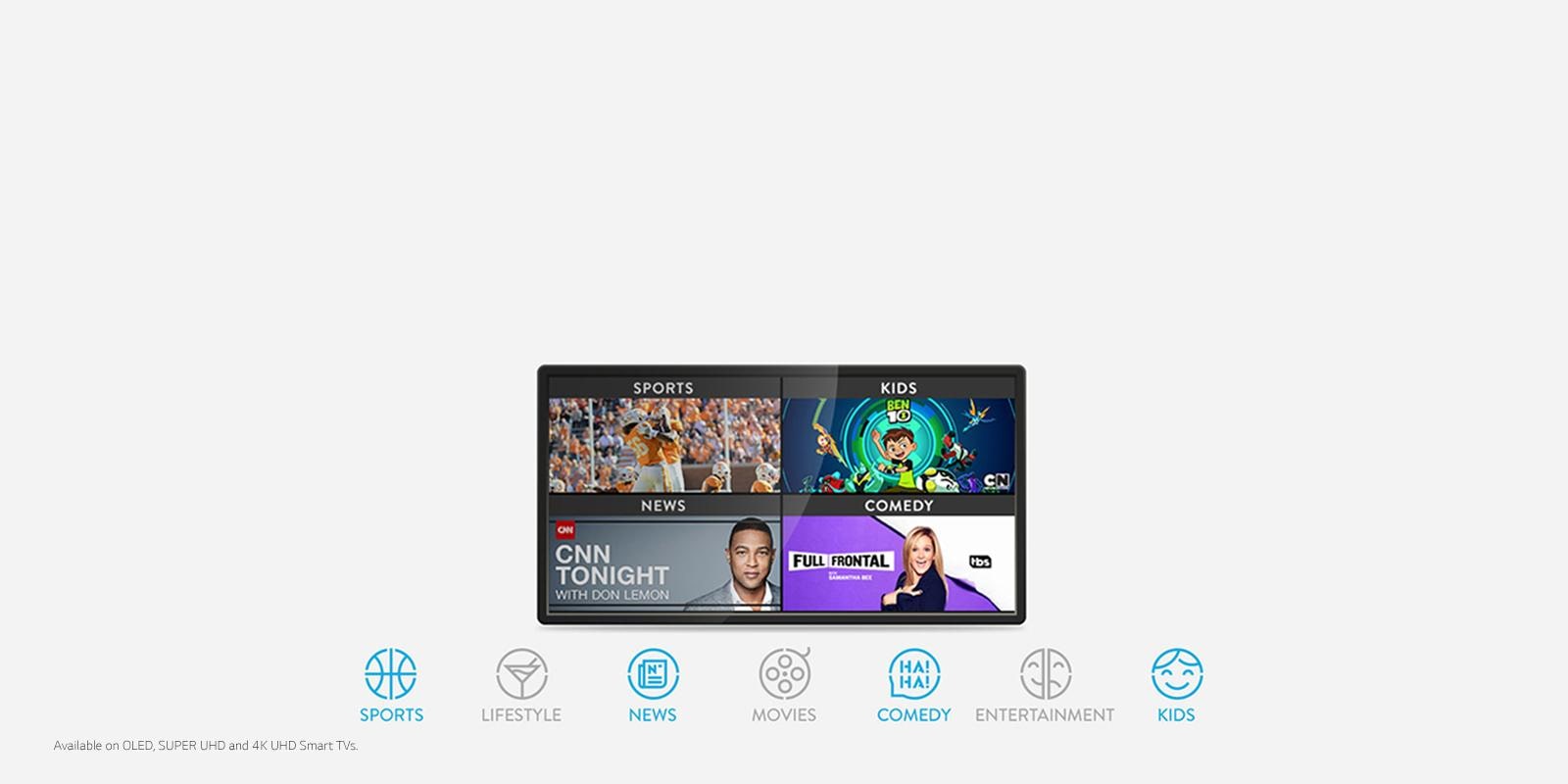 SLING TV
Introducing A La Carte TV, the only live TV service that lets you personalize your channel lineup and save. Customize with your favorite extras like Sports, Comedy, Kids, News, Hollywood, Lifestyle and more. Watch 7 Days Free! Restrictions apply.
Google Play Movies & TV
Rent or buy, stream instantly and watch across your connected smartphone, tablet or PC, too.
Selecting a checkbox will update the products displayed on screen.
Refine Your Search
51
Total Results
Smart TVs
Get more from your TV. With an LG Smart TV*, you can watch programming from your favorite broadcasters, access streaming content with the touch of a button, seamlessly share content between devices and more.
WHAT CUSTOMERS ARE SAYING
Average Rating for Smart TVs
Still loving it !

I brought my LG TV around 5-6 months ago. This TV so amazing and very high quality. I am a gamer and also a movie watcher, this tv is outstanding within both ! The graphics and colors are top of the line ! There are so much I could write, but the best thing is to just buy one and experience it for yourself ! Me, I'm still love it ! ~BM~

Sweepstakes entry received for review.

Outstanding performance, amazing price.

We have owned this T.V. for about 6 months and have loved every moment of watching it. Whether it's viewing our favourite shows on Netflix or playing great games on our Xbox, the UHD/4K content is phenomenal. To be able to sit back from the screen but still feel fully immersed in what's happening is awesome. The sound quality is adequate from the T.V. but we added a sound bar and subwoofer for extra depth. All in all it's been a fantastic purchase.

Sweepstakes entry received for review.

Gorgeous picture

I've been using the Television for 6 months or . I love the features and ongoing fantastic quality this set has provided.

Sweepstakes entry received for review.
Excellent purchase that meets expected performance

I did a bunch of research before buying a new tv. This one was one of the top rated ones. I am not disappointed at all. It performs very well and met my expectations. Outstanding picture! Excellent features. Easy to set up. Got it working the first try. I use U-Verse TV and it performs very well with it. I am now temporarily having it connected to Roku and DirectTV Now for streaming. it was also easy to set it up with these services. I have it connected optically to a sound bar so it

...

read more

also sounds great. Buy one, you won't be disappointed.

Sweepstakes entry received for review.

Amazing TV!

I purchased this TV a couple of weeks ago. The set up was simple, I had it up and running in about 30 minutes, the hardest part was getting it out of the boxes. The picture is amazing, watching football it makes me feel as if I am at the actual live game. Accessing the internet is so easy, going back and forth from internet to TV is extremely simple. The sound and volume are amazing. Watching any program or channel on this amazing TV is mesmerizing!

Sweepstakes entry received for review.

great features that we can't use!

We bought this set a few month's ago. I like the phone-to-set link to view You Tube video's. I noticed that when a character is in motion across the screen, such as a person or object,(1080p) it has a "ghost" or "Aura" around it. It goes away when it is not moving as compared to the background. It seemed to show after the second software update. I hope LG fixes it with a software update. Great picture with Blue-ray, (not 4K) a very sharp & clear picture. I wish it had 4 HDMI ports

...

read more

& analog audio output.

Sweepstakes entry received for review.
Great all round tv

This is a great all round tv that still offers 3D features at affordable price. Had this for almost a year.

Sweepstakes entry received for review.

Love my 60uh8500

I wouldn't trade in my tv for no other besides the OLED. Intestate picture quality. I just can't wait for the day I can get HBO now or GO on the tv so that I don't have to use a Amazon fire stick

Sweepstakes entry received for review.

Still learning

Replaced a 10 year old 720p 60" plasma with this so - obviously this is a big improvement. The remote is cool. Picture is great. I'm not sure if it's the LED versus more expensive OLED but there is some wash out with letters on black screen, the letter area (such as credits) becomes more of a gray versus the black that remains off to the sides. A bit annoying compared to the great blacks on the Pioneer plasma. 3D picture is not great, but my only source programming is via cable. I also don't

...

read more

use the sound, having a full 9,2 Dolby Atmos system. But overall, for the price I paid, the vivid picture, the size of the screen, available 24/7 support, smart features - I would buy it again.

Sweepstakes entry received for review.
Near Perfect Television

I have had my OLED55E6 for about 10 months and am really pleased with my choice. There are two reasons I selected the LG; the OLED picture technology and 3D. The picture is outstanding with the deep blacks and the excellent off axis viewing is a big plus for us. The detail of a 4K picture can be mesmerizing. This is my first 3D television and I am glad I stepped up to the E6 to get it. Avatar was simply breathtaking. I am sorry to see that in 2017 3D is no longer offered by any manufacturer. The

...

read more

only downside with this TV is the motion blurriness (judder?) when a scene is panning in that you cannot read signs, etc. It is worse with some sources more than others. I have heard that the 2017 models seem to handle this better.

Met and Exceeded My Requirements

My daughter and I are recording the life of our new grandson using two 3D HDTV cameras. I wanted passive 3D to avoid the battery life and viewing fatigue problems associated with active switching glasses. This UHDTV OLED TV provided full 3D vertical resolution and amazing color rendition. Future proofing will be ensured by firmware upgrades to support my video streaming needs.

Sweepstakes entry received for review.

The best picture of any TV I have every owned!!

The best picture of any TV I have every owned and I have owned over 30 different types and makes of TV's. I was recently able to compare this OLED next to the competitors QLED and the OLED is at least 200% better even though most sales people will try and tell you the QLED is almost the same. Don't believe it, the OLED blacks are deeper and the colors are substantially more vibrant than the competitors. They are no more competition than a 1st grade baseball player would be to a professional baseball player.

Sweepstakes entry received for review.
Great TV I love it!

I bought this TV one year ago during Black Friday. I am so happy with it. There are three things that I love. First, is the picture quality. The blacks are truly black. I see details that I don't see on other TVs. And 4K movies are breathtaking. I also like the 3-D. The 3-D effect is so immersive. And I like that the glasses are light weight and low cost so that I can afford to provide glasses for all my guests. Second, the viewing angle. I have a long sofa facing the TV and I can view the

...

read more

picture from any angle. Third, the sound. When I first considered buying this TV I was thinking of buying two standing speakers and a receiver. But the sound is so good that you don't need extra speakers.

Sweepstakes entry received for review.

Best TV hands down

After getting burned by a Best Buy floor model of this TV, I purchased it new from a different store, and it is stunning. The picture never ceases to amaze, the design is top notch, and this is the last model to carry 3D (which is sad, since it does 3D picture so much better than any other TV).

Sweepstakes entry received for review.

Was better than expected coming from Sammy Plasma

I brought this a month ago and could not believe the black WOW! And I had a Sammy Plasma! Got it calibrated but the calibration was only for the ISF Bright and ISF dark setting only. They do not calibrate for HDR, Dolby Vision nor HGL HDR that I just got from the software update! Hope to get the Active HDR software patch soon. Just wish it was not sooo explensive the 77inch model!

Sweepstakes entry received for review.
Beautiful picture colors and amazing black levels

I purchased my oled tv in November. I chose oled due to amazing picture quality and black levels that are second to none. The colors on this tv are amazing. Picture quality is second to none. The remote reminds me of a wii remote and very easy to use. The blacks are amazing. The first time I watched a movie and the screen went to black I thought the tv shut off lol. I game on mine as well with my PS4 and have zero trouble what so ever. The refresh rate obviously the tv is perfect for gaming and

...

read more

the colors in the games are absolutely incredible. Buy it you won't be disappointed I guarantee.

Sweepstakes entry received for review.

My Best TV

It is coming up on a year since I bought my OLED55B6P. I Bought it (sight unseen based on the reviews) during the sweet spot before Super Bowl. It was on sale from Best Buy along with a bonus $150 Best Buy Gift Card (which I used to buy a UHD 4K blue-ray player). I absolutely love my TV. As promised, the blacks are black and the colors and resolution are amazing. I have added back lighting behind the clear part of the stand so it looks like the display is floating. Looks awesome. And

...

read more

fortunately, OLED technology is now being used on iPhone, Samsung and Google phones so I think OLED was the the right choice. But of course, next year's CES may bring a new resolution standard technology based on nano pixels. Who knows.

Great TV overall but a couple of issues

This TV is capable of producing superb images in both SDR and HDR. The addition of HLG HDR by firmware update is especially welcome. However, the lack of VP9 profile 2 software support is annoying because it means no Youtube HDR streaming even though the TV chip set supports it. There is also a bug in the satellite TV guide that means no thumbnail preview. LG support less than helpful on both issues.
55" lg 4k

I bought this TV to replace a 49" lg smart tv which i loved because picture quality was awesome , well this new 4k is amazing ! The picture is so clear and crisp . The quality was better than some of the more expensive TVs. I will always buy an LG TV !

Sweepstakes entry received for review.

Surprise! Love it!

Awesome. We went from a much smaller, non-Smart TV to this baby! I will admit that I don't know how to use it yet as I haven't had time to really study it since my husband brought it home. But our daughter picked it right up and I'm sure I'm going to love it's features. Great picture!

Sweepstakes entry received for review.

color impact

easy setup beautiful picture very happy, great value

Sweepstakes entry received for review.
Amazing picture quality and great 3-D support

The color and brightness range on this set are impressive, even in a small living room with some window glare. Direct blu-ray playback and web streamed content are clear with no observed motion blur. The 3D support is where this set outperforms all comers; the passive 3D means lighter, less fatiguing glasses while still providing adequate left-right 3D separation with very little cross over. If you're looking to buy or replace a 3D set, this is well worth the hunt. They're increasingly rare

...

read more

brand new, but thanks to model closeouts, if you can find one, they're also a great value.

My best purchase yet

I bought it for Christmas 2016 after researching many different brands/tvs. 9 months later I couldn't be happier with my purchase. The pic is great. OLED by far was the way to go. Getting the 3D with the curved was screen was just an added bonus over the flat version. I have really no complaints about this tv. I wish I had another for my bedroom.

Sweepstakes entry received for review.

Best TV I've ever owned!

I love movies and I've always tried to have the best display technology to enjoy them. However, I have to say that I am very, very impressed by the picture delivered by my new 4k LG OLEDC6P. The picture resolution, the brightness, the color range and the reduction in motion blur (when I use optimized picture settings for the program material) are stunning. When I have the picture settings optimized for the 4k program source I'm viewing, it is like a window view into the real world. The remote

...

read more

control and user interface are very well-designed, too - they provide an easy, intuitive control experience with the TV. I love this TV...it is, hands down, the best TV I have ever owned.

Sweepstakes entry received for review.
LG Product Service and Support
Get your questions answered about product setup, use and care, repair and maintenance issues. We can help.
Telephone
Call an LG Support Representative.
(800) 243-0000 Consumer (7am-midnight CST)
(888) 865-3026 Commercial (8am-6pm CST)