Innovation for a Better Life
LG at CES 2018
Available in 65 and 75-inch
Room for More
Whether it's your screen size, savings in price, or a number of friends to come over to binge watch, you can live larger with LG SUPER UHD TV.
Gorgeous picture from every seat
LG Nano Cell™ Super Match
Check out interviews of legendary soccer players and behind-the-scenes stories.
Supports Dolby Vision™
Enjoy The Most HDR Content

From brilliant brights to deepest darks, LG SUPER UHD TV offers the ultimate expression of high dynamic range.
FOR SERIOUS WATCHERS
webOS 3.5 Smart TV
Access your favorite shows and movies with ease when webOS brings together all the most popular streaming video apps, including Netflix, Sling, FandangoNOW and Channel Plus.

webOS Smart TV
FandangoNOW
Experience Wonder Woman and over 50,000 movies and TV shows in Superior Resolution.
Channel Plus
Channel the Internet
Get 100 free IP channels including Got Talent Global, Outside TV Shorts, Just for Laughs, and more integrated right into the television. Discover premium new entertainment, sports and lifestyle programming or enjoy old favorites any time.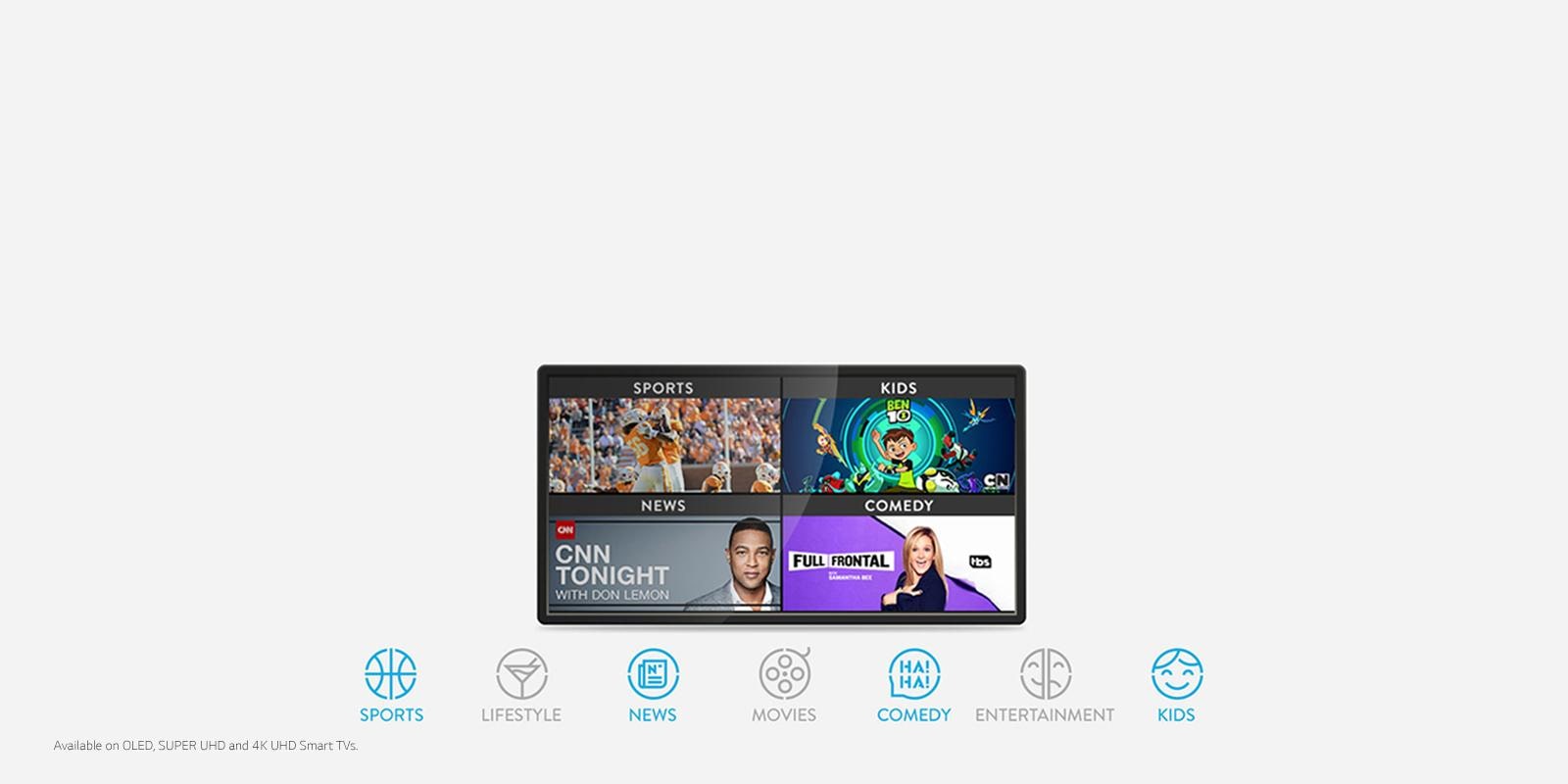 SLING TV
Introducing A La Carte TV, the only live TV service that lets you personalize your channel lineup and save. Customize with your favorite extras like Sports, Comedy, Kids, News, Hollywood, Lifestyle and more. Watch 7 Days Free! Restrictions apply.
LG TVs are rated by Consumer Reports
Find out how they stand out against competitors.

*Consumer Reports does not endorse products or services.

Selecting a checkbox will update the products displayed on screen.
Refine Your Search
14
Total Results
SUPER UHD TVs
From resolution that is at least four times that of full HD to ColorPrime technology designed to change the way you view everything, LG's SUPER UHD TVs are transforming television as we know it.
WHAT CUSTOMERS ARE SAYING
Average Rating for SUPER UHD TVs
Great TV Poor Sund Quality

I seem to be having trouble adding a bluetooth surround system to my set

Sweepstakes entry received for review.

Excellent purchase that meets expected performance

I did a bunch of research before buying a new tv. This one was one of the top rated ones. I am not disappointed at all. It performs very well and met my expectations. Outstanding picture! Excellent features. Easy to set up. Got it working the first try. I use U-Verse TV and it performs very well with it. I am now temporarily having it connected to Roku and DirectTV Now for streaming. it was also easy to set it up with these services. I have it connected optically to a sound bar so it

...

read more

also sounds great. Buy one, you won't be disappointed.

Sweepstakes entry received for review.

Amazing TV!

I purchased this TV a couple of weeks ago. The set up was simple, I had it up and running in about 30 minutes, the hardest part was getting it out of the boxes. The picture is amazing, watching football it makes me feel as if I am at the actual live game. Accessing the internet is so easy, going back and forth from internet to TV is extremely simple. The sound and volume are amazing. Watching any program or channel on this amazing TV is mesmerizing!

Sweepstakes entry received for review.
Great all round tv

This is a great all round tv that still offers 3D features at affordable price. Had this for almost a year.

Sweepstakes entry received for review.

Beautiful picture!!!

I love the picture bought my last year Lg is a good product!!!

Sweepstakes entry received for review.

Solid 4k/HDR performance with good built-in apps

I've had this TV for over 6 months now, and I've used it with many external devices. the color quality is excellent, it starts up quickly, and the remote control is versatile. Experiencing streaming videos in 4K is impressive, and the built in apps are above-average, compared to other built-in apps on Smart TVs. The voice recognition for searches on the remote is convenient, and it is as accurate as you would expect (which is to say, far from perfect, but usable). The default list of apps

...

read more

running down the bottom of the screen is a bit inconvenient, but I consider these two minor details not as important as the quality of both audio, video, built-in OS apps, channel listings, and other strong capabilities of this TV.

Sweepstakes entry received for review.