The Ideal Earbuds of 2022: The Wireless LG Earbuds
Since 2015, wireless earbuds have been on the rise. They've developed, changed, come in different colours, types, and features. So if you're tech-savvy, you might want to stay updated with the latest earbuds trends. And 7 years later, LG found the ideal earbuds
Why Buy the Wireless Earbuds
If you enjoy a good workout, jogging outdoors without any noise, and living in the moment, then wireless earbuds are the perfect solution for you. Not only will you be able to work out without the hassle of the wire, but you can choose a comfortable earbud size and move freely.
It's also an excellent option for the businessmen out there. If you're attending a meeting, it's the perfect solution to cancel the background noises around you even while talking with the amazing features available.
Thinking about it? Here are the features of the LG wireless earbuds that will make you fall in love.
Noise Cancellation
You put your earbuds on to isolate yourself from the world around you. Feel every beat of the music, attend every meeting intuitively, and enjoy the moment with LG's wireless earbuds noise cancellation feature.
Escape reality by cancelling all background noises when attending the meeting or jogging. The HBS-FN7 LG wireless earbuds will do the trick. Choose between black or white earbuds and be transferred into a new concentration level with this feature.
The noise cancellation isn't complete without the support of dual microphones. This means the earbuds come with two different microphones. The dual-microphone helps cancel the background noises around you to give you a professional and calm environment to surround you during meetings.
UVNano 99.9% Bacteria Free
A bacteria-free wireless charging case is here! The UVnano charging case kills 99.9% of bacteria on the speaker mesh of earbuds while charging only for 10 minutes. The UV LED function works only when the charging case is connected to the power cable.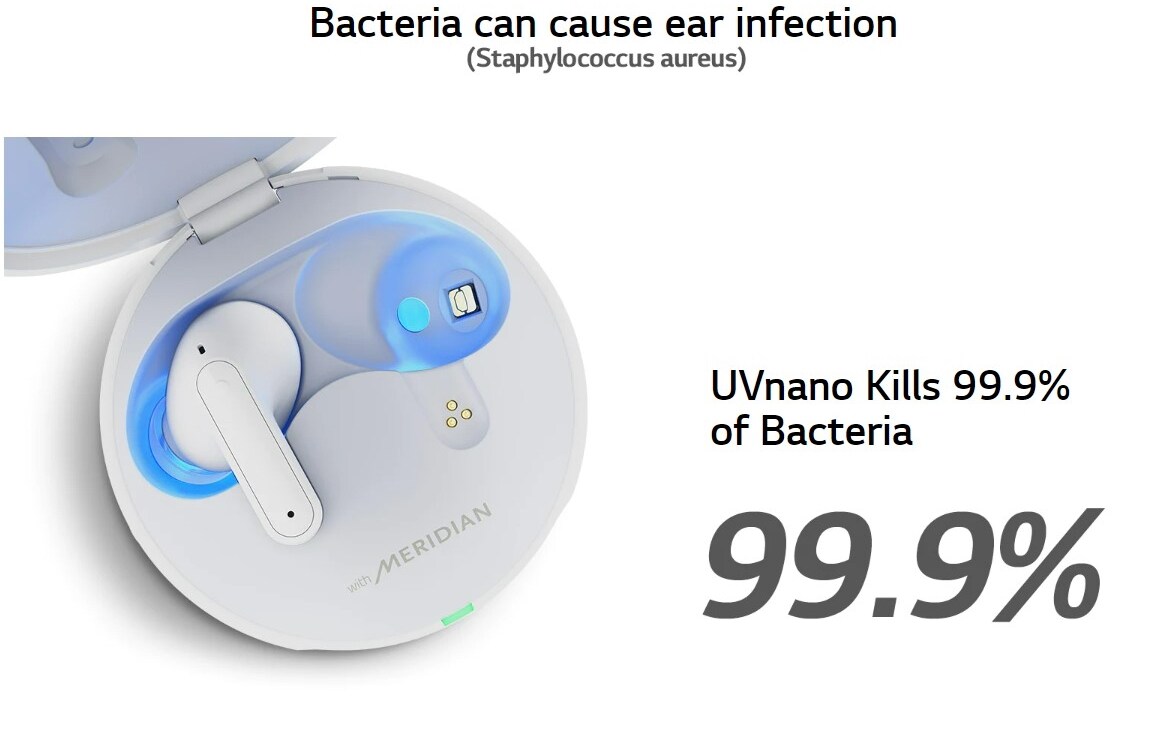 Clear Sounds with MERIDIAN
The LG wireless earbuds will blow you away with their clear sound system and high-quality audio. Working with Meridian to bring an impressive and clear sound to your ears
Take a walk on rainy days or use the earbuds at the gym. There's no need to worry about any splash coming your way. Why? These earbuds are water-resistant for you to use without any worries.
Long-lasting Battery Life
Your earbuds will keep the music playing for hours. Your earbuds will last for 21 hours of music playtime with the charging case and 7 hours straight. If you charge your case for 5-minutes, you'll get to use your earbuds for an hour straight. So, are you ready?
With LG wireless earbuds, you don't get anything but comfort, that's because they include medical-grade ear gels made from non-toxic, hypoallergenic silicone. Choose from three different sizes, stay comfortable, and dance the night away.
Bring the perfect combination of comfort and clear sounds as you listen to your favourite music. There's nothing more you could ask for because LG wireless earbuds have got what it takes to blow your mind. So all that's left to do is for you to try it yourself and decide.
More To Read


LG Sound Bar Creates Better Entertainment Experiences at Home with Intelligent Sound
Learn more

Omnidirectional High-Quality Sounds Combined with Innovative Technology for Smooth Listening
Learn more