LG AND FAZE CLAN GET SERIOUSLY PROFESSIONAL
Practice makes perfect, but a gaming monitor like the LG 21:9 UltraWide® monitor can help gamers get the edge on the competition.
A Perfect Complement
LG UltraFine™ 4K and 5K Monitors let you experience the Ultra High Definition and detail of a MacBook or MacBook Pro.
Discover the
Whole UltraWide® World
The LG 21:9 UltraWide monitors are the ultimate immersive experience.
Work, play, or entertainment, it puts it all on display.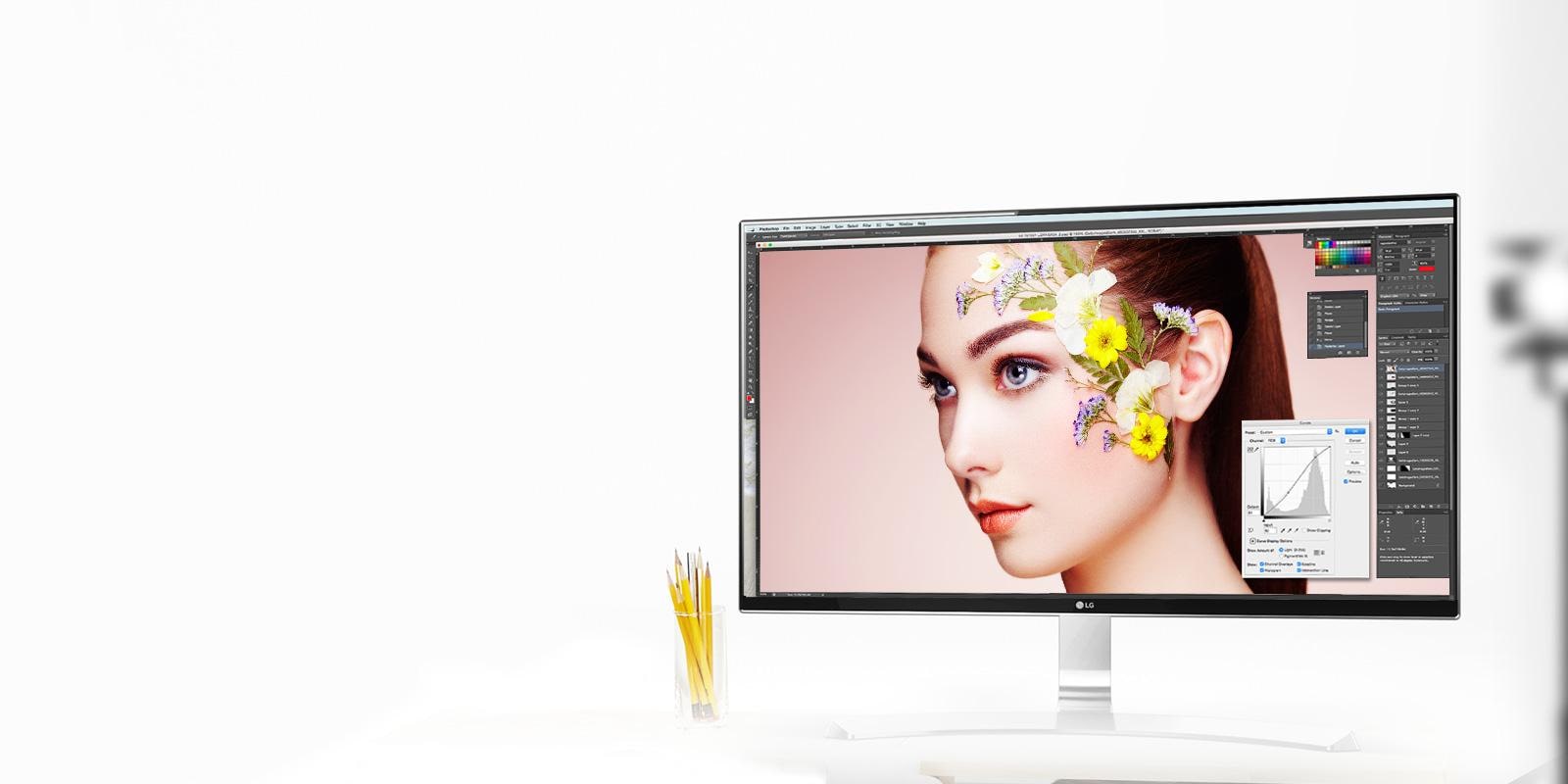 Four Times The Detail
The clarity and fine details of 4K UHD will amaze, even when viewed up close thanks 8.3 million pixels on a screen with resolution of 3840 x 2160. That's four times the resolution of Full HD.
Selecting a checkbox will update the products displayed on screen.
Refine Your Search
50
Total Results
All Monitors
From high-performance curved, ultra-wide computer monitors designed for multitasking, to immersive gaming monitors, stunning digital cinema 4K, and the true-to-life colors of our IPS monitors -- discover the latest in LG innovation.
WHAT CUSTOMERS ARE SAYING
Average Rating for All Monitors

All around great monitor!

I bought this last monitor about 10 months ago as an external monitor for my laptop. Very quick and easy to set up. Nice wide screen allows at least 3 or 4 applications to be open sided by side. Video is amazing. After almost 10 months of daily use, I've found nothing to dislike.

Sweepstakes entry received for review.

Ultrawide is amazing

Since normal widescreen is typically just television programming (which I don't watch on the computer); but movies, programs, and most games work well in ultra-wide, I figured I would try it. It's amazing. I can have two windows up simultaneously for web browsing, and since it is still 'x1080' resolution I've seen very little impact to frames per second in games. It also works great at 75hz, but the only downside is it isn't native 75hz, so you will need to manually overclock it if you want to go over 60hz.

Sweepstakes entry received for review.

AMAZING!

I had been eye balling a LG widescreen for a while and finally decided I would just go ahead and buy it. Ended up finding the 34" for not much more than the 29" was. Oh golly am I glad I got the bigger screen, I absolutely love it. I only use it for work, where I have to reference several screens at once, it has made me much more efficient! I am still playing with the spiting options to find the perfect one for my application but they all work really well. Yet again LG made a product perfect for

...

read more

me that I absolutely love!!!

Sweepstakes entry received for review.
First

Coming from an Ostendo CRVD-43, I've been waiting for quite some time for curved ultra wide monitors to catch up with the train I was already onboard. as far as this monitor being curved, it's only slightly more so than a 34 inch dell I tried a couple years back. however, this is the largest 21:9 and highest resolution 21:9 monitor to date. I primarily use this monitor for gaming, I chose it over the acer predator series of curved monitors because of the much higher resolution and extra 4-5

...

read more

inches of screen size. If you intend on using this monitor for productivity or video\photo editing, then pile in, this is the best monitor you can currently buy for such purposes. All things considered I would rate this moitor a 8.5/10, my main con being the basically not existent curve.

Sweepstakes entry received for review.

Brilliant !!!

Hi to all digital artist out here .... get this screen!!! It's a good investment for your eyes like a good chair will do for your backbone ... ;-) Slick design, a minor point is that the feet of the screen is very sensitive hit you desk and the screen wobbles for a sec ... So don't get nervous ... relax and enjoy!

Sweepstakes entry received for review.

Awesome Monitor

I love the monitor. It feel like the perfect size for what I do. I am Building Designer and use a CAD program. Them monitor feeds all my tools and plenty of room for all my drawings. I do have one issue, and that is the I can not fine a "C" connection that will will work with my Thunderbolt out puts. The 2nd generation Thunderbolt connections are the fasted connection my computer has and if I could use the "C" out put on the monitor then it would drive power to the USB connection to the

...

read more

monitor. But for now, I am using Thunderbolt to Monitor conection which works but does not drive the available USB on the back of the Monitor. Over all I love it.

Sweepstakes entry received for review.
Great monitor

Love this monitor everything about it even the stand is amazing. My only gripe is that i wish it had higher than 75hz and g-sync but thats not realistic given when (the date) i purchased it. Otherwise its amazing.

Sweepstakes entry received for review.

Not a bad monitor

I like the monitor, it works well, some things are a little difficult to figure out. It didn't replace my need for a second monitor, but pretty much works well

Sweepstakes entry received for review.

A great picture

I have had this monitor for several months. I have a second monitor but almost don't need it because of the widescreen. The only down side is the on/off switch. To turn it off you must hold the switch in for several seconds. You can turn it on with just a quick click but not off.

Sweepstakes entry received for review.
My Monitor Replacement.

My monitor died, and I needed a good replacement. Came across, and purchased this LG 32 inch monitor. What a gem! It has good color, and picture quality. A thin bezel design, with a easy to use joystick for the menu options. This was the perfect size for my desktop viewing pleasure. The HDMI / VGA connections make it compatible with both old & new computers. It even has a switchable LED on indicator for the users preference. I feel I did good with my choice, and I would recommend this to

...

read more

anyone who needs a good basic monitor. Thank you LG - keep up the good work.

Sweepstakes entry received for review.

Good monitor for the price

I've had mostly good experiences with this monitor, but a lot of the features feel like they're just there for the sake of being there. It takes a long time to set up your settings but once you do its great

Sweepstakes entry received for review.

Wonderful monitor!

Bought the monitor a few months ago and couldn't be happier with it. The ease of seeing the information is incredible!

Sweepstakes entry received for review.
Fantastic monitor for office multitasking

This monitor is awesome for viewing two or more apps at a time. I use it with my MacBook pro and it allows me to see everything I am working on without switching between programs. The built-in speakers are surprisingly good also. The only minor annoyance is that the monitor wiggles a bit on the stand if you move your desk at all. Mounting on a movable mount would probably fix this. Overall it is great, I would highly recommend it for office applications and home use.

Sweepstakes entry received for review.

Great TV

This is my first curved monitor/tv experience, and it is really great. The curve adds a depth to the immersion that it lovely. The colors on the monitor are quite amazing as well. Ultrawide movies and games that play in 3440x1440 are slick. My one gripe would be that with the 75Hz refresh rate, certain fast moving games such as FPS, have a bit of a noticeable screen tear. I have a GTX 970 so I am not taking advantage of freesync to get the better refresh rate, so for those with AMD they might

...

read more

have a smoother experience.

Sweepstakes entry received for review.

Excellent screen!

I got this monitor earlier this year for my home office and it's fantastic. I use two 24 inch monitors at work and this one screen easily gives me the same productivity area with a much better picture quality.

Sweepstakes entry received for review.
Great 34"

I bought this for day trading to see my charts better. I used it on my 2013 iMac Pro retina (early) and my 2014 iMac 27" without issue. Also had 3rd monitors hooked up to both machines. There were a few quirks at times (it would wake up and be blank often and I had to put the mac to sleep and wake it up again to get the monitor to display, and it would also tend to change the background resolution). These issues were unique to this monitor, so not sure what's up with that - I think it it

...

read more

wakes in a different resoltion then changes because on my win 10 machine when I wake it up the windows are all smaller than I left them, as if the resolution changed.). Regardless the monitor is one of my favorites. Not a clean and crisp as my imac27 or thunderbolt monitor, but a really good monitor.

Sweepstakes entry received for review.

Awesome Monitor !

When i bought this monitor i got Defective product (Online Shop), so i claim a new one from LG, and they claim ( well because this item is limited in my country, i need wait a 1 month to get claim). the LG Team paid for the Shipment, the Customer Service is not bad at all because they process my claim, and well done ! i use this monitor about 3days right now. I'm happy using this monitor, good for multi tasking window work area. Design, View, Display is awesome. But LG need improve

...

read more

the software "OnScreen Control" when i alt tab from Full Screen ( Like games ) it will stuck me about a few seconds. The Panel + Software Screen Control is good and awesome too Easy use, and perfectly great !

Sweepstakes entry received for review.

Amazing Monitor!

I purchased this monitor a week ago because of a recommendation from AMD, after they gave me their top GPU. I most say it has exceeded my expectations on ever respect: quality, picture quality, aesthetics and form factor.

Sweepstakes entry received for review.
Has worked very well

I have had this device for several months and it has been very good, making my Surface computer much easier for me to see and use.

Bretty Gud

Got this on sale for Christmas and it has been excellent. It's the best monitor I've owned to date and it's performing like a champ. Occasionally it flickers when I use an HDMI cable, but I've had that problem with other monitors/TVs so I think it might be on my end.

Sweepstakes entry received for review.

Perfect

A sensible choice, not very expensive and quality. perferct for gaming!

Sweepstakes entry received for review.
LG Product Service and Support
Get your questions answered about product setup, use and care, repair and maintenance issues. We can help.
Telephone
Call an LG Support Representative.
(800) 243-0000 Consumer (7am-midnight CST)
(888) 865-3026 Commercial (8am-6pm CST)