LG AND FAZE CLAN GET SERIOUSLY PROFESSIONAL
Practice makes perfect, but a gaming monitor like the LG 21:9 UltraWide® monitor can help gamers get the edge on the competition.
A Perfect Complement
LG UltraFine™ 4K and 5K Monitors let you experience the Ultra High Definition and detail of a MacBook or MacBook Pro.
Discover the
Whole UltraWide® World
The LG 21:9 UltraWide monitors are the ultimate immersive experience.
Work, play, or entertainment, it puts it all on display.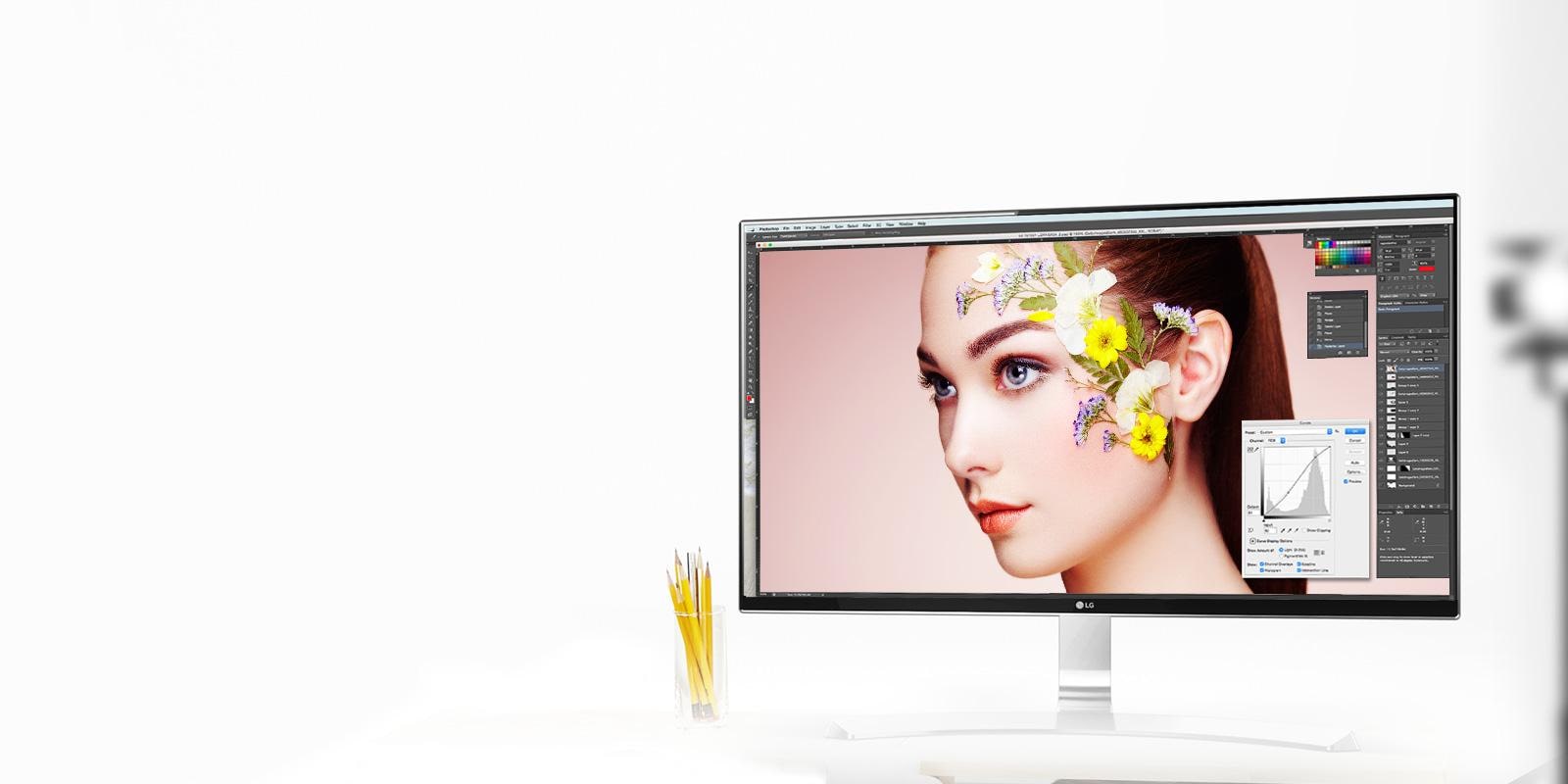 Four Times The Detail
The clarity and fine details of 4K UHD will amaze, even when viewed up close thanks 8.3 million pixels on a screen with resolution of 3840 x 2160. That's four times the resolution of Full HD.
Selecting a checkbox will update the products displayed on screen.
Refine Your Search
52
Total Results
All Monitors
From high-performance curved, ultra-wide computer monitors designed for multitasking, to immersive gaming monitors, stunning digital cinema 4K, and the true-to-life colors of our IPS monitors -- discover the latest in LG innovation.
WHAT CUSTOMERS ARE SAYING
Average Rating for All Monitors

LG PC Monitor

I have four (4) of these monitors. Due to some eye issues, I find the larger screen assists my reading the monitors. PROBLEM: these screens, all four of them (two on one computer, the other two on a separate computer) go "black" after only a few seconds of inactivity. Very frustrating! And the computer screen settings are at twenty minutes. I looked at comments on the internet, and find others have the same issue. I will continue to try to solve the problem. Otherwise, good units.

Sweepstakes entry received for review.

Great Value and no regrets

I have had the monitor about 2 + months now. The utility is worth it and for those considering a 25" ultrawide like I was, you should get the 29" ultrawide if you work with three screens vertically. The response time is great and after using this I don't think I will go back to a non ultrawide.

Sweepstakes entry received for review.

AMAZING!

I had been eye balling a LG widescreen for a while and finally decided I would just go ahead and buy it. Ended up finding the 34" for not much more than the 29" was. Oh golly am I glad I got the bigger screen, I absolutely love it. I only use it for work, where I have to reference several screens at once, it has made me much more efficient! I am still playing with the spiting options to find the perfect one for my application but they all work really well. Yet again LG made a product perfect for

...

read more

me that I absolutely love!!!

Sweepstakes entry received for review.
Awesome Monitor

I love the monitor. It feel like the perfect size for what I do. I am Building Designer and use a CAD program. Them monitor feeds all my tools and plenty of room for all my drawings. I do have one issue, and that is the I can not fine a "C" connection that will will work with my Thunderbolt out puts. The 2nd generation Thunderbolt connections are the fasted connection my computer has and if I could use the "C" out put on the monitor then it would drive power to the USB connection to the

...

read more

monitor. But for now, I am using Thunderbolt to Monitor conection which works but does not drive the available USB on the back of the Monitor. Over all I love it.

Sweepstakes entry received for review.

Dimensions confusing

Why is it listed as 3.6" high? With Stand (WxHxD) 32.7" x 17.7" x 11.0" (down) – 15.7" (up) Without Stand (WxHxD) 35.3" x 3.6" x 15.5" Shipping Dimensions (WxHxD) 41.5" x 8.1" x 21.2" And why is it listed as wider without a stand? How is it a stand changes width? This is a fantastic monitor but it worries me that they can't get basic stuff like this correct. If they are as sloppy as this in their engineering department, I don't think the monitor will last very long.

Sweepstakes entry received for review.

Latest tech, amazing quality and upward your work

look no further if you have PC or MAC, this monitor has all in, including USB-C. The screen resolution is amazing, you have several options to configure and gaming settings. You can easily replace two monitors with this one, I used to have two monitors in my desk and now just this and it saves space, energy and I can be more productive. The curve screen gives you that immerse experience. Well build and beautiful design.

Sweepstakes entry received for review.
Love it

My 20 inch monitor went out after 5 years. I replaced it with the 32 inch LG monitor. WOW! like watching a "big screen". I no longer have to wear my reading glasses when on the computer.

Sweepstakes entry received for review.

Great size and flexability

I bought this monitor for its size, its ability to look at drawings on the screen rather than having to print them out. I also like the fact I could have multiple screens open at one time. Sold functions like having to monitor side-by-side but in one nice package

Sweepstakes entry received for review.

Great contrast and colors, the size is perfect

I was pleasantly surprised with the quality of this monitor, colors are sharp, super contrast and vivid pictures. Movies perform really well. I am not a gamer so I can tell anything on that aspect. Worth the money hands down. The only issue why is not a 5 is due to its stand. It is not adjustable and you will need desk holder to raise it eye level. It is also not sturdy but since the monitor is just on my desk for my home desktop, it will do.

Sweepstakes entry received for review.
Emmersive experience with quality hardware!

I purchased this monitor for multitasking purposes. I use it with BetterSnapTool to organize my screen into 3 columns or 6 squares. Windows snap perfectly and the screen makes multitasking a breeze. I do some light gaming on it (mostly strategy games) and I haven't had any issues with the refresh rate. Maybe in a racing game or FPS it would not be as smooth. Having this monitor has changed the way I work. I highly recommend using it with a monitor arm so you can move it around easily.

...

read more

Picture quality is excellent, though not as sharp as what you see on a retina-type display. Quality is very good. Brightness is excellent, I never go more than 30% brightness - that's how bright it gets.

Sweepstakes entry received for review.

Great Features!

I bought this to have a more productive workspace...it's all that I expected and more...this monitor is nothing short of awesomesauce...the sound is surprisingly really crisp as well.

Sweepstakes entry received for review.

Serves me well

Good colors, no dead pixels sturdy build. My only issue was the small freesync range, but I was able to expand the lower end using CRU successfully. Feels good. LG definitely on my good side for future monitor purchase considerations.

Sweepstakes entry received for review.
Awesome Monitor !

When i bought this monitor i got Defective product (Online Shop), so i claim a new one from LG, and they claim ( well because this item is limited in my country, i need wait a 1 month to get claim). the LG Team paid for the Shipment, the Customer Service is not bad at all because they process my claim, and well done ! i use this monitor about 3days right now. I'm happy using this monitor, good for multi tasking window work area. Design, View, Display is awesome. But LG need improve

...

read more

the software "OnScreen Control" when i alt tab from Full Screen ( Like games ) it will stuck me about a few seconds. The Panel + Software Screen Control is good and awesome too Easy use, and perfectly great !

Sweepstakes entry received for review.

First Ultra Wide Curved Display

I was completely shocked at how the experience with an UltraWide Curved Monitor was so positive. I currently have it connected to my MacBook Air (Thunderbolt), PS4(HDMI), Xbox One(HDMI), and Alienware Area 51(DisplayPort). I could not think of a better setup. The only CON I notice so far is that there is so light bleeding in the lower left corner. It's noticeable when Black but when color shows, I can barely notice it. Love it!

Sweepstakes entry received for review.

Great monitor!

I bought this about 3 months ago and I LOVE it! Its perfect for productivity and looks super nice. Really good quality product, and would recommend this monitor if you can afford it.

Sweepstakes entry received for review.
Amazing for some gaming and serious work

I have primarily bought this work work. As a developer I need to fit to a screen a lot of things to speed up my work. Having a 34" monitor I cannot say how much easier my work become. At the same time I occasionally play some games like Dota2 and league of legends. I can say only positive words about this screen when it comes to basic gaming. I am sure this wouldn't be the greatest screen for highest level of gaming, but I can say for the price it is really a best buy in that category of 34"

...

read more

ultra wide screen market

Sweepstakes entry received for review.

Great Monitor with reservations

A fine monitor at the current pricing, had it been the old retail not so much. Interesting format and very useable. The only complaint, while I give the monitor a 9 the joystick interface was designed by a 3rd grader. This would be much more efficient with a simple remote. It forced me to wall mount this device at the lowest position on my wall just to be able to adjust or select options. Over all rating a 9 joystick is a joke

Sweepstakes entry received for review.

FAB Ultra screen

We bought 2 of these monitors. Didn't realize the amount of desk space it needs. My wife has the LG 27" HD and I was about to buy that one. Then we saw a sale on the 29" Ultra Wide at Fry's. A little research, online comparison, visit the store to check out the demo model and take 2 home. Setup on #1 was a breeze, didn't need the install disk, Windows had drivers. On screen setup was easy, mostly to reduce the brightness and setup sound to my liking. It's so big and wide, I'm still getting

...

read more

used to it and trying to figure out where I should place all the different apps as I use them. It's an embarrassment of available screen real estate. So far, not a lot of Ultra-wide videos available and I'm not a gamer. Speakers actually sound pretty good, considering the size and the single AUX cable. I'll stick to my normal speakers. Monitor overkill? Maybe. Setup on #2 was a bit more problematic. My son accidentally clicked on some windows setting and suddenly the monitor speakers would not work. He tried everything, reset his windows sound, monitor sound and could not get speakers to work again. I had suggested a system reboot including monitor and that fixed it, but not before some serious consternation in my son's part. It's been 2 weeks. Buyer's remorse? Not in the least. Just wish there were more regular video for these screens. Working with all this extra elbow room? Priceless....

Sweepstakes entry received for review.
Perfect

A sensible choice, not very expensive and quality. perferct for gaming!

Sweepstakes entry received for review.

Bretty Gud

Got this on sale for Christmas and it has been excellent. It's the best monitor I've owned to date and it's performing like a champ. Occasionally it flickers when I use an HDMI cable, but I've had that problem with other monitors/TVs so I think it might be on my end.

Sweepstakes entry received for review.

Got what I wanted

I bought this 1 month ago and like the clea, crisp image. Set up was different and confusing but it works fine.

Sweepstakes entry received for review.
LG Product Service and Support
Get your questions answered about product setup, use and care, repair and maintenance issues. We can help.
Telephone
Call an LG Support Representative.
(800) 243-0000 Consumer (7am-midnight CST)
(888) 865-3026 Commercial (8am-6pm CST)