LG AND FAZE CLAN GET SERIOUSLY PROFESSIONAL
Practice makes perfect, but a gaming monitor like the LG 21:9 UltraWide® monitor can help gamers get the edge on the competition.
A Perfect Complement
LG UltraFine™ 4K and 5K Monitors let you experience the Ultra High Definition and detail of a MacBook or MacBook Pro.
Discover the
Whole UltraWide® World
The LG 21:9 UltraWide monitors are the ultimate immersive experience.
Work, play, or entertainment, it puts it all on display.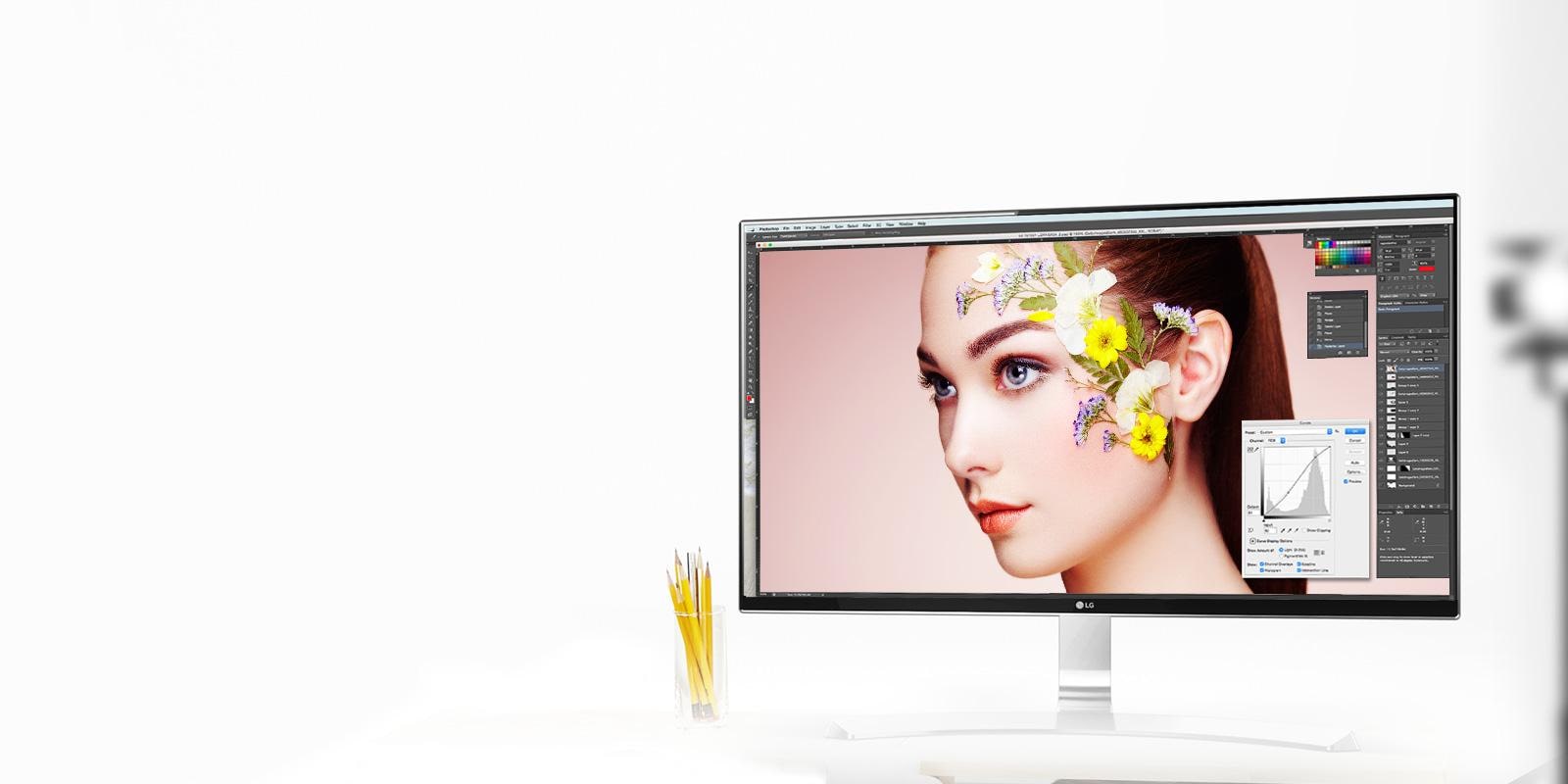 Four Times The Detail
The clarity and fine details of 4K UHD will amaze, even when viewed up close thanks 8.3 million pixels on a screen with resolution of 3840 x 2160. That's four times the resolution of Full HD.
Selecting a checkbox will update the products displayed on screen.
Refine Your Search
65
Total Results
All Monitors
From high-performance curved, ultra-wide computer monitors designed for multitasking, to immersive gaming monitors, stunning digital cinema 4K, and the true-to-life colors of our IPS monitors -- discover the latest in LG innovation.
WHAT CUSTOMERS ARE SAYING
Average Rating for All Monitors

Nice Gaming

I love playing on that monitor. No lags and so many space!

Great monitor!

I bought this about 3 months ago and I LOVE it! Its perfect for productivity and looks super nice. Really good quality product, and would recommend this monitor if you can afford it.

Sweepstakes entry received for review.

looks great

Very nice picture, looks great. having some issues with audio, but will get it figured out soon.

Sweepstakes entry received for review.
Emmersive experience with quality hardware!

I purchased this monitor for multitasking purposes. I use it with BetterSnapTool to organize my screen into 3 columns or 6 squares. Windows snap perfectly and the screen makes multitasking a breeze. I do some light gaming on it (mostly strategy games) and I haven't had any issues with the refresh rate. Maybe in a racing game or FPS it would not be as smooth. Having this monitor has changed the way I work. I highly recommend using it with a monitor arm so you can move it around easily.

...

read more

Picture quality is excellent, though not as sharp as what you see on a retina-type display. Quality is very good. Brightness is excellent, I never go more than 30% brightness - that's how bright it gets.

Sweepstakes entry received for review.

graphic designer / gamer

This is a terrific monitor. I am a graphic designer and it handles my Adobe products flawlessly. The color balancing is easy to work. Would love to see a built in suto calibrator so that i can change colorspaces easily for different printing situations. Love the size of the monitor for multiple working windows, i look forward to years of use from the really great monitor.

Sweepstakes entry received for review.

Limitless Gadgets!

OMG! This monitor is awesome! It replaced two old monitors I had on my desk. Similar screen real estate with zero physical separation. The "OnScreen Control" application allows you to snap your windows into a window format you select by accessing the template from the Windows system tray (bottom right on Windows Operating Systems). The picture by picture is a nice feature but I tend to switch sources instead. I have not used the "Dual Controller" application yet. As I am not allowed to

...

read more

install this software on my work computer (yet). I did get a "pluggable" model: USB3-SWITCH2 and two longer USB 3.0 cables in order to switch my keyboard/mouse (which has one USB transponder) from my personal computer to my work computer. LG rulez!

Sweepstakes entry received for review.
Good monitor BUT NO 75HZ FOR NVIDIA (?!)

The monitor is good for its price. I love ultrawide and I'll probably never go back to 16:9. It gives you so much more room to work on and it is much more immersive when playing games. The colors are nice because it is an IPS screen. Now I have seen with my own eyes what the difference is between IPS and TN and I will never buy a TN screen anymore. The screen is sadly not borderless like advertised on most of the images. (This I knew before buying the monitor.) The monitor isn't very stable

...

read more

and easily wobbles but not much. !!WHAT I DIDN'T KNEW BEFORE BUYING THE MONITOR!!: The screen is advertised to have a refresh rate of 75Hz, but apparently this is only available when you use FreeSync. This is nowhere to be found on the product page. I was REALLY MAD because of this. I knew 75Hz was only available through a display cable, but not that you would need to use FreeSync. (I have a Nvidia GPU.) (Still don't know if it really is the case but I see no other options or reasons why it does not work for me. So if anyone can give some help or a comment...thx in advance.) Overall this is a good monitor but if you really want an ultrawide monitor from LG, than go for the 29UM69G-B.

Unbelievable Picture Quality

Instead of getting two separate monitors I decided to get this extra wide screen from LG. I am very happy with my decision. Picture quality is excellent. I love the extra wide screen which allows me to work on two Excel Worksheets at a time. Watching movies and gaming is incredible on the monitor. The stand that supports the monitor is good and the screen fits perfectly on my desk. The only drawback is it does not have a USB outlet. I had to purchase a separate 4 port USB hub so I had

...

read more

connections for my keyboard, mouse and other miscellaneous.

Sweepstakes entry received for review.

Great for video editing

I bought this monitor because I do video editing and in the past I used dual monitors but having the bezel in the middle between the two monitors was annoying when displaying the timeline across both monitors. The LG Superwide eliminates this issue without having to give up any of the features of a dual monitor setup. I use the LG in dual monitor mode which allows me to have the editing app across the entire monitor or have it on one-half of the monitor and full screen playback on the other

...

read more

half. Not having a bezel down the middle allows me to arrange my workspace with much more flexibility. In addition the IPS screen has great color and a wide viewing angle. This monitor was a great upgrade from my previous dual monitor setup and the price was very reasonable.

Sweepstakes entry received for review.
My Monitor Replacement.

My monitor died, and I needed a good replacement. Came across, and purchased this LG 32 inch monitor. What a gem! It has good color, and picture quality. A thin bezel design, with a easy to use joystick for the menu options. This was the perfect size for my desktop viewing pleasure. The HDMI / VGA connections make it compatible with both old & new computers. It even has a switchable LED on indicator for the users preference. I feel I did good with my choice, and I would recommend this to

...

read more

anyone who needs a good basic monitor. Thank you LG - keep up the good work.

Sweepstakes entry received for review.

Perfect Gaming monitor

Bought this monitor for my son. He Loves it!!! I'm so proud of him. He has worked hard to save his money and is building a gaming computer by himself. He finally got to where he was ready to turn it all on and he chose this monitor and is so Happy. It fits perfectly on top of his dresser and not in the way. From what have see the picture quality is amazing. This monitor is light weight very easy to move if needed to. The set up didn't take him long at all, I don't do Computers; but he was up and

...

read more

gaming in 30 minutes. This is the perfect purchase for us, I highly recommend!!!

Sweepstakes entry received for review.

Just spectacular

I have only just set up the monitor and been working with it a couple of hours but I am already blown away. The sharpness is great and the colors vibrant. The setup was easy. I recommend this monitor. I look forward to discovering all it can do.

Sweepstakes entry received for review.
Dimensions confusing

Why is it listed as 3.6" high? With Stand (WxHxD) 32.7" x 17.7" x 11.0" (down) – 15.7" (up) Without Stand (WxHxD) 35.3" x 3.6" x 15.5" Shipping Dimensions (WxHxD) 41.5" x 8.1" x 21.2" And why is it listed as wider without a stand? How is it a stand changes width? This is a fantastic monitor but it worries me that they can't get basic stuff like this correct. If they are as sloppy as this in their engineering department, I don't think the monitor will last very long.

Sweepstakes entry received for review.

Awesome Monitor

I love the monitor. It feel like the perfect size for what I do. I am Building Designer and use a CAD program. Them monitor feeds all my tools and plenty of room for all my drawings. I do have one issue, and that is the I can not fine a "C" connection that will will work with my Thunderbolt out puts. The 2nd generation Thunderbolt connections are the fasted connection my computer has and if I could use the "C" out put on the monitor then it would drive power to the USB connection to the

...

read more

monitor. But for now, I am using Thunderbolt to Monitor conection which works but does not drive the available USB on the back of the Monitor. Over all I love it.

Sweepstakes entry received for review.

Stunning display

Very impressed with the build quality and the image profile of this display. There isn't much to be desired. The connection ports on the back work well as a hub for laptops and power my MacBook Pro along with display and data throuput using a single thunderbolt 3/usb-c connection. If I had one request it would be to improve the UX design of the settings menu as there are several redundant menu categories but overall it is fine.

Sweepstakes entry received for review.
LG 27 Inch Monitor

I bought this a few weks ago. I really like the brightness and size. I thought I bought a 24 inch monitor but when I received it here was a 27 inch. Great job!!

Sweepstakes entry received for review.

Worth it!

Sharp, versatile, and so good looking. Having multiple ports on the back sold me.

Sweepstakes entry received for review.

Great Features

Had this about a month it is a very good monitor ...but , I prefer the older On Screen Options app rather than the newer one

Sweepstakes entry received for review.
LG Product Service and Support
Get your questions answered about product setup, use and care, repair and maintenance issues. We can help.
Telephone
Call an LG Support Representative.
(800) 243-0000 Consumer (7am-midnight CST)
(888) 865-3026 Commercial (8am-6pm CST)