Receive a Google Home on us
When you purchase any LG smart appliance from 10/8 through 10/25.

*at participating retailers only. See store for details.
J.D. Power Award Winner

"Highest in Customer Satisfaction with Freestanding Ranges"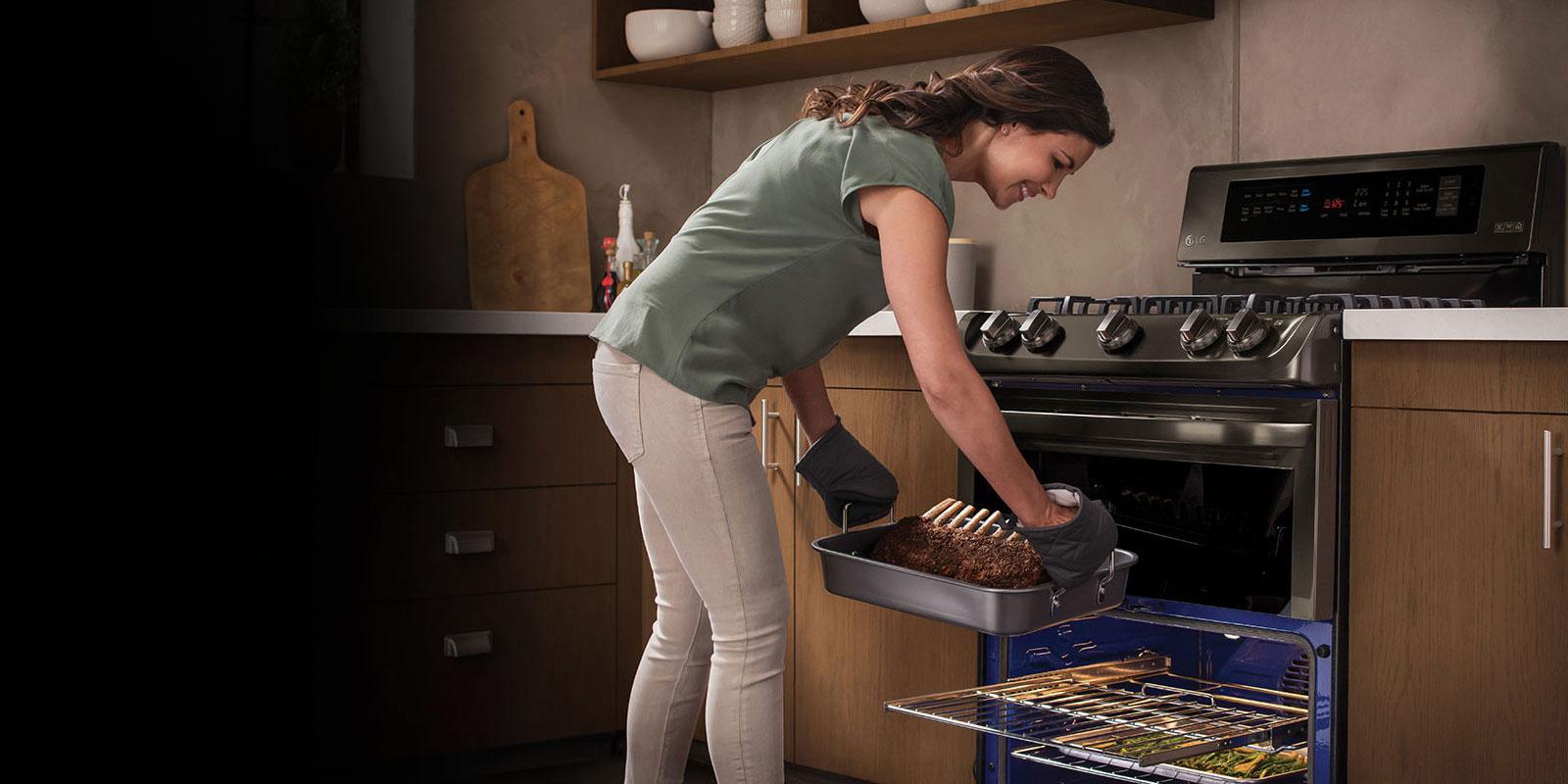 From Rare to Well Done, It's Always Done Well.
With innovations like ProBake Convection® and high-powered cooktops, LG cooking appliances will give you that perfect golden crust, savory roast or velvety smooth sauce every time.
TIMELESS. BOLD. YOU.
Make a statement with LG STUDIO appliances by Artisitic Advisor Nate Berkus.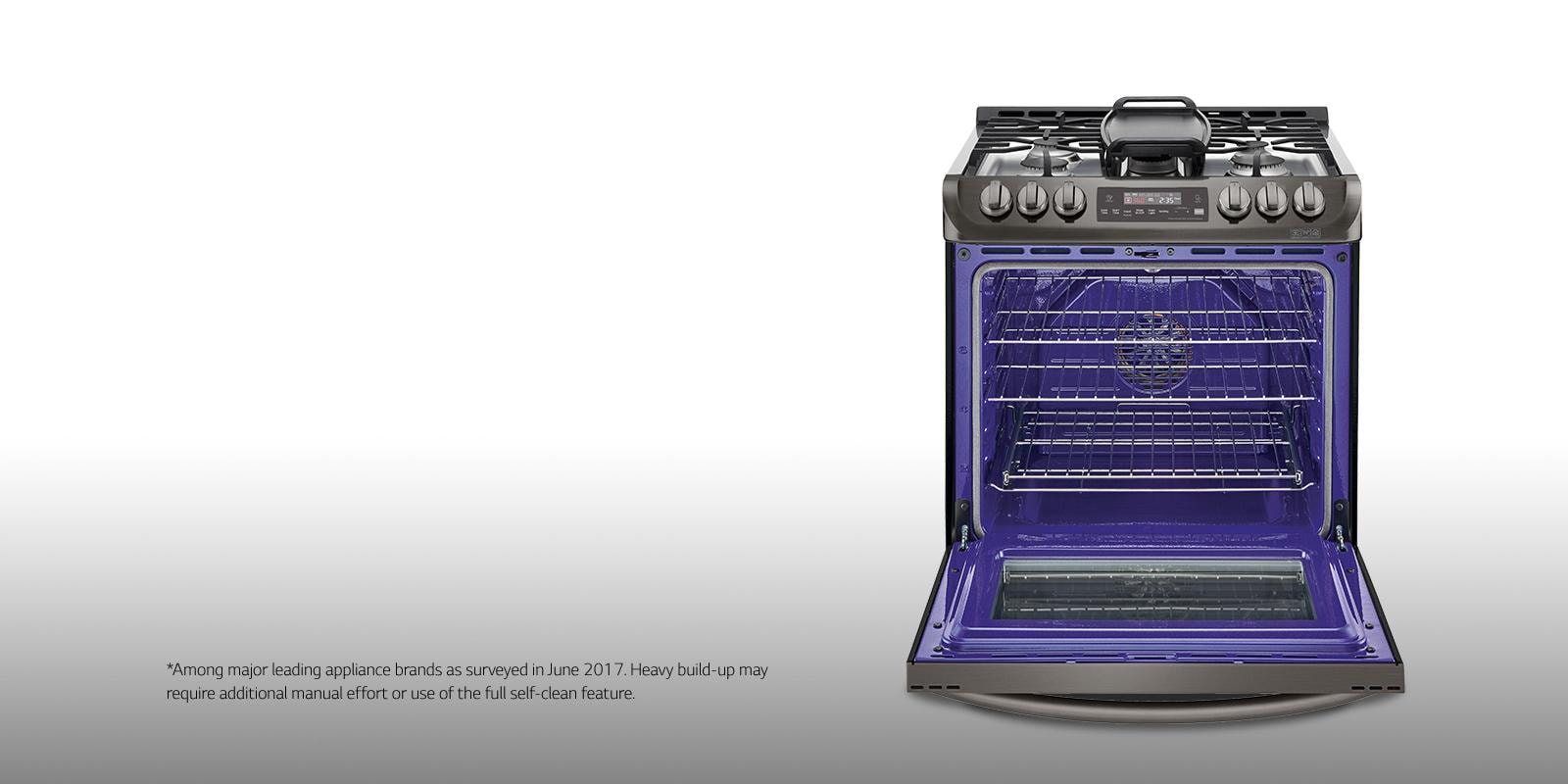 10 Minutes. 1 Spotless Oven.
Enjoy a sparkling clean oven without strong chemical fumes or high heat using LG EasyClean®, the only 10-minute oven cleaning cycle technology.*
Selecting a checkbox will update the products displayed on screen.
Refine Your Search
32
Total Results
Ranges & Ovens
Cook every meal with power and precision. LG ranges and ovens boast innovative technology for restaurant-worthy performances every night of the week. And with their stylish clean lines, they'll blend seamlessly into your décor.
WHAT CUSTOMERS ARE SAYING
Average Rating for Ranges & Ovens
I love the stove but the oven seems to brown food to quickly on the top and not done on the bottom, also if you touch the knobs they turn on too easily when you do not want them on, until you smell gas you don't know their on.

Sweepstakes entry received for review.

good oven

I have had this oven for 6 months. So for I do like it. I did not give 5 stars only for 2 reason. The top oven is great but small opening makes it a little harder to get your stuff out you can get burned easier. So bought new pot holders to protect my handsproblem sovled. I also wish both ovens were convection instead of just the bottom oven. I am happy with this oven over all.

Nice range.

Love the cooktop, ultra heat burner is my favorite. I enjoy the double ovens, but they are awkward - would be better if they were side-by-side.

Sweepstakes entry received for review.
I bought my range acouple month's ago. It is everything I wanted, especially the easy clean oven. Having the 5th burner is great for big family dinners. The cooktop is a snap to clean up. It fit perfectly in the space that the old range was in.

Sweepstakes entry received for review.

Best Oven I've Ever Owned!

I love to cook and this stove is the best I've ever owned! My favorite feature is "SuperBoil". It quickly gets pasta water boiling in half of the time from my old stove. It also heats my 14 inch skillet easily. Powerful burner! My second favorite feature is the convection oven. It makes baked goods come out perfect! No more burnt bottoms or unevenly cooked foods! Frozen pizza, cookies, biscuits all come out perfect! This is our first LG appliance we've owned. I will definitely look for LG

...

read more

on any future purchases. Ps: I love the blue color- makes it easier to see the food and it's pretty!

Sweepstakes entry received for review.

Good stove

We bought this stove about 6 months ago. I really like this range, but it is hard to keep clean. Every time you use it, you have to take off the grates and clean it. It is not hard to do, but sometimes just a pain. I finally found the secret to make it easier, just use a wet cloth, no soap, and wipe it out and dry it. Looks as good as new when done. It takes some getting use to with the open grates. Also, the timer is harder to use, it only goes to 59 minutes. I think they should change

...

read more

that and make it easier.

Sweepstakes entry received for review.
Looks good

Burners work very quickly and generate quite a lot of heat. I like the controls for the burners in the front instead of the back but have to be careful not to lean on them and accidentally turn them on. The stove top is easy to keep clean. I'm not impressed with the ovens. The fan in the back of both seems to produce uneven heat. Everything is burned on that side unless it is rotated frequently. The pizza function has never worked satisfactorily through many trials. I don't use it

...

read more

anymore. The cleaning feature with steam is a nice feature for very lightly dirty surfaces.

Sweepstakes entry received for review.

LG Black Stainless Double Oven

My husband bought me the whole kitchen suite from Costco last year for Christmas, it was a really good deal, I always wanted a double oven, but now that I've had this one for awhile, I would not get this type again, first of all, it's really hard to keep clean, after the first use, there was a spot that even with the cleaner that comes with it,still won't come off, I did read in the manual, it recommends using hard anadized cookware, which I will get eventually, I also don't like that I have to

...

read more

practically get on my knees to access the bottom oven, especially if your going to put something heavy in it, or take it out, it's a beautiful stove, but for me, I would prefer the large part of the oven on the top, not bottom, all in all, it works great!

Sweepstakes entry received for review.

Life good oven LDE4415BD

I bought this oven a couple of months ago ,it's the best and smartest investment I've made ,it bakes like genie in my oven ,everything comes out cooked evenly

Sweepstakes entry received for review.
great features for seniors!

My range was purchased last year shortly before Thanksgiving. It worked wonderfully for a houseful of guests for Thanksgiving dinner. We had turkey, dressing, sweet potatoes and the works for a dozen people. I especially like it tho for myself. Usually I am alone and I can bake in the small oven something just for myself - perhaps a baked potato or chicken of fish for just one individual. It doesn't heat up the whole house and doesn't cost a lot to run the smaller oven. It heats quickly and does

...

read more

a nice job cooking whatever I want. The adjustable burners are handy as well when cooking for just 1 person.

Sweepstakes entry received for review.

Love the Double Oven!

I bought this range specifically for the double oven feature, and I haven't been disappointed. I haven't used the convection oven feature yet, but just using the conventional settings on both ovens I was able to bake a ham, two large trays of biscuits, and three breakfast casseroles in under 3 hours, which I thought was amazing. As an added bonus, my range burners have a variety of settings, including Ultra Heat and Keep Warm. My range provides everything I need to cook for a crowd, and more.

...

read more

I'm absolutely thrilled with my purchase.

Sweepstakes entry received for review.

Nice oven

The oven "sings" when it comes to temperature and when you use the timer. I thought it was cute at first, but it gets old quickly. I do love how even the convection cooks. The stove top burners have various sizes which can be nice, however the large ring is too big and the small is too small. So you do have to choose between the lesser of two evils.

Sweepstakes entry received for review.
Wonderful Features!

I'm not a frequent cook, but when I do, I love the way this one works! I love the oven and the special settings, expecially cook time, etc. First flat surface range I've had and I love it! The 'warmer' and the ability to change the heating size are so helpful. I'm enjoying the smooth surface cleaning, don't miss those drip pans at all!

Sweepstakes entry received for review.

Great

Was skeptical about the convection oven part but I love it, it adjusts the temp for you and my cheese on top casseroles are melted to perfection. I don't have to put foil around my pie crusts rim & it doesn't turn dark. Also love the settings for the large burner! Love the brightness of the oven interior. One thing they could change is a bit louder volume on the timer.

Sweepstakes entry received for review.

I have been very happy with my new LG oven and range. It's very easy to use, easy to clean, and does a wonderful job with any and all cooking that I need to do, whether in the microwave, oven or on the stove-top. I would definitely recommend this oven to others.

Sweepstakes entry received for review.
Like a shiny new sports car but better!

My wonderful husband loves to surprise me with major appliance purchases when I go out of town. It was a huge and wonderful surprise when I came home after taking our son to college orientation. Our old range worked "well-enough," and I hadn't thought about replacing it. I love our new LG range! Of course it is stunning to look at... like have a shiny new sports car parked in your kitchen! Unlike a spots car, however, our new range is easy to maintain and dose not require "high

...

read more

maintenance." The cook top heats evenly and quickly, and keeping it clean is so simple. We love to bake in our family, the breads, cookies, cakes, etc that come out of the oven are baked to perfection... evenly browned, never burned. I can hardly wait for the holidays. I'm already dreaming of the beautiful roast turkey, broiled salmon, baked pies and loads of fresh vegetables.

Sweepstakes entry received for review.

Works well, User manual is not accurate

No complaints with the operation of the stovetop and oven -- they're both working well. BUT we spent quite some time trying to follow the user manual directions on how to remove the drawer under the oven in order to adjust level and to clean. Checked with several local big box stores-- they couldn't make it work on their models either. Contacted LG customer support, who were pretty useless. Finally got an answer that seems correct -- the darned drawer can not be removed, despite the

...

read more

instructions. Disappointing attention to detail, LG. Now I wonder if I should be looking at your products for our refrigerator replacement. Not too impressed by your performance.

Sweepstakes entry received for review.

LOVE my range

We bought an LG stainless range for previous home a couple years ago. After moving to our new home we replaced a brand new stove with the LG model because I missed my LG range; this time we chose black stainless. I love the interior of the oven (I know that sounds dumb...but it is a beautiful color), and I love the musical tones for the timer, etc. Great oven...highly recommended. The best part is there are no knobs to clean...just wipe the face plate with a damp cloth and you are good to

...

read more

go. It cooks evenly, and I love the fact that it is also a convection oven. Excellent product.

Sweepstakes entry received for review.
Double oven

I purchased my gas double oven range 10 months ago and could not be happier with the product! I especially like the smaller top oven as the size is perfect for most of my baking needs. The removable griddle is also a nice feature that eliminates the need for another appliance

Sweepstakes entry received for review.

Gets the job done!

The double oven and stove-top work very well. It's nice if you need to use two ovens at once or don't want to use as much energy with a large oven. I like the 4 stove-top burners with heat ranging from simmer to ultra heat, though would prefer to have the medium and high burners in the front since they are used the most (the high and ultra heat are in the front). The only complaint would be that the broiler heats up the kitchen a lot setting off the smoke detector, but that is probably the case

...

read more

with any broiler. Overall, I am very satisfied with the performance and would recommend this unit!

Sweepstakes entry received for review.

New stove features for me

There only two of us at home now, so the double oven is a great feature for us. I use mostly the small top oven. I wish the gliding rack was in the top oven as well as the bottom. Still learning the temps and times on it...seems to cook faster than what I'm used to! My stove is black stainless and it's true that it doesn't show fingerprints. We also love the griddle on the stove and use it often. It's so easy to clean.

Sweepstakes entry received for review.
Great Stove

I wanted to upgrade and get a slide in stove. The LG had all the features I wanted in my price range and a bigger oven. Overall I am pleased with LG. My only complaint is I would have liked aa key pad for setting oven temps and the timer. Using the + and - buttons to change temperatures and especially the timer is cumbersome.

Sweepstakes entry received for review.

Nice stove!

I am enjoying my new LG stove. The easy clean 10 minute method to clean the stove I'm not fond of. It just doesn't seem to clean very well. Haven't tried the self clean yet. The only other complaint I have is when you set the oven at one temperature then have to lower it to a different temperature, you have to turn the oven off first as it doesn't seem to automatically change just by lowering the setting. Other than these two things, I am enjoying cooking and baking with it.

Sweepstakes entry received for review.

Sceptical at first, not familiar with this brand

Replacement stove, love the interior blue enamel and water cleaning feature. Its beautiful! Exterior cleans like a breeze using stainless steel wipes. I thought it would be smudgy and scratched but its like brand new each time. Catchy tune for the timer! Burners are fantastic. Front ones hotter, back ones less so and simmer burner perfect for making grains, no more scorched or undercooking. European convection is rad, a little jet engine in the back of your oven. Multiple racks baking come out

...

read more

perfect. So happy with all aspects of this stove-oven.

Sweepstakes entry received for review.
GREAT FEATURES

We have had this range for almost 1 year and we love it. The oven heats fast to temperature. And having the extra middle burner with grill plate is great for steaks and chops. I would highly recommend this gas range.

Sweepstakes entry received for review.

Great Stove

We went a little overboard and bought more than we wanted. Lucky we did because this stove has everything we want and more. We still haven't used all the features, but are having fun learning what it can do. The control we have over cooking and baking is far superior to electric. The only problem we had is we accepted delivery with it dented and were supposed to get a $75 allowance within 4 weeks. Never happened. Now I must search to find out how to collect. Collect I will!

Sweepstakes entry received for review.

I bought the unit to replace an older black GE unit which had plenty of life left beyond the 19 years of age it had on it. The LG was a great pick and the features and included accessories put that special touch in the close for the sale to me of this unit. I read both the good and the bad reviews, both here and at the LG website, and learned that the bad ones educated me to where some people may not know how to use or clean the unit. I read the manual and learned where some of the bad

...

read more

reviews came from, not reading the manual or leveraging warranty support correctly.

Sweepstakes entry received for review.
LG Product Service and Support
Get your questions answered about product setup, use and care, repair and maintenance issues. We can help.
Telephone
Call an LG Support Representative.
(800) 243-0000 Consumer (7am-midnight CST)
(888) 865-3026 Commercial (8am-6pm CST)