Welcome MATTE
Experience the style of LG's exclusive MATTE Black Stainless Steel appliances.
J.D. Power Award Winners
"Highest in Customer Satisfaction with Freestanding Ranges"

J.D. Power Award Winners
"Highest in Customer Satisfaction with Freestanding Ranges"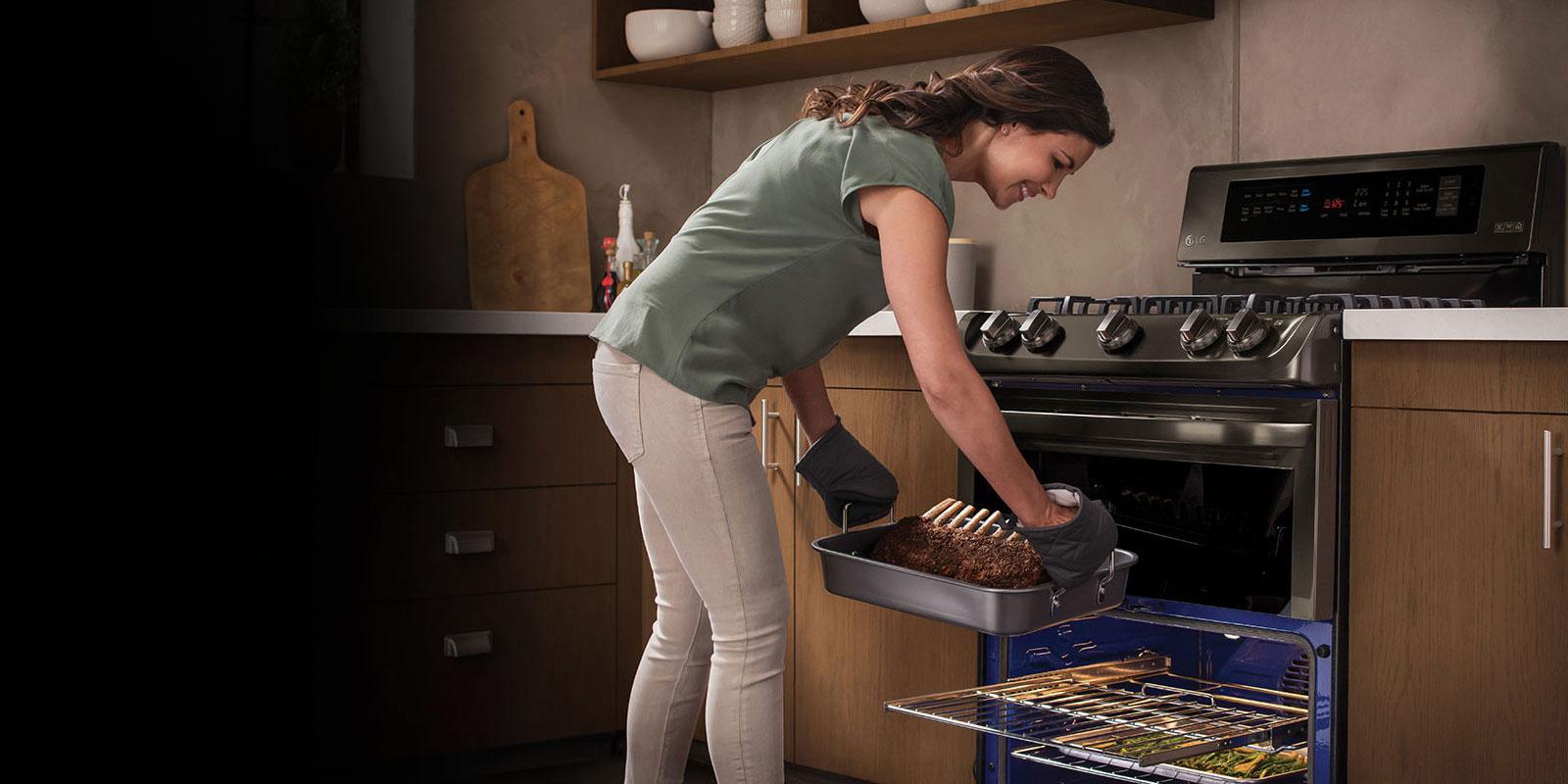 From Rare to Well Done, It's Always Done Well.
With innovations like ProBake Convection® and high-powered cooktops, LG cooking appliances will give you that perfect golden crust, savory roast or velvety smooth sauce every time.
TIMELESS.
BOLD. YOU.
Make a statement with LG STUDIO appliances and enhance the look of your home with timeless appliances.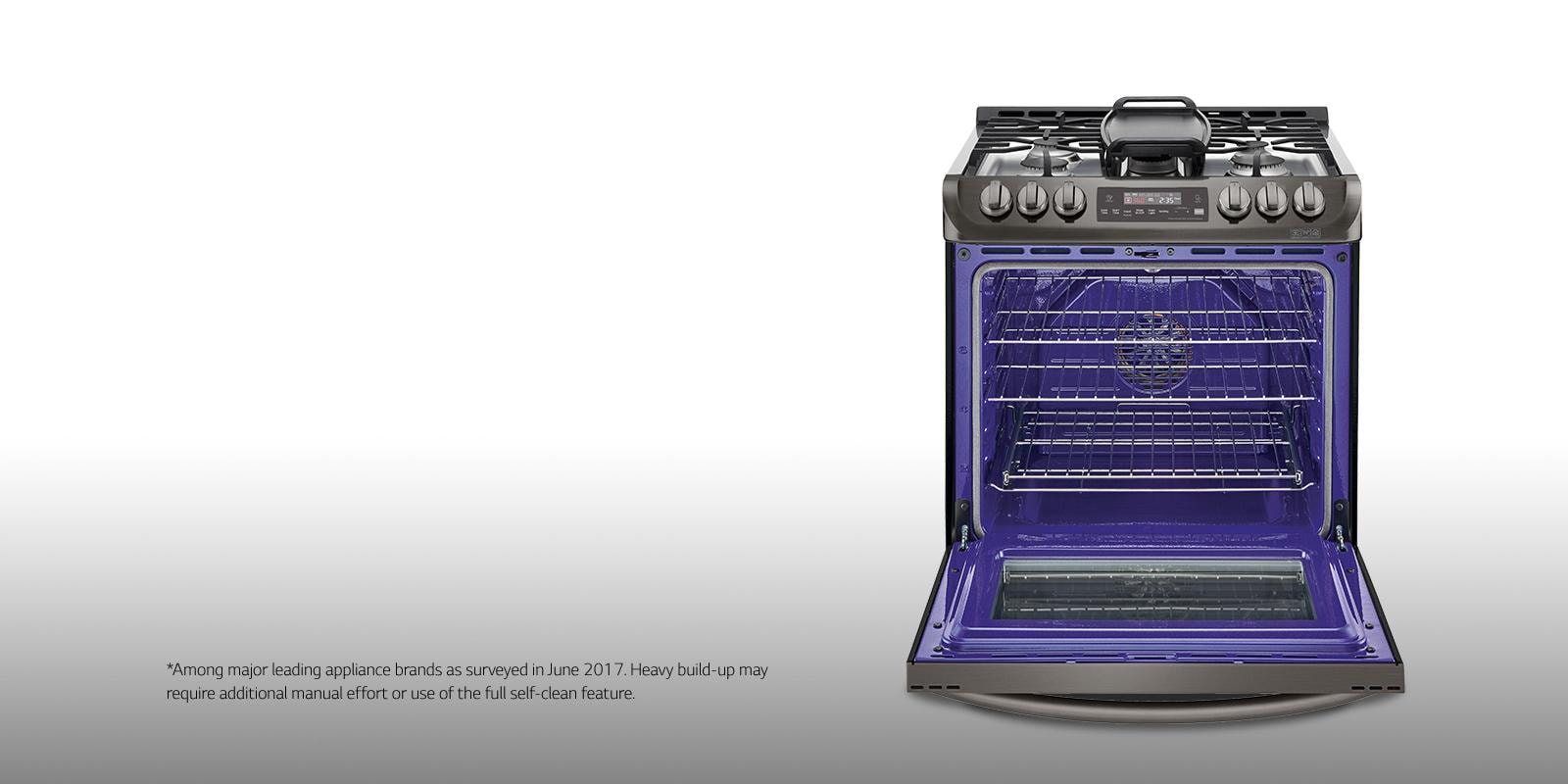 10 Minutes. 1 Spotless Oven.
Enjoy a sparkling clean oven without strong chemical fumes or high heat using LG EasyClean®, the only 10-minute oven cleaning cycle technology.*
Selecting a checkbox will update the products displayed on screen.
Refine Your Search
32
Total Results
Ranges & Ovens
Cook every meal with power and precision. LG ranges and ovens boast innovative technology for restaurant-worthy performances every night of the week. And with their stylish clean lines, they'll blend seamlessly into your décor.
WHAT CUSTOMERS ARE SAYING
Average Rating for Ranges & Ovens
Easy to use super easy to clean!

I am so happy I purchased my LG 6.3 slide in range. The look is exceptional the oven is not only a dream to cook and bake with but is virtually clean all the time! The cobalt blue color inside the oven gets a lot of compliments, not to mention the convection helps with cooking more evenly and faster. The cook top is beautiful and I love the warming area so nice to have everything hot at the same time when serving dinner! Thank you LG Love my range!

Sweepstakes entry received for review.

Great look!

My husband was insistent that we trade out the range from our new home to this one. Of course, I was hesitant of getting rid of something that was brand new but I'm so glad we did. The features are so easy to use, the cooktop heats within seconds and my favorite part is the sleek look and blue inside of the oven. Beautiful!

Sweepstakes entry received for review.

Fantastic!

This is the first glass topped range I have used. I was sceptical. After a year no scratches and cleaning is easy. I love the Ultraheat burner. It heats as fast as a gas stove. The oven is a little tricky at first. The racks are placed the opposite of regualr ovens. So most of the time the racks are near the top of the oven. I think this is due to the heat source being near the top of the oven. Anyway once you figure this out everything comes out grea t and the levels are noted in the

...

read more

manual. Since there isn't an element on the bottom of the oven clean up is a snap. I use window cleaner and it cuts through any grease and leaves it sparkling clean. So far haven't had to use the oven cleaning cycle. Only negative I found is that the knobs for the stove top can accidentally get turned on. Don't know how this happens but it's something to watch for.

Sweepstakes entry received for review.
Range is NOT self-cleaning!

Range is great. Only downside is it is NOT a self-cleaning oven - even though we were told it was. The EZ Clean never really did anything except make the oven cavity wet. Other than that, I love this range!

The Feel

The things I like about the stove; 1 The texture of the grates when a pot slides over them. Really!! It's a semi-rough feel, so the pot won't slide easily, 2 The knobs and door have a quality feel to them. The stove is well built. 3 The wife is especially fond of the color of the inside of the stove; It's Purple!! How cool is that!! 4 The oven heats up fast, and stays at the temperature set.

Sweepstakes entry received for review.

The four items renewed our kitchen and gave it a p

We purchased the gas range, microwave, dishwasher and door-in-a-door refrigerator in black stainless and are thrilled with all of them. The energy savings quick access door in the fridge gets used more than expected. The black stainless is beautiful and easy to maintain. All appliances are easy to use - the manuals are clear and easy to follow. The blue hew in the oven is an eye catcher. Could not be happier!

Sweepstakes entry received for review.
Excellent Electric Range

I have had this LG Stainless Steel Convection Oven and Smooth Glass Top for almost a year and really love it. The smooth glass top has five burners. One burner is a warming burner which is great if you want to have your gravy stay warm while your preparing your potatoes. There is also one burner inside another burner. The smaller burner is a rapid boiling burner and it boils water within under a minute. Inside the convection oven is bright blue and it reminds me of a expensive industrial oven.

...

read more

The oven has a few different options for cooking and baking. The oven also has your regular cooking buttons. It does have an easy clean button which I used once when some food spilled and baked on the bottom of the oven.The stove/oven also came with a metal scraper to help you remove caked on food in the oven but I didn't use it because I don't want to scrape or gouge the oven. The directions say use the metal scraper carefully. This stainless steel electric range and convection oven comes with directions which explains each feature thoroughly. I will enjoy this electric range and convection oven in stainless steel for many years to come. I definitely recommend this LG electric range and convection oven.

Sweepstakes entry received for review.

LOVE my range

We bought an LG stainless range for previous home a couple years ago. After moving to our new home we replaced a brand new stove with the LG model because I missed my LG range; this time we chose black stainless. I love the interior of the oven (I know that sounds dumb...but it is a beautiful color), and I love the musical tones for the timer, etc. Great oven...highly recommended. The best part is there are no knobs to clean...just wipe the face plate with a damp cloth and you are good to

...

read more

go. It cooks evenly, and I love the fact that it is also a convection oven. Excellent product.

Sweepstakes entry received for review.

Very solid but.....

Pros - We really like the purple color on the inside. First time with a ceramic surface. Awesome! Simple water, soap and a dish brush and the surface cleans nicely. She likes the singing of the oven tones. Honestly, she smiles every time it sings. The basic controls and operation procedures are easy and "obvious". Cons - The oven heat dissipation through the vent on top that blows on the range surface is really annoying. We tried the easy clean - didn't work as expected. The inside

...

read more

light is good. But a second light on the other side would make a HUGE impact on seeing the food better. Too many shadows.

Sweepstakes entry received for review.
Love LG products

We remodeled our kitchen and bought all LG kitchen appliances at once, it's been almost a year and never had a single problem with one of them. This is the first time I bought oven with convection and it took few times to get used to (temperature is lowered by the oven itself and not what you initially dial) but it works and bakes great! Love the blue color, the clean up is easy. The grates are cast iron, heavy and if you own colored cookware, it will get scratched when you move it around on the

...

read more

burner, I've seen some red color left on them after cooking with my pots. The only thing I dislike about this oven is that I can't change oven temperature while cooking! You have to turn it off first, change temperature and start it back up which is a complete waste of effort to me. Do not understand why they would do that... Overall it is a great product.

Sweepstakes entry received for review.

Really like it!

I've never owned a gas range before but my husband has and was all for purchasing a gas range. We've only had it a few weeks but I really like it so far. The only thing I'm not crazy about is that the vent for the oven blows out over the top of the surface cooking area and if you are cooking at the same time as using the oven the warm/hot air blowing out can be a problem if using the back burners and trying to use the buttons on the display--I have to be careful not to keep my fingers/hand/arm

...

read more

in the path of the warm vented air.

Sweepstakes entry received for review.

I bought this and I am so happy with it. Not only does it cook well, it is so easy to clean! I have had major spills on the stove top and as soon as it cooled it took about three minutes to clean it up. I had a pizza dump it's cheesy, tomatoey self into the oven and bake itself onto the floor. I love being able to spray the oven with water and go back a few minutes later and wipe it clean. (The tomatoey mess actually required using baking soda along with water.) This is my first convection oven

...

read more

and I wonder why I waited so long.

Sweepstakes entry received for review.
minor adjustments

love the range. easy to operate and clear instructions. however, i was amazed that there was not the capability to add or subtract plus or minus 5 degree in oven temp with a button. all my other ranges had that feature. you would be amazed how many times you would like to adjust the temp but on this range you have to shut off and input a new temp. not a good idea. also my warranty ran out 25 days ago and the oven light went out but can not remove the glass cover that protects the bulb. lg reps

...

read more

recommended that a service repair tech come out to remove the cover. hate to see what that is going to cost with the warranty just going out three weeks ago.

Sweepstakes entry received for review.

Awesome!

I bought this range for the convection and proofing features as well as the smooth top, all of which work great, but there are so many other great features. I also love the blue oven interior that lets you see when it needs cleaning as opposed to just a black hole. The quick clean cycle makes oven cleaning a breeze! Love it! I don't think I have ever had such a clean oven before. Alarms are not just beeps but short tunes that even my hard-of-hearing husband can hear! Oven temp can be switched

...

read more

between Fahrenheit and Celsius. Cook time is another great feature where the oven shuts itself off once the time runs out. I really love my new range, and the price was right, too.

Sweepstakes entry received for review.

Blue internal oven, touch controls

Love this stove/oven. Everything heats so nicely. After working with my old unit which required turning the heat about 20 degrees hotter to cook. I almost burned the first few items. My only complaint is the tune (which I love), that signals the time is up is so low, it is hard to hear if in another room. The light in the oven has burned out after 10 months and the housing is on so tight we can't change the bulb. I still love cooking with it.

Sweepstakes entry received for review.
Great Look! Love this Oven

We had looked at ovens in the LG suite and wanted a stainless electric one. The oven heats quickly and is easy to use. The stovetop is also quick. I appreciate the audible alerts for timers and for the door opening. Great oven! So glad we picked this one.

Sweepstakes entry received for review.

Like it very much

I like all the controls. They were easy to learn and I love the blue interior of the oven. I haven't tried to clean it yet. I thought I was getting a self clean but am not so I am a little worried about cleaning with the other cleaning with only water.

Sweepstakes entry received for review.

I bought this 6 months ago, I absolutely love this Range. It is my first Electric range and I am so amazed at how fast the burners get hot and cool down. Virtually it is like working with Gas , this Stove is that responsive. It looks amazing in my beautiful kitchen. When people come over its ohs n ahs, and then they open the oven and see this fantastic blue interior. The next thing asked is what kind is this ? an I say LG...its awesome ! Thank you...going to bake some cookies now...
The features that are great are the flame with LPG gas comes out perfect. They moved the knobs to be out of the way of the oven heat. Broiling is better and boiling water is faster. The flame on the range is hotter so you need to be careful with the heat settings. The pancake pan is much lighter and better material. They have perfected the oven/range to be much better. The rating listed in various reviews and reports as best on this range/oven are correct. You will enjoy cooking with this

...

read more

oven/range but remember to use commercial pans for best results because of the intense heat using LPG gas.

Sweepstakes entry received for review.

We purchased this LG gas stove in August of 2016. It has the double ovens and I absolutely LOVE having 2 ovens. I don't know how I ever cooked huge meals before with just one oven. This is an awesome stove. It has great features, heats up to the proper temp. in such a short amount of time. ( I was having to wait about an hour or so for the oven to get to the temp. on my old gas stove.) So this is amazing. I LOVE my LG Double Oven Gas stove.

Sweepstakes entry received for review.

Lovely addition to our kitchen

This range is exactly what I wanted when I bought it three months ago. I used it to make Thanksgiving dinner and the two ovens were a feature that I had hoped would be perfect. The problem became evident when the lower rack of the lower oven did not heat the same as the top shelf. It was a bit harrowing to not have the turkey breast heat up after one hour. I promised myself I would read the manual to see if there is a technique that I missed but I have not done that to date. I spot clean

...

read more

the top after cooking and clean the grills and surfaces completely once a week. That said, the black surface is cleaned with a microfiber cloth and looks new. The stainless is not so easy to keep spotless and not scratch.

Sweepstakes entry received for review.
Beautiful Stove

I really like my oven. It is easy to operate. I have used it a lot since we purchased it. It really looks good in my kitchen too. I have never used a convection oven before but I have used that function several times since I purchased the oven. Overall I have to give this oven a 5 star. The oven heats up fast and cooks everything in it evenly. I highly recommend this product.

Sweepstakes entry received for review.

LIked the small upper oven

I bought this a month ago. Disappointed with instruction manual. After baking ends can't reset timer for additional minutes it cake not fully basked. Hearing from customer service supposedly all you do is press the upper oven button once and reset the timer for additional minutes. Tried that and you get the message " convection roast". with my old oven all that was needed was to place the cake back in the oven and set the timer and press start again. LG Oven cools down to fast, must wait

...

read more

until original bake temperature is reached again. .Bought the oven for the upper oven feature. my mistake. Manual tells how to set bake and timer.and bell goes off at the end. Nothing about trying to bake for additional time once oven "ends.

Sweepstakes entry received for review.

Great Gas Range!

We purchased this range in May, 2017, and have been so pleased with its performance so far (four months). We cook a lot and seldom eat out, so we've used it pretty extensively during our ownership. This is my wife's first experience with a gas range, and she indicated that she will never go back to an electric range. We've used both the traditional and convection modes and sure like the flexibility. Not only is great to cook with, it's a good looking appliance. We did have to convert it

...

read more

from natural gas to propane, and that's the only thing that LG could approve on by adding the option to order it in either natural gas or propane configurations.

Sweepstakes entry received for review.
A Great Way to Cook

As an amateur chef, my previous range wasn't working the way I needed it to so I looked for something better...I found it in my LG Range. What a great way for me to cook and to teach my kids on, the unique design of the top burners allow you to cook with better heat control, and OMG, the double ovens are OUTSTANDING. they cook so evenly, even the broiler was incredible to use. i would recommend this product to any and everyone who enjoys cooking, this range works truly as a professional

...

read more

product, well worth the price and purchase.

Sweepstakes entry received for review.

Best oven we have ever owned by a mile.

We were split over whether to get a single or double oven when renovating our kitchen. The price difference is obviously not a small increase. But so glad that we went for the double oven. Not only is it a stylish appliance but we use the 2 ovens at the same at least time 4-6 times a week. The cooking quality is phenomenal in both ovens and we can't believe how better the evenness of cocking is for all food. Features are spot on what we need and even more. Would highly recommend his oven.

Sweepstakes entry received for review.

Beautiful Addition to Other LG Appliances

We bought the LG ProBake convection range to replace a 23 year old GE range. The smaller oven heats to temp almost instantly. The convection oven is delightful for baking breads and main courses. The range burners are wonderful and so much easier to keep clean than the old range. We love this gas range.

Sweepstakes entry received for review.
LG Product Service and Support
Get your questions answered about product setup, use and care, repair and maintenance issues. We can help.
Telephone
Call an LG Support Representative.
(800) 243-0000 Consumer (7am-midnight CST)
(888) 865-3026 Commercial (8am-6pm CST)