Welcome MATTE
Experience the style of LG's exclusive MATTE Black Stainless Steel appliances.
J.D. Power Award Winners
"Highest in Customer Satisfaction with Freestanding Ranges"

J.D. Power Award Winners
"Highest in Customer Satisfaction with Freestanding Ranges"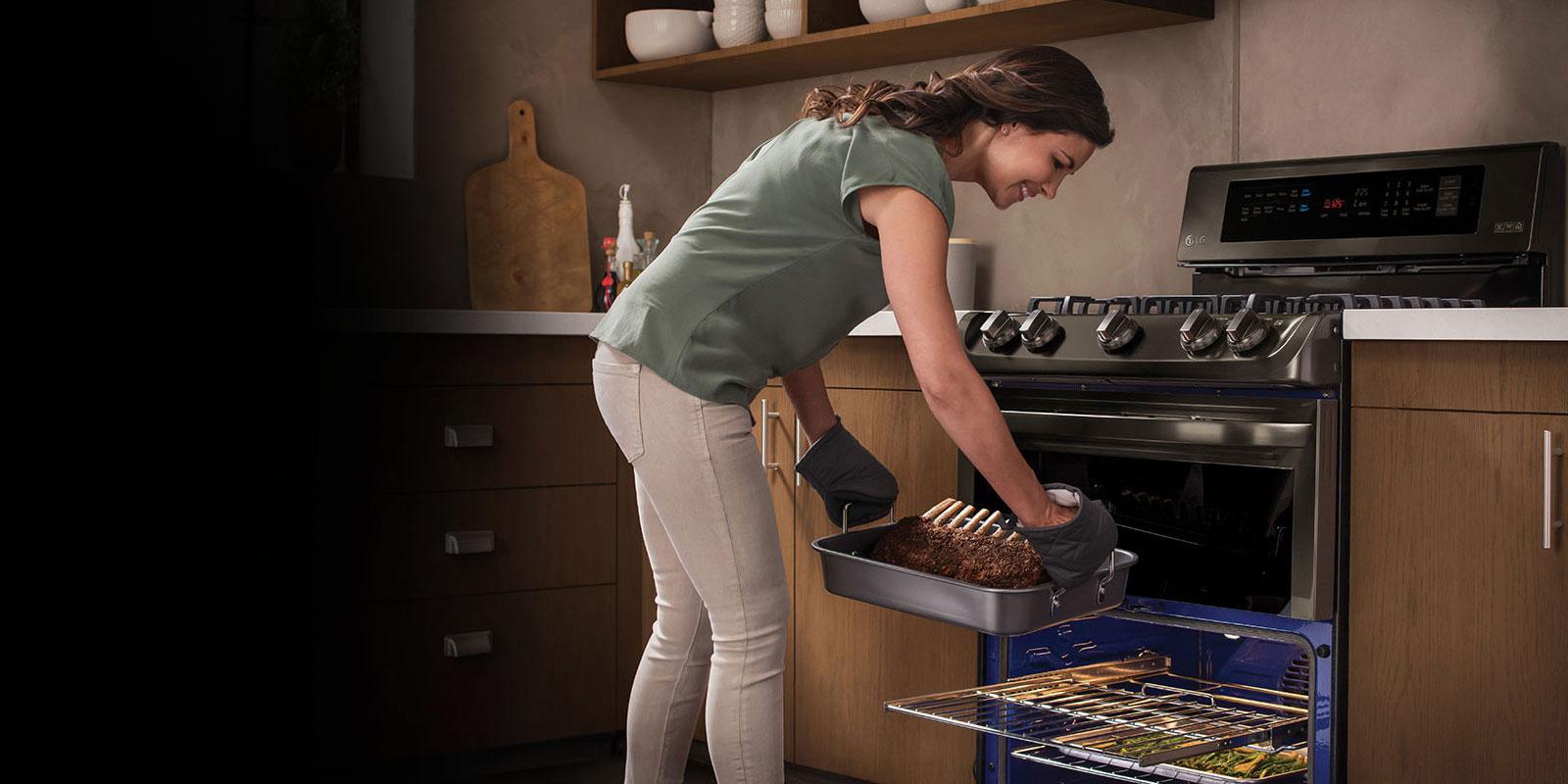 From Rare to Well Done, It's Always Done Well.
With innovations like ProBake Convection® and high-powered cooktops, LG cooking appliances will give you that perfect golden crust, savory roast or velvety smooth sauce every time.
TIMELESS.
BOLD. YOU.
Make a statement with LG STUDIO appliances and enhance the look of your home with timeless appliances.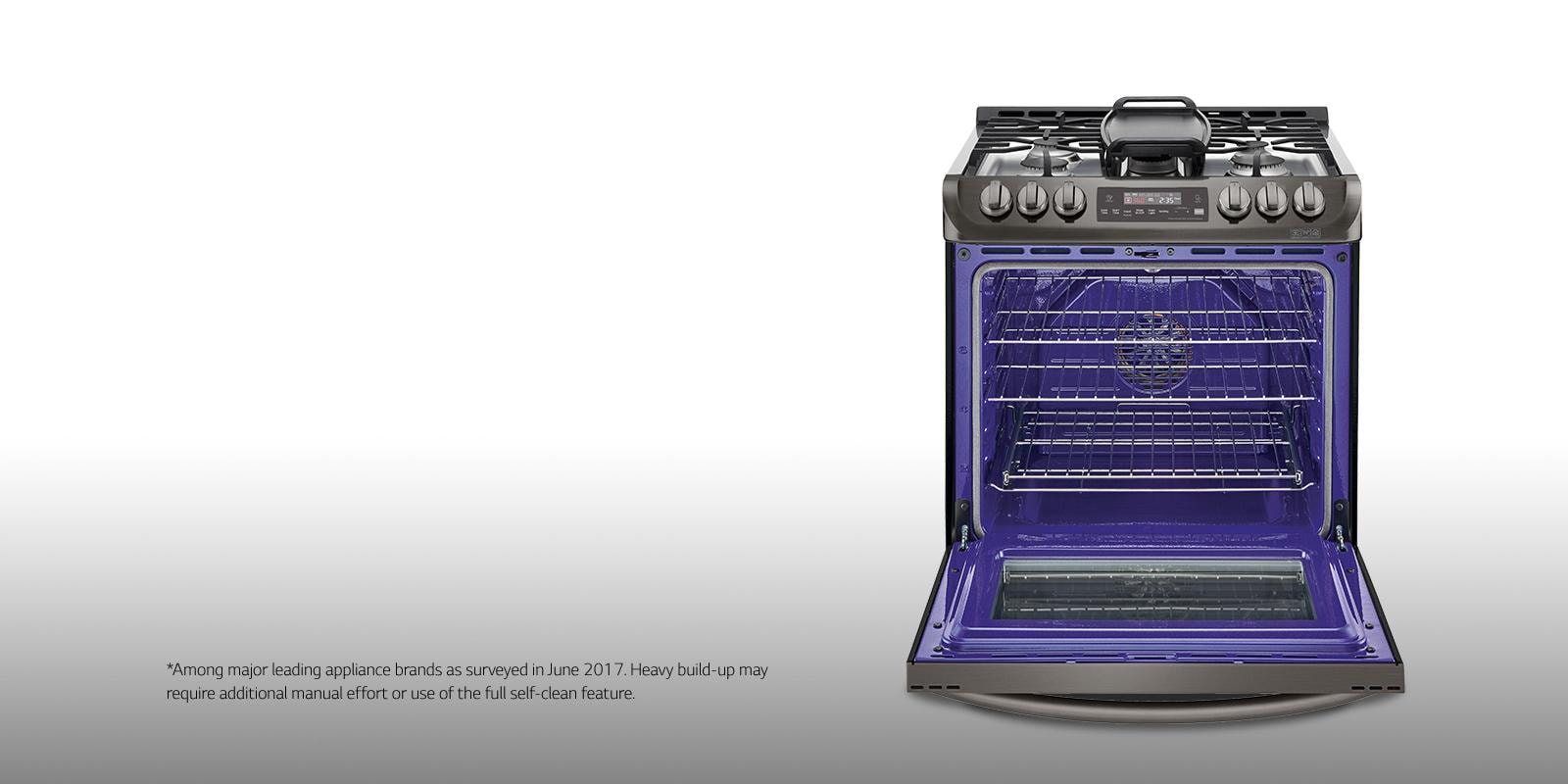 10 Minutes. 1 Spotless Oven.
Enjoy a sparkling clean oven without strong chemical fumes or high heat using LG EasyClean®, the only 10-minute oven cleaning cycle technology.*
Selecting a checkbox will update the products displayed on screen.
Refine Your Search
32
Total Results
Ranges & Ovens
Cook every meal with power and precision. LG ranges and ovens boast innovative technology for restaurant-worthy performances every night of the week. And with their stylish clean lines, they'll blend seamlessly into your décor.
WHAT CUSTOMERS ARE SAYING
Average Rating for Ranges & Ovens
Learning Curve - but good experience

I've had this range a few weeks. Great Features. Infrared cooking is certainly different. One must get used to it, but it's an asset. It cooks more slowly than regular electric heat, but that's more of a plus than a minus. I baked Cornish hens in the convection oven but found it no faster than a regular one. I miss the drawer on the bottom for skillets; even though I'm only 4'11", I find it inconvenient to all but get onto my knees on the floor to insert and remove items from the lower

...

read more

oven, which is the largest. I find that due to the positioning of the racks, and the small windows on both oven doors, even with the light on, you cannot see your food while baking. Still, it is a learning curve. I am anxious to use the infrared broiler on fish. I bought on a friend's recommendation and it had a small dent in an inconspicuous part - so I paid half price. Not sure I would have spent full price on it. I find it rather awkward.

Sweepstakes entry received for review.

LG has made many improvements and new features

This is the second LG range I have owned in the last 3 years. Comparing this model with the previous LG model, there are many improvements and new features. I love the look of the front control knobs and the "easy glide" oven rack. They make this range stand out as a top competitor. Pros: * Style and design of the control knobs makes this range look very professional. * Improved finish of glass top. * The multi-sized burners are a useful feature. * Two separate oven timers for cooking. *

...

read more

The "easy glide oven rack". Cons: * The infrared grill system is too powerful. I tend to burn bread and pizza. * There should be a light associated with each burner to remind you where it's hot. Currently there is only one hot surface indicator. * The easy clean feature doesn't work as advertised. I still need to scrub to get the oven walls clean.

Sweepstakes entry received for review.

Beautiful and Functional!

I would not hesitate to buy this LG range again. It is the best range we have ever owned. Works fantastic and looks beautiful. It really looks like a professional range. Looks as professional as the very expensive ranges at a fraction of the cost. Love the control knobs being on the front. They lock for safety.

Sweepstakes entry received for review.
Love the Double Oven!

I bought this range specifically for the double oven feature, and I haven't been disappointed. I haven't used the convection oven feature yet, but just using the conventional settings on both ovens I was able to bake a ham, two large trays of biscuits, and three breakfast casseroles in under 3 hours, which I thought was amazing. As an added bonus, my range burners have a variety of settings, including Ultra Heat and Keep Warm. My range provides everything I need to cook for a crowd, and more.

...

read more

I'm absolutely thrilled with my purchase.

Sweepstakes entry received for review.

Love this oven!!!

We bought the oven in February, and it is awesome! The dual oven space is great, and the panel is easy to use. Cooks faster than our previous oven. You have to be careful when broiling greasy things like hamburgers in the top smaller oven, due to smoke and potential flame...because of the smaller space. But baking in either the top or the bottom is easy and without issues...and being able to cook things in both spaces at once and get browning (as opposed to on two shelves in a single

...

read more

compartment oven), is the best! We had an issue with the warming burner causing the "hot surface" light to stay on, but the LG repair guy was persistent and fixed the problem under warranty. For the price and features, you can't beat this oven!

Sweepstakes entry received for review.

Be Proactive in cleaning cooktop

I purchased the LDE4413BD electric double oven range on November 14, 2017. My old electric range which I had for approximately 15 years stopped operating right before Thanksgiving and I had no choice but to get a new one. I always wanted a double oven range so that I could place several items in it at once at different temperatures. My previous range had a glass-top and it became stained and scratched after 15 years of use so my perfect range would have been gas. However, when I went online

...

read more

and also into the HomeDepot to purchase a new gas range it could not be delivered prior to Thanksgiving. Therefore I had to settle for the glass-top double oven. I've had to be extremely PROACTIVE in maintaining the newness of the glass-top. Everything the manufacture recommends in cleaning and maintenance of it - you must do; or your glass-top will be scratched or caked-on splatters will be baked-on and hard to remove. I cooked late one evening and fried grease splattered on to the cooktop. I went to bed and my husband cooked on top of the grease that I was too tired to removed after I cooked. When I woke up the next morning I cleaned it according to the recommendations, but the grease and other stuff became extremely hard to remove. I ended up using a stainless steel soup teaspoon to scrape off the caked-on stuff. That worked, but it took an hour to get it off. Therefore, I am now extremely proactive in maintaining the beautiful look of the glasstop. It is nice and shiney and to keep it that way, I will have to be proactive to maintain that new look. Overall I love my new range, but I wish I could have gotten the gas range.

Sweepstakes entry received for review.
Great look!

My husband was insistent that we trade out the range from our new home to this one. Of course, I was hesitant of getting rid of something that was brand new but I'm so glad we did. The features are so easy to use, the cooktop heats within seconds and my favorite part is the sleek look and blue inside of the oven. Beautiful!

Sweepstakes entry received for review.

BLUE OVEN, Highly rated, sleek looking..

I have only had this range for a few weeks and so far this is a great range. My husband and I wanted a range with controls on front and this one fill the bill. I especially like the BLUE oven interior. This was one of the main reason I bought LG brand. No one else has this. This makes it easier to clean or you can at least see where cleaning is needed. LOVE THAT! Also LG was highly rated in Consumers Report. I think over all the range is very sleek and clean looking. I like that.

Sweepstakes entry received for review.

Fantastic!

This is the first glass topped range I have used. I was sceptical. After a year no scratches and cleaning is easy. I love the Ultraheat burner. It heats as fast as a gas stove. The oven is a little tricky at first. The racks are placed the opposite of regualr ovens. So most of the time the racks are near the top of the oven. I think this is due to the heat source being near the top of the oven. Anyway once you figure this out everything comes out grea t and the levels are noted in the

...

read more

manual. Since there isn't an element on the bottom of the oven clean up is a snap. I use window cleaner and it cuts through any grease and leaves it sparkling clean. So far haven't had to use the oven cleaning cycle. Only negative I found is that the knobs for the stove top can accidentally get turned on. Don't know how this happens but it's something to watch for.

Sweepstakes entry received for review.
Excellent Electric Range

I have had this LG Stainless Steel Convection Oven and Smooth Glass Top for almost a year and really love it. The smooth glass top has five burners. One burner is a warming burner which is great if you want to have your gravy stay warm while your preparing your potatoes. There is also one burner inside another burner. The smaller burner is a rapid boiling burner and it boils water within under a minute. Inside the convection oven is bright blue and it reminds me of a expensive industrial oven.

...

read more

The oven has a few different options for cooking and baking. The oven also has your regular cooking buttons. It does have an easy clean button which I used once when some food spilled and baked on the bottom of the oven.The stove/oven also came with a metal scraper to help you remove caked on food in the oven but I didn't use it because I don't want to scrape or gouge the oven. The directions say use the metal scraper carefully. This stainless steel electric range and convection oven comes with directions which explains each feature thoroughly. I will enjoy this electric range and convection oven in stainless steel for many years to come. I definitely recommend this LG electric range and convection oven.

Sweepstakes entry received for review.

Beautiful, easy to use and very modern

We bought this to improve our kitchen as we are selling our house. Now, I don't want to leave it. It looks so good, and the touch screen controls are a dream. It seems to boil water at light speed. I literally am disappointed with every new house's kitchen we view because they have new stainless ranges, but not as good as mine. I'm trying to plot buying a new house, switching ranges and then selling mine. Wish me luck. :) It actually plays a little tune when the oven reaches temperature.

Sweepstakes entry received for review.

Best Range Ever

I have nothing but positive feedback with this appliance. I'm so impressed with the performance and it's so quick to heat up. Fast, and economical, the best range for the money. We bought 2of them. One for me and the other for our daughter. I've been telling everyone I know how amazing this appliance is. Thank you LG for not just making my kitchen look fabulous but a joy to cook and bake in.
The Range/Oven That Has Everything!

The first appliance that was introduced to our new kitchen renovation was the LG Model LSG 4513ST slide-in Range. A brief review of the Owner's Manual and we were on our way to an entirely new cooking experience. All the controls were easily accessible and well marked and the convection oven feature delivered the most Delicious and moist roasts we had ever experienced. The varied cook top burners approached near heating and warming perfection when we matched them with with the proper size

...

read more

cooking vessel be it fry pan or cooking pot. We're glad we made this appliance the center point of our countertop blueprint.

Sweepstakes entry received for review.

So Far I'm in LOVE with this range.

We put this range in our new home 21/2 months ago. We did an LP conversion on it. The pros came out and did that for us - no issue. I am enjoying the way it is so easy to clean. I really appreciate that the grates are THREE large pieces which I can take off and wash. Then the underlying part is ONE solid surface so I can wipe and dry and presto -- it's clean. The oven works like a charm. It is quiet - I love the little chimes to let me know when my bake temp has been reached or my item is

...

read more

cooked. I haven't cleaned the oven yet so I will have to review again when it gets dirty. Lots of room in the oven though and I'm enjoying the use of it.

Sweepstakes entry received for review.

LIked the small upper oven

I bought this a month ago. Disappointed with instruction manual. After baking ends can't reset timer for additional minutes it cake not fully basked. Hearing from customer service supposedly all you do is press the upper oven button once and reset the timer for additional minutes. Tried that and you get the message " convection roast". with my old oven all that was needed was to place the cake back in the oven and set the timer and press start again. LG Oven cools down to fast, must wait

...

read more

until original bake temperature is reached again. .Bought the oven for the upper oven feature. my mistake. Manual tells how to set bake and timer.and bell goes off at the end. Nothing about trying to bake for additional time once oven "ends.

Sweepstakes entry received for review.
Easy to use, quick cooking times, powerful

I have owned the LG ProBake convection for about 2 months now and I am loving it. I love having 2 separate ovens. I use the smaller oven on top for quick things (bacon, roasted veggies, etc), and the bigger oven below for big meals (roast plus veggies, baked potato, etc). I have only used the convection once but it produces a great result quickly. Oven also preheats pretty fast. And the range cooks foods on the stovetop quickly too. It takes less than 5 minutes for water to boil. It took time to

...

read more

figure out how to use the timer feature, but otherwise the controls are intuitive.

Sweepstakes entry received for review.

Beautiful Addition to Other LG Appliances

We bought the LG ProBake convection range to replace a 23 year old GE range. The smaller oven heats to temp almost instantly. The convection oven is delightful for baking breads and main courses. The range burners are wonderful and so much easier to keep clean than the old range. We love this gas range.

Sweepstakes entry received for review.

good oven

I have had this oven for 6 months. So for I do like it. I did not give 5 stars only for 2 reason. The top oven is great but small opening makes it a little harder to get your stuff out you can get burned easier. So bought new pot holders to protect my handsproblem sovled. I also wish both ovens were convection instead of just the bottom oven. I am happy with this oven over all.
Fast Cooking!

I bought this range as part of a bundle. I really needed a fridge, however, I am totally pleased with this range! The oven cooks faster than my old range (which was ten years old), so now I have adjusted to the lowest range of time when given a range. The middle grill is wonderful and very useful as we are the grill cheese and pancake family! I can also remove the grill if I need to which is another good feature. The burners do what they say they will do! I have had this range for four

...

read more

months and I am totally pleased with it!

Sweepstakes entry received for review.

Beautiful

I love this oven. It bakes and broils to perfection. Such a well designed and beautiful oven. Now on to the LG French Door fridge.

Sweepstakes entry received for review.

Love it!!!

I bought this range almost a week ago and got it on Monday. I absolutely love it! I love the features it has and the color is gorgeous. Heats up very fast and when the oven is ready it plays a little melody and the oven light flashes a few times, I thought that was really neat. the griddle in the middle is very nice. I just love this range and could rave about it all day!

Sweepstakes entry received for review.
Love this range

I love the way this range bakes and convection bakes. Love the blue interior and it's so easy to keep clean. The front-mounted cooktop controls are excellent and so much easier to use than the models that have the controls on the back. The burners heat up very quickly and glow an impressive red. The clock is very accurate. I love the chimes that sound when the oven's set temperature has been reached. My only nits are that the glass cooktop is very difficult to keep clean and streak-free and the

...

read more

timer is could be a little more intuitive. Otherwise I just love this range and would buy it again in a heartbeat. Highly recommended.

Sweepstakes entry received for review.

Very good looking range

Although I just purchased this range and have only used a couple of times I am impressed with it.

Sweepstakes entry received for review.

Like it very much

I like all the controls. They were easy to learn and I love the blue interior of the oven. I haven't tried to clean it yet. I thought I was getting a self clean but am not so I am a little worried about cleaning with the other cleaning with only water.

Sweepstakes entry received for review.
New to glass cooktops

This is a new experience to me having a cook top instead of coil eyes. I had cooked on them before at the homes of family. With this one I even have the warming eye which is really nice to have. It heats up really quickly and cooks everything without a hassle. The Convection oven is the best oven I've ever used. Baking multiple things at the same time is a dream and it all comes out just the way you want it. I have to say over all I am highly impressed.

Sweepstakes entry received for review.

Blue internal oven, touch controls

Love this stove/oven. Everything heats so nicely. After working with my old unit which required turning the heat about 20 degrees hotter to cook. I almost burned the first few items. My only complaint is the tune (which I love), that signals the time is up is so low, it is hard to hear if in another room. The light in the oven has burned out after 10 months and the housing is on so tight we can't change the bulb. I still love cooking with it.

Sweepstakes entry received for review.

Awesome!

I bought this range for the convection and proofing features as well as the smooth top, all of which work great, but there are so many other great features. I also love the blue oven interior that lets you see when it needs cleaning as opposed to just a black hole. The quick clean cycle makes oven cleaning a breeze! Love it! I don't think I have ever had such a clean oven before. Alarms are not just beeps but short tunes that even my hard-of-hearing husband can hear! Oven temp can be switched

...

read more

between Fahrenheit and Celsius. Cook time is another great feature where the oven shuts itself off once the time runs out. I really love my new range, and the price was right, too.

Sweepstakes entry received for review.
LG Product Service and Support
Get your questions answered about product setup, use and care, repair and maintenance issues. We can help.
Telephone
Call an LG Support Representative.
(800) 243-0000 Consumer (7am-midnight CST)
(888) 865-3026 Commercial (8am-6pm CST)