"One of the best affordable dishwashers...
we've ever tested." – Reviewed.com. The LG LDF5545 Dishwasher Series won the Editor's Choice award from Reviewed.com for its innovative features and affordable price.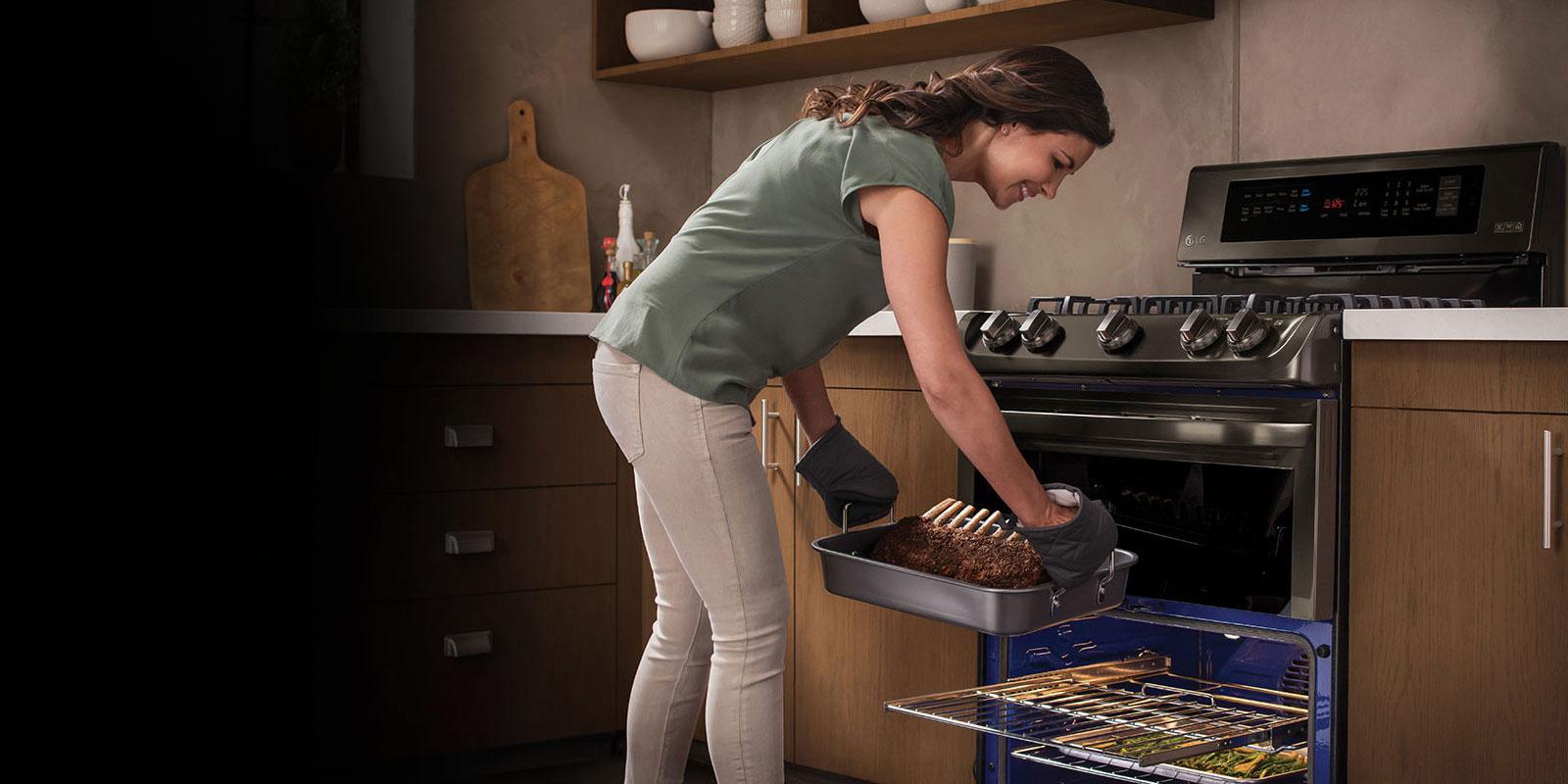 From Rare to Well Done, It's Always Done Well.
With innovations like ProBake Convection® and high-powered cooktops, LG cooking appliances will give you that perfect golden crust, savory roast or velvety smooth sauce every time.
TIMELESS. BOLD. YOU.
Make a statement with LG STUDIO appliances by Artisitic Advisor Nate Berkus.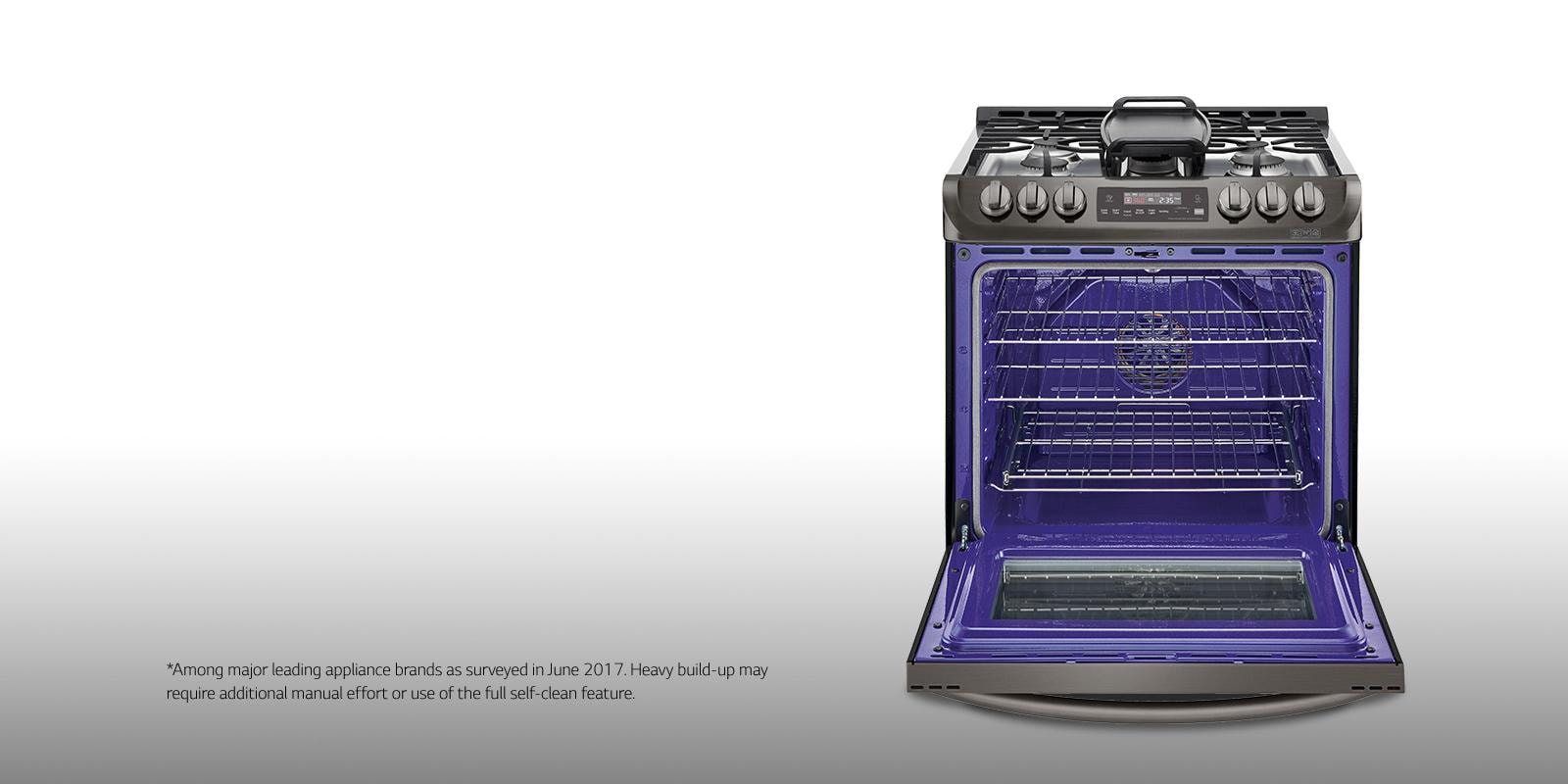 10 Minutes. 1 Spotless Oven.
Enjoy a sparkling clean oven without strong chemical fumes or high heat using LG EasyClean®, the only 10-minute oven cleaning cycle technology.*
Sunshine, Sand and Savings
Bask in the savings of the latest summer deals on our dishwasher, ranges, refrigerators and more!

Selecting a checkbox will update the products displayed on screen.
Refine Your Search
32
Total Results
Ranges & Ovens
Cook every meal with power and precision. LG ranges and ovens boast innovative technology for restaurant-worthy performances every night of the week. And with their stylish clean lines, they'll blend seamlessly into your décor.
WHAT CUSTOMERS ARE SAYING
Average Rating for Ranges & Ovens
So far, it's excellent

Have only had it a month, but, so far, I'm very pleased. This is my first foray into cooking on a glass top stove and that's proving to be a big learning curve me - but I think it's glass top cooking, not the stove. The reason I chose this particular model is because I wanted the knobs on the front of the stove and did not want to have to reach across the cooking pots to get to the controls. But you have to do that anyway for other controls, so it probably didn't matter. I like the stove,

...

read more

how it handles and how it looks - love the fact that it offers regular and convection baking.

Sweepstakes entry received for review.

Great stove

It looks great. I love where the knobs are, it looks like a gas stove. Many, many, many great compliments. It cooks fantastically.

Sweepstakes entry received for review.

Cooks very well, cleans easy

Purchased it along with LG washer and dryer and very happy with quality and price.

Sweepstakes entry received for review.
LIked the small upper oven

I bought this a month ago. Disappointed with instruction manual. After baking ends can't reset timer for additional minutes it cake not fully basked. Hearing from customer service supposedly all you do is press the upper oven button once and reset the timer for additional minutes. Tried that and you get the message " convection roast". with my old oven all that was needed was to place the cake back in the oven and set the timer and press start again. LG Oven cools down to fast, must wait

...

read more

until original bake temperature is reached again. .Bought the oven for the upper oven feature. my mistake. Manual tells how to set bake and timer.and bell goes off at the end. Nothing about trying to bake for additional time once oven "ends.

Sweepstakes entry received for review.

Great Range

This has been a great range so far. We've had it about six months and it works great! Everything feels sturdy and high quality.

Sweepstakes entry received for review.

Beautiful BUT scratches easily.

I purchased this range last month and it looks beautiful and works really well. I have to get used to how quickly meals cook. The oven is also very fast to cook which is great when I'm pressed for time. BUT, the cook top scratches extremely easy and for some reason the burners and around the burners is turning yellow, as though the steel is burning. I quickly clean up an spills but its still yellow. I'm not thrilled about it since I have owned the range a few weeks.

Sweepstakes entry received for review.
New range

We bought this range to replace a 25 year old coil style range. We chose LG because it appeared to be well made. We have had an LG front load washer for several years and have had no problems. We think the range will perform as well. So far we are very happy with the new range.

Sweepstakes entry received for review.

Nice Style/Design

Liked the slide-in models from an appearance perspective much better than the traditional style. Did look at several traditional from various manufacturers. Liked the cooktop layout better on this one overall. Nice usage of space. Oven is pretty large. However, due to the oven size, you do lose a good bit of space in the drawer underneath - if you previously stored pots/pans in that compartment. So you'll be relocating several of those. Features are excellent. Initially didn't think we'd like

...

read more

the controls on the front, but actually do. And for those postings that indicate a safety issue with knobs turning by mistake, I'm not sure I agree. You do need to push in to turn, so not as much of a chance. And if concerned with kids doing, well, perhaps other issues instead... :-) Haven't used much to date as just received a few days ago. Would recommend based on experience so far.

Sweepstakes entry received for review.

Easy cooking

We bought our range a year ago. I love all the features on this stove. It is my first time with the glass top range. It has been very easy to learn and the cleaning and maintenance is a breeze. You have two options for oven cleaning with the Easyclean or self clean. The spills in the oven wipe up easily. The Warm feature is great to keep your food warm without cooking. The proof option is great for raising bread. Last be not least I like the tunes that play when your oven is preheated.

Sweepstakes entry received for review.
Great all around gas range stove

Let me start off by saying this has to ovens for baking and cooking. The gas range stove is easy to clean with easy removal of burners, the oven has a steam cleaning cycle that is user friendly. You can download the app from LG on any plastered or appstore. Program your oven with temperature and clock settings with the app, Set a timer at a certain time to start cooking and program your favorite recipes into the oven. I can't wait for what comes next from Life's Good.

Sweepstakes entry received for review.

Best oven we have ever owned by a mile.

We were split over whether to get a single or double oven when renovating our kitchen. The price difference is obviously not a small increase. But so glad that we went for the double oven. Not only is it a stylish appliance but we use the 2 ovens at the same at least time 4-6 times a week. The cooking quality is phenomenal in both ovens and we can't believe how better the evenness of cocking is for all food. Features are spot on what we need and even more. Would highly recommend his oven.

Sweepstakes entry received for review.

Wonderful features and works great!!!

I am loving my new stove! I wanted a double oven forever and finally took the time to do my homework to find the right one. I am able to cook many different things at once at different temps and they all turn out great. Easy to use and looks so professional. Very happy with my purchase.

Sweepstakes entry received for review.
LG Gas Stove

I love my new gas stove. It has a nice sleek look with a black top and black stainless front. It heats up nice and even in no time. The fifth burner runs front to back and works great with the griddle that is included with purchase making cooking multiple pancakes at one time easy. The oven has a loud melodic tune making it easy to know when your ready to bake. Spills and finger prints clean up easy with a soft cloth and warm water with soap.

Sweepstakes entry received for review.

Simplicity and Value

I am enjoying my new range. It works well. I like that the control panel with large letters/numbers. It is easy to use. I like the easy clean feature. The cooktop burners are great and boils water fast. You broil in the oven and not in the bottom drawer. When the oven is ready or done it plays a loud tune to let you know. The window is large and the inside being blue really helps to see inside. No regrets buying.

Sweepstakes entry received for review.

So far so Great!!

I purchased this less than a month ago, so far it works so Good!

Sweepstakes entry received for review.
Awesome!

I bought this range for the convection and proofing features as well as the smooth top, all of which work great, but there are so many other great features. I also love the blue oven interior that lets you see when it needs cleaning as opposed to just a black hole. The quick clean cycle makes oven cleaning a breeze! Love it! I don't think I have ever had such a clean oven before. Alarms are not just beeps but short tunes that even my hard-of-hearing husband can hear! Oven temp can be switched

...

read more

between Fahrenheit and Celsius. Cook time is another great feature where the oven shuts itself off once the time runs out. I really love my new range, and the price was right, too.

Sweepstakes entry received for review.

Single Dad

Just installed had to modify my custom cabinets had a original 70s vintage slide in. Oven color I love but then blue is my favorite. The oven light is brightest I have seen. Have used the range top some seems a little slow to heat compared to my old unit. I am learning to adjust my cooling like I did when I switched from gas to electric. Gas doesn't work at Time will tell on the rest.

Sweepstakes entry received for review.

Room for Improvements

This range replaced a 22 year old electric coil burner with control knobs, so it's taking a little bit of an adjustment to switch over to having to punch in numbers and hitting burner control buttons multiple times in order to bring the burner temperatures up and down versus a simple turn of a knob. very cumbersome. Also the alarm or should I say jingle to inform you that something is done in the oven is not very loud and it is at the highest setting, so I have to constantly keep an eye on the

...

read more

timer. I've only had this range a week, but these are the features that seem to make cooking more a chore than a pleasure. I feel like I am in front of the range constantly adjusting the burner settings. Way too many increments. Must be 20 or so.

Sweepstakes entry received for review.
Very easy

I love the color inside and out, we have not eaten out since we got our new stove , we totally love it

Sweepstakes entry received for review.

Amazing

I got this stove prior to moving into my new home, got to use it for the first time last night and it was so easy to use, so easy to clean and large enough for almost any large meal.

Sweepstakes entry received for review.

great looking

I love this range. the only issue is that the aluminum burner caps stain and they are impossible to clean.

Sweepstakes entry received for review.
We purchased this LG gas stove in August of 2016. It has the double ovens and I absolutely LOVE having 2 ovens. I don't know how I ever cooked huge meals before with just one oven. This is an awesome stove. It has great features, heats up to the proper temp. in such a short amount of time. ( I was having to wait about an hour or so for the oven to get to the temp. on my old gas stove.) So this is amazing. I LOVE my LG Double Oven Gas stove.

Sweepstakes entry received for review.

Love the double oven and Power burner

I bought this double oven/gas range when I bought my new house. Its modern, looks good, and has a lot of neat features. It plays a song when the timer goes off, or the oven is preheated. Love the Superboil and power burners. I can boil tea in minutes, and sear a steak in seconds compared to minutes. 1 negative thing, looks like the enamel on the top is coming off after only a few weeks of using it. I will call support though. I use the single top oven all of the time for potatoes and meat. The

...

read more

bottom convection oven works wonders too! Cooks evenly and quickly. Love this range!

Love the double oven

The double oven is so versatile - I can bake in the upper oven and roast in the lower oven at two different temperatures - at the same time! The oven is easy to clean and easy to use. The musical timers took some getting used to, but now I really like them - it makes my kitchen unique. The ultra heat burner is also a winner - it quickly heats up a large enamel dutch oven, just be careful not to rest your cooking utensils on the side of the pot - they can heat up quickly! Overall, I'm so happy

...

read more

with this purchase.

Sweepstakes entry received for review.
It has everything we want in a range.

We use the range top more than the oven and I find the controls to be excellent. They are intuitive and easy to understand. The burners on the flat top range work superbly, and the temperature is smooth and even. The oven is easy to use and performs exceptionally well.

Sweepstakes entry received for review.

Love the smooth stove top!

I have had this stove for only three weeks, but I am so very glad that we bought it. Besides the smooth stove top, which, when you cook on it, for some reason, it doesn't splatter all over the place. I am still learning the features, i.e. just figured out how to use the oven timer (just so you know, I am not really very good with how-to-do-it books), so my grown grandson taught me some of the features. I did put a drip thing on the bottom grate, to help catch food from pizzas, for instance.

...

read more

Haven't made a pie in it as yet, so can't really comment on the convection part of the oven.

Sweepstakes entry received for review.

Love the Range!

I bought the LG conventional range one month ago. I really like the sleek glass cooking top. It is easy to clean and they have even included a handy cleaning tool to scrap any burnt on stuff off the glass top. I was a little nervous about using the scraping tool but it worked great! It did not scratch the glass top. The self cleaning oven preheats very fast and bakes everything evenly. I love the blue inside of the oven. It looks awesome! The top burners are hot in an instant. I love the

...

read more

warmer burner. What an excellent option! The only one drawback is the timer chimes instead of buzzing. It is difficult to hear unless I am in the kitchen. That is the only thing I would change. I have really enjoyed cooking on my new LG conventional range and would buy another LG in the future. Awesome !!!

Sweepstakes entry received for review.
LG Product Service and Support
Get your questions answered about product setup, use and care, repair and maintenance issues. We can help.
Telephone
Call an LG Support Representative.
(800) 243-0000 Consumer (7am-midnight CST)
(888) 865-3026 Commercial (8am-6pm CST)