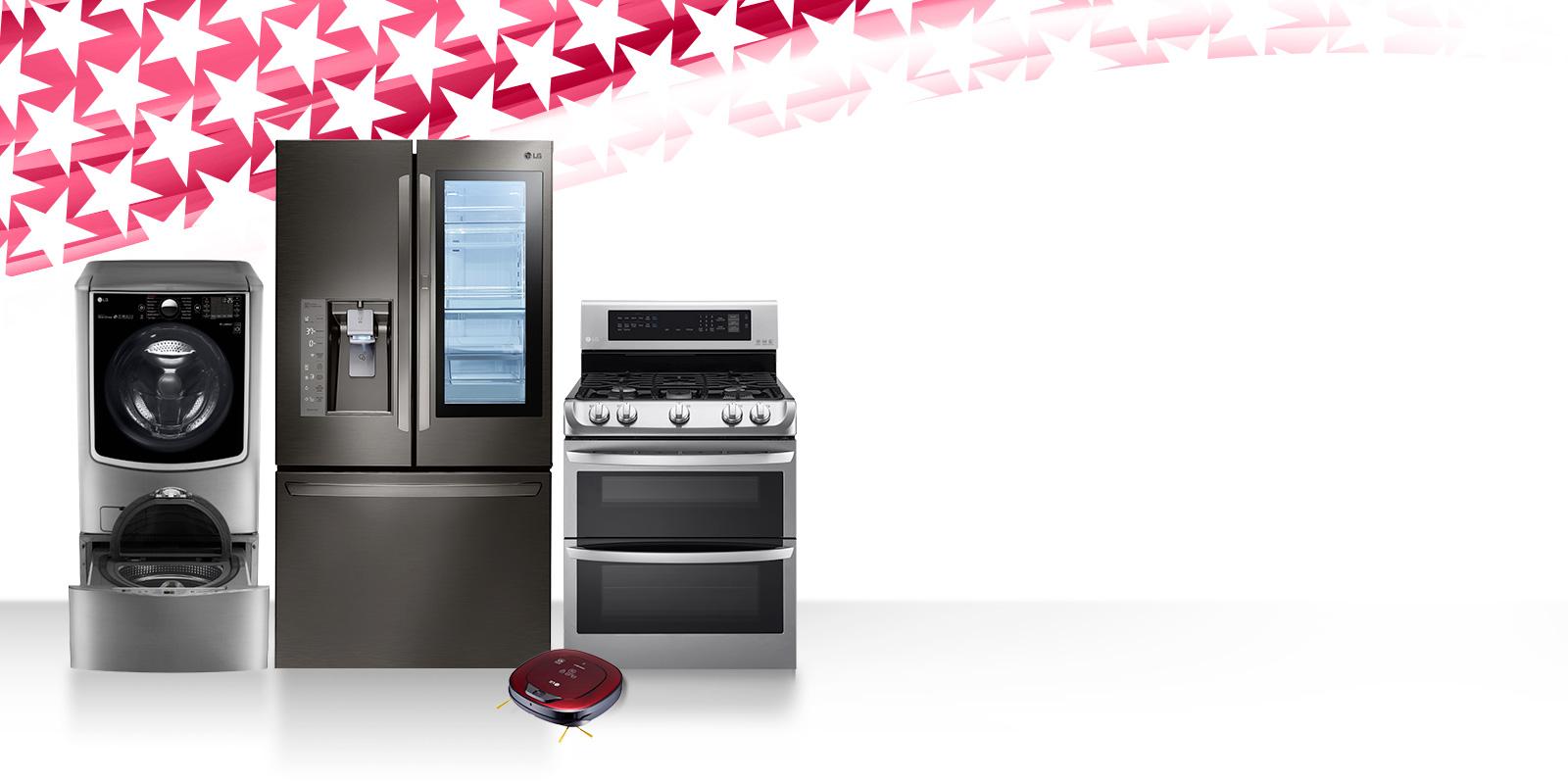 President's Day Savings
Don't miss out on special President's Day savings on qualifying LG Home Appliances.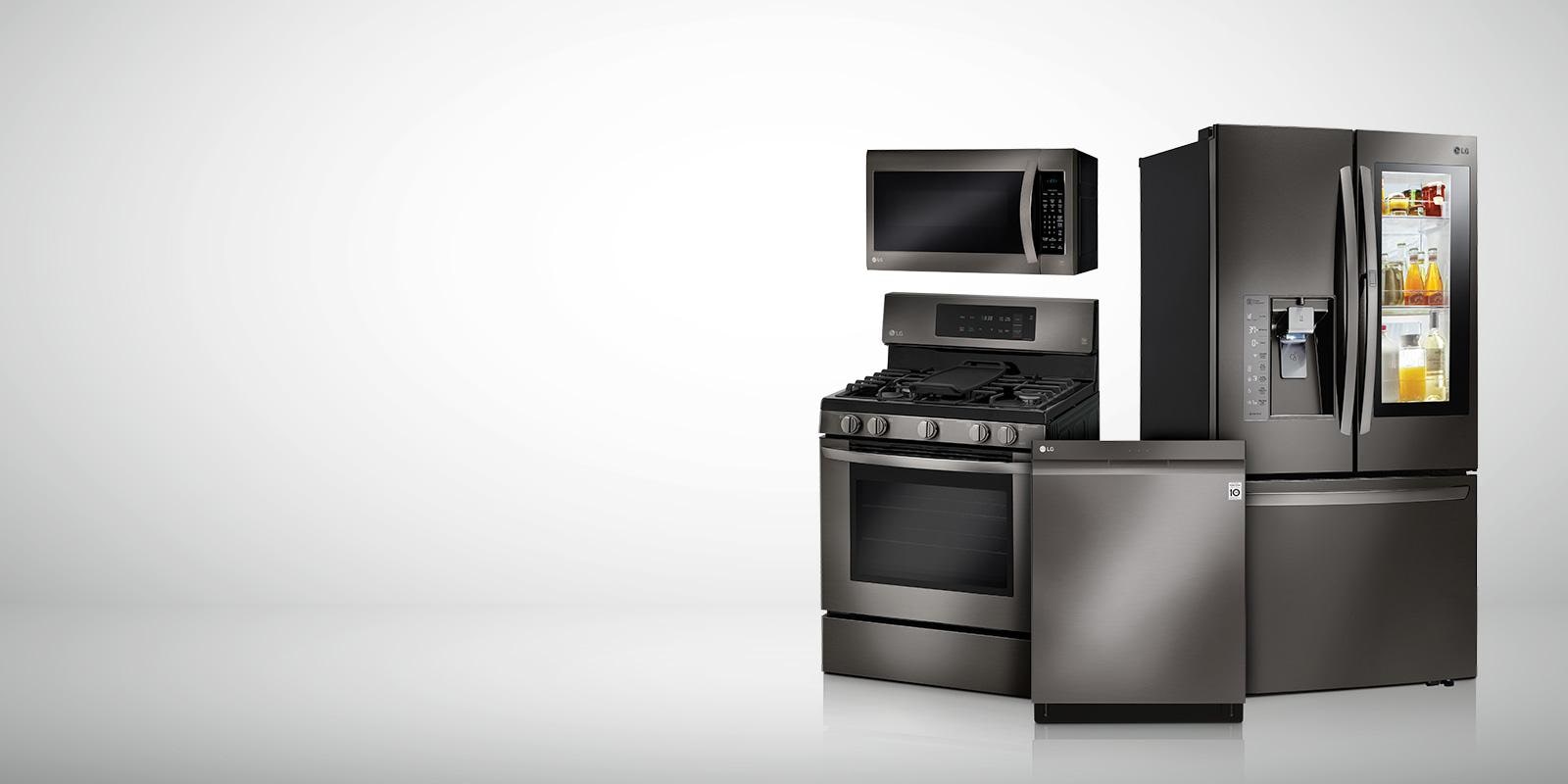 Buy More Save More Kitchen Bundle Offer
Get an LG Visa® Prepaid Card worth up to $500 by rebate when you bundle eligible LG and LG STUDIO Kitchen Major Appliances.

Welcome MATTE
Experience the style of LG's exclusive MATTE Black Stainless Steel appliances.
J.D. Power Award Winners
"Highest in Customer Satisfaction with French Door Refrigerators"
J.D. Power Award Winners
"Highest in Customer Satisfaction with Top-Mount Freezer Refrigerators"

"Among the best
in their class."
LG refrigerators have received the Editor's Choice Award from Reviewed.com. Discover them for yourself and see why.
Introducing
LG InstaView™ Door-in-Door®
Bringing innovation and distinctive design together, LG's new refrigerators with InstaView™ Door-in-Door® will enhance even the most beautifully crafted kitchen.
Impeccably Aligned Design
LG counter-depth refrigerators align with countertops and cabinetry for a uniform profile, creating a sophisticated built-in look without the high-end price tag.
TIMELESS.
BOLD. YOU.
Make a statement with LG STUDIO appliances and enhance the look of your home with timeless appliances.
Selecting a checkbox will update the products displayed on screen.
Refine Your Search
74
Total Results
All Refrigerators
Striking good looks and cool innovations meet space-saving features and energy efficiency when you choose a new state-of-the-art LG refrigerator. It's like having your very own personal assistant in the kitchen!
WHAT CUSTOMERS ARE SAYING
Average Rating for All Refrigerators

Great fridge

I was a little bit nervous about issues with the ice maker from reviews that I had read, however, we have had no problems yet. The decreased amount of storage space and the door was originally a worry, however things have worked out fine. I like the feature of the collapsible shelf for taller items, however there's only one of these. It would be nice if there was a second one. Overall, I'm very happy with this model and it looks great in my newly remodeled kitchen!

Sweepstakes entry received for review.

I love this fridge! Great space and it nice and bright inside. LG appliances are my favorite. They are stylish and built to last.

Sweepstakes entry received for review.

Plenty of room for everything!

I have only had my new fridge for about 2 weeks and so far, I am very pleased with the size & the features

Sweepstakes entry received for review.
Perfect for small space or small household

I love the freezer on the bottom and having drawers to separate my frozen items. As a single person, it is just the right amount of space for the food I keep in there. I anticipate a lower electric bill due to the smaller interior and more efficient use of space. I had the Euro version of this (Vesta) at my home in Baltimore and it had a wine rack along the top of the refrigerator interior. I miss that, and it cost y'all a star! ;-) I do like the beep when I forget why I am standing looking into it.

A fridge wont change your life, but...

then changed houses and just over a year later this fridge is one of the things I miss about the old house. The fridge is well built and holds things efficiently, never had a problem with quality, all parts seemed to be well built and thought out. Sometimes a fridge is just a place to put your food, and while this fridge isn't going to change your life, it is going to make life better, a vision of life where things work and feel well made, at a price that the middle class can afford.

Perfect Solution

Our Refrigerator was "slowly dying" and I kept delaying the inevitable. Finally I started shopping around. Was looking for the bottom freezer type, as I have issues with my back & thought since I was in the refrigerator more than the freezer, that would make more sense. I could not have made a BETTER decision. Since space was an issue, this was a perfect fit, has plenty of room inside & a PERFECT SOLUTION to our situation. It is quiet, sleek design and is doing a great job for us. It is a

...

read more

perfect size for a family of 2!!
Nice looking

I like the way the refrigerator looks and the led lights inside are very nice. It does all I expected it to do. Nice adjustable shelves too.

Sweepstakes entry received for review.

Top technology for great price

I have had this refrigerator in black for about 12 months. It holds temperature very well and is quiet. The ice maker has given us no trouble. The only complaint is that the LED lighting does not light the back spaces very well. We have been remodeling the kitchen and this is a temporary refrigerator that we have had to move around at times. It has lived through construction dust and rough treatment with no issues except one small scratch. I highly recommend it for solid performance and

...

read more

good size for a great price.

Great Buy

We needed a refrigerator to fit a specific space. Which we thought would be hard to do. We found the LG, a little bigger than our previous one, fit just fine, with more space. The led lights are great and very easy to see what is inside. We like the large drawer in the middle of the refrigerator, to hold our chesses and our lunch meats. We highly recommend this refrigerator.

Sweepstakes entry received for review.
Excellent replacement from a GE

I researched refrigerators and decided on this one for the features and love this Refrigerator! The duel Ice Maker was the selling point as well as the size and this was exactly as described. Once I knew I wanted this one I went to the store to make sure it was as good as described and bought on the spot. I'm overjoyed with this in case you can't tell. This replaced a GE Profile that cost magazine $$ in repairs that should not of been required for the age

Sweepstakes entry received for review.

Awesome fridge

Installed this about a month ago. Works great. Love the ice maker. If your looking for a fridge that don't have a big bulky ice maker, this is the one. Instant ice in the door (don't take away from your shelf in the fridge like the bulky ones do) & a reserve basket in the bottom freezer for extra extra ice. Great feature.

Sweepstakes entry received for review.

Great product

I purchased l this refrigerator about two months ago and I've had no problems with it so far. Just had to call a tech to align the doors. I love the black stainless steel much better than the regular stainless steel. I'm thinking about changing all of my stainless steel to black stainless steel. It is also easier to keep clean.

Sweepstakes entry received for review.
Nice stainless LG!

I got this refrigerator a few months ago. It is my 1st stainless, french door, and 1st LG refrigerator. I wanted the bottom freezer for the large capacity and so food wouldn't fall out when I opened the freezer door. It is working out great. You can also see the food in the main part of the refrigerator must easier with the french door model. The door compartments hold a lot of items. The open door alert is great if you have kids that forget to shut the refrigerator door. The stainless front

...

read more

does show fingerprints but easily cleans with 409 stainless cleaner. A couple of cons are you have to open both doors to open the right side veggie drawer and the meat drawer. Also, the meat drawer could be a little taller.

Sweepstakes entry received for review.

We love it!!!

We bought a whole kitchen suite and we love it! The fridge is large and roomy and very well lit! Super happy with everything! Would highly recommend!

Sweepstakes entry received for review.

I have really enjoyed this fridge.

I didn't know if I would like the bottom freezer. But I do..it has lots of room. Seems like a good bit more , than the side by side I did have....

Sweepstakes entry received for review.
We are very pleased with our new LG refrigerator

We purchased our new LG refrigerator two weeks ago and we are very happy with it. It is nice and bright Isidro and it is easy to access everything in it, for both the refrigerator and freezer sections. The ice maker works great without taking up much space. The refrigerator is a beautiful addition to our stainless steel kitchen.

Sweepstakes entry received for review.

A beautiful appliance

Bought this fridge several weeks ago and more than happy with everything. There is so much room in both the fridge and freezer. There is just the wife and I, but I believe it could handle a family of 4. The only thing I could mention is the water supply. I put the glass on the tray and hit the water with my finger. It surprised me when my foot got wet. The water comes out above the button, instead of inside where the ice does. Not going to complain about that though, it works great at filling

...

read more

odd shaped and tall water containers. I would highly recommend this appliance and probably any LG product.

Sweepstakes entry received for review.

Simply amazing - brightly lit inside

Have had this fridge for a month. I love how bright the fridge is inside. Every area is lit up and it looks so clean and fancy. The ice it makes IS on the smaller side but that isn't a problem. I love it so far!!

Sweepstakes entry received for review.
Very Quiet and efficient

This refrigerator is amazing! While it's only 22 Cu.Ft. it actually holds more than my previous 24 Cu.Ft. refrigerator due to the design. I love the way it fits into the space, it doesn't stick out into the entry like the previous one did. I was interested in a model that was quiet and I was surprised at just how quiet this one is - the first few days I would check on it from time to time to make sure it was still running - it's that quiet. And, because it seems to very efficient - it

...

read more

doesn't run all that much! For a little guy there's a lot to love & I'm very happy with my new LG refrigerator and highly recommend it.

Sweepstakes entry received for review.

ANOTHER AWESOME LG PRODUCT

We are LG product owners, couple large screen TV'S among some other smaller products. The refrigerator is the latest addition ( about 3 weeks) and we love it! From the looks, to how quiet it is, along with it's performance to date we are sure glad we bought it and.....we know we made the right decision! Thanks LG!!

Sweepstakes entry received for review.

Great refrigerator!

Love this refrigerator/freezer! Loves of room in both sides. New model for 2015. nice shelves/drawers . Looks great & doesn't take up a lot of room. Only which it had a choice of color (black or gray-just comes in gray) for the sides on the stainless steel model. Also, need to push hard to control ice/water-once you know this no problems! We really enjoy this LG product!!
Absolutely the right refrigerator for me

This refrigerator (mostly) exceeds my expectations. It is quiet, oozes quality, and user-friendly. PROS: The LED lighting in both refrigerator and freezer makes it easy to see every corner. Temperatures seem stable. It's a gorgeous design. Changing the door swing was easier than expected. Overall, I don't think I could have done much better--especially at this price point. CONS: The shelf height in the refrigerator section is limited. When you have the top shelf low enough to accommodate a

...

read more

gallon of milk, the remaining lower shelves don't leave room. If you use the door shelf for milk, the overhead clearance is minimal, so you end up hitting the bottom of the shelf above it. Only other comment, both a pro and a con... the door alert. It's great that it lets me know if I haven't closed one of the doors. On the other hand, I get flashbacks from my teen years when my mother would tell me to stop staring in the refrigerator and close the door!

Sweepstakes entry received for review.

Wonderful !!!!!

Love it ! I live in an apartment and their refrigerators are smaller. I had no freezer space. This LG refrigerator has more space in the freezer AND ice box. And no more bending over to get things out of the refrigerator top plus lots more room too.

Sweepstakes entry received for review.

Easy to install, looks great.

Everything worked well out of box. Connected water and plugged in, done. Drawers are great and lighting nice. Height of fridge is wonderful. I'd rate it 5 stars if the handle hadn't loosened after a week (I tightened it with a hex wrench), doors can be a little stiff to initially open, and one must secure the wheels to prevent from rolling.

Sweepstakes entry received for review.
Quietest refrigerator I have ever owned

This refrigerator is the quietest refrigerator I have ever owned. It is one of few refrigerators that would fit into the cabinet space I have and will come through the house with minor difficulty. It maintains a very steady temperature. The freezer has sufficient capacity but is more like a chest freezer than a shelf freezer when retrieving items. There is a slide out drawer in the freezer which is very convenient. There is ample space in the refrigerator section. However, the height of the

...

read more

shelves will not accomodate a liter bottle of soda unless it is stored in the door. The drawers in the refrigerator section are acceptable but the large refrigerator width bottom drawer is a bit inconvenient in that you have to open both doors to get at this drawer. I would have much preferred a vertical stack of drawers on the right side of the refrigerator. I would also have preferred at least one deeper drawer instead of the wide bottom drawer. But I have come to an accomodation with the features.

this fridge looks stunning in our kitchen

we needed a fridge that wouldn't stick out past our counters. this fridge did the trick and with the class of a high end appliance. after first day it was so quiet, we thought it stopped running. love the well lit inside, but the long draw could have been styled better, as you have to open both doors to open draw.also wish the doors closed like our cabinets(soft touch by themselves) thanks for the alarm as it does remind you to close if not completely shut.

Love it!!

After going without a refrigerator for 12 days and researching new refrigerators that entire time my wife and I agreed that the LG model LFC21776D was the one we wanted. It turned out to be the best decision we've made. Being "counter-depth" it saves us valuable space. The tall shelves on the right door hold a total of 6 half gallon containers. Smaller shelves hold A LOT of condiment type stuff. Of course this ends up freeing up a lot of space on the adjustable shelves. No water or ice in the

...

read more

door suits us perfect. It really gives a clean look to the outside. We access ice maker by pulling out freezer drawer. Ice bin is easy to get to. We use a scoop to get ice out. Ice production is great even on the normal setting. All in all this refrigerator is a home run for us. Every day my wife says to me "I love our refrigerator!" When the wife is happy everyone is happy. Thank you LG!

Sweepstakes entry received for review.
LG Product Service and Support
Get your questions answered about product setup, use and care, repair and maintenance issues. We can help.
Telephone
Call an LG Support Representative.
(800) 243-0000 Consumer (7am-midnight CST)
(888) 865-3026 Commercial (8am-6pm CST)