Refresh your clothes & spirit at Bonnaroo
The LaundROO Lounge Powered by LG is coming to the Bonnaroo Music Festival from 6/7 – 6/10. Drop off your dirty clothes and we'll use LG washers and dryers to wash the day away, or refresh your festival look with our free vintage clothing swap.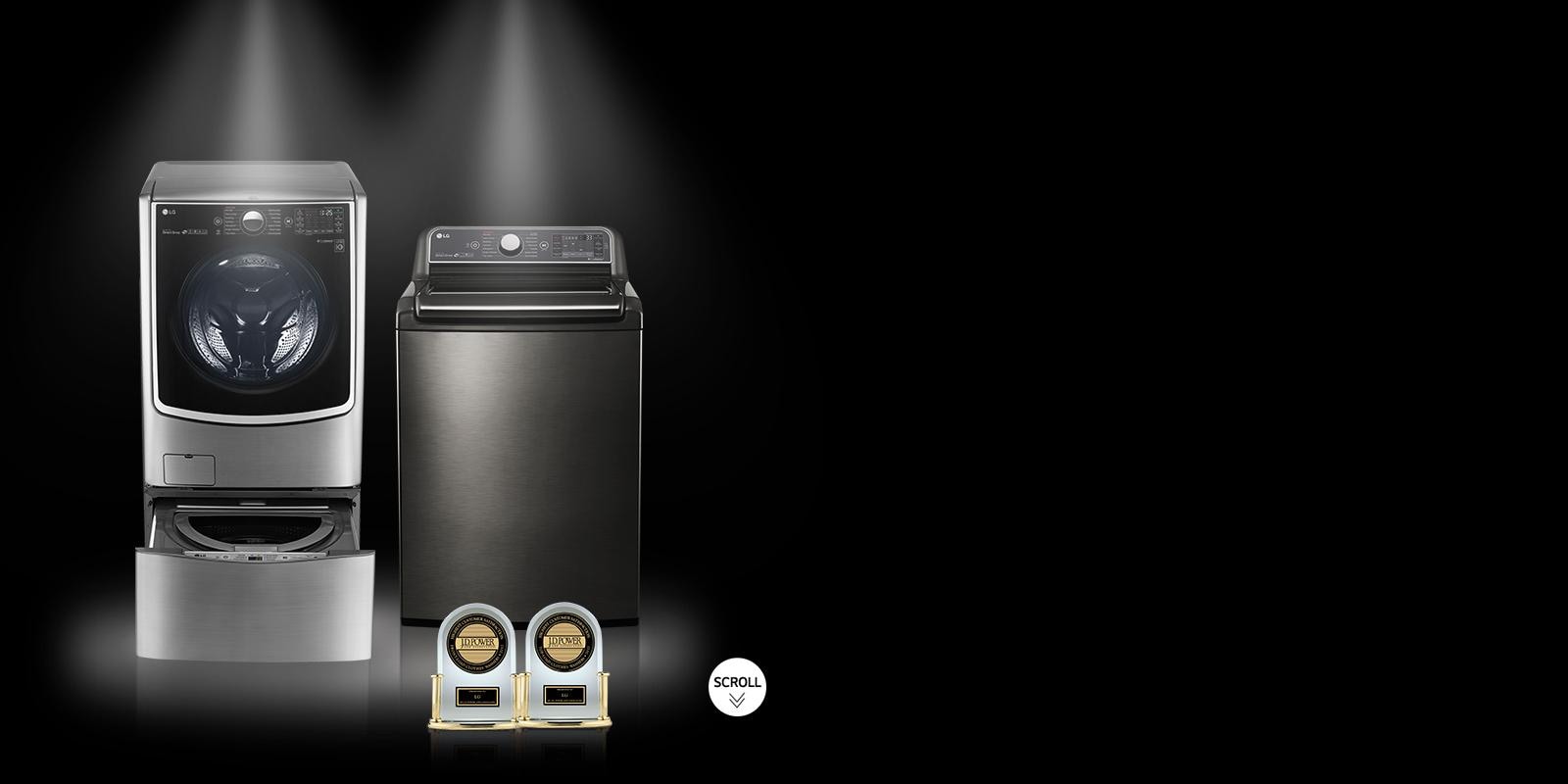 J.D. Power Award Winners
"Highest in Customer Satisfaction with Front Load Washers, Top Load Washers."**
Selecting a checkbox will update the products displayed on screen.
Refine Your Search
41
Total Results
All Washers
WHAT CUSTOMERS ARE SAYING
Average Rating for All Washers
Great smart machine

Love my new LG Front loader, cleans and rinses very well. I was use to my old washer but this one is so quiet and does a beautiful job at cleaning. I have very dirty clothes to wash and this does the job for me.

Sweepstakes entry received for review.

Great price for so many features

I'm having a hard time getting used to a front load Washer after 40 years of top loading washing. I like that it's so quiet and efficient and has steam capability when needed.

Everything momma needs!!!

Our family's first washing machine purchase EVER!!! I was so excited that after my husband installed it and I loaded couple of towels, sat down on the floor in front of the washing machine and was just enjoying how quiet it was. It has amazing features and absolutely everything I need in a washing machine. I have two little kids and husband who works in construction, so I do laundry every single day. This washing machine does excellent job taking stains out and I love that clothes come out

...

read more

practically dry. Also, turbo wash option is a game changer! I love my new working horse, makes this momma super happy.

Sweepstakes entry received for review.
would be awesome except for some flaws

I generally like this washer except for the following items: 1) the programming for the movement of the tub could be better. it adds water many times when it had just positioned clothes around the edge from spinning. it should shake a bit to get them to settle down so when it adds water it goes to the clothes and not to the bottom of the tub directly. 2) the draining of the tub sometime is horribly noisy like a pump running with nothing to pump. 3) the controls should not be changeable after

...

read more

the cycle has started. if you open the top and reach in and rub against a button by mistake you are messed up as it changes perhaps something very significant.

This Washer Deserves A 10!

I'll tell you right now that this washer has brought clothes washing into the 21st century! I love this washer! Everything about it, from the design to the performance, beats the competition hands down. There really isn't any competition. That's how terrific I think this washer is. It makes doing laundry a fun experience!!!!!! The engineers who created this washer must have been women! Hats off to LG!

Love this washer

I had read reviews this cited difficulties with washing getting close clean etc.... I haven't found a single thing I don't like about this washer. I've run large loads and I've also run a load with just two items and it works beautifully. I've washed rugs sheets clothing cleaning rags anything you can think up and everything comes clean. The fast spin is fantastic, things come out so much drier than my old washer could do. The only slight problem is that I'm short and it's a little hard to reach

...

read more

all the way down inside for that last small item. But hey -- small problem when all else is so good. I would definitely buy this again
great futures

I am very happy to buy LG washer and dryer and works very well.

Sweepstakes entry received for review.

GREAT PRODUCT

It allows me to finish the laundry in HALF the time it used to take me, and the wash comes out looking great.

Sweepstakes entry received for review.

Love the ability to wash small loads

We have a toddler, who causes messes everyday. We are able to wash small loads easily.

Sweepstakes entry received for review.
Works perfectly, including the load balancing

This washer was delivered about six weeks ago, and it works wonderfully. A typical load takes only about 37 minutes. Unfortunately, six weeks ago, the appliance dealers' installers also forgot to put in the screws attaching the washer to the pedestal washer I also bought, letting me test this full size washer's advertised load balancing feature, which worked perfectly. Whenever the washer started shaking while spinning, the load balancing constantly turned off the spin and gently rotated

...

read more

the clothes until the washer could spin without significant shaking. Two days ago the dealers' installers finally returned, installed the missing screws, and the washer now spins smoothly on high. I'm very glad I bought this washer.

Sweepstakes entry received for review.

Better than our old top load, but jury still out.

We have had the washer almost two weeks so we haven't put it through all the paces. It is quieter and cleans better than the top load washer it has replaced. After a few days the softener tray is not emptying the flush water (the softener does empty). Not a big deal other than the fact the factory repairman isn't available for a week (we received a message that they are apparently short of techs in this area). Not reassuring. The pedestal is a worthy addition so we don't have to bend over

...

read more

and crawl into the machine to remove the wash. Withholding our recommendation at this time.

Sweepstakes entry received for review.

4 weeks of use review

Replaced a Samsung "blow up" model. The LG seems to be made better and it is much heavier. My wife loves the tilted to the rear drum so she can more easily remove the clothes. Features are great. Spin noise is not bad even though mounted on pedestal.

Sweepstakes entry received for review.
Modern and Convenient!

Had to replace an older washing machine and thanks to recommendations from several friends that loved their LG Front Loading Washing Machine, I was able to find this model at Costco online! It has done a great job washing my clothes and they come out cleaner than my previous top loading machine. Make it a practice to wipe the rubber seal after use and like the feature magnet that allows you to keep the door ajar for the machine to air out after use. Love that it has steam and also an easy "tub clean" feature.

Sweepstakes entry received for review.

Very Good Product

I bought my LG Washer & Dryer 13 Years ago, Never had any problems until few days ago, then when my wife decide to replace it , product is been so good to us we decide to get another LG washer and we got the new one. We are very happy with our LG washer.

Sweepstakes entry received for review.

Great Features, Works Great

This was my first time purchasing an LG Appliance and I am so glad I did. This washer is exceptional. My clothes come out fantastic. A quick and efficient washing machine. The washer features just to name a few a pre-wash, child's lock, delay wash, steam, add a garment, cold wash, water plus, extra rinse, rinse & spin, allergiene, tub clean and more. It has a stainless steel drum and a direct drive motor. The washer is quiet. LG offers the best features and quality. A family with six

...

read more

children, so this washer is always on the spin and never lets me down. I love the washer so much I went out and purchased the sidekick.

Sweepstakes entry received for review.
Best all round

I purchased this item. Had to wait a bit for it to become available, because it was such an "in demand washer". I have to say it was well worth the wait. Machine has a lot of cycles, & i have use pretty much all of them, without disappointment. From the most delicate items to heavy blankets, I was very impressed. No issues with "not enough water", or "spinning & sounding like machine was fixing to take off"....nope, nope....none of those issues like in my last machine. I absolutely LOVE my LG mega machine!!

Sweepstakes entry received for review.

Great for a large family.

We bought this after researching the best machine for a large family. This works fabulously for our family. (We have 13 children.) The amount of clothes it can wash alongside the various options make it a great product. I also enjoy the clear explanations of the various features in the owner's manual. I refer to it often. The only 'complaint' is that my poor dryer can't keep up.

Great washer!

Purchased another brand and after a year had to replace it. Decided on this washer because of steam option. I noticed right away that clothes were cleaner and when I used the sanitizer cycle items were clean and fluffy not stiff as other brand. Cycles take a little bit longer, maybe 10 minutes or so but I would rather compromise that than clean. Also after spin cycle load has less water in them which translates to shorter dryer time. I have 3 active kids and do daycare so a good washer is important.

Sweepstakes entry received for review.
Nice Addition

I've owned this pedestal washer for about a month and use this more than the large washer. It's great for undies, socks, a few shirts, workout clothes, etc..... Cuts down on washing time as I can use both washers at the same time. I am happy with this machine.

Sweepstakes entry received for review.

So Handy

I love this little washer. At first I wasn't sure just how useful it would be or if I really needed it. However, my husband purchased it for me for Christmas and I'm so happy he did. One of the best features is that you can use it and your large (regular) LG washer at the same time - imagine!!! Very efficient.

Sweepstakes entry received for review.

Fills a Need I Didn't Know I Had*

We have only had the Sidekick installed for a month but it has already proven it's worth! Running small loads and delicates in this little machine enables me to complete all our laundry in less than a day. I love what it does! And I love the musical tootles all my LGs use to indicate the end of the cycle. *I have asterisked my review because there are some things about this machine I did not know when I selected it. So be aware that: (1) It requires a separate electrical outlet. Our

...

read more

laundry room had only a double outlet for the washer and dryer, so we had to have a contractor install a quad. Fortunately we did not need another circuit. (2) It is deeper than the LG washing machine above it. This means that the entire washer/dryer set up is farther from the wall than the regular washer and dryer alone would be. This makes my small laundry room a bit more crowded but with the benefits of the Sidekick, I can deal with it. Suggested product improvement: better ability to select wash temperature with each type of cycle.

Sweepstakes entry received for review.
Great washer!

This washing machine has exceeded expectations. It's quiet and cleans the clothes very well. I really like the many options and features and the large capacity allows for versatility in what can be washed. I highly recommend!

Sweepstakes entry received for review.

Longlasting, quality wash, clean quit wash

We had previously lg front load washer that lasted about 9 years, used daily non stop, we have kids ,so lot of dirty clothesc, we never expected to last that long, the reason why we wanted to buy another lg after it quit working, but this one has more features, its a turbo washer and heating water, larger capacity, ease of use even my teenage daughter enjoyes washing her clothes, it looks moron right?, but she loves it, it is quiter, and less vibrating, the clothes are cleaner, very happy of its performance

Sweepstakes entry received for review.

Quiet and works fast

My wife and I were planning to replace our old washer. I read the reviews about this washer and customers were impressed with how quickly it cleaned clothes and it makes very little noise when washing clothes. I can say the same thing about this washer. Another feature I like is the washer's ability to determine the proper amount of water to use which is a plus for my water bill. It's very easy to use and contains a variety of settings for just about any type of load.

Sweepstakes entry received for review.
Great Product

We have had this washer for 2 weeks and so far I love it. I love the large capacity. I can wash so much more in each load than with my old washer. I washed set of sheets, quilt, and comforter on one load over weekend and it all came out great! Clothes come out clean and smelling great. Best part.....I don't have to worry about mildew like with my front load washer. I will never have another front load washer.

Sweepstakes entry received for review.

Amazing Wash Machine

I bought this wash machine approximately a month ago and I am beyond ecstatic that I did. This wash machine has so many features and settings, including wifi capabilities to start the wash. My old washer would hold about half a normal basket of laundry, while this new machine holds almost a basket and a half of clothes; truly amazing. I have to spend 2/3 less time completing the household laundry. Additionally, the cycle options allow for the most gentle delicate cycle I have ever

...

read more

encountered. My delicates are never twisted around each other, and the thin lace is never torn. The most amazing thing about this washer is the bang for your buck.... all of these exceptional features and functions only cost $650 at Home Depot!!!

Sweepstakes entry received for review.

Great return to top load washer machine

I bought this washing machine after my front load machine started to fail. I read several reviews and went to see it first hand. The machine was a sale so I saved 200.00 dollars. Got the machine delivered and hooked up and tried it out and I was very pleased. It was very easy to set up ( lowe's delivered but would not hook up or level) and their was no programming- time / date/ year. All I had to do was level it. The only problem I have with it is the Wi-Fi password it gave me is incorrect but

...

read more

that's not a big deal, something I can fix later. Washed my first load and it was trouble free and I couldn't hardly hear it . I'm very happy with this top loading machine after having front loader for many years.

Sweepstakes entry received for review.
LG Product Service and Support
Get your questions answered about product setup, use and care, repair and maintenance issues. We can help.
Telephone
Call an LG Support Representative.
(800) 243-0000 Consumer (7am-midnight CST)
(888) 865-3026 Commercial (8am-6pm CST)