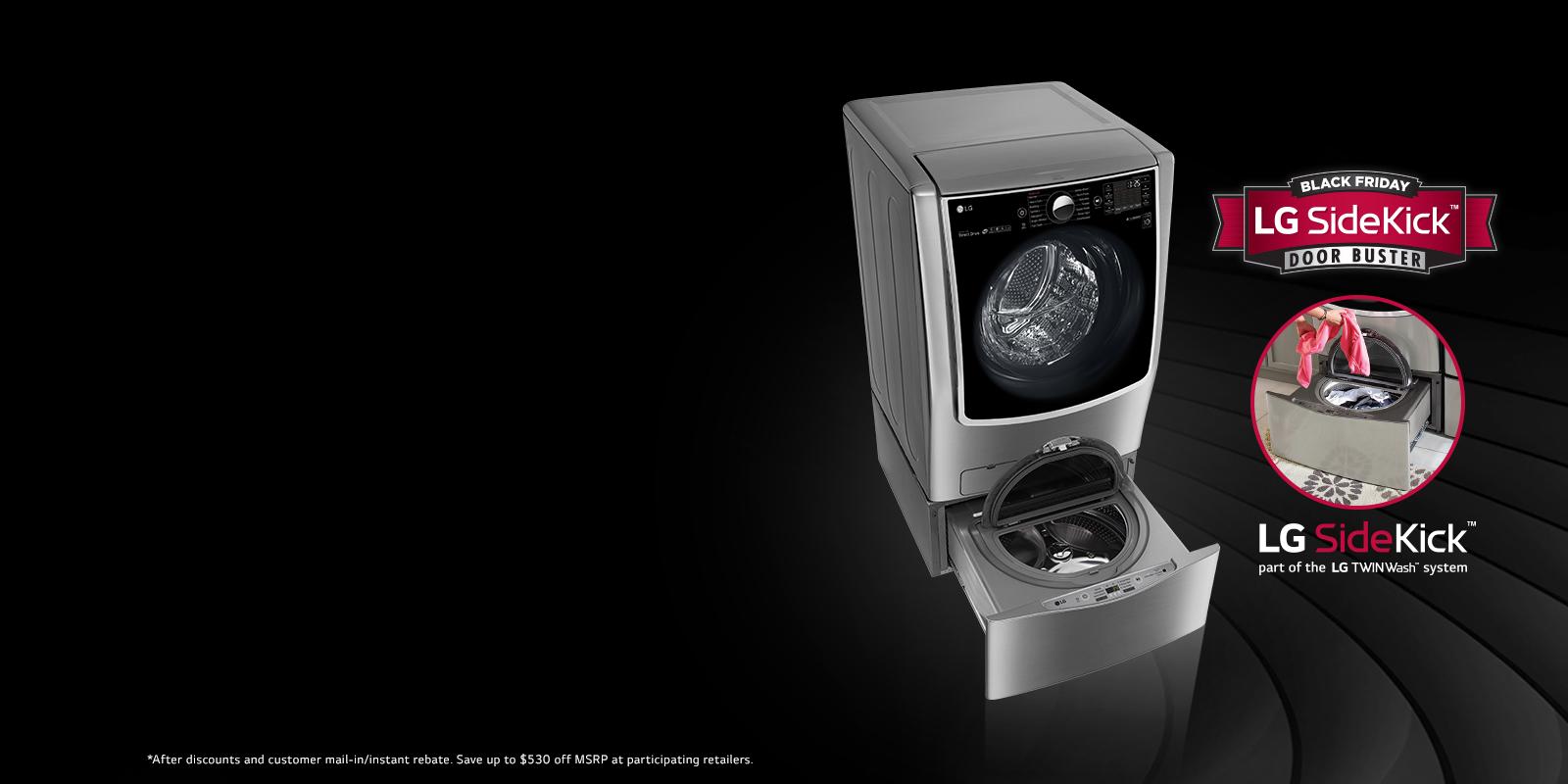 Black Friday Savings on LG SideKick™ ONLY $249*
Add an LG SideKick™ Pedestal Washer to any LG Front Loader or Qualifying Top Load Dryer to wash small loads that can't wait or two loads at once to save time.

Busy Philipps and LG Get Real About #MOMLIFE
Mom life isn't always perfect. See the "life hacks" Busy employs to master motherhood, including one of her favorites: The LG SideKick™ Pedestal Washer.
Only with LG!
2-in-1 Washer Your Way
The LG SideKick™ is the perfect size for small loads that can't wait and saves time by washing two loads at once. From washer type and size to features and price, only LG lets you customize the right LG TWINWash™ System for you.
LG Washers were Evaluated by Consumer Reports
*Consumer Reports does not endorse products or services.


"One of our favorite appliances."
LG WM3770 front load washer have received the Editor's Choice Award from Reviewed.com Discover them for yourself and see why.
Limited Time Offer!
Get an LG SideKick™ for only $249* after rebate when you buy any LG Front Load Washer.
Learn More
Download Rebate
Selecting a checkbox will update the products displayed on screen.
Refine Your Search
40
Total Results
All Washers
WHAT CUSTOMERS ARE SAYING
Average Rating for All Washers
I have never owned a LG product before but after seeing the commericals we decided to checkout the product since my washer had died. There are alot of features of this washer but the turbo clean is the best.It gets out the really tough stains. My husband works in construction and his work clothes get really dirty and the turbo clean get his clothes really clean. This is a great feature hope it gets included on all the washers that you make.

Sweepstakes entry received for review.

LG FRONT LOADING WASHER MODEL WM8100HWA

I ordered my LG Model WM8100HWA thru Best Buy online on 11/20/16, and it was delivered & installed on 11/25/16 (this is a replacement for a 7 year old Whirlpool Duet w/Pedestal when the bearings seized, washer became so out of balance it exploded sending plastic pieces into my laundry!). When my LG washer was delivered & installed, the delivery/installation crew were somewhat clueless as to the leveling adjustment using the supplied adjustment wrench. I ended up supplying my own open end

...

read more

SnapOn wrench in order for the machine to be leveled on the concrete basement floor. Once the washer was leveled, I have not had to adjust it again. I chose not to purchase the Pedestal as I feel this may be part of the reason my other washing machine failed (allowed machine to wobble & wrack thus causing bearings to wear). In the months to follow, I have done countless loads of laundry (including King size comforters, sheets, insulated winter coveralls & delicates) using all settings of the machine. Although I will agree with some of the previous reviews as to the length of the cycles, I have been very pleased with the performance of this washing machine.

Sweepstakes entry received for review.

Awesome and quiet washing machine

I recently had to buy a new washer and after reviewing the many different machines and what all the offered I went with an lg. This machine is extremely efficient, my clothes smell great, it doesn't require much laundry detergent and very quiet. I couldn't have asked for a better washer.

Sweepstakes entry received for review.
Love this washer! SoHappy with our purchase!

The capacity of this washer is great...and clothes seem To come out a good deal cleaner than our old washer! I love that there are so many options for cycles too and it's easy to personalize each load to our needs. Great washer!

Sweepstakes entry received for review.

Awesome Washer

I have always had front loading washers so I was suspect of the top loaders. However, a friend of ours bought one and they love it. We went ahead and purchased this washer and haven't looked back. It is so quiet when it's running and does a fabulous job of cleaning our clothes. So glad we bought it!

Sweepstakes entry received for review.

Looks great

I bought my washer at a outlet store, was a little damaged, just a scratch and a small dent, I got a paint tube and touched it up. Looks better now. Had some problems with my back so bought the top load model, the tub is so deep its hard to get clothes off the bottom. same for the dryer. wish they made a handicapped version or a higher tub. I use a grabber to get stuff out. Otherwise its a great buy, my last washer was 17 years old hope to get just half of that from this one!

Sweepstakes entry received for review.
Great for a large family.

We bought this after researching the best machine for a large family. This works fabulously for our family. (We have 13 children.) The amount of clothes it can wash alongside the various options make it a great product. I also enjoy the clear explanations of the various features in the owner's manual. I refer to it often. The only 'complaint' is that my poor dryer can't keep up.

Great features! Clothes smelled so clean and fresh

We bought the washing machine close to a month ago and have been so pleased with it. Love being able to wash our big comforter in it with ease.

Great washer!

Purchased another brand and after a year had to replace it. Decided on this washer because of steam option. I noticed right away that clothes were cleaner and when I used the sanitizer cycle items were clean and fluffy not stiff as other brand. Cycles take a little bit longer, maybe 10 minutes or so but I would rather compromise that than clean. Also after spin cycle load has less water in them which translates to shorter dryer time. I have 3 active kids and do daycare so a good washer is important.

Sweepstakes entry received for review.
Fun Big Washer

I love this washer. The drum is huge and holds a lot more clothes than my previous washer. I love the cute chime that plays after my load of clothes is washed. The washer get my clothes clean and uses less water than my last energy efficient washer. There are a lot of options on this model. I hope this is the last washer I have to buy. This is my fourth washer in 25 years.

Sweepstakes entry received for review.

Great machine!

My 17 year old Washer was just not able to squeeze as much water out of my clothes anymore. I have only had agitators up to this point. So, I went to Consumer Reports for advice. Around the same time, a friend bought an LG pair (washer and dryer). Opted for an HE machine. It is sooo easy to use. Love the settings, how quiet it is and how clean my clothes come out. Clothes come out with barely any water in them! Washed all my bathroom mats and they were dried in one cycle in the dryer.

...

read more

Same with my comforter. I used to do only normal washes. Now, I take full advantage of the different settings. Very happy with my purchase.

Sweepstakes entry received for review.

Bright! White's are White! Colors do not fade!

I had such a hard time making a decision on a new washer and dryer set. Our laundry room is a bit smaller so I really had to plan, measure, physically go look at washers and make sure I could reach the bottom of the tub, capacity, features etc. It was almost harder than buying my home. All I can say is I LOVE THIS LG SET! Bought individually not paired price. My husband gets dirty at work he build power lines. He comes home filled of creosote and dirt! His bright yellow FR shirysvlook brand-new

...

read more

every time I wash them. It'd amazing. Look no further I've researched them all and am so happy with our choice.

Sweepstakes entry received for review.
Sleek look, good product

The machine looks great in the space I have it, which is very visible in the house. There are a lot of wash settings, though I don't think all of the special features with my phone work. Apparently the washer and dryer need to be connected to wifi, but I have yet to figure out how to do that. I'd also like to have an option to save a custom cycle that I create, but I don't see any options to do that. I miss that feature from my previous washer/dryer. Overall, good purchase and would probably

...

read more

purchase again. Also love that the washer has a magnet that allows the door to stay open enough for air to get inside and you don't have to screw around with trying to keep it open, but not having it wide open.

Sweepstakes entry received for review.

Quality washer

I have used this washer for about one month. It has large capacity. The only thing that I do not like is that I have to dry the washer each time after using to prevent smelling. I also drain out the leftover water from the lower end. It is a little noisy during spinning process even if the washer is leveled.

Sweepstakes entry received for review.

So happy with LG

I have the washer and dryer and also the drawers underneath. I didn't think I could have the drawers but, unlike other brands, these are just a couple of inches shorter so I could fit them under the cabinets overhead. They cleared by 1-1/2".....So happy about it. Lowes' installed everything and all is well. Both machines are efficient and QUIET. The only thing I wished they had is a very quick wash, like 20/30 minutes, regardless of the size of the load. Also a rinse only or "spin only" cycle

...

read more

so I could use it when I hand-wash an item or 2 by hand but do not want to wring/twist them.

Sweepstakes entry received for review.
Very convenient

I received my new washer and dryer duo with sidekick from Costco 2 weeks ago. I love the large capacity of the regular washer and the convenience of the sidekick when I just have a few items I need washed right away. So far, so good with performance.

Sweepstakes entry received for review.

The Little Washer That Could

I love my LG Sidekick washer. Not only is it quiet & efficient, but the fact that I can wash two completely different types of laundry at the same time is just amazing to me. I was afraid the novelty would wear off & I wouldn't use it as much after a while, but boy was I wrong. I use it almost every time I use my full size washer, & I love it more & more every time I use it. I would highly recommend the LG Sidekick to anyone who wants to expedite their time spent doing laundry.

Sweepstakes entry received for review.

Love Love Love the LG Sidekick Washer

We recently purchased the LG sidekick with the front loader washer & dryer. It's very convenient for the smaller loads and it still holds a good amount of clothes! Easy to use. Wish we had purchased sooner! Looks great too! Transitioning all of our appliances to LG as the need arises. Their products actually do what they promise and last. You will not be disappointed ! Life is so good when using LG products!!!!!

Sweepstakes entry received for review.
Love My Sidekick

I bought my sidekick 3 months ago and I absolutely love it! I'm happy that I spent the extra money and upgraded from the pedestal to a second washer. Although my washer is mega capacity the sidekick is ideal for small loads that I would otherwise have to hand wash! I would purchase this again.

Sweepstakes entry received for review.

Mommy's little helper

I'm thrilled with this little guy. I can wash one or two things without wasting water. I can just do bleach-ables in here with out worrying of residue to ruin the next load. I find it hard to remember to keep the drawer open when not in use as it clogs the traffic pattern in and out of garage. This thing is great!

Sweepstakes entry received for review.

Outstanding Addition

We have had this machine and it has been an excellent addition. My daughters use it for smaller loads. It does a great job of cleaning, runs quietly, and makes completing the laundry much faster. It has been reliable for the six months that I've had it. I would highly recommend it and certainly purchase it again.

Sweepstakes entry received for review.
clothes really not clean.

Love the washer but have to lean into it to get clothes at the bottom. Can do great sized loads but water level never gets enough to move the clothes around to clean them not matter what size load. Without an adjutator soiled clothes don't get clean as not enough water to benefit the powerful drive force .Fix those 2 things and this would be an awesome machine!!! Otherwise we love it! Please fix those items! LG is fantastic brand!

Great product

I have had this washer for almost a year now. It has good features and runs problem free. It's mega capacity is very helpful in making less time needed for washing. This is my 3rd LG washer that I have had in about 15 years and non of them broke down during my ownership time.

Sweepstakes entry received for review.

Love My Washer!

Our old laundry pair was 18 years old and the washer finally said it was too tired to go on, it wanted to retire. I had been looking at LG washers in the stores and reading reviews for two years now and jumped at the chance. The stainless steel tub is HUGE, with no agitator to take up space or get tangled on clothes. The settings take a little to get used to, but I have finally figured out how to wash everything! I love the dispensers and, I love how quiet this machine is. Our clothes come out

...

read more

very clean in a normal amount of time.

Sweepstakes entry received for review.
Loving EVERYTHING about it.

There is nothing I do not love about this washer. But, if I had to list what I love best it would be 1- The enormous tub size. A basket of laundry doesn't come even close to filling this tub up. I have no doubts it would handle whatever blanket/comforter I would try to put in it. 2- It sips water compared to other washers I have owned. Yet somehow clothes come out remarkably clean. 3-One can expect longer wash times with any HE washer. But, under an hour a load (unless I use the heavy duty

...

read more

cycle) is not all that bad. But, the spin cycle does such a good job, the drying time is greatly reduced. The only negative that I can think of is that the tub size is so tall, smaller people might have a hard time retrieving clothes out of it. Not an issue for me (as I'm 5-11)

Sweepstakes entry received for review.

Great Washing Machine

I love the short cycle that uses less electricity and water than my old washing machine. Living in a state that deregulated electricity and that is having droughts the cost of electricity and water has gone up. It is nice to use advanced technology to lower my operating costs and get my cloths clean. I love the new design that allows me to do large or small loads and see and know that only the water needed is used.

Sweepstakes entry received for review.

Love my washer

I paid full price for this washer unlike many reviewers. And it was worth every penny! You can wash SUCH big loads! My bedding & dog beds are the main reason I wanted a large capacity w/o an agitator. Everything comes out clean

Sweepstakes entry received for review.
LG Product Service and Support
Get your questions answered about product setup, use and care, repair and maintenance issues. We can help.
Telephone
Call an LG Support Representative.
(800) 243-0000 Consumer (7am-midnight CST)
(888) 865-3026 Commercial (8am-6pm CST)