Freshen Up Your Appliances For Spring
Shop now and enjoy big savings on qualifying LG washers, dryers, refrigerators and ranges just in time for spring.

Save Big On the Ultimate Laundry Room
Get an LG Visa® Prepaid Card worth up to $500 by mail-in rebate or online when you bundle eligible LG laundry models from participating retailers 1/11/18 through 4/25/18.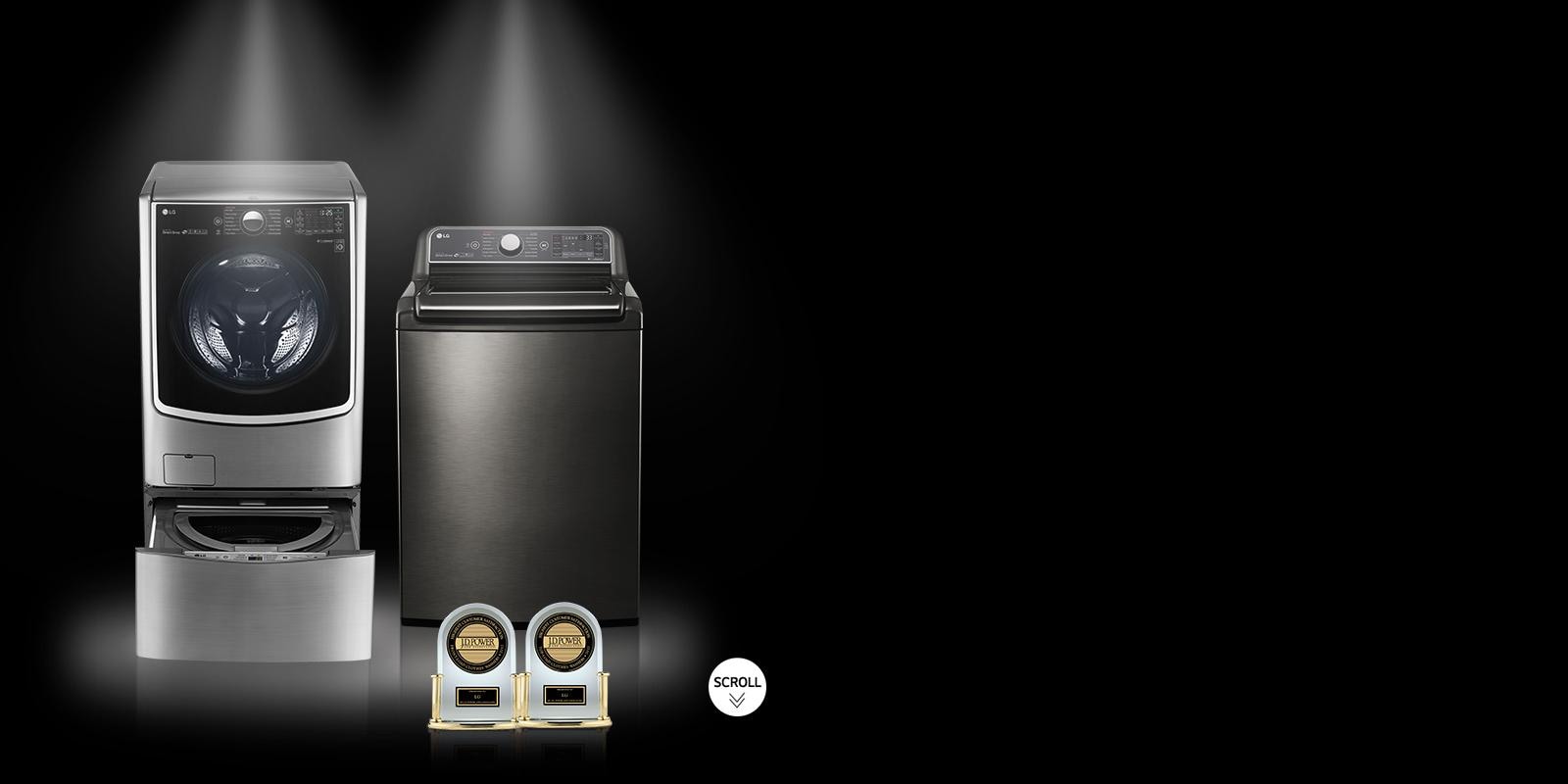 J.D. Power Award Winners
"Highest in Customer Satisfaction with Front Load Washers, Top Load Washers."**
Busy Philipps and LG Get Real About #MOMLIFE
Mom life isn't always perfect. See the "life hacks" Busy employs to master motherhood, including one of her favorites: The LG SideKick™ Pedestal Washer.
Only with LG!
2-in-1 Washer Your Way
The LG SideKick™ is the perfect size for small loads that can't wait and saves time by washing two loads at once. From washer type and size to features and price, only LG lets you customize the right LG TWINWash™ System for you.
"One of our favorite appliances."
LG WM3770 front load washer have received the Editor's Choice Award from Reviewed.com Discover them for yourself and see why.
Selecting a checkbox will update the products displayed on screen.
Refine Your Search
40
Total Results
All Washers
WHAT CUSTOMERS ARE SAYING
Average Rating for All Washers
Convenience down under

I installed the Sidekick below a combo unit, replacing the lighter-weight pedestal. This substantially reduced the wobbling of the combo unit on spin cycles, and provided the benefit of a smaller washer. The Sidekick capacity is perfect for small loads, and high-speed spin dries the loads well enough to air dry or put into the above unit for a 30-min drying period. Great for special washes. I only with it was easier to dry out the interior after the washes were done since leaving the lid open to

...

read more

air dry requires that the drawer remain exposed for hours (not ideal for closet washing areas like mine; my solution is to let it dry overnight while I'm asleep).

Sweepstakes entry received for review.

Great mini washer

Nice to have a mini washer for a few items. If you get a stain on an item of clothes you can wash it immediately by itself instead of waiting until you had enough clothes for a full load..... saving your stained item!!!! It's a good thing.

Sweepstakes entry received for review.

I've Got A Winner!

Thank you LG for this opportunity to tell my fellow launderers about this wonderful addition to your appliance line-up! Too often I've had to waste water and increase my utiity bill washing personal loads of laundry. Not to mention the damage done to my lingerie and other fine washables using the less than 'delicate' cycle in most regular washers. The side-kick is a perfect addition today's appliance dilemmas. Now I can actually wash my finer items delicately or get the soil from my work out

...

read more

wear before it has a chance to set in. Bravo, LG!

Sweepstakes entry received for review.
Looks great

I bought my washer at a outlet store, was a little damaged, just a scratch and a small dent, I got a paint tube and touched it up. Looks better now. Had some problems with my back so bought the top load model, the tub is so deep its hard to get clothes off the bottom. same for the dryer. wish they made a handicapped version or a higher tub. I use a grabber to get stuff out. Otherwise its a great buy, my last washer was 17 years old hope to get just half of that from this one!

Sweepstakes entry received for review.

Hapiness

The truth is an excellent washing machine I am very happy with your performance

Sweepstakes entry received for review.

I bought this washer almost 2 years ago with a matching dryer from Costco. I bought it was for price and for accommodating king sized bedding specifically a king sized down comforter. I have no issues with torn clothing as I have seen on other reviews. I have made sure to load the washer according to directions and my clothes always come out clean. I am saving money on my water bill as well.

Sweepstakes entry received for review.
Quality product

I bought this washer to replace my 12 year old LG washer. I was pleased with my old washer and wanted to stay with a similar model. I am happy I did.

Sweepstakes entry received for review.

Love the steam feature!!

I purchased this washer to replace an old 4.5 LG frontloader. I love the steam feature especially for whites and towels. The only drawback seems to be when I use any cycle with a high spin speed, the washer seems to vibrate more than my previous machine. I have attempted to redistribute the load, but that does not work and have checked to be sure the machine is level, which it is. Other than that, I love all the new features I now have, especially the steam!

Sweepstakes entry received for review.

Love the quick wash cycles

I bought this 4 months ago and I like the cycle options on it. It seems to wash well but like all front load washers there is a small amount of water leakage from the front door sometimes and it is not from opening the door when it is wet. It only happens sometimes when the washer is running.

Sweepstakes entry received for review.
LG WT1701CV Washer

I love the new LG we purchased from Big Sandy Super Store. It is very quite in use. Hope to purchase a Clothes dryer from LG.

Sweepstakes entry received for review.

Excellent Washer

There is nothing about this washer that I do not like. It is so quiet and runs so smoothly. I love the large tub and all the ways to customize the wash. I love the glass lid and the fact that it folds down so that the washer can air out. I have never really had an opinion about a washer -- a washer would just do its job. But there was a lot of thought put into the technology of this washer to make it user friendly. I would definitely recommend this washer to anyone.

Good Quality Washer

I bought my washer a month ago and like it very much. The only problem one may have is that the tub is so deep. At 5'6" I have to stand on my tiptoes to reach small articles, like socks, that are on the bottom. I also had trouble locating the serial number. The website said it was on the back of the washer, but without pulling the washer out, I could not read it. I promptly shot off an email and received a quick response. LG has must have received other complaints, because it has also been

...

read more

added to the right side of the washer. Website needs to be updated. To date I am very happy with my new washer, and I like having the controls on the front top of the washer. I would definitely recommend this washer.

Sweepstakes entry received for review.
Great Washer

This is the best washer we have ever had. Handles very big loads and cleans great.

The washer is great!

I bought this washer in January because our previous washing machine had many issues (it was not and LG washer). After a long search and decision process we choose this large capacity LG washer. It's fantastic!!! Let me begin with the color selection. Although this is a superficial feature, it was important to me that it match as close as possible to my existing dryer. The color was almost PERFECT. If you didn't know it was different you would not notice. Next, the features on this washer.

...

read more

There are many wash cycles all do exactly what they advertise. The capacity of the washer makes laundry easy. It holds a lot reducing the number of times you have to go back and forth to transition the laundry. Our washer is up stairs so this feature is critical to us. Finally, I would like to mention the washer vibration control is AMAZING! As I mentioned, our washer is upstairs, while this machine is running you cannot hear it and it does not shake the floor. It is very quiet during wash cycles.

Sweepstakes entry received for review.

Big with Lots of Features

I've had this washer now for a few weeks and it has cut down on the amount of loads we we do by a lot. With have kids the steam feature is nice to get clothes really clean. Don't won't to leave out I can wash a whole king size bedding set. Great over all washer

Sweepstakes entry received for review.
clothes really not clean.

Love the washer but have to lean into it to get clothes at the bottom. Can do great sized loads but water level never gets enough to move the clothes around to clean them not matter what size load. Without an adjutator soiled clothes don't get clean as not enough water to benefit the powerful drive force .Fix those 2 things and this would be an awesome machine!!! Otherwise we love it! Please fix those items! LG is fantastic brand!

Love My Washer!

Our old laundry pair was 18 years old and the washer finally said it was too tired to go on, it wanted to retire. I had been looking at LG washers in the stores and reading reviews for two years now and jumped at the chance. The stainless steel tub is HUGE, with no agitator to take up space or get tangled on clothes. The settings take a little to get used to, but I have finally figured out how to wash everything! I love the dispensers and, I love how quiet this machine is. Our clothes come out

...

read more

very clean in a normal amount of time.

Sweepstakes entry received for review.

Best washer I've ever owned

I've had the washer for a few months now, I have never been fully pleased with any of my past washers. I was used to the agitator in the middle But this washer doesn't have that, this washer performs better than I expected. It is highly efficient and does a great job and sensing an accurate load.

Sweepstakes entry received for review.
features

I've had my machine about 2 months and very happy with it. There are so many features...aside from the many features I love the extra large tub.

Sweepstakes entry received for review.

Great features and energy efficient

We based our purchase from online reviews. We where considering a lot of brands however this pair or model has all the features that we needed. So far we are very happy on the performance of the products. It uses less water and less detergent. I highly recommend this model WM8100HVA.

Sweepstakes entry received for review.

Amazing machine

It handles all our families needs and we are an army of 7.

Sweepstakes entry received for review.
SO, SO HAPPY

I bought this washer and dryer set May 27, 2017 and I am completely happy with it. My last washer had the agitator in it and I can do 3 times the amount of clothes. The only thing I wish it had is a button to turn a light on to see through the lid if you need to. It is quiet and has so many cycle options that you can change to meet your needs.

Sweepstakes entry received for review.

A refreshing change

I bought this washer a month ago and love it. My front load machine went out and I had to make a quick decision on what to buy. LG was an obvious answer and this machine offered everything I needed. I love the top load feature so much more than my previous front load. It has a very large capacity and my clothes get very clean.

Sweepstakes entry received for review.

Looks and washes so differently than older washers

We purchased this washer recently to replace a recalled washer from another company. I wish we had purchased this first. It is so quiet. There is no tall agitator in it. The washer does it all. It weighs the clothes to see how much water is needed. This washer isn't designed to use a full tub of water saving you money and not wasting water. The things that it can do are unreal. Sometimes I watch inside the washer to see what it is going to do next. I estimate that this washes three loads at one

...

read more

time. It easily has more than ample room to wash king size comfortably. We love it!

Sweepstakes entry received for review.
Power packed cleaning...

Going on two weeks with this washer and I"m excited to have it. The washer drum is HUGE! Even when I was a "big load" that used to make my previous washer seem this washer keeps cleaning... I love the front controls and so far so good... excited for many more years of service.... also the cloths smell so fresh coming from this washer...it really shows how much more it moves the water/detergent through the items as it cleans...

Sweepstakes entry received for review.

Great capacity!

I bought this washer to match the dryer I bought a couple years ago. This washer meets all of my requirements and then some. I like the controls on the front and that you have many selections you can choose. It is a very quiet washer, which we didn't have in our last one. I would recommend this washer to anyone.

Perfect! Love the Upgrade!

LG's 4.5 CUL8er FT Ultra Large Capacity Top Load Washer replaced the earlier model. This Top Load Washer has a few more bells and whistles, offering a variety of personal helpful choices such as a panel for PreWash as well 6 individual choices for Cold Wash, Delay Wash, extra Rinse, Fabric Softner, Water Plus and my favorite is Custom Program. The Washer Tub is a little larger which offers cleaning blankets and comforters, no more going off balance. I have not used the Smart Phone App on my

...

read more

newer LG washer like I had used on the older LG in case I receive an error code but a great convenient concept!

Sweepstakes entry received for review.
LG Product Service and Support
Get your questions answered about product setup, use and care, repair and maintenance issues. We can help.
Telephone
Call an LG Support Representative.
(800) 243-0000 Consumer (7am-midnight CST)
(888) 865-3026 Commercial (8am-6pm CST)