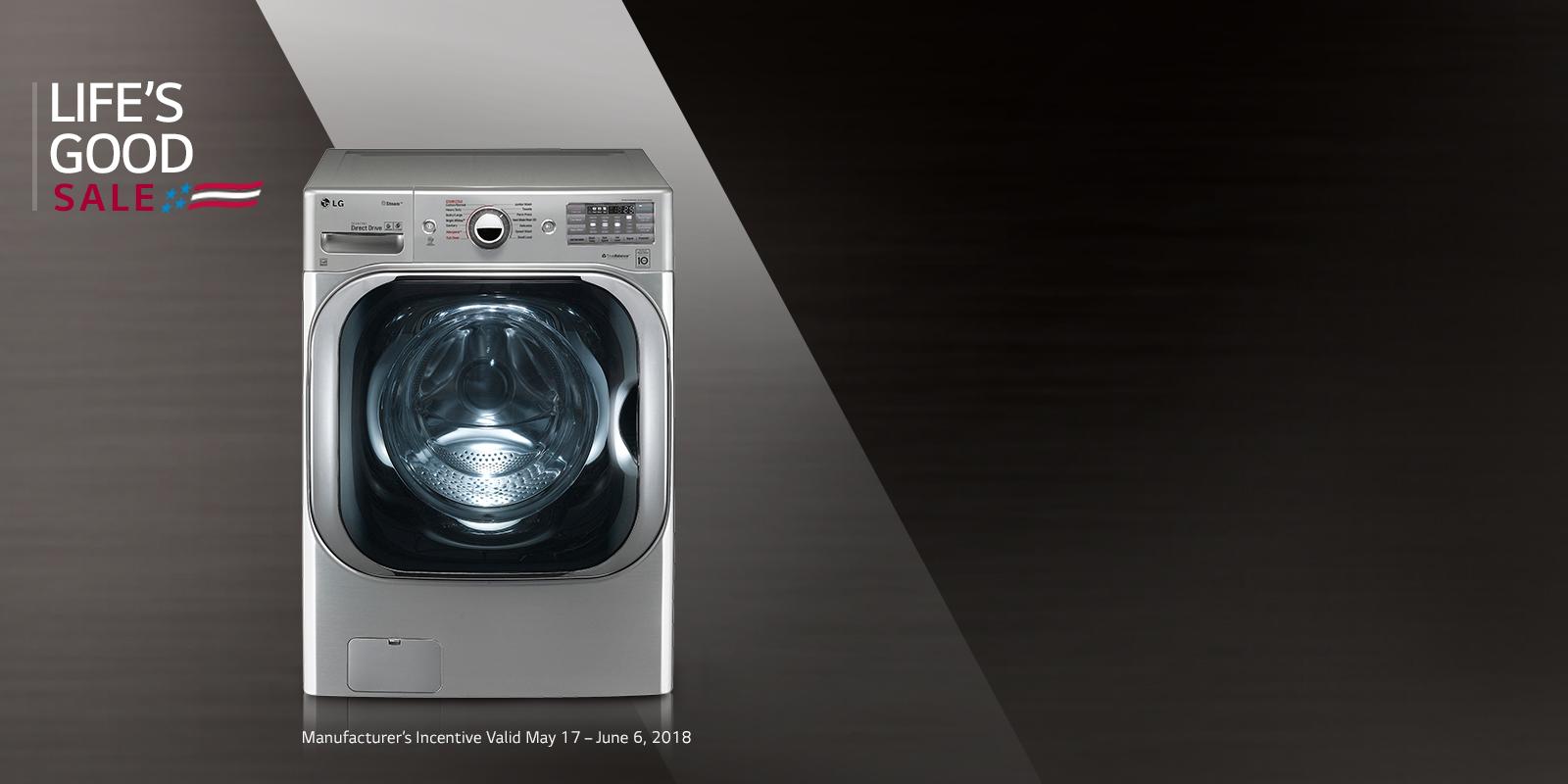 MEGA-SIZE SAVINGS
On our largest capacity front load washer

See retailer for updated promotional price
Refresh your clothes & spirit at Bonnaroo
The LaundROO Lounge Powered by LG is coming to the Bonnaroo Music Festival from 6/7 – 6/10. Drop off your dirty clothes and we'll use LG washers and dryers to wash the day away, or refresh your festival look with our free vintage clothing swap.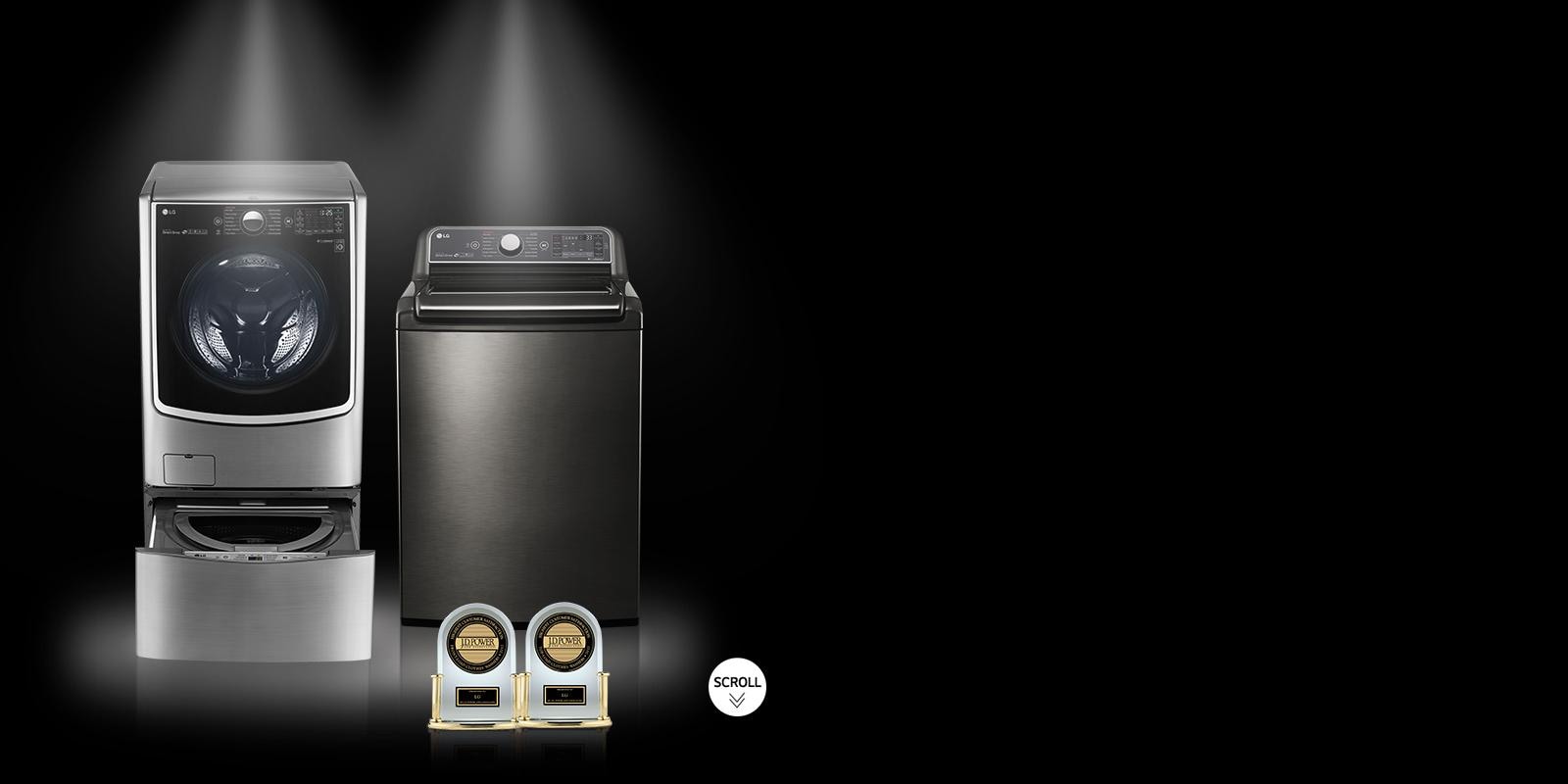 J.D. Power Award Winners
"Highest in Customer Satisfaction with Front Load Washers, Top Load Washers."**
Selecting a checkbox will update the products displayed on screen.
Refine Your Search
41
Total Results
All Washers
WHAT CUSTOMERS ARE SAYING
Average Rating for All Washers
WD205CK Sidekick Pedestal Washer

Glad I purchased this as part of the entire package of the LG Signature Series washer and dryer. Love the quality and the features. Using the sidekick for small loads or delicates is fantastic

Sweepstakes entry received for review.

Best little secret

The greatest thing in this world. I didn't think I would even use it but I use it non stop . It's great to not have to run the big washer for a small load too.

Sweepstakes entry received for review.

Love the ability to wash small loads

We have a toddler, who causes messes everyday. We are able to wash small loads easily.

Sweepstakes entry received for review.
I'm new to washer without agitaror

I like my new LG washing machine without and agitator.Likes: It's easy to program, and has many choices of washing and rinsing settings.It is more gentle on clothing during the wash cycle than my las machine. Dislikes: I had trouble washing pillows even with added water. I can hardly reach the bottom of the machine to pull out clean clothes and use a pair of kitchen tongs to reach what isn't bulky. I have also noticed one load of sheets that were not as clean I would like.

Sweepstakes entry received for review.

Amazing washer/dryer

Bought the washer/dryer one month ago and just love them! Quiet, efficient and no issues with unbalanced washer. Read the manual, level and load clothes the correct way! The one occasional problem is when the washer is starting to fill with hot water it uses great force and it shuts down our water tankless water heater, so not sure which is the issue, the washer or the tankless water heater.

Sweepstakes entry received for review.

Excellent washing machine

I have always had a washing machine with an agitator, I was not sure if i would like it. However, after it was delivered to my home and I began using it; I found it washed your clothes great. It has many features on it to choose. Please read the manual to get the most out of your machine. It is large enough to wash a king size comforter. I love the large tub. It wrongs out clothes very well therefore less drying time. You can select extra rinse or extra water for the laundry if you choose. I

...

read more

love the see through top and all the features that one can select. It is excellent

Sweepstakes entry received for review.
Very Pleased so far!

Only have had this for 1 week, and everything is good so far. Suggest that you are prepared for some help installing this big boy because it is HEAVY! I guess over 200 lbs. Beautiful finish, and eliminates the "dial" that is found on other LG washer models. Love the on-the-door controls. Suggest that you please READ INSTALLATION DIRECTIONS if you install it yourself. It has 4 bolts on the back used to stabilize the unit while in transit, that you MUST remove before you use it. Also suggest

...

read more

that you get some stabilization pads to place under all 4 legs to keep it perfectly level.

Sweepstakes entry received for review.

Still like new

I bought the predecessor for this model 5 years ago and I still love it. So much so that when we had to get a washer /dryer for the family cabin we bought another LG (a slightly more basic model). The hook that got me was the Allergine cycle, and I use that for all our bedding I think it actually works. Very reliable machine - not one problem in 5 years. I do follow their recommendations for cleaning etc. One feature I wish someone would add - I would really like it to talk to my phone.

...

read more

I want to know 2 things: 1. when I start it and walk away sometimes I didn't quite close the door or something and it doesn't actually start. It's fine if I'm nearby it beeps, but sometimes I walk away and don't hear it. 2. alert me when it finishes. Right now what I do is set an alarm on my phone. Why can't you guys get the washer / dryer to tell me? I'm kind of surprised no one has done this for washing machine or dryer yet. All the useless electronics they're putting in refrigerators here's something I actually want. Make it happen LG.

Sweepstakes entry received for review.

love the simplicity, no guess work

We love our new washing machine...large capacity and easy to use

Sweepstakes entry received for review.
Great price for so many features

I'm having a hard time getting used to a front load Washer after 40 years of top loading washing. I like that it's so quiet and efficient and has steam capability when needed.

So far, so good!

I've only had this washer for about 3 weeks, which is why I've given it 4 stars instead of 5. So far I am very pleased with this washer. It cleans well and is very quiet. I personally like the chiming alerts which I know some people have found annoying. The washer offers lots of preset programs, all of which can be easily adjusted to your preferences. Overall it's a great machine that performs well and offers lots of features. I just hope it continues to perform for at least 10 years.

Sweepstakes entry received for review.

In LOVE!!!

I bought a new washing machine not because I wanted but because I had to. Ran my last one to the ground. I went with one in mind and thankfully it was not available immediately. So we looked around and had a very informative sale person. I am in love with my washer!!! None are perfect but the turbo sold me. Washing doesn't feel like an all day thing anymore:)) my housekeeper says it the best washer ever. So I went with the white to save a bit and can't be happier!!!

Sweepstakes entry received for review.
The Prius of Washers

This washer is remarkably efficient, quiet, and Eco-friendly...basically it's the Prius of washing machines (with the exception the interior is actually quiet spacious). Loads of settings for well... loads of laundry... My boyfriend is a Chef so his clothes always smell. I hated throwing my clothes in with his. (Want a bra that's been swimming with a garlic covered apron? Nope.) This little machine and its pedestal side washer mended that problem. Also, it has smart technology, so if there is

...

read more

ever a problem I just hold my phone up to and it diagnosis it. Boom. The next LG model will be so intuative it will collect my clothes, wash them, compliment my outfits, charge my phone...etc.

Sweepstakes entry received for review.

happy

Very happy with the performance of the washer. It really cleans well. I am able to load up even more than my previous washer. What is also nice is you can also wash a small load as the washer senses the weight and uses less water so no wastage. I also enjoy the different ways to wash. Very well thought out. I wish though that it would tell me the different rinse cycles you are on i.e. cycle 1 2 or 3 because you don't know how many rinse are assigned to each way of washing and you may add

...

read more

more not knowing there is sufficient. I also wish it would show the water spraying on the clothes for each washing cycle rather than just entering from the bottom. Otherwise it is a great buy. One thing though LG should have tutorials on their website for customers. It would be a great help when you first buy it. Oh, one thing, the start button is too sensitive and as you brush against it will stop/start.

Sweepstakes entry received for review.

Love it!

Easy to use, quiet and very efficient. The height is perfect. No more bending over to do laundry. After my purchase, I discovered that this unit is ranked #2 out of 64 makes/models. However, I'd give it a #1 rating. I highly recommend this product to anyone looking for a new washing machine.

Sweepstakes entry received for review.
Best all round

I purchased this item. Had to wait a bit for it to become available, because it was such an "in demand washer". I have to say it was well worth the wait. Machine has a lot of cycles, & i have use pretty much all of them, without disappointment. From the most delicate items to heavy blankets, I was very impressed. No issues with "not enough water", or "spinning & sounding like machine was fixing to take off"....nope, nope....none of those issues like in my last machine. I absolutely LOVE my LG mega machine!!

Sweepstakes entry received for review.

Great

This is so big.5.7 is perfect for my family. If washers can be sexy, you'll love this one. I think it is. Crazy, I know. When you do the amount of laundry I do, it's a must have.

Sweepstakes entry received for review.

Great washer!

Purchased another brand and after a year had to replace it. Decided on this washer because of steam option. I noticed right away that clothes were cleaner and when I used the sanitizer cycle items were clean and fluffy not stiff as other brand. Cycles take a little bit longer, maybe 10 minutes or so but I would rather compromise that than clean. Also after spin cycle load has less water in them which translates to shorter dryer time. I have 3 active kids and do daycare so a good washer is important.

Sweepstakes entry received for review.
I've Got A Winner!

Thank you LG for this opportunity to tell my fellow launderers about this wonderful addition to your appliance line-up! Too often I've had to waste water and increase my utiity bill washing personal loads of laundry. Not to mention the damage done to my lingerie and other fine washables using the less than 'delicate' cycle in most regular washers. The side-kick is a perfect addition today's appliance dilemmas. Now I can actually wash my finer items delicately or get the soil from my work out

...

read more

wear before it has a chance to set in. Bravo, LG!

Sweepstakes entry received for review.

LG Sidekick Review

I have enjoyed my new LG washing machine combo purchase for approximately 3 weeks now. There are several things that have helped to reinforce my decision to purchase the SideKick. I typically have small delicate loads that I do not want to wash with other items. The SideKick is perfect for this kind of use. I appreciate the ability to run two loads simultaneously, which helps to finish my laundry sooner. I no longer think twice about running a load of very few items as I have already used

...

read more

it to wash one thing only. This feature has given me flexibility and helps me to keep on top of the laundry. I am pleased with the job it is doing. My clothing is coming out as clean as it did from my old agitator washing machine. I am excited that the water requirements are much less because this should help to lower my monthly water bill. I have had only one concern. I can hear residual water that has remained in the outer tub when I move the inner tub to dry it out and there is condensation inside the inner tub even after having dried it out with a towel the previous day. While not seriously concerned, I do not want any mold to develop on the seal of the lid that might cause a foul odor. We have smelled odors coming from the older front load washing machines of friends.

Sweepstakes entry received for review.

Great Little Washer

Got this as part of a bundled package. Did not really think I would use it, however, it is used as much as the big washer. Great idea. Can quickly wash just a few items rather than having to gather a full load for the big one.

Sweepstakes entry received for review.
Nice and quite.

I have enjoyed the change from our last machine set. Love the small second washer. It is so nice and quite

Sweepstakes entry received for review.

Great Washer for our Daily Exercise Wear

We love this washer and use it everyday to clean our daily exercise clothes

Sweepstakes entry received for review.

BEWARE THE REBATE

Beware the LG Rebate "Terms and Conditions" - unless you are one of the very few that actually read every word. You may be like me you and be fooled into thinking that the rebate is available from LG if you buy the product from Home Depot, Best Buy, Sam's, BJ's, Costco among several other stores when in the "Terms and Conditions" in bold but extremely small print states " does not qualify for this mail in offer" - rather at the point of sale. After our rebate submission was rejected by LG, I

...

read more

talked with LG customer service and was told it was not to be since I purchased the product at Home Depot. I should have read the "Terms and Conditions". However, this is tricky advertising from LG since the print is so small showing the exclusions of the offer - even with the large posters in the store I did not see it. Good product so far and I rated it well along with large washer and dryer we purchased as well. Beware the LG rebate offers - they are not what they appear sometimes.

Sweepstakes entry received for review.
Great Product

We have had this washer for 2 weeks and so far I love it. I love the large capacity. I can wash so much more in each load than with my old washer. I washed set of sheets, quilt, and comforter on one load over weekend and it all came out great! Clothes come out clean and smelling great. Best part.....I don't have to worry about mildew like with my front load washer. I will never have another front load washer.

Sweepstakes entry received for review.

Surprising

Our salesperson recommended this machine for us. We have trusted his judgement on appliances for many years. I have to say that this washer is different than anything I have even seen. When we did our first load, I had to watch the entire process. It was really amazing. I was concerned that some of the clothes were not getting wet enough or agitated enough for a clean wash. I needn't have been concerned. The results are amazing and we are very happy. I highly recommend the washing

...

read more

machine for its ability to clean clothes, save energy, and its high capacity. We love this machine!

My Forever Washer!

Love, love, love this washing machine! It is SO quiet & so easy to use. I wasn't sure how I would feel about the machine determining the load size....but it is actually awesome! Much shorter washing time, no wasting water, no guessing what size load I should set. I do have to remember to distribute the clothes in the washing machine per instructions but really that is no big deal. I am EXTREMELY pleased with this machine and SO happy we went with it! I would definitely recommend buying this washer.

Sweepstakes entry received for review.
LG Product Service and Support
Get your questions answered about product setup, use and care, repair and maintenance issues. We can help.
Telephone
Call an LG Support Representative.
(800) 243-0000 Consumer (7am-midnight CST)
(888) 865-3026 Commercial (8am-6pm CST)