LG Energy-Efficient Air Conditioning System: DualCool Inverter AC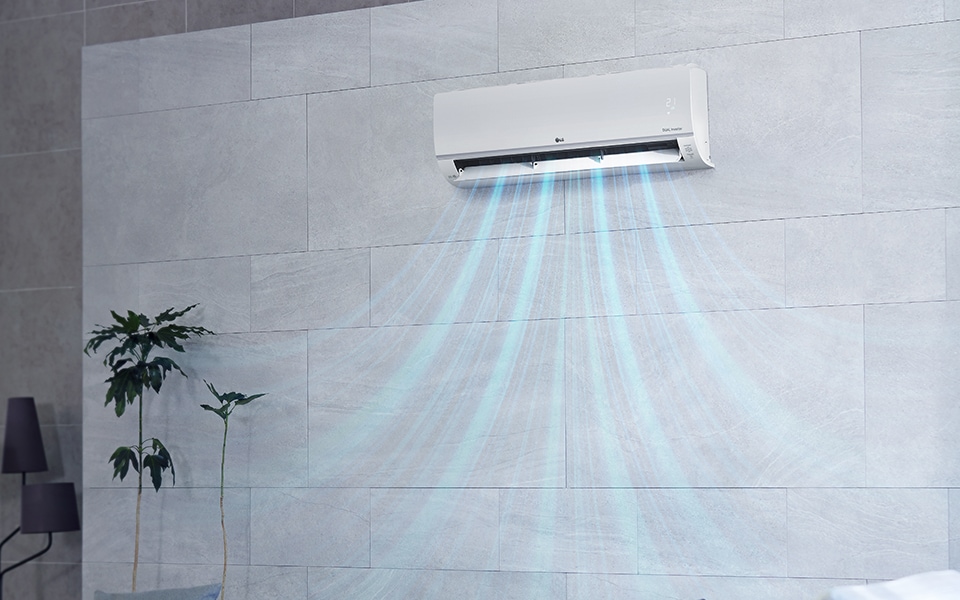 On scorching summer days, the only thought you probably have in mind is the moment you'll get home, slip in your comfy pajamas, and hear that sweet beeping sound of your AC. But this daydream is usually disturbed by the image of that hefty electricity bill you've received recently.
Now, you'll have to think twice about turning your AC on to avoid breaking the bank. But this is not the case with our energy-efficient air conditioning system, DUALCOOL, which will help you beat the summer heat with fast cooling features while saving you money on electricity bills.
Life's Better with DualCool Inverter Technology
Let's start by explaining what an inverter AC is. An inverter AC employs inverter compressors equipped with a rotor. The inverter compressor has the ability to regulate the speed of the motor, allowing the AC to adjust to the room temperature. With its ability to adjust to desired temperatures, an inverter AC is an energy- and refrigerant-saving option.
Before, ACs would encompass reciprocating compressors. If you recall some of your childhood memories, you would remember how noisy ACs were and how your parents would be very cautious about how many hours they should turn on the AC. That was the case for all people using a reciprocating compressor AC.
Compared to an inverter AC, a non-inverter AC maintains a fixed speed and electrical supply. Thus, it doesn't adjust to changing temperatures or reduce the compressor operation speed.
Operating in such a manner, a non-inverter AC is rendered as a high-consumption air conditioner when it comes to electricity.
Double Rotors... Double the Benefits
A conventional inverter compressor comprises a single rotor that changes its operating speed based on the load. Dual inverter compressor ACs combine two rotors.
With two rotors, the load is divided on both rotors resulting in a slower and more stable rotation which will save you more when it comes to energy consumption.
Introducing LG DUALCOOL Inverter AC
Being a leading home solutions provider, LG offers you an elevated experience with our energy-efficient air conditioning system, prioritizing your need for a durable and more energy-efficient cooling option.
Why Choose Our DUALCOOL AC?
In simple words, it is the AC that will deliver the best results and last a lifetime. To be more specific, here is a glimpse of the kind of experience you will have with LG DUALCOOL AC:
Energy Efficient
LG DUALCOOL AC uses a compressor with a wider rotational frequency, which will offer up to 65% energy saving. Its energy efficiency will also reflect on electricity bills, making it a more economical choice as well.
A pioneer of clean air solutions, LG has long been working towards a healthy, hygienic life. Created keeping in mind the needs of customers, LG's PuriCare 360° is a revolutionary range of air purifiers that aims to provide a healthier, hygienic life.
Lower Noise
Too hot to sleep without the AC, too noisy to sleep when turning it on. We know the struggle. With LG dual inverter AC, this is no longer an issue. The dual inverter reduces the torque vibration of the outer unit by 40%, making it quieter. The skew fan minimizes the blade's surface friction to deliver a smooth operation with less noise.
Fast Cooling
You've been stuck in traffic with a broken AC for a long time, you need fresh cool air, and you need it now. While fast cooling isn't possible with conventional ACs, it is the typical thing to expect from LG DUALCOOL AC; its powerful, high-speed compressor provides up to 60% fast cooling compared to other options.
More To Read


If you want to upgrade your home, or move into a new place, you are probably looking through the list you wrote earlier of the things you need to buy; a dishwasher, washing machine, clothes dryer, and the list goes on.
Learn more

LG's Wearable Air Purifier Offers Smart Technology to Everyday Problem
Learn more