Freshen Up Your Appliances For Spring
Shop now and enjoy big savings on qualifying LG washers, dryers, refrigerators and ranges just in time for spring.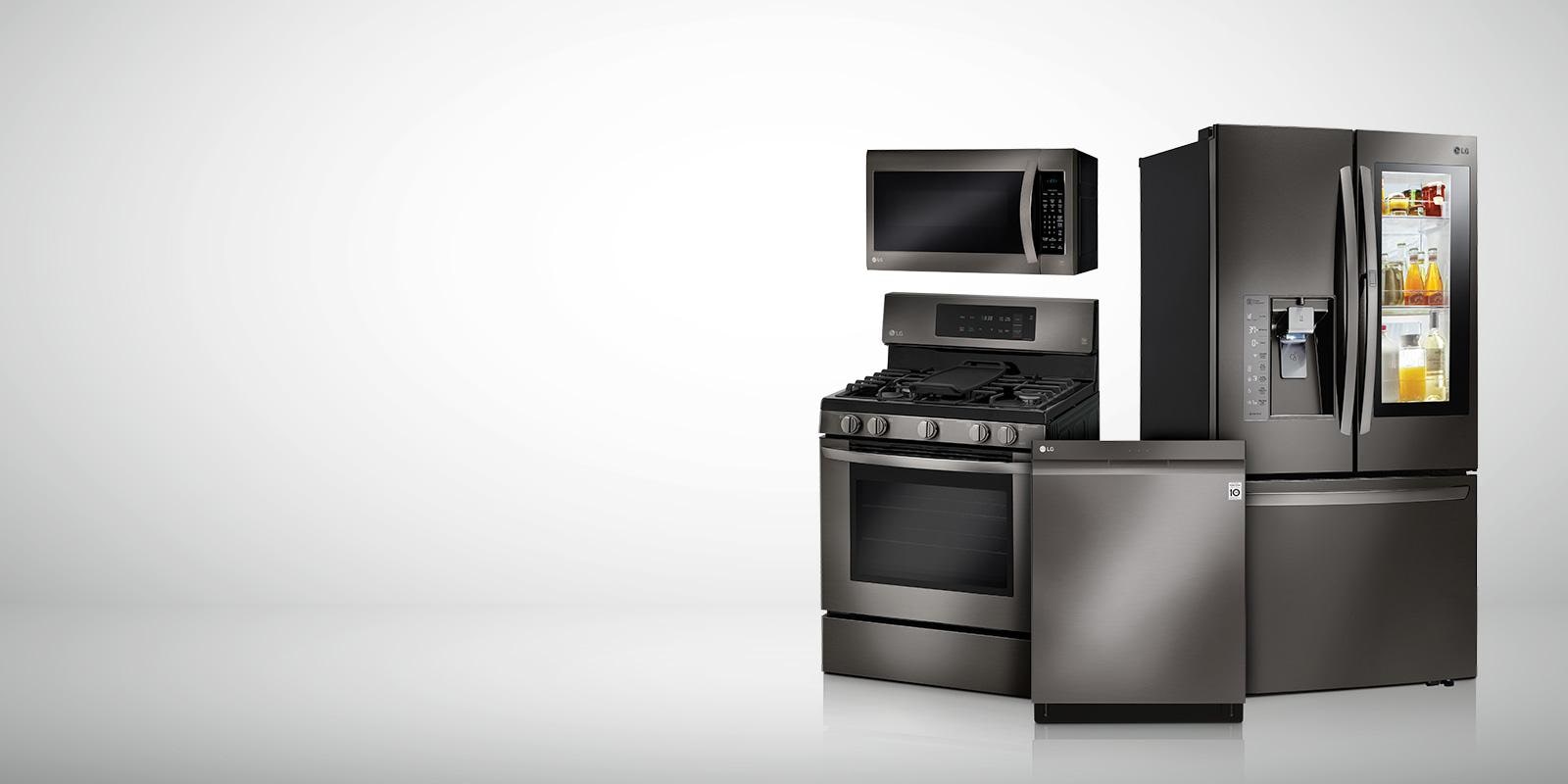 Buy More Save More Kitchen Bundle Offer
Get an LG Visa® Prepaid Card worth up to $500 by rebate when you bundle eligible LG and LG STUDIO Kitchen Major Appliances.

Welcome MATTE
Experience the style of LG's exclusive MATTE Black Stainless Steel appliances.
J.D. Power Award Winners
"Highest in Customer Satisfaction with French Door Refrigerators"
J.D. Power Award Winners
"Highest in Customer Satisfaction with Top-Mount Freezer Refrigerators"

"Among the best
in their class."
LG refrigerators have received the Editor's Choice Award from Reviewed.com. Discover them for yourself and see why.
Introducing
LG InstaView™ Door-in-Door®
Bringing innovation and distinctive design together, LG's new refrigerators with InstaView™ Door-in-Door® will enhance even the most beautifully crafted kitchen.
Impeccably Aligned Design
LG counter-depth refrigerators align with countertops and cabinetry for a uniform profile, creating a sophisticated built-in look without the high-end price tag.
TIMELESS.
BOLD. YOU.
Make a statement with LG STUDIO appliances and enhance the look of your home with timeless appliances.
Selecting a checkbox will update the products displayed on screen.
Refine Your Search
74
Total Results
All Refrigerators
Striking good looks and cool innovations meet space-saving features and energy efficiency when you choose a new state-of-the-art LG refrigerator. It's like having your very own personal assistant in the kitchen!
WHAT CUSTOMERS ARE SAYING
Average Rating for All Refrigerators

Love the look!

We purchased our home almost a year ago and it was time to upgrade the 20yr old white fridge that came with the house. After doing a ton of research, we decided on this fridge. We have a small galley kitchen and were limited on options due to a smaller space. So far so good, although as a lot of other reviewers stated there is a constant noise/humming and when the fridge makes ice, it is also very loud. We do love the looks of this fridge and hope to get many years out of it! I was a

...

read more

bit nervous as some people posted that after less than 2 years their compressor went out.

Sweepstakes entry received for review.

Beautiful, spacious and modern looking refrigerato

I've only had my refrigerator a couple weeks but couldn't be happier! So much room in both the refrigerator and freezer sections! Love the ice maker! So much space in the door to put all kinds of containers big and small. My ONLY suggestion would be if the water filling for the ice maker could be quieter but that is something I will get used to. I'm extremely happy with this purchase!!

Sweepstakes entry received for review.

Ergonomic Beauty

It was easy to transition to this new refrigerator since the shelving, drawers, lighting, and door handles are perfect. The bottom freezer compartment with large capacity ice drawer will be appreciated more this summer I'm sure. I also like the veggy/fruit & deli drawers at waist height since they are most frequently used and no more stooping & searching in poor lighting at bottom of fridge.

Sweepstakes entry received for review.
Awesome fridge, but what's with the wavy side!?!

This fridge is fantastic. The fresh air filter is a great feature. Having the ice maker in the left door was the feature that was the deciding factor in purchasing this fridge. It really does free up a decent amount of space. Most people who are used to the ice maker located inside the fridge take this for granted. The only complaint I have is that the entire left side of the fridge (the side that's visible in our kitchen) is wavy. I've done some research on this and it sometimes happens

...

read more

(in all brands/models) when the foam insulation is put in. The thinner metal used nowadays isnt rigid enough to handle the uneveness of the foam and therefore contours to it. At least that's what I read....makes sense I suppose. Some people have exchanged their fridge due to this only to get the same result in the next fridge. I decided ultimately that it wasn't worth returning/exchanging the fridge, but it is disappointing. Other than that it's outstanding.

Sweepstakes entry received for review.

LG French Door Refrig.

Product was above and beyond what was expected. Love this refrigerator

Sweepstakes entry received for review.

Nice!

This refrigerator is a good investment. It is well organized and efficient. One thing to keep in mind with the ice maker is that when you want it to make extra ice, you'll need to press the extra ice button about a day before you'll need it. It works but needs a few cycles to make enough to fill your drawer. It probably says so in the book but I didn't look it up. Any way, I'd choose this one again!

Sweepstakes entry received for review.
Lots of room - EXCEPT

Lots of room for a counter depth fridge and sleek looking. One huge issue - way too loud. We ordered it without the ice cube hook up and it seems that even though they took out the bucket portion - they left the brain of the ice maker in so it cycles as if making ice but doesn't - extremely loud and very frustrating that you couldn't fix that problem!

this fridge looks stunning in our kitchen

we needed a fridge that wouldn't stick out past our counters. this fridge did the trick and with the class of a high end appliance. after first day it was so quiet, we thought it stopped running. love the well lit inside, but the long draw could have been styled better, as you have to open both doors to open draw.also wish the doors closed like our cabinets(soft touch by themselves) thanks for the alarm as it does remind you to close if not completely shut.

Quietest refrigerator I have ever owned

This refrigerator is the quietest refrigerator I have ever owned. It is one of few refrigerators that would fit into the cabinet space I have and will come through the house with minor difficulty. It maintains a very steady temperature. The freezer has sufficient capacity but is more like a chest freezer than a shelf freezer when retrieving items. There is a slide out drawer in the freezer which is very convenient. There is ample space in the refrigerator section. However, the height of the

...

read more

shelves will not accomodate a liter bottle of soda unless it is stored in the door. The drawers in the refrigerator section are acceptable but the large refrigerator width bottom drawer is a bit inconvenient in that you have to open both doors to get at this drawer. I would have much preferred a vertical stack of drawers on the right side of the refrigerator. I would also have preferred at least one deeper drawer instead of the wide bottom drawer. But I have come to an accomodation with the features.
LG French door refrigerator

I really love this refrigerator. The Refrigerator space is enormous! I can fit just about anything. Love the big dispenser area for ice and water. Can fit a pitcher or any large sized receptacle. Freezer is spacious. Ice maker makes smaller amount than my last fridge but that's easy enough. Every once in a while we dump what's in the ice maker into the container that came with the refrigerator. There is plenty of ice at all time.

Sweepstakes entry received for review.

Easy to use - well organized

I bought this 3 months ago and I am very happy with this refrigerator. The only thing that makes less sense is the small spigot on the face of the refrigerator dispensing water with the ice dispenser in the back. Not only is this design counterintuitive (I would rather have one exit and select what you want), it scratches the stainless steel when you push a glass against the backing for water..

Sweepstakes entry received for review.

so far, awesome

This was the largest counter-depth refrigerator I could find to replace our old one. Still supposedly less room, but seems bigger. the ice maker does not take up room in the freezer section, freeing up space. Lighting is very cool. Nice, flexible layout. We removed once shelf and changed the height of a few to accommodate wine bottles, milk, etc. and use the doors for condiments. All in all, we are very happy. Cannot speak to the compressor issue like other reviews, but bought an extended

...

read more

warranty in case. One minor problem, we were used to shutting the fridge door with some force. Took a while to get used to how easy it is to open and close and more than once "slammed" the door shut and it sounded like it was going to break somehthing

Sweepstakes entry received for review.
I like the size and all the refrigerator,the black stainless steel looks great and is easy to keep clean

Sweepstakes entry received for review.

Choirs of angels sing as I open the doors.....

Or at least they should be....... We endured side-by-side refrigerator/freezers for at least 18 years. So it was a dream come true to purchase this french door design. Sturdy drawers, wonderful lighting, LOTS of space--especially since we opted for the one without the icemaker/drink dispenser--we have LOTS MORE SPACE for condiments on that side. The freezer section is so easy to pull out and access as well. We use the long shallow drawer for all of our fresh fruit--great capacity and

...

read more

access. LOVE having all the refrigerated items at a high level where no bending is required. LOVE the dark stainless color as well. I am thrilled with this refrigerator.

Sweepstakes entry received for review.

Looks Great, Works Great

Very sleek looking and has a ton of space. I love that the freezer has different compartments so I can take items out of their boxes and are still contained. Keeps everything at the set temp and the ice maker is fairly quiet until it drops the ice.

Sweepstakes entry received for review.
Top technology for great price

I have had this refrigerator in black for about 12 months. It holds temperature very well and is quiet. The ice maker has given us no trouble. The only complaint is that the LED lighting does not light the back spaces very well. We have been remodeling the kitchen and this is a temporary refrigerator that we have had to move around at times. It has lived through construction dust and rough treatment with no issues except one small scratch. I highly recommend it for solid performance and

...

read more

good size for a great price.

Perfect Height

We bought this frig because of the height and the price was within our range. The frig portion is awesome with all the space it offers. The freezer is were you need to compromise, not much space with the ice maker in it.

Great storage

I like all the storage in the door. The only thing that I have found wrong with this refrigerator is you can't store your milk on the bottom shelf. But it is staying fresh on the top shelf . The dimensions fit the space in my older kitchen

Sweepstakes entry received for review.
Really love this refrigerator!

I've had this refrigerator about two weeks now and I really like the way everything is organized. Smaller drawers and pull out trays in the refrig and the freezer sections make it much easier to find your food. No more "losing " food in the freezer! The outside door for easy access to frequently needed items in the refrig section is REALLY nice. It's a little "deep" (front to back) for my space, but I will live with it.

Sweepstakes entry received for review.

Beauty may only be skin deep, what's inside counts

We checked out many different options before deciding on this beauty! As soon as I opened the French doors the LED lights got my attention. I love being able to use the full width of the adjustable shelves. And the freezer at the bottom puts everything in full view. It even has a door-in-a- door to allow access to items used frequently. Ice and water in the other side. Oh yes!

Sweepstakes entry received for review.

Great Capacity and Look!

I love my new fridge! It not only looks great but has a good capacity of storage. The French Door design allows to see better what's in the fridge. My food and beverages are kept in the right temperature. The only thing I don't like about this fridge is the icemaker size, I would like it to be bigger.

Sweepstakes entry received for review.
Hope it Lasts

I bought about a month ago and it is great. My only concern is that I have heard others say theirs crapped out for not having enough vented air behind and on the sides of the refrigerator. I have the exact clearance it calls for, so we will see. Otherwise as of now a great refrigerator. Love the duel ice makers.

Sweepstakes entry received for review.

So far, so good

We've only had the fridge for 5 months, and so far it's wonderful. I'd researched every refrigerator out there and this one fit the spacial dimensions, came with most of the features I was looking for and had decent reviews. I originally wanted the stainless steel model, however we needed a new fridge ASAP. We were not going three weeks without a refrigerator and the black stainless steel model was available for next day delivery. The lighting is great inside, the dual ice maker is a wonderful

...

read more

feature and there's plenty of room for everything! One thing I didn't realize on this model until afterward was the face of the fridge is not magnetic ; just the sides.

Sweepstakes entry received for review.

Beautiful fridge!

I bought this fridge just a few weeks ago. I was hesitant after reading some reviews. But I'm so glad I followed my heart and went with what I really wanted. I love everything about the refrigerator. The filter on the inside is a plus! The water & icemaker in the door work perfectly. Honestly, I don't know what the bad reviews were about. The bottom freezer is so much better than my side by side because now I can actually see what's in the freezer. The long drawer in the refrigerator is

...

read more

so convenient for deli meats, cheeses, bacon & sausage. I LOVE IT!!!!!

Sweepstakes entry received for review.
Perfect Solution

Our Refrigerator was "slowly dying" and I kept delaying the inevitable. Finally I started shopping around. Was looking for the bottom freezer type, as I have issues with my back & thought since I was in the refrigerator more than the freezer, that would make more sense. I could not have made a BETTER decision. Since space was an issue, this was a perfect fit, has plenty of room inside & a PERFECT SOLUTION to our situation. It is quiet, sleek design and is doing a great job for us. It is a

...

read more

perfect size for a family of 2!!

Perfect size

I love the small footprint of this fridge and it still has generous interior space. The one downside to this item is the lighting. The lights are down the center in the back of the fridge so when it is full it is very dark because the food blocks the light.

Perfect for small space or small household

I love the freezer on the bottom and having drawers to separate my frozen items. As a single person, it is just the right amount of space for the food I keep in there. I anticipate a lower electric bill due to the smaller interior and more efficient use of space. I had the Euro version of this (Vesta) at my home in Baltimore and it had a wine rack along the top of the refrigerator interior. I miss that, and it cost y'all a star! ;-) I do like the beep when I forget why I am standing looking into it.
LG Product Service and Support
Get your questions answered about product setup, use and care, repair and maintenance issues. We can help.
Telephone
Call an LG Support Representative.
(800) 243-0000 Consumer (7am-midnight CST)
(888) 865-3026 Commercial (8am-6pm CST)