LG NeON®2 ACe
The LG NeON® 2 ACe is high power DC module and Enphase Micro inverter IQ6+. A they are combined, LG NeON® 2 ACe can simplify all the processes such as logistics, installation, and monitoring.
Simple Cabling Feature 
Able to connect the AC modules without an additional trunk cable
Drastically reduced trunk cable related parts.  Improved trunk and DC cable work.  Minimizes complex cables on a roof. 
Simple Feature
Combines the module and inverter in a single unit
Unique appearance by combining the junction box and micro inverter. Minimize installation time by reducing connecting work. Easier installation as the DC connection and operation are tested during manufacturing. 
Junction Box 
With IP* 68 Rating
In view of environment, water-proof capability of the junction box has been improved. * IP: Ingress Protection 
Smart Home System 
Web Monitoring 
Provides advanced Web-based solution 
Monitor power generation through the internet, anywhere and anytime.  Automatic problem diagnosis function.  LG offer stable environment for monitoring. 
Easy Troubleshooting 
Problematic AC module is easily detected 
Easy Monitoring Setup 
AC module registration, grid and network configuration 
With LG AC Module mobile app, it's possible to set up all monitoring configuration steps 
Micro Inverter Plug and Play Installation 
Automatically detects and registers AC module 
Gateway automatically detects and registers AC module through Broadband PLC line,  once it is connected to powerline. Our automatic system provides easy and simple installation.  Use the installer toolkit app to optimize the monitoring setup on your system. 
Max Performing Output 
Max performing AC output among the products* in the market.
Max performing AC output micro inverter* efficiency level. Combined with LG's high output module to feature max performing AC output. More power generation per square foot. *Single module connection micro inverter **Max AC Output Power 290W  
Smart Grid Ready 
Innovative all AC design for safety enhancement and remote update capabilities 
Safer system design built with Low AC Voltage.  Rapid shutdown compliant with NEC 2014/2017. Rule 21(CA), Rule 14H(HI), UL 1741SA Compliant. 
Lower Voltage
Reduced risk of fire since the system uses low voltage and AC
No high voltage DC wiring with 600 or 1000 volts.  All AC wiring with 208 or 240 volts. 
Optimized Design 
Module design optimized for high output 
Inverter optimized for 330W module. Maximizes efficiency and energy output by optimized module and inverter pairing. Inverter design with consideration of suitable load.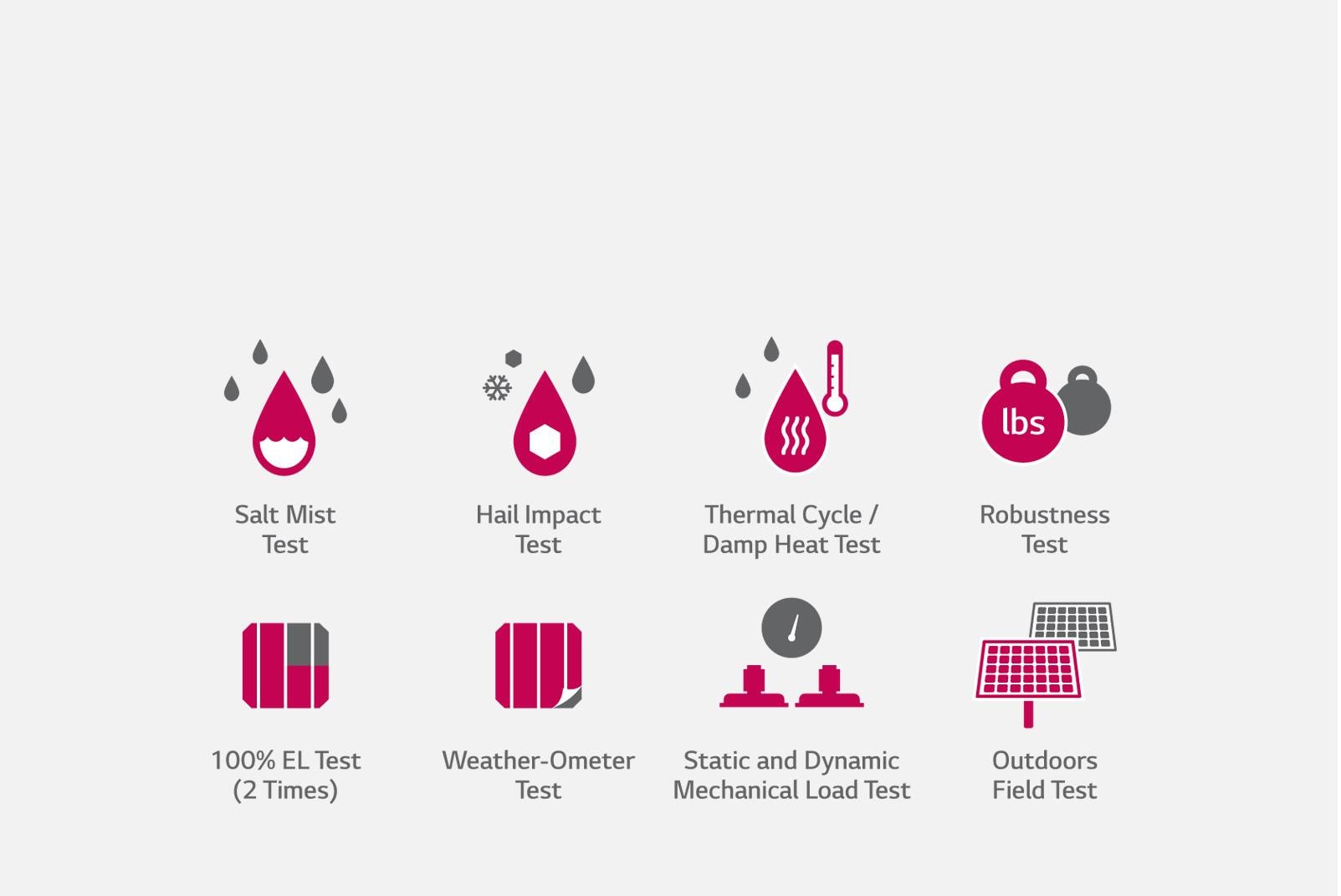 Quality Assurance 
Any defective modules are carefully selected through rigorous inspection.