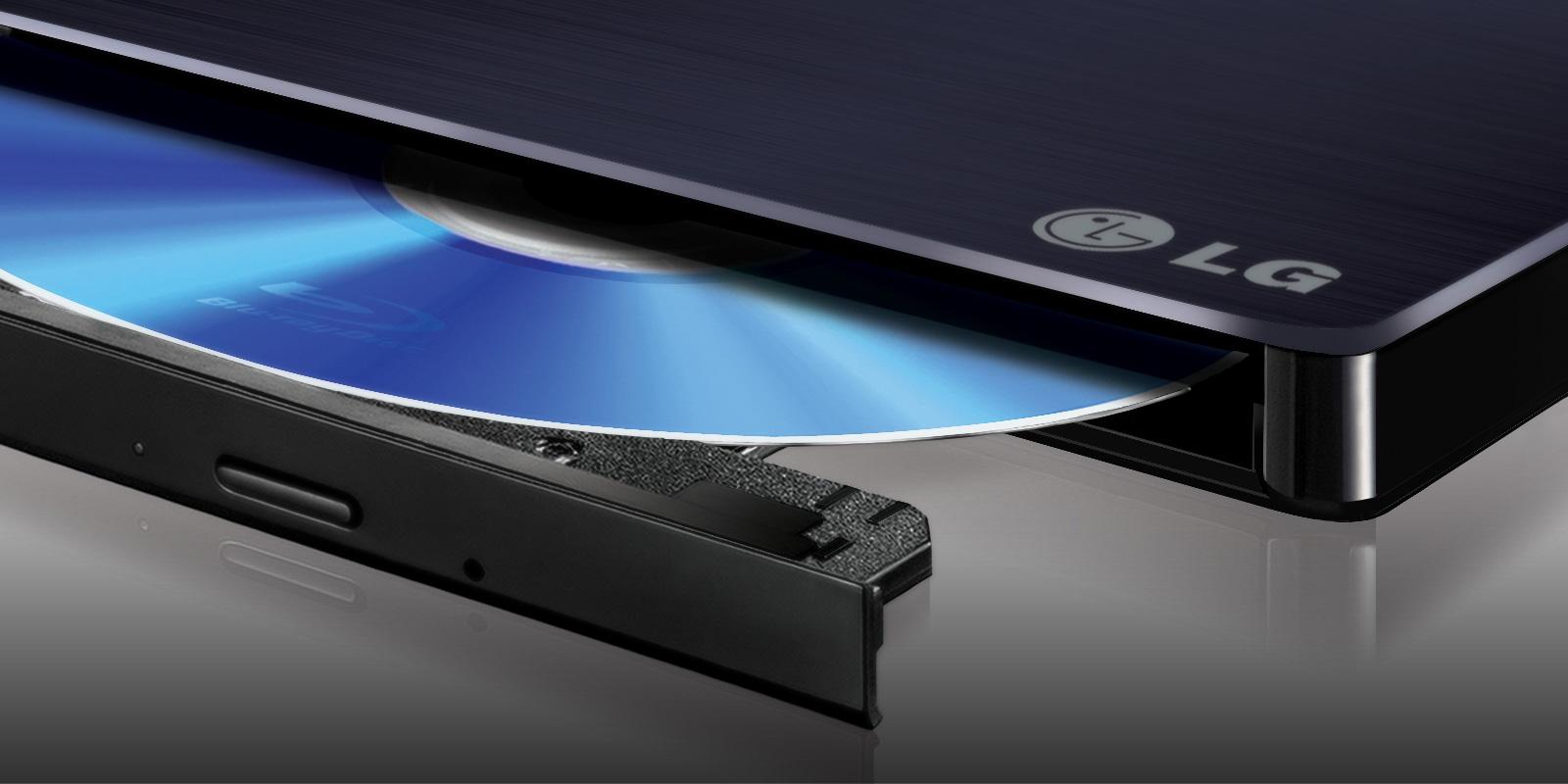 LG Burners & Drives
Discover unmatched data storage and entertainment solutions with LG Blu-ray burners and drives.
Store & Manage with Security & Ease
Count on high performance and reliability with LG DVD burners and drives, designed to secure your data with the speed and power you expect from LG
Selecting a checkbox will update the products displayed on screen.
Refine Your Search
36
Total Results
Burners & Drives
Protect those important files and secure your memories with backup solutions from LG. LG's drives and burners boast features like 10X faster USB speeds, Cinema 3D playback, unparalleled storage capacity and more.
WHAT CUSTOMERS ARE SAYING
Average Rating for Burners & Drives
The Dual Layer burning feature failed to recognize

The Dual Layer burning feature failed to be recognized by the operating system Windows 7 64 bit. The product burns all other disc formats correctly, but DVD DL is not recognizable within Windows 7 64 bit.

I like the performance for the price

I have had this drive for about 3 months now and it has performed flawlessly. I was worried about compatibility because I had problems with other drives before, but to my surprise it integrated seamlessly with my computer. Great drive.

The disc drive has performed to my expectations.

The internal disc drive on my computer failed and it would have been very costly to repair, not to mention the inconvenience of shipping my computer off for repairs. The LG external drive I purchased was much more cost effective and it works great! Very easy to use.
Top Notch Super Blu Ray Writer!

I bought this drive from Newegg about 6 weeks ago. It has performed superbly! It writes regular 4X 25GB BD-R discs at 8X! No hiccups, no problems or issues. Be sure to use BRAND NAME discs though. I highly recommend this drive to any who are considering purchasing a Blu Ray writer. The front faceplate has a glossy black frame surrounding the drive tray and control panel. Very nice brushed anodized black aluminum on the drive tray and control panel plus the eject/close button is concealed

...

read more

under the brushed aluminum which has a slight rise or bump. Nice clean look, very attractive.

Internal burner using as external on my laptop

Bought this Blu-ray burner to burn movies that I download off the internet. The Blu-ray discs hold almost five times as much data or video as a DVD disc! If you search you can find the Blu-ray discs almost as cheap as DVD discs. With a sata conversion cable I purchased online I am using it with my laptop, which brings the price down a lot as compared to an external burner!!

Completely meets my needs

I needed a full rebuild on my home built PC and decided to go with two of these Blu-Ray writers. I'd had an LG DVD drive in the old machine and got years of hard usage out of it. These drives are both fast and quiet. I haven't used them for burning Blu-Ray disc yet, but have been using them heavily to rebuild my music library and have not had even a slight hiccup from either of them. I recommend them without hesitation!
Great External Drive

Bought this to upload OS for miniPC. Found it to be quiet, easy to use and solid performer. LG burning tools software included is a pleasant surprise; made burning CDs simple. I haven't used the lightscribe feature yet but intend to. Overall great value.

Excellent burner

So far, after months of use, I have had no problems burning DVDs or lightscribe. (approx 40 DVDs) Some Notes though: 1: You need to have 2 USB ports, I have a powered USB hub, so not a real problem, people having access to only 1 USB may have issues. 2: Very light, you have to hold the unit in place to close the drawer. These are the only 2 drawbacks I have found for the unit.

LG Super Multi DVD

I bought this for use with my netbook. It is light and plays every kind of DVD even those from places like Thailand and Vietnam. Great item for the price and quality.
Greatest External Optical Drive

Once I received drive in the mail, I had it installed, up and running within minutes. Setup was a snap. Copied my first Blu-Ray disk with no issues. Optical drive is compatible with just about every CD format on the market

Cool product

The size is small and very light, and it doesn't need a power adapter. Works fine. Finally I can enjoy and create my own Blu-ray disc!

Exellent value for the money

I found this drive very easy to use and it does an excellent job. Be careful of the requirements to install this drive. This box does not have the necessary software to operate all the functions on the box. I had to purchase the software separately. I would recommend this drive.
My first Blu-Ray disc drive.

My first Blu-Ray internal DVD drive i purchased and i installed in my custom computer tower build,i chose LG because i have had other LG products in the past and they were very reliable and lasted a long time.My opinion about the LG brand is i prefer it over other brands.LG is high quality, superior performance,long lasting and the best warranty out there over other brands.It is my favorite brand.I plan purchasing another LG Blu-Ray DVD drive for my computer tower and run two LG Blu-Ray DVD

...

read more

drives for the work that i do.LG ROCKS !!!

Excellent blu ray dvd recorder/player

This is a great device as usual from LG. The product has more features than others costing more. the customer service from L:G is always great, and their web site is the easiest to use I have seen. Well worth the money. I always use LG, been burned too many times by other brands.

Great Blu-Ray Drive

I Bought this drive with another LG Drive after the two that were purchased for the computer, would not install and gave nothing but problems. i wont give names i am not here to complain about others. I am here to say that this drive and the other LG drive i bought installed easy. i did nothing more than plug them in and turn the computer on. They worked on the first try. I know that might seem trivial or obvious, but think about how many things don't work on the first try, always have a problem

...

read more

or just plain don't work. Karma Exists and i give credit where it is due, whether it is good or bad. LG i own a lot of your products. (TV's, Cell Phones, Computer Products and more). You have never done me wrong. Thank you.
Super Value for the Price

Direct replacement for an old failed DVD drive. Newer technology, faster and quieter. Installation was a breeze and everything functioned flawlessly for me. Outstanding product.

Works as advertised

Installation was very easy. No problems encountered. Plays a broad variety of formats. Burns Blu-ray and regular DVD's using my Corel Video Studio Pro X6 software. I have only had it for about a month but so far so good.

Great product!

Stayed with a winner when I needed to upgrade a failing drive. LG BD burner is exactly what I was looking for when balancing value and price.
I wish that DVD-DL was writeable at ×16.

DVD-DL reading at ×12 and writing at ×8. BD-R MDisc SL at 4x CLV but DL at 6x CLV. BD-R writing at 16x but reading only 12x? CD-RW only 24x? Why not 32x? Good drive, but I do not understand these limitations.

Sweepstakes entry received for review.

Great product!

I've had an exterior LG Blu-ray Disc Drive (BE14NU40) for several years now. I wanted an interior version. Since I've had such great service from the exterior model, I decided to purchase an interior model. I had it about a month now and couldn't be happier with it. I have no doubt I will get the same service from the new one as I have from the older one. Great product!

Sweepstakes entry received for review.

Excellent back-up drive.

Rating for the device itself: Excellent. Rating for the accompanying software: Good. Install time was very quick (maybe, 10 minutes). Fit and finish is good within the existing case. Immediately used to back up an existing NAS box over GigE on the corp net. Took about 10 hours to back up 1.2TB of data, no issues whatsoever - clean and fast and quiet backup. I like the fact that it can burn 100GB M-DISC BDR blanks - these are excellent for archive storage and have a very long lifespan,

...

read more

so I know our data is safe in offsite-storage.

Sweepstakes entry received for review.
This has been a Godsend.

I bought a netbook, & completely missed not having a cd drive. I love my netbook, but there are functions right now that I could not do because of not having the cd drive. This external one is lightning fast, quiet & a real time saver. It's a great plug & play that was super easy to set up. It is a little bulky, but my netbook is small, so together they take up about as much space as a full laptop. Plus I don't get that horrible feeling like I am going to break the drive like you do with the

...

read more

one's on the full laptops. It is a little pricey too in my opinion, but you know what they say you get what you pay for. You will not go wrong getting this cd drive.

Has stood the test of time

I bought this over 5 years ago and have used it at least 10 times a month since that time. It has never failed me yet. I know for a fact that if and when it gives up the ghost I'll be buying another LG external burner. It is running fine at the present time with Windows 10 as an operating system - no issues at all

Sweepstakes entry received for review.

Highly Recommend

Purchased this to use on two of my laptops (WinXP and Win7 pcs). Hooked it up, Windows automaticly detected and was up and running in less than 5 minutes. This unit immediately was able to use the burning software already on my pcs. Able to play movies, play music cds, etc. Could do everything without using the software disk provided. Very quiet operation, nice design and of course is fast. Faster than internal dvd drives that the pcs came with.
Misleading

When I bought this the employs who helped me buy this product did not know that this product does not support Memorex discs. This information is not located on the box either. I feel mislead by this product that I bought. It is a nice product I like that is it is a nice external disc drive to use, and it makes you feel like you have the most powerful machine in the world hearing it burn the disc. This is just my personal preference. Just remember that they do not support Memorex, and it does not

...

read more

warn you on the box. I doubt any store employee knows of this issue.

Great features for the price

This drive has a great package of features for the price. I use it for viewing instructional DVDs and data storage. Purchased it because my new laptop didn't have a DVD drive (becoming very common). The only issue had was getting the driver loaded. Windows 8.1 is very deficient when it comes to drivers and add ons. While the previous versions of Windows were pretty much plug and play for adding accessories, 8.1 expects you to buy all addins, drivers, etc. If your LG drive doesn't function right

...

read more

away, try it on another computer, chances are it's a Windows issue not the drive!

Works well

I bought this for cd transfer to my computer and to play dvds on my computer. It worked well

Sweepstakes entry received for review.
LG Product Service and Support
Get your questions answered about product setup, use and care, repair and maintenance issues. We can help.
Telephone
Call an LG Support Representative.
(800) 243-0000 Consumer (7am-midnight CST)
(888) 865-3026 Commercial (8am-6pm CST)