LG NeON® 2 72cell
The LG NeON® 2 72cell is LG Solar's high quality monocrystalline module.
New Double-sided Cell Structure
Producing energy from both the front and back of the cells

The LG NeON® 2 72cell produces energy from both the front and back. Because light is absorbed from the rear of the LG NeON® 2 72cell, efficiency is improved over conventional cells during the mornings and evenings, when the angle of light is lower.
More Nano Level Control
Minimized cell defects and maximized uniformity

The LG NeON® 2 72cell applies semiconductor technology to doping and surface treatment processes. As a result, cell defects are minimized and efficiency is increased by more than 21%.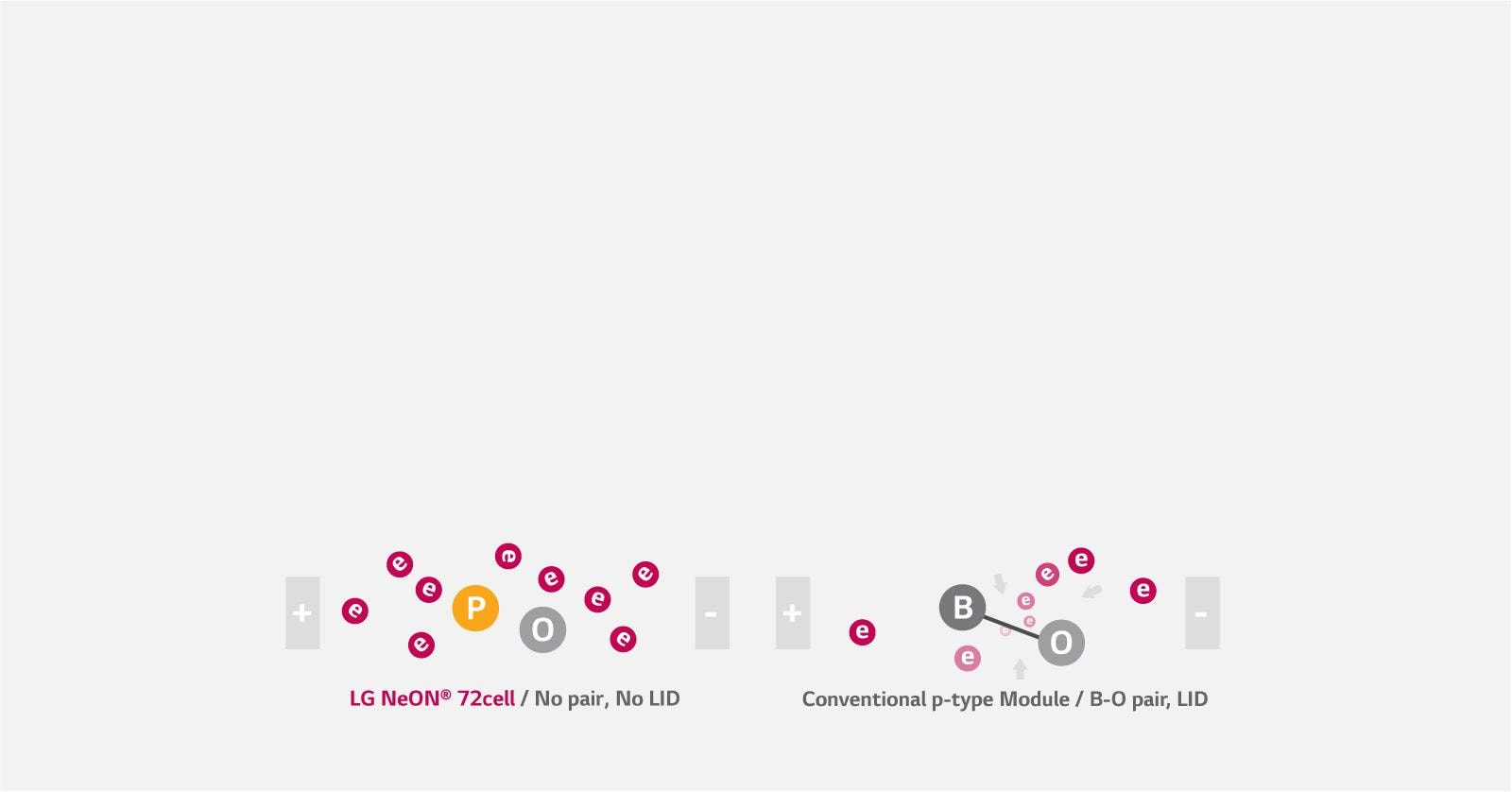 Extremely Low LID Cells
Light Induced Degradation in the first year

While conventional p-type modules sustain LID* due to the reaction of Boron and Oxygen during the first year, the LG NeON® 2 72cell uses an n-type wafer that is rarely affected by it.
* LID (Light Induced Degradation)
Higher Efficiency Installation 
Efficient space management & B.O.S. savings

Compared with the conventional 72-cell multi-module, the LG NeON® 2 72cell achieves a higher power output and module efficiency, making space management easier when installing large-scale systems. The LG NeON® 2 72cell reduces the total number of strings due to its high module efficiency, and provides savings in B.O.S.*
* B.O.S. (Balance of System)
Advantages of High Efficiency Panels
Shadowed areas caused by a roof's physical structures restrict the space for a solar system's installation. The highly efficient LG NeON® 2 72cell makes it easier to build the module array.

* Comparison of Module quantity and space when installing 100kWp system on a flat roof
Advantage: The IRR Comparison
The IRR comparison of commercial and residential installations
Enhanced Performance Warranty
The LG NeON® 2 72cell is backed by a 25-year product warranty and a performance warranty guaranteeing a minimum power output of 86% after 25 years.
High-Performance, More Power Generation
The LG NeON® 2 72cell is the ideal solution for a flat roof with space limitations because it maximizes electricity generation.

Also, this is currently listed with an asterisk below the above content:
* Capacity of solar power system with 288 modules (18x16 module arrays)
Better Performance at Low Light Angle
Double-sided cell
High Performance Temperature Coefficient
Better performance on sunny days

The LG NeON® 2 72cell generates increased power on sunny days due to its low temperature coefficient.
* Based on PV Syst simulation (Northeastern U.S.)
High Performance Maximizes
Output Power
Double-sided Effect

The NeON® 2 72cell module features double-sided cells and a lower temperature coefficient.
High Performance at Weak Sunlight
Power generation on a cloudy day

The LG NeON® 2 72cell provides solid performance even on cloudy days due to its low energy reduction in weak sunlight.
* Relative performance compared with the performance at 1000W/m
How much money
will solar save you?