Mindful Breathing
Research links Mindfulness to better health, lower anxiety, and greater resilience to stress. One way to cultivate more Mindfulness is through an exercise called "Mindful Breathing", which allows you to focus attention on your breath in order to better deal with negative emotions.
CASEL
LG is Proud to Partner with CASEL. The Collaborative for Academic, Social, and Emotional Learning provides a unique combination of research, practice, and policy to support high quality social and emotional learning in school districts nationwide.
Experience Happiness
LG is on a mission to equip youth with the skills necessary to reduce stress and create sustainable happiness in their lives.
Play Video
Play Video
The Science of Happiness: Human Connection
Building and cultivating meaningful relationships with others is the most reliable predictor of happiness in life. This might be an obvious thing to say, but how do we do it? The researchers at the Greater Good Science Center at UC Berkley tell us how.
Discover Your Happy
Introduce the Science of Happiness to your community with the Six Sustainable Happiness Skills. Join LG and Discovery Education on a Virtual Field Trip.
Greater Good Science Center
The Greater Good Science Center at UC Berkeley studies the psychology, sociology, and neuroscience of well-being and teaches skills that foster a thriving, resilient, and compassionate society.
Inner Explorer
The Inner Explorer program is a series of daily 5-10 minute, audio-guided mindfulness practices. The program focuses on key areas of development to help students and teachers prepare for learning.
Project Happiness
Born from scientific research on human happiness, Project Happiness provides educational programs and resources that teach anyone how to learn the habits and skills of sustainable happiness.
What is Happiness Anyway?
Happiness can feel fleeting, elusive, and difficult to describe. But it's not just an emotion, researchers studying social emotional well-being define happiness as a balance, the combination of how often and robust our positive emotional experiences are, how gracefully we recover from difficult experiences, and how meaningful and worthwhile we feel our lives are.
Happiness is the ability to consistently recognize that Life's Good, even if it's hard sometimes and the ability to learn from and bounce back from the hard times.
Our Commitment
Our mission is to create awareness that Happiness is more than a fleeting feeling, that Sustainable Happiness is achievable, and that there are a set of skills that you can learn, teach, and practice to help you along the path to Happiness. We are working with leading researchers to learn more about Sustainable Happiness and partnering with organizations to bring Sustainable Happiness skills directly to youth.
What We Discovered
More than half of American teens are stressed and many don't know how to handle it. When school is in session, teens are the most stressed group in the country. The inability to reduce and cope with stress and anxiety can negatively impact different facets of a teen's life including their health, friendships, relationships with parents, and academic performance.
Happiness is associated with several positive health effects, according to the Journal of Happiness Studies, including less insulin resistance, better sleep, higher HDL cholesterol levels, and less reactivity to stress. Additionally, teens who identify as happy are more creative, more helpful, and more sociable.
Research has also shown that happy kids do better in school. Happy learners remember information better and happiness is positively associated with GPA. Happy children are also more likely to become happy adults, and experience success in relationships, health, continued academics, and work performance.
The benefit of happier kids is a game changer, and we want to help lead that change.
Leading Change
LG created the Life's Good: Experience Happiness platform to help bring scientific, evidence based tools and sustainable happiness skills directly to young people. Backed by seventy years of scientific research showing that happy people are healthier, live longer, earn more, and do better in school and life - and that happiness skills can be learned - our platform aims to reach, teach and increase Sustainable Happiness.
The research also shows that schools that teach happiness skills outperform schools that don't, and typically experience dramatic drops in bullying, absenteeism, and discipline issues. They also see impressive gains in student engagement, optimism, test scores, and executive functioning skills that are key to job success.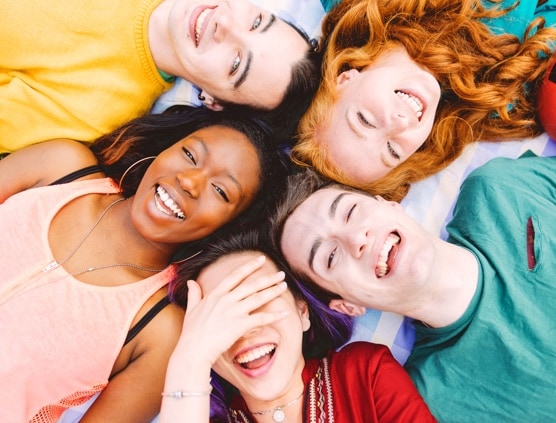 Our Goal
Over the next five years, we will deliver Sustainable Happiness skills to 5.5 million youth and help the next generation recognize that happiness is achievable and Life's Good.
Science of Happiness
Over 70 years of research has revealed that Happiness is achievable, and according to the Greater Good Science Center at UC Berkeley, happiness skills can be learned, taught, and practiced. Working together with the Greater Good Science Center, we identified six skills to form the foundation of LG's Experience Happiness program: mindfulness, human connection, positive outlook, purpose, generosity, and gratitude. Although each person may take a different path, the practice and pursuit of these six skills can help set you on the path toward sustainable happiness.
Happiness Skills
Sustainable Happiness is a journey and sometimes we face difficult challenges along the path.
If you find yourself in crisis or need immediate help, please know you are not alone. Here are some resources you may find helpful.