An Attention Grabbing Finish
Matte Black Stainless Steel appliances bring the latest in home decor trends to the kitchen, providing enhanced style that brings out the best in any design. Drag the arrows below from side to side and see how matte black complements both light and dark cabinets.
It's all in the finish
Add effortless sophistication to any kitchen with a smooth, versatile finish that brings out the best in any design. LG offers a full suite of matte black appliances to help kickstart your style with a new finish.
Your darkest desires
The sophisticated, smooth matte black finish is the perfect complement to just about any color or kitchen style, including modern, traditional, contemporary and more.
Never a dull moment
Modern sophistication meets everyday functionality with a satin PrintProof™ finish on matte that hides fingerprints and smudges.
Embrace the Dark Side of Your Kitchen
With an elegant look and PrintProof™ finish, LG's exclusive Matte Black Stainless Steel kitchen appliances makes it effortless to bring a cutting edge design to any kitchen.
Fridge? More like statement piece.
Push the boundaries of your kitchen style with LG matte black refrigerators. Enjoy the innovation and convenience of LG, with an exclusive new look that will turn heads.
LG Door-in-Door®
LG matte black refrigerators do more than just look great—they provide ample storage for all of your family's favorite foods.
See Matte Black Refrigerators
---
And now for the big finish
LG matte black ranges put a new twist on a classic, elevating the decor in any kitchen with a functional, PrintProof™ finish.
Stylish design that works
Intuitive SmoothTouch™ glass controls provide a seamless look, and the smooth surface easily wipes clean after use. Now that's a good look.
See Matte Black Ranges
---
Home is where the dark is
LG matte black dishwashers give cleaning an upscale look, combining the timelessness of stainless steel with a low-gloss matte finish.
A powerful clean from start to finish
Designed with four spray arms that rotate back and forth, LG QuadWash™ cleans from multiple angles so you get dishes clean the first time.
See Matte Black Dishwashers
---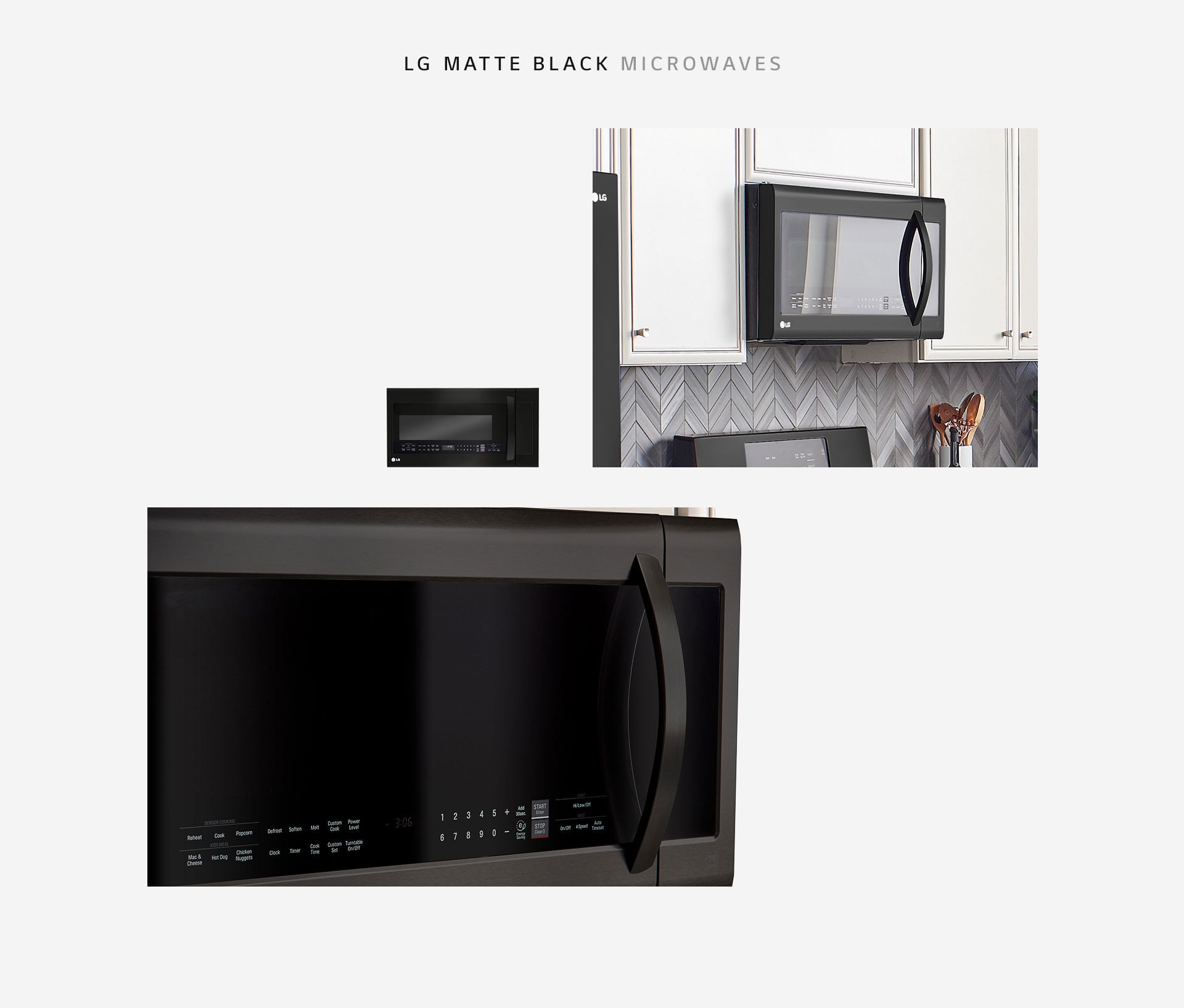 Our looks, your taste
LG matte black over-the-range microwaves make even heating up leftovers look stylish with a luxe finish and understated elegance.
Beautiful inside and out
Spills, spatters and stains are no problem with LG's EasyClean® interior. Simply wipe with a damp cloth—no chemicals or scrubbing needed.
See the Matte Black Over-the-Range Microwave