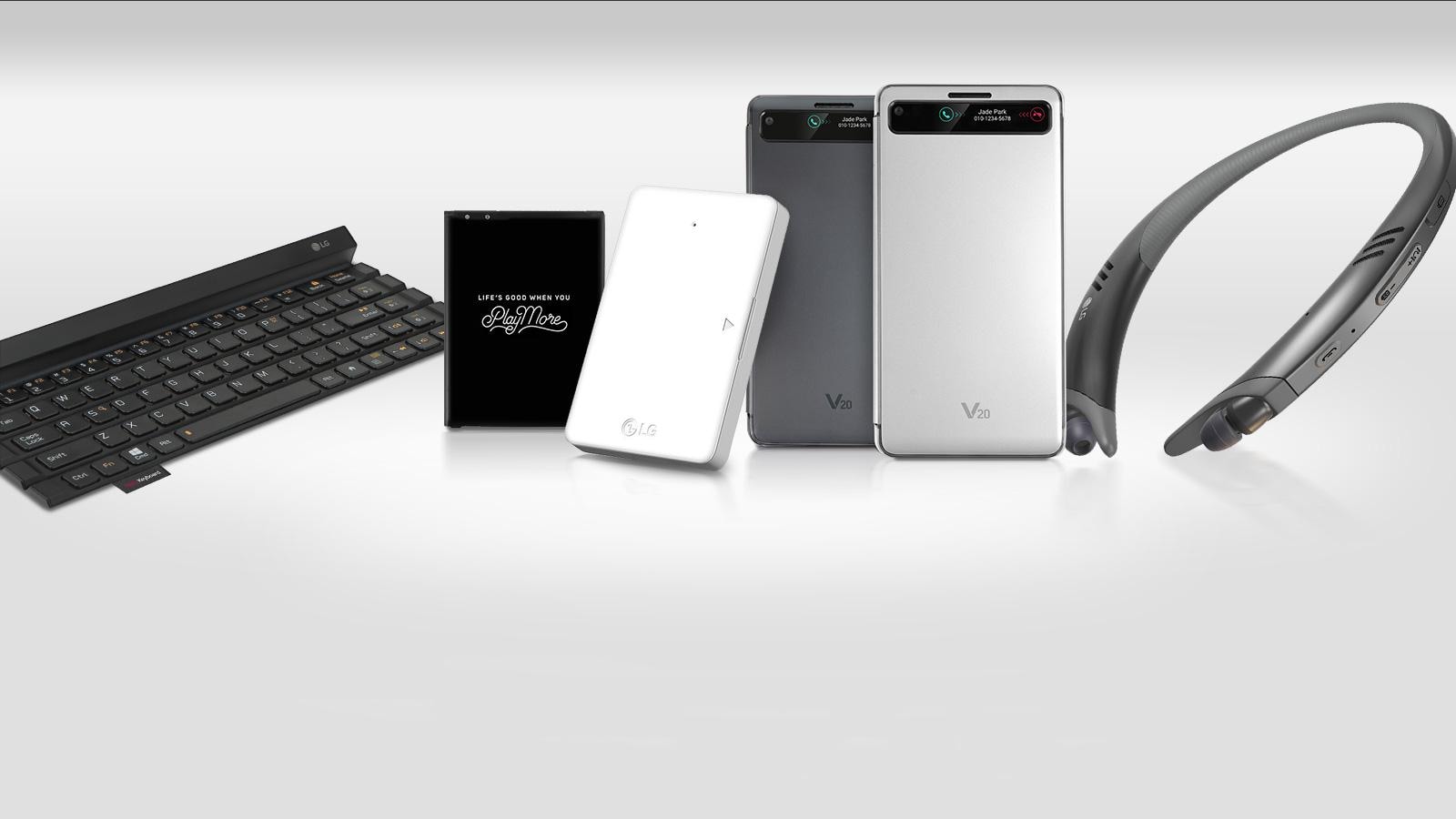 LG Mobile Accessories
Give your mobile experience a boost with LG mobile accessories – whether you need the most reliable charger or a comfortable headset with clear audio.
Selecting a checkbox will update the products displayed on screen.
Refine Your Search
33
Total Results
Mobile Accessories
LG offers the accessories to keep you connected and enhance your life. Take your mobile phone experience to another level with LG's innovative line of accessories designed to make your life easier.
WHAT CUSTOMERS ARE SAYING
Average Rating for Mobile Accessories

Saved The Wedding Day

I bought this a week before going out of town for my brothers wedding-just had a feeling, and the price was right. Packed it with the computers in my carry-on, still in the box. Night before the wedding, I mention it to my brother, and we agree to covertly hide it in the church. I get caught--but it is OK, because the priest has me move it to a better location. We have almost all of the mass, got the vows, missed the end because I was the best man and nobody was watching the camera, and it

...

read more

quit at the 40 minute mark. A very fortunate thing, as the go-pros that were supposed to be recording failed for some reason. Also had an opportunity to shoot the reception, which turned out really exceptional.

Sweepstakes entry received for review.

Love this device 360

I was really wowed by the simple way this device was to operate. I was able to connect it to my android device without any issues. The images and videos are perfect hd and color balance is great. I love the portability of it, so easy to carry around and use. Love it!

Sweepstakes entry received for review.

Great camera!

I bought this around 3 months ago and it is absolutely AMAZING! The quality is such an important thing in a camera and it is great.

Sweepstakes entry received for review.
Great phone

Best phone I've had. Fast and long lasting battery charge

Sweepstakes entry received for review.

The Most Underrated Smartphone of 2017

Pros: Cons: -IP68 Dust/Water Resistance -No removable battery -Headphone Jack with QUAD DAC -No IR blaster -Design -No Secondary Display -Expandable Storage -Battery could be bigger -Fast -MIL-STD-810 -Expandable Memory I always been a long time fan of the LG V

...

read more

series phones, Initially when I heard about the V30, I was somewhat nervous since the phone lost the I.R. Blaster, secondary display, and the removable battery, features that are very rare in the smartphone market, and what really helped the V20 stand out among its competitors. I decided to throw caution to the wind, and give the phone a chance, and I am so very pleased I did. This phone is amazing, the first thing I noticed was the weight its probably the lightest phone I've ever used its amazing that the build quality is excellent and still manages to provide a very large screen. The phone is an 18:9 aspect ratio, and sporting a 6 inch P-OLED so the colors of the phones really do pop. I loved how the phone now as an always on display, and the battery life on the phone is excellent paired with the snapdragon 835 chip inside. LG really did an incredible job with the design, I can see the evolution from the V10 and V20, and each phone has gotten better and better with each iteration. While I do miss the ability to swap out batteries, the IP68 Dust and Water resistance is a welcomed edition. The V30's performance is snappy, handling everything I could throw at it and apps and games run super smooth and I haven't notice a single stutter or lag or my hand set. One of the killer features that I like is the headphone jack. The headphone jack is equipped with a Quad D.A.C. makes listen to music, watching movies, voice and videos calls amazing and very immersive. I do miss the secondary display, but the implementation of the Floating bar is a nice way to have the same features, and still allow a full display for the phone. I used many phones over the years, but I still find myself coming back to LG. I truly love this device and the only con that I can see is the IR blaster. I really with that the IR blaster was still intact, it may seem novel to some, but I know many people that miss having the feature. Another area that I enjoy is the camera, LG makes the best camera's sporting a dual setup on the back, nobody in the current smartphone market is utilizing a wide angle lens there is simply no one who does it better. I would say that one area the phone is lacking in is the front facing camera. The picture for selfies is probably the weakest feature on the phone, and the quality from what I've seen is sub par compared to other phones i've tried this year. I do think that the price of the V30 is justified given all the bevy of features but it would have been nice if the phone was a little bit cheaper to compete with the other phones on the market. Overall, I do think I can think of any phone that really offers the rich feature set that the LG V30 has, it has a great build, its fast, it's well designed, and a boat load of features other companies just don't offer.

Sweepstakes entry received for review.

This battery cradle works just fine, it supports the fast charger included with my LG v20. Nice presentation with battery case, the cradle and an original lg battery. Only issue I can think off is the charging light, which does not turn green when the battery is fully charged, unless the charging cable is replugged. And maybe some more lights for a more accurate battery indication would be nice. Overall quality feels durable (the plastic isn't going to break on its own) The price seems right,

...

read more

but it's not competitive

Sweepstakes entry received for review.
Great charger

I bought a charger that was not LG brand and it got messed up within a week so I bought this one and it worked great

Sweepstakes entry received for review.

Works as expected so far.

I bought this after getting a LG G6 phone that has a C type connector. I use the one that came with the phone with the wall charger, but got this one to have in the car. Very handy for charging on the go.

Sweepstakes entry received for review.

Dependable

The LG 6 addressed the lack of including the signature issue I had with LG 4. It is easy to navigate, photo's are really clear. I really like the features that I use, texting, internet, photos, phone, and applications.- The only thing I miss is not having access to the battery anymore. I am really happy with this phone!!!

Sweepstakes entry received for review.
LG V30

Great phone with Great battery life, nice display, and useful Finger Print reader, nice camera.....just wish you could have the calender open liked to alarm shutoff, like previously with LG....very happy with the phone.

Sweepstakes entry received for review.

Flashing light?

I've gotten a lot of use out of this, but recently with one of my 2 G4 batteries, it starts flashing red after a while, and never turns green. However, that battery charges OK in the phone. Any ideas? Can't find any instructions or manual.

Sweepstakes entry received for review.

Back up batteries.

I am in constant use of my LG G4. This allows me to not have to worry about finding a charging station, outlet, or limit my use on the phone. I bought multiple batteries and the life of my LG G4 has become unlimited.

Sweepstakes entry received for review.
LG Power Tank is reliable.

The LG Power Tank has 2 USB Ports and a Power Button. It fast charged my LG V20 battery from in 20 minutes from 0 to 25%. On my recent recharge to this portable charger it took like 15 hours for it to fully charge from about half a charge but this extended length of time could have been related to the LG AC adapter I was using to charge it. Charging this unit for the first time out of the box it does take 6 hours. This unit doesn't not include a AC power adapter or 3 ft USB to Micro USB cable.

...

read more

It does not include a 6" USB to USB-C cable so you will have purchase that separately as well if your devices needs this type of cable.

Sweepstakes entry received for review.

Great product

I got this battery and indeed is fast to charge any USB product, it is compact and specially like the charging options. I have a Sony DAC and Walkman attached to them, I never run out of juice. The only problem is that is not easy to find, I am considering buying another one for my wife.

Sweepstakes entry received for review.
The item was exactly as pictured and described. It has worked flawlessly. I would recommend it to anyone looking for and additional power source.

Sweepstakes entry received for review.

Upgrade to G6

I got this phone as a replacement for the G3. It is faster and easier to use. Like the fingerprint system on the phone. It is quick and easy.

Sweepstakes entry received for review.

Very useful

Best idea to come to the market. I bought this and an extra battery and use it constantly. The only downside was that it did NOT come with a charger wire, and the item description did not specifically indicate that this was the case. There have been several occasions where I needed that wire so I could have charged both the battery and the phone simultaneously,.

Sweepstakes entry received for review.
Fantastic Design - Works Wonderfully

Pluses include amazing design and full keyboard functionality. Compact and light so easy to carry around. My TV (LG 55SJ800) remembers it every ntime I go to use it which is wonderful. The only Minus would only be the instruction on pairing which doesn't work. Hold Fn and S down to make the blue light flicker for 2 minutes - pair the TV or whatever device at that time.

Why are we not funding this?

Save me from buying a laptop. I can use my tablet for all my computer work.

This review was originally posted to ATT.com.

I really like it!

I purchased this mostly because it is often shown with the LG G Pad X and I liked the idea of having a dedicated keyboard that I could use when I need to do a lot of typing on the tablet. Rolly 2 is a unique and fun keyboard and it is extremely easy to store in a backpack. I like the feel of the keys and the fold out stand is easy to use and sturdy enough for most modern (thin) devices. The four star rating is because the keys are a bit smaller and closer together than they look in pictures. I

...

read more

don't have large hands for a man, but my fingers are longish, so it is difficult to keep my fingers properly positioned over the keys. Still I do still like they keyboard and use it very often.

This review was originally posted to ATT.com.
Great Price & Simple to Use!

Great charging station for my new LG smart watch (#W-100). Simple magnetic / positive latch system works really great. Basic cord. Excellent price and good quality from LG. Thank you ...

Handy to have an extra!

Although my G Watch always seems to last a full day or longer, I picked up one of these to keep in my car or laptop case, just in case I have to head out of town quickly. Price seemed very reasonable for an OEM device.

Great charger

I bought this as an extra so I could keep one in my messenger bag and the other at my desk. Works great and would recommend having a extra.

Sweepstakes entry received for review.
PERFORMANCE

I purchase two of these genuine LG batteries weeks ago. Fast shipping and performance has been excellent. Much better than any of the fakes and counterfeits from Ebay and Amazon. You should only purchase OEM Authentic LG batteries for your LG phones. Its worth paying a more. Performance and quality!

Sweepstakes entry received for review.

Needed a new battery for my LG G4

My phone is like new!!! The new battery keeps me on my phone longer

Sweepstakes entry received for review.

Just like when I got my G4 new

My original battery finally had an epic failure at 34 months old. (I used to use Samsung phones, and none of their batteries made it past 18 months for me.) After reading about the lousy quality on Amazon, I found the OEM battery here and ordered it. With my usage, I'm back to a day and a half to two days of use like when I got it new. My battery was dated January 2018. Being able to swap in a new battery without a sledgehammer and pry bars? Priceless.
LG Parts & Accessories Store
Didn't see what you were looking for?
Click below to shop for more genuine LG parts and accessories.
SHOP NOW
LG Product Service and Support
Get your questions answered about product setup, use and care, repair and maintenance issues. We can help.
Telephone
Call an LG Support Representative.
(800) 243-0000 Consumer (7am-midnight CST)
(888) 865-3026 Commercial (8am-6pm CST)