Thoughtful Intelligence, Inside and Out
Introducing the LG G7 ThinQ™: the phone that combines intuitive artificial intelligence with cutting-edge hardware.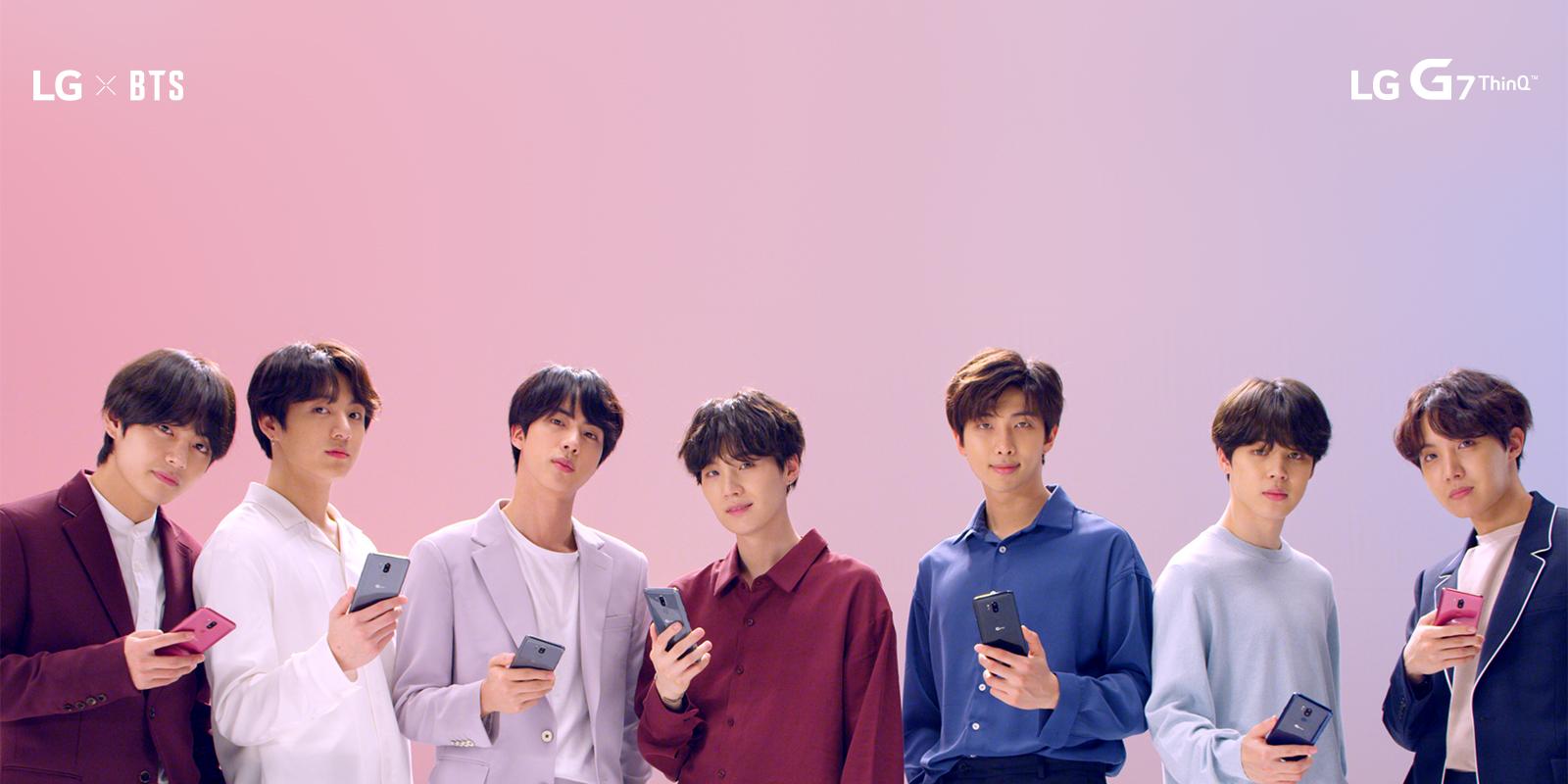 The Sound of Something New
See why supergroup BTS picks the LG G7 ThinQ™.
LG's Promise to You
Free Second Year Limited Warranty with Registration*
We're so confident in the quality of the LG G7 ThinQ™ that we
offer free second-year limited warranty coverage on top of the manufacturer's first-year limited warranty.
U.S. Cellular Phones
LG X venture™
No matter who you are or what you do, with the LG X venture,™ you'll be unstoppable.
Selecting a checkbox will update the products displayed on screen.
Refine Your Search
19
Total Results
US Cellular Phones
LG U.S. Cellular phones offer everything you need to stay connected anytime, anywhere. Now you have the features you need—coupled with the stylish and innovative design you want!
WHAT CUSTOMERS ARE SAYING
Average Rating for US Cellular Phones

The G5 After One Week With It....

So, after one week with the LG G5....I must say...as a big fan of LG phones who's living in Jamaica....I think the G5 is a wonderful device....I've had two of LG's Optimus G Pro and also the G2....Well, they all suffered screen damages....But I must say they were also good devices....I haven't exhausted the G5 has yet....There's room for improvement, I love the form factor, The camera is super cool, the display also....the battery could have been a bit better...Love the fast charging feature to

...

read more

it...the speaker on this thing is a beast, I'm totally loving it...Anyways, overall I think the LG G5 is a great device....and certainly I would recommend it.....

Sweepstakes entry received for review.

4 stars

at first i loved this phone, after using it for half a year i still think its a nice phone but it does have flaws. GPS stopped working, the wide angle mode camera works, the regular mode is blurry. The phone body developed some cracks. I am writing this review so LG knows the flaws and works on them. I just bought an LG G6, i hope it does not develop the same issues.

Sweepstakes entry received for review.

I LOVE THIS PHONE!

I bought this phone May of 2016 and it is the best phone I have had so far.I do not have a case on it because I like the color I have dropped it several times and it is still going as good as the day I bought it. My battery life is amazing. I can go all day on the same batter and sometimes a day and a half. I always used Samsung before this and my phone was always needing to be charged by 2 or 3 in the after noon. I will stick with LG as long as the quality of the phones are great. The sound is

...

read more

loud the display is beautiful. I love this phone!

Sweepstakes entry received for review.
Very NIce Phone

I have been using LG phones for a long time and this is the best one that I've had. The screen is a nice size, as was my previous one and it has a very nice touch to it. I use it as a remote for my TV, because using the regular remote for the TV I'm always pressing the volume and mute buttons on the side of the remote and that doesn't happen when using my phone with the remote app. I, also, read a lot of books and this LG is very well adapted for you to do that. All features of the phone are

...

read more

easy to use without having to consult the owners manual all the time. And of course making and receiving calls works very well too. You can easily hear the party you're talking too with out increasing the volume.

Sweepstakes entry received for review.

LG'd up from the feet up! Just now made that up

Happy to come back to LG's V series phone. Loved my V10 & 20, after recently losing my LG g6 I was quite upset to have to pay for another phone on the hefty deductible charges that all cell phones anymore have, with a private insurance group. On a lighter note, I have been a very loyal LG customer for years now, even have LG's 60' HD smart TV that's compatibility with phones I've had a big bonus. LG just earned some more points in my loyalty as a customer with the additional yr warranty

...

read more

extension I just received confirmation of after registering my new LG V30. Thanks guy's!.. One more favor... Locate my recently lost LG G6 DEVICE. :-)

Sweepstakes entry received for review.

Overall a great phone!

I've always loved LG phones and this one doesn't disappoint! Love the camera options, 64GB of space with SD expansion, and the ability to customize exactly how I like everything! And now with the 2nd year promise extended warranty you can't go wrong. Just be sure to register your phone to get this warranty extension. :)
Water resistant, Dolby HD Display, lightning fast.

I am a very big fan of LG. I had 4 phones from LG, the LG optimus, LG G2 mini, LG G4 and the LG G6 i am using now. I am so amazed by how LG creates a phone thtlat has so much good features that I cant name em all. And the quality is also a major factor. Feom the build, to aesthetics, the design, the User interface, everything is just awesome. I am so so wanting to have an LG g7 and i would be the luckiest man if I can get one, unfortunately, i am going through a financial crisis. But

...

read more

best wishes to you LG. I am a true believer of your products. Even with my appliances its all LG. Sorry if I couldnt write a full review in detail because i have never done a review like the pros do. But im telling you, this by far is the best brand of phones that i had. Never will switch.

Sweepstakes entry received for review.

Great phone

I really enjoy the phone even though the camera doesn't come close to my Lumia 950; but then I have yet to see a phone that takes pictures as good as the Lumia; but it's a windows phone which is pretty much dead. The other thing to note that the unlocked phone may not have features that say the same model from AT&T or other carriers. Phone states it has wifi calling but It's not enabled on the phone. I have a call in with AT&T. This is the only reason I gave the phone a 4 over a 5 star. Over all phone rocks!

Sweepstakes entry received for review.

Great phone!

I have this phone almost a year now and I do love it! The screen quality is amazing, as well as the sound. The features on it suit my needs and I love how slim it is and how I can use it easily with one hand! However, the battery life kind of sucks. I do have to charge it mid day because the battery life is already at 50% or less. Also, the emojis are terrible!!! They are so boring and there are roughly 6 that I use regularly. I don't have the face palm emoji as well as the middle finger and

...

read more

the censored smiley. There are so many other emojis that other Android users have that I don't. Android emojis should all be the same across the board! Come on LG!!!
So glad to finally get a great refrigerator

We bought a another brand of refrigerator about 4 years ago. After 2 ice makers, 1 ice maker solenoid, 3rd ice maker poured water into the ice reservoir. Interior lights either didn't work or strobed!!! I gave up and bought this refrigerator. Lowes had an excellent price on it. The ice maker is in the refrigerator door and takes up very little room. The bottom freezer drawer actually has another drawer in the top of it. Everything is well lit. Tons of room for frozen food. The

...

read more

refrigerated portion is well thought out and also well lit. We have an additional drawer above the freezer that is for cooling party trays, or foods to be consumed soon.

Sweepstakes entry received for review.

I love my phone.

I started with the LGG4. It was on lease from sprint. When It failed Sprint replaced it with an upgrade to the LGG5. Great phone. The only thing I don't like is that it has an issue with the battery shutting the phone down right after it gets to about 15%. I tried resetting the phone but the issue remains. Other than that, It's definitely the best phone I have ever owned. I liked it enough to buy it and keep it when my lease expired.

Sweepstakes entry received for review.

Great features and very convenient design. I bought this product because so many people told me how much they like their LG appliances that they have purchased.

Sweepstakes entry received for review.
A great phone

This is a great phone. I wanted a good quality flip phone and this caught my eye. LG has really improved a lot.

Great flip phone

I bought the UN170 over a year ago and it has served me very well.
Made the switch from my S7 edge.

After breaking my S7 edge and not complaining, it held up for a long time. A 10ft drop on asphalt would own most phones. I had some annoyances with the edge, so I was looking to try something out and something similar and same generation so I could truly compare since it would only be my second android. It's been 3 weeks and I can't say I have been anything, but happy with it in every aspect. Truly feel like I made a significant upgrade, largely due to the camera and the audio is so much better.

Sweepstakes entry received for review.

Amazing phone with even better camera

I got this phone thinking it would just be an upgrade from my last phone., But I've been blown away with it. My expectations have been pushed so far forward it's hard to think what my next phone would even be. Only thing a little bothersome about it is software update schedule. I know LG is doing all it can and then it has to go through my carrier, but still a little disappointing. But that doesn't what I think of the product

Sweepstakes entry received for review.

Very fast and smooth to operate.

I moved up from a LG 5 and enjoy the V20 for the enhanced features. The only reason I cannot give V20 a five rating is because I haven't owned it for a reasonable amount of time. If you are looking for a small phone the V20 is not for you.

Sweepstakes entry received for review.
Fast, small, and very fast!

I have had this phone for awhile and its been great! The only thing is that its alittle hard to type without messing up a word. Me typing this was a little hard but overall it'd a great phone!

Sweepstakes entry received for review.

A decent phone

Even though it doesn't have the most storage and doesn't have the highest quality of camera (basically like a nintendo ds) it is still a pretty decent phone.

Sweepstakes entry received for review.

Goof phone

Been good great call dtrength and product very durable amd easy to use like very wrll and the back button makes it different

Sweepstakes entry received for review.
LG Product Service and Support
Get your questions answered about product setup, use and care, repair and maintenance issues. We can help.
Telephone
Call an LG Support Representative.
(800) 243-0000 Consumer (7am-midnight CST)
(888) 865-3026 Commercial (8am-6pm CST)