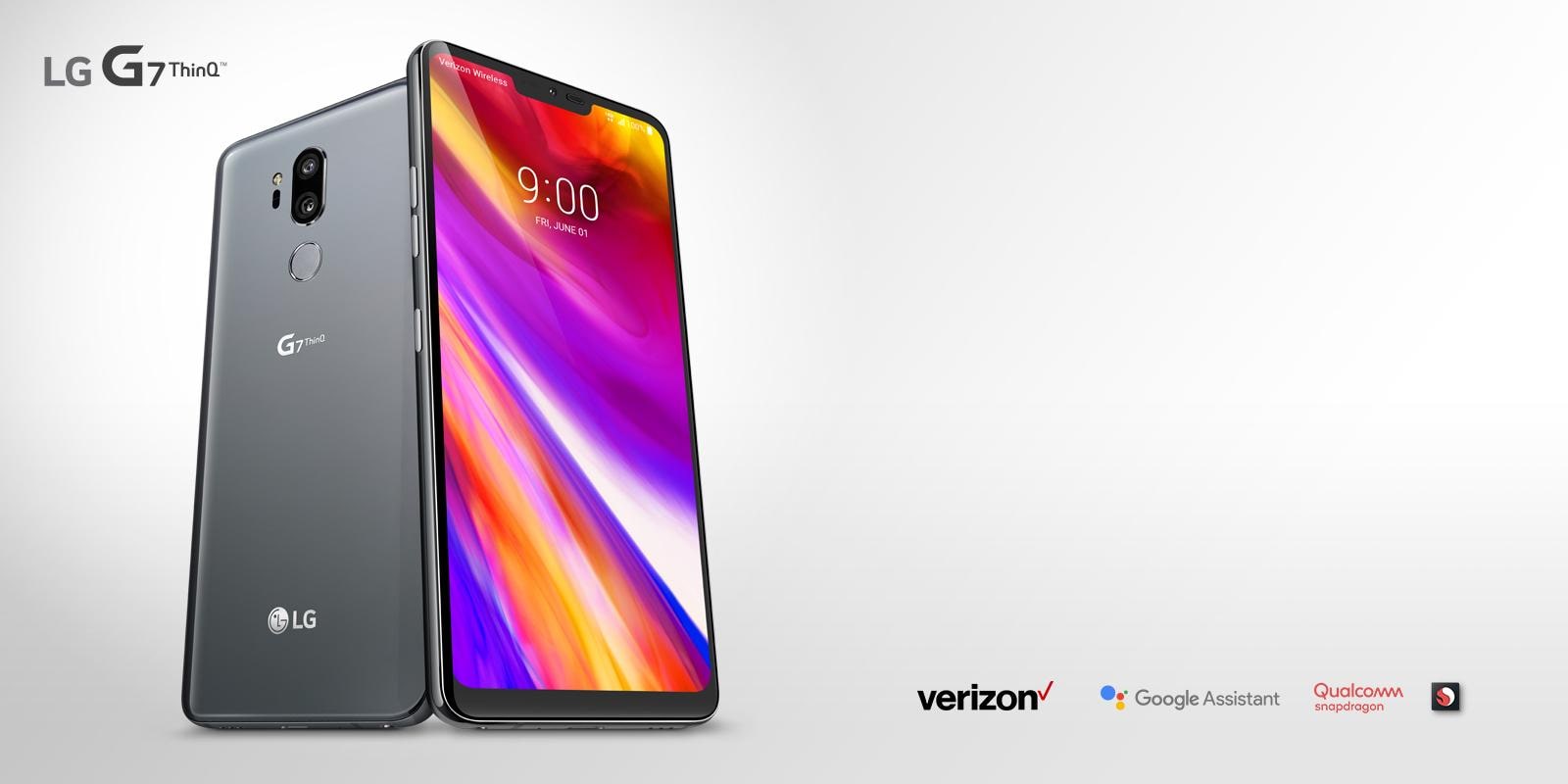 Thoughtful Intelligence, Inside and Out
Introducing the LG G7 ThinQ™: the phone that combines intuitive artificial intelligence with cutting-edge hardware.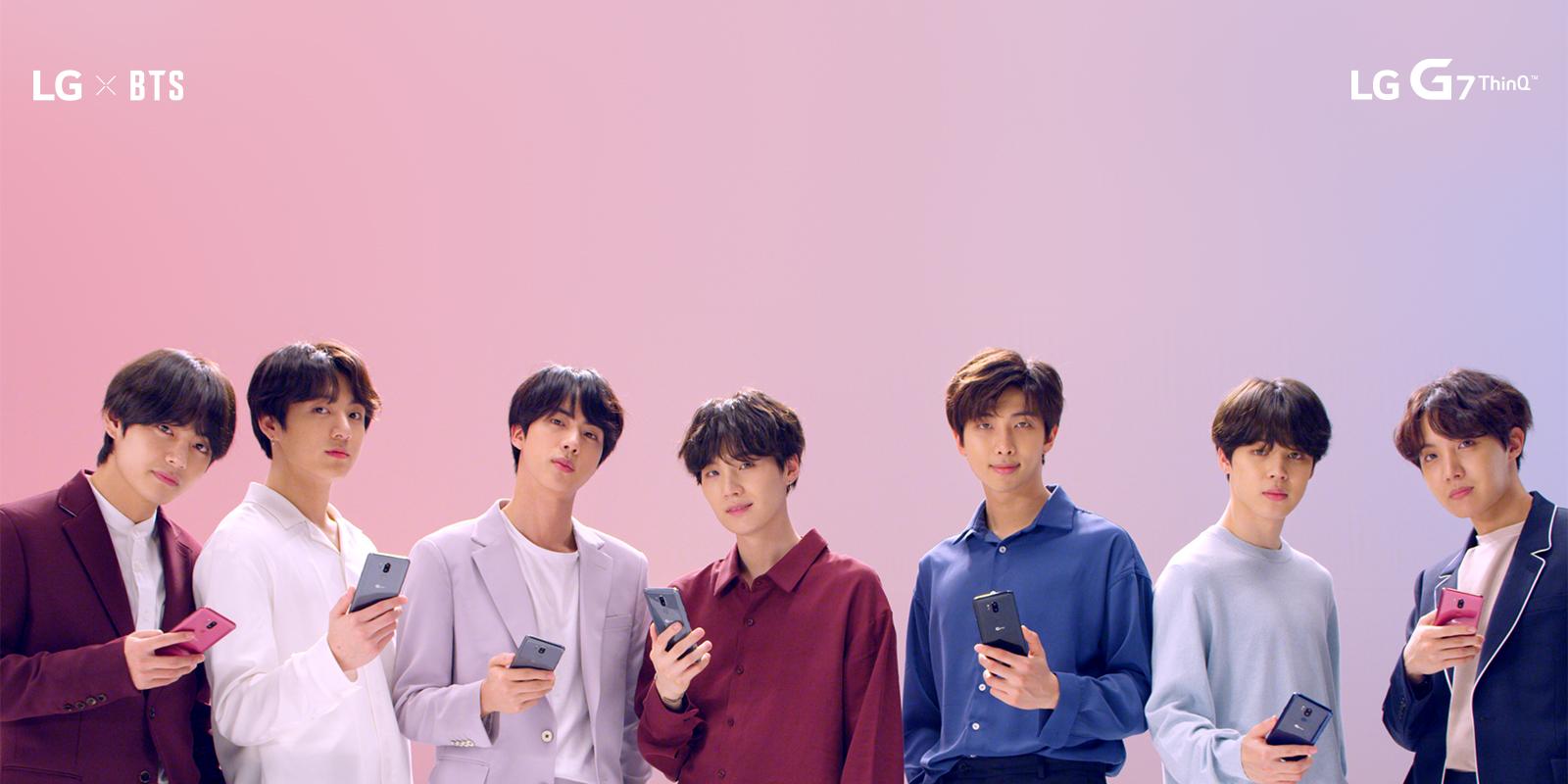 The Sound of Something New
See why supergroup BTS picks the LG G7 ThinQ™.
LG's Promise to You
Free Second Year Limited Warranty with Registration*
We're so confident in the quality of the LG G7 ThinQ™ that we
offer free second-year limited warranty coverage on top of the manufacturer's first-year limited warranty.
Verizon phones by category
Selecting a checkbox will update the products displayed on screen.
Refine Your Search
17
Total Results
Verizon Phones
You want it all—a great camera, sleek design, not to mention all the features that make for seamless connectivity anytime, anywhere. You'll find it with our collection of Verizon LG phones.
WHAT CUSTOMERS ARE SAYING
Average Rating for Verizon Phones

Phenomenal Phone!

I had the G3 and just upgraded from the G4 to this phone LG G6. I am very satisfied with this phone and its features. I can definitely tell LG listened to feedback and tried to make this phone better than the ones before it. The operating system on this phone is very fast and clean. I don't experience any lags when I am using apps. There are new features on this G6 than on their previous devices like Fingerprint sensor, Always-on-Display but I wish this phone had LED notification like its

...

read more

previous devices. The battery life is pretty good and the camera is really great and captures crisp pictures. Overall the LG G6 is a very good phone and I highly recommend the phone to others.

Sweepstakes entry received for review.

Good quality and affordable phone

I will have to say that this phone is just perfect, it has all of the features of an expensive phone, but the price won't break your budget, it comes with a fingerprint scanner so you don't have to input your pin every time, the quality of the camera is very good, the response of the phone, like say, for example, video games, is ok, not like very good, but acceptable, the phone itself looks very nice. Almost forgot to say, the battery lasts very long and it has the wireless feature too.

Sweepstakes entry received for review.

Water resistant, Dolby HD Display, lightning fast.

I am a very big fan of LG. I had 4 phones from LG, the LG optimus, LG G2 mini, LG G4 and the LG G6 i am using now. I am so amazed by how LG creates a phone thtlat has so much good features that I cant name em all. And the quality is also a major factor. Feom the build, to aesthetics, the design, the User interface, everything is just awesome. I am so so wanting to have an LG g7 and i would be the luckiest man if I can get one, unfortunately, i am going through a financial crisis. But

...

read more

best wishes to you LG. I am a true believer of your products. Even with my appliances its all LG. Sorry if I couldnt write a full review in detail because i have never done a review like the pros do. But im telling you, this by far is the best brand of phones that i had. Never will switch.

Sweepstakes entry received for review.
Perfect phone perfect

I have always been a great fan of LG phones. I sincerely feel LG is the only company which isn't afraid of innovation.I always like LG phones for how optimized their skin is. I have had used samsung phones (S7,S5 etc) but I think LG phones are snappier, and have much better battery life.This phone checks all the required featues of a flagship in 2017 and hifi dac is like icing on the cake. Come on people give LG its due credit. Thanks LG for always trying out and creating some best android phones

Sweepstakes entry received for review.

Awesome Phone

I recieved this phone from Asurion as a replacement for my old V10 that I was having issues with. This phone is incredible. Very easy to set up and us, and was is amazing is how fast the battery charges. There are a lot of nice features on this phone, and what I most like us it is not filled with boatware, and apps that are not used or unnecessary. I would highly recommend this phone to anyone that wants a phone that can do everything, and yet be personalized to your liking. Thanks LG for making

...

read more

a great product.

Sweepstakes entry received for review.

Replaceable Battery!

So Iv'e had this phone fr over a year now and thus far it has been running without any problems whatsoever. It is pretty fast on startup and shut down, It takes great photos and videos. And as the title says its has a replaceable battery if needed. I actually can make from 8am til about 7pm on heavy usage. I can honestly say that so far this has been the best smartphone I have owned.

Sweepstakes entry received for review.
Better than Samsung, but G7 is better for me

I purchased this phone as an upgrade from an LG G6 - also an excellent phone. The screen is excellent. Colors are vivid. The camera takes great pics and video. The build quality is as good as any other phone available. I also prefer the skin LG puts on their phones as apposed to other manufacturers. Other competitors are opting for a curved screen. While there is a curve on the edge of the screen, it is not as pronounced as flagship phones from other manufacturers. I honestly wish they

...

read more

would stick with a flat screen with thin bezels. This was the best phone I have owned until my recent upgrade to the newer LG G7 ThinQ. For me it's a better fit. I won't go into details as I was asked to focus on the V30, but you can't go wrong with either of these LG phones.

Sweepstakes entry received for review.

Good phone.... But want buttons on back.

Good phone. BUT I WANT MY BUTTONS ON THE BACK. came from an V 10.. I WANT MY BUTTONS ON THE BACK! that was LG signature. I miss them very much... And may purchase another V10 cause of it. They are cheap now.... Overall, V30 is a good phone. Actually liking the OLED and very pleased with performance. Wish it was bigger than my V10, but overall, sharp phone.. Just want my buttons on the back. I am also very happy with the battery life. Much better than my old phone; Also wish it was removable.

...

read more

Dont care for the water resistance much.

Sweepstakes entry received for review.

LG'd up from the feet up! Just now made that up

Happy to come back to LG's V series phone. Loved my V10 & 20, after recently losing my LG g6 I was quite upset to have to pay for another phone on the hefty deductible charges that all cell phones anymore have, with a private insurance group. On a lighter note, I have been a very loyal LG customer for years now, even have LG's 60' HD smart TV that's compatibility with phones I've had a big bonus. LG just earned some more points in my loyalty as a customer with the additional yr warranty

...

read more

extension I just received confirmation of after registering my new LG V30. Thanks guy's!.. One more favor... Locate my recently lost LG G6 DEVICE. :-)

Sweepstakes entry received for review.
Great all over!!!

i love everything about this phone and teamed with Verizon Wireless its a winner

Sweepstakes entry received for review.

Possibly the best of the LG Optimus Zone Line

After having and using both LG Optimus Zone 1 and 2 Smartphones and time for my next Smartphone upgrade, and after doing a lot of research between the LG K20, Optimus Zone 3 and Zone 4. I chose the LG Zone 4, with the dual camera capability, larger internal APP download storage and the higher capacity Micro SD Card for external storage, for Documents, Music, Photos and Videos where you can go from 32gb, 64gb all the way up to a 2tb capacity Micro SD Card to which just a 500gb capacity Micro SD

...

read more

Card would be more than enough for external storage. I went to both Verizon Wireless and Walmart's web sites to have a better look at each of the Smartphones that I was considering and in the conclusion of my research chose the LG Zone 4. At first I thought that I would have to goto Walmart to have them set up the Zone 4 and get just my phone apps and contacts transferred over, everything else I had stored on a Micro SD Card. Instead I got on line with the LG Optimus Zone 2 Smartphone and went into My Verizon account and was able to get the Zone 4 activated and the apps and contacts transferred over from the Optimus Zone 2 way quicker than what I figured time wise that it would take utilizing both Mobile Data for the internet web connection and Bluetooth for the Data transfer. So as of right now I absolutely have no complaints about the LG Zone 4, what I also can say positive about the Photos taken with the camera when properly set to the 16:9 (6.0MP) 3264x1836 photo image size setting to which you'll have to download the photos to your PC or Laptop and resize the photos to half as large or a little bit smaller to be able to see the actual photo more clearly. The default photo size settings that the smartphone camera manufacturers have set up in their software program is just way to huge and large for these photos and the recorded videos also to be viewed normally on Laptop and especially wide screen tvs. You have to manually set the photo and video size properly most especially with digital cameras otherwise you and others will most likely look a lot bigger and larger than what you and they actually are, trust me, I know from a couple of experiences from some very good friends after they came back from a couple of vacations. With the photos I was able to get resized and adjusted to get both looking closer to their actual sizes, so I grabbed the digital camera and reset both the photo and video size to a more proper actual viewable image size.

Awesome phone guy's.

I bought this phone a few months ago and honestly it's the best phone I ever had thanks.

Sweepstakes entry received for review.
Nice sharp imagines

This is my very first smartphone so I have nothing to compare it to. I have it just a little over 2 weeks and am still getting use to it. I buy nothing but LG phones like my fliptops before this the voice is loud and clear. I am hearing impaired and having no trouble hearing on this phone. Plenty of volume, the ring tones are good as well. The picture quality is excellent as is the size of the picture. I purchased this particular phone for it was a good price and got very good reviews. I am

...

read more

quite happy I did.

Best phone for under $200

This phone is by far my favorite lg phone hands down!!

Sweepstakes entry received for review.

Great Phone

I got the phone about 2 months aqo when I signed up with a new service provider because I was using just a standard cell phone and wanted a smart phone as most the communications I do are via email. After I went through reviewing all sorts of reviews of the features of various makes and models I selected the LG K20. After I started using it I found it exceeded my expectations. I found it to be quite user friendly. and a very smart choice for my first smart phone.

Sweepstakes entry received for review.
Superb in nearly everything

I have had this phone for over a year and so far its been great. * Fast, great performance that feels similar to latest phones in all the things I do. * Good battery life; nearly always makes it through the day. If needed,carry a spare battery (inexpensive on eBay); you can swap one in seconds. It also has Quick Charge 3.0 so recharging is very fast. * Has the desired features - beautiful high resolution screen, very fast fingerprint sensor, NFC (enables you to tap & pay) IR Blaster

...

read more

(control TV and other devices) micro-SD card expansion and USB C connector. * Excellent cameras; the wide angle is something I don't think I could do without now. * A 'Just Right' size. Very strong metal case. * Very easy to repair! My GPS stopped working and needed a repair. Amazingly, this phone is simple to open and fix with just normal tools and little skill. Everything is modular, parts are inexpensive with lots of YouTube videos to guide you. About all that is missing is wireless charging and waterproofing, but none of the phones with those have the IR blaster or removable battery. Current prices, especially for used ones, make this probably the best value of any phone.

Sweepstakes entry received for review.

Great value

Great phone. It works just as good as my former Samsung Note 4 for half the cost. I have been using the phone for 2 years now. I would buy another LG phone. Everything works well..fingerprint reader, camera, local LG apps etc. The only thing that doesn't work is google pay. Google pay will not run on my version. The error is the phone is rooted or altered. I'm using the phone right out of the box brand new from Amazon. No rooting or altering of the stock operating system has taken place. There

...

read more

is also no way to open a problem log with LG about this issue or searching their community forum about this also does not return and help. If you plan on purchasing an LG phone I would highly recommend verifying their phones will run Google Pay or any of the Pay services.

Sweepstakes entry received for review.

The G5 After One Week With It....

So, after one week with the LG G5....I must say...as a big fan of LG phones who's living in Jamaica....I think the G5 is a wonderful device....I've had two of LG's Optimus G Pro and also the G2....Well, they all suffered screen damages....But I must say they were also good devices....I haven't exhausted the G5 has yet....There's room for improvement, I love the form factor, The camera is super cool, the display also....the battery could have been a bit better...Love the fast charging feature to

...

read more

it...the speaker on this thing is a beast, I'm totally loving it...Anyways, overall I think the LG G5 is a great device....and certainly I would recommend it.....

Sweepstakes entry received for review.
Best SmartPhone I have owned

This phone has so much more to offer. If you like to explore, learn and experiment this phone is for you. The camera is outstanding. I love that I can customize down to my icons. I love having a 200 gig sd card. I haven't had to delete any of my HD video and pics. LGV10 BestPhoneEver

Sweepstakes entry received for review.

Great features

I had a phone like this and dropped it in water. Loved it so much I wanted another. Actually found on exactly like it. I love the notification window at the top. So handy to know what is going on. Has lots of good features. Camera is great. Had no trouble getting my account and phone book, everything loaded from google so I didn't loose anything. Photos and all if they were backed up. No complaints.

Sweepstakes entry received for review.

Incredible Phone!

I purchased my LG V10 from Verizon. This is the 4th LG phone I've had since becoming a Verizon Wireless Customer. The primary reason is because I've found the LG phones to be more durable than others. My experience with the V10 has been incredible. I absolutely love the manual camera controls and the steady lens controls for shooting video. The battery life is better than the LG G2 and G3 (both of which I have previously owned) which shows that LG is making improvements to battery performance.

...

read more

The fast charging is awesome too! I love the large screen as it is very bright and super sharp. I wasn't sure what to make of the second screen but I have found it to be a great utility for accessing the latest apps you have used and other quick menu tools. Also you can answer and end calls using the second screen. I have not been disappointed by this phone.

Sweepstakes entry received for review.
Great phone!

I bought my phone in Feb of 2017 loved it. Everything was grest about the phone, but unfortunately the screen shattered and I lost all data!

Sweepstakes entry received for review.

I've had the phone for 5 months, and it's been great to me. I have dropped it a few time and it hasn't broke. The only major down fall it has is the camera, I love to take pictures and the camera makes them grainy and dark. Another problem is my battery, it drains really fast. Other than that it's a great phone

Sweepstakes entry received for review.

It's beauty!

I am from an era where cell phones did not exist. Telephone booths on street corners were the cell phones of yesteryear. Recently, though, my husband forced me into the 21st century by giving me the LG K8V phone for our anniversary. It is truly beautiful, sleek and mysterious. I think I'm going to love it, once I learn it. Wonderful product! .........Linda

Sweepstakes entry received for review.
LG Product Service and Support
Get your questions answered about product setup, use and care, repair and maintenance issues. We can help.
Telephone
Call an LG Support Representative.
(800) 243-0000 Consumer (7am-midnight CST)
(888) 865-3026 Commercial (8am-6pm CST)