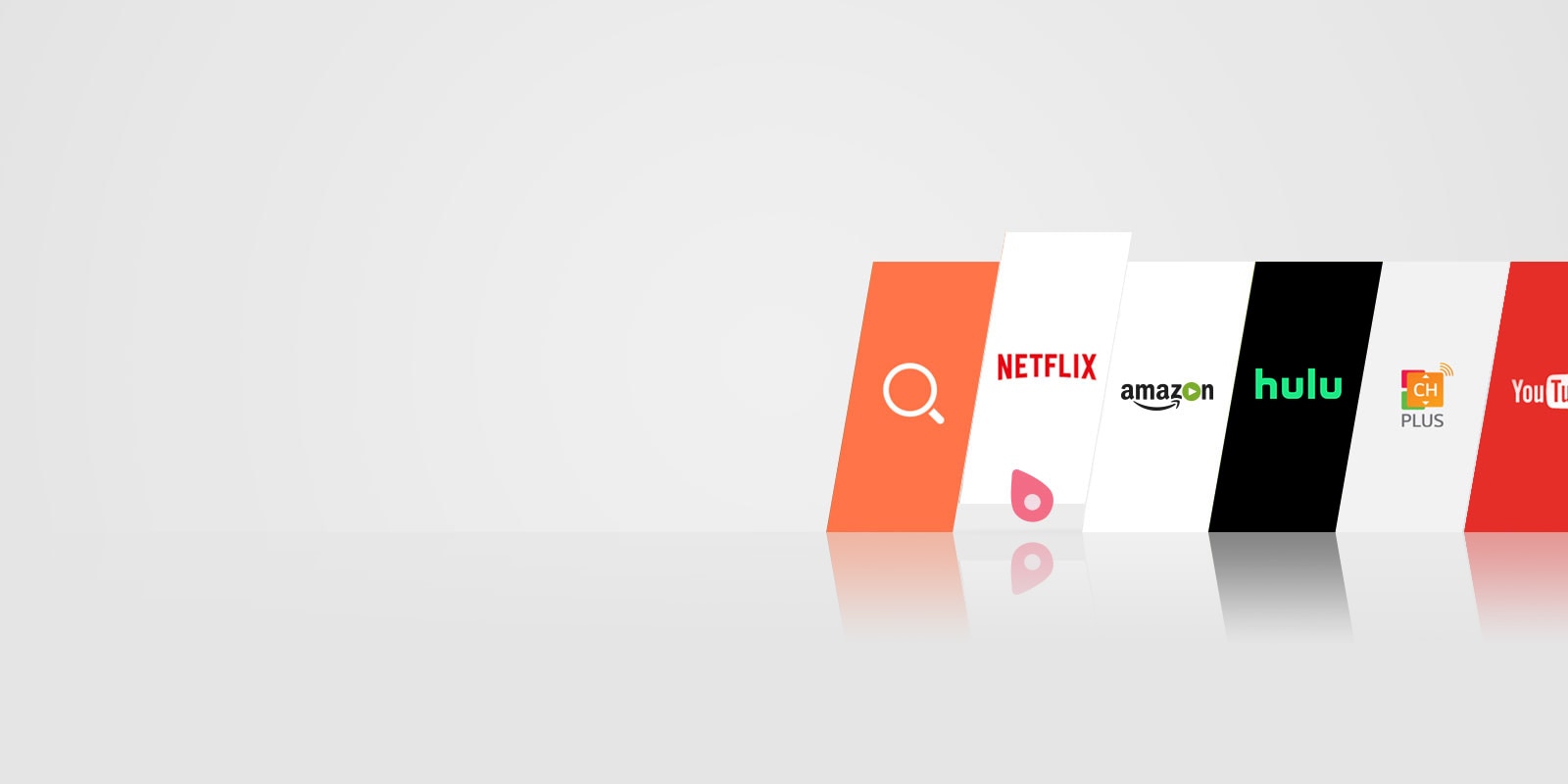 LG Smart TV Apps
Access a whole new world of entertainment with LG Smart TV webOS apps. Content from Netflix, Amazon Video, Hulu, YouTube & much more.
Now, outstanding content from Netflix, Amazon Video, Hulu, VUDU, Google Play movies & TV and Channel Plus is right at your fingertips.

Netflix. Kick back with the latest Hollywood hits, family-friendly flicks, independent films, top-rated TV shows, incredible Netflix Original series, and 4K1 and HDR content2.
Hulu. Enjoy current hit shows, classic series, and movies. Watch your favorite episodes of top shows or explore hundreds of critically acclaimed movies.
YouTube. With YouTube on your LG Smart TV, you can watch millions of videos on the biggest screen in your house, from comedy to gaming tips to today's viral trends. Search for any specific video or explore a category to find something new. Favorites, subscriptions, and playlists in your YouTube account are available right on your LG Smart TV.
Amazon Video. Get the newest movie releases, must-watch TV shows, and classic favorites, including 4K1 and exclusive content. Plus, you can subscribe to current TV seasons, with new episodes available the day after they air right on your new LG Smart TV.
HDR Content. LG Super UHD and OLED TVs support both HDR10 and Dolby Vision™, which means you see movies exactly the way filmmakers intended, while getting the playability of current and upcoming HDR streaming content2. Now you can experience HDR for yourself, while making the most of your smart life when you browse the LG SmartStore™.
Get all your favorite apps via your LG Smart TV with webOS and enjoy instant access to premium entertainment, sports and lifestyle programming right now.