Finest Technologies, Premium Materials and an Emphasis
on Craftmanship Make LG SIGNATURE OLED 8K a Cut
Above the Rest
The World's First

OLED 8K
World's first OLED 8K

LG SIGNATURE OLED 8K,

arguably the most advanced television thanks to LG's technological leadership, has come to life to provide consumers with eye-watering resolution and immersive viewing experiences.
Boasting a gigantic

88-inch screen composed of 33 million self-emitting pixels,

the groundbreaking LG SIGNATURE OLED 8K's massive yet surprisingly thin panel sets it apart from the rest.
Product development
LG is redefining the TV category with its revolutionary products.

G series

: Slim tempered-glass panels that appear to be floating on air.

Wallpaper TV

: 3.85mm razor-thin wallpaper design.

8K OLED TV

: The world's first 88-inch 8K OLED TV.

Rollable TV

: The world's first rollable TV.
Perfection through
precise craftsmanship
1

Skilled engineers

manually assemble

every component of LG SIGNATURE OLED TVs.

2

After assembly, every TV is subject to an

aging test

for 168 hours to ensure perfect performance under harsh conditions.
3

The

durability test

places the OLED TV in a room above 40°C for 48 hours.

4

Final products are subjected to many simulated viewing scenarios as an

additional quality test.
Premium materials
Top-of-the-range aluminum

Top-of-the-range aluminum is applied throughout,

enhancing rigidity and bringing even more beauty to the design.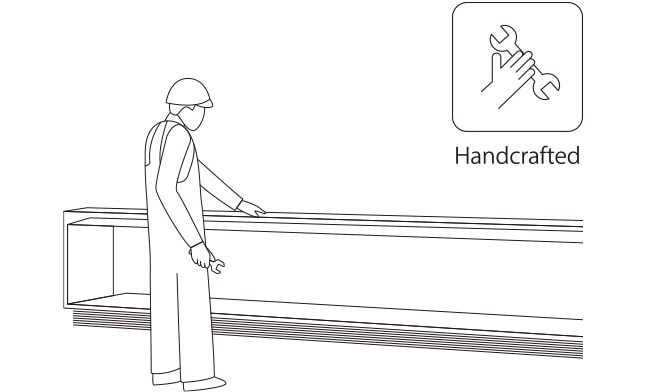 An exclusive aluminum stand carefully crafted by hand

With every single stand built by hand, only a small number of units are produced per day to guarantee superior quality and exclusivity.