LG ANDROID PHONE ACCESSIBILITY FEATURES

At LG, we're committed to providing accessible products for our customers. See below for a list of features to help users who have impaired vision, hearing, or reduced dexterity.


HEARING FEATURES
Audio Type / Sound Balance
Audio Type allows the user to choose the audio type, from Mono to Stereo. Sound Balance routes the sound through both the right and left channel when a headset is connected. To manually set the audio route, move the slider on the sound balance slide bar to set it.
Captions Basic Features
Learn how to enable and disable captions. Customize video caption settings. Choose from 75 different languages, font size, color, caption style and background.
Captions Customization Options
In addition to changing the font and color, learn how to adjust opacity levels. Change the text edge type and choose from 64 different edge color options. Adjust the background color and opacity levels or add an additional caption background window.
Notification LED
Turn on LED light for incoming calls and notifications. Learn how to customize your notifications. Choose from Incoming calls, Missed calls and messages, Missed voicemails, Battery charging or to use LED with downloaded apps.
MOTOR & COGNITION FEATURES
Changing Your Google Assistant Account
Google Assistant is able to pull details from Gmail, Google Photos, and other Google services, so you'll want to make sure you're using your primary account.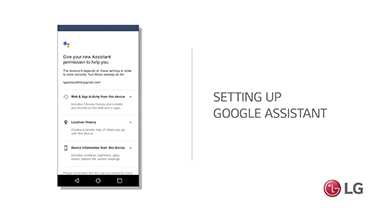 Setting Up Google Assistant
Meet your Google Assistant. Ask it questions. Tell it to do things. It's your own personal Google, always ready to help. To get help from your Assistant say "OK Google" or touch and hold the Home button.
Loop Home Screen
As you add applications to your device, they will appear on your Home screens. Create a continuous circle of Home screen swiping instead of having your Home screens set up as a line of static panels.
One Handed Operation
LG has included useful features to aid in one-handed operation of your device like optimizing your keyboard for one-handed use and making your notifications drawer more accessible.
Quick Capture
LG's Quick Capture takes a screenshot and immediately loads editing tools. Your Quick Capture will be saved to your Quickmemo+ folder.
Split Keyboard
Splitting the keyboard may increase usability and efficiency in typing for some users. Hold your device in landscape mode and pinch outward with 2 fingers. This will place half the keys on the left side of the screen and the other half on the right.
Shortcut Key
Shortcut keys allow you to quickly access LG's Camera and Capture plus applications by using the volume keys when the screen is locked or off.
Screen Pin
Screen pin will let you lock your LG device to one particular app, so whoever you're loaning your device to can't exit the application and access your other device applications.
Touch Feedback Time (Touch & Hold Delay)
This feature sets the touch feedback time. Users can choose between Short, Medium and Long.
Touch Assistant
This feature is a small floating menu that gives you access to common features of your phone from the comfort of your screen. Enable this feature in the "Motor & Cognition" section of the Accessibility menu.
Screen Timeout
This setting allows you to change the length of time your phone will wait until the screen times out. Users can choose from 15 seconds, 30 seconds, 1 minute, 2 minutes, 5 minutes, 10 minutes, 15 minutes 30 minutes and "Keep Screen Turned On."
Touch Control Areas
The Touch Control Areas feature lets users select an area of the screen to limit touch control. Turn on Touch Control Areas then press the Volume Down Key and Home Key at the same time to activate and deactivate this feature.
EasyHome Screen
EasyHome provides an easier interface for beginners with a simpler layout and larger font size.
LG Product Service and Support
Get your questions answered about product setup, use and care,
repair and maintenance issues. We can help.
Telephone
Call an LG Support Representative.
(800) 243-0000 Consumer (7am-midnight CST)
(888) 865-3026 Commercial (8am-6pm CST)
LG strives to make all files in our website accessible, if you need a file that currently is not,
please contact our customer service department through Live Chat / Telephone / Email to request it.