People often ask whether "going solar" in snowy locations makes sense. While the individual decision to invest in solar is highly variable based on project specifics, you shouldn't dismiss the idea because you live in a location that experiences snow.
For a long time, Germany installed more solar capacity than the U.S., despite being a geographically smaller country that sees sunlight levels similar to Alaska. Going solar works in Germany for the same reason it works in states such as Massachusetts, New Jersey, New York and Connecticut, which often rank near the top of the list of U.S. states adding solar power : economics.
When solar advisors assess your home, in addition to determining how much it will cost to install a solar array, they will provide you with power production estimates. They do this by calculating historical weather data and site-specific information, such as azimuth (the direction the array will face), tilt angle of the panels, and the soiling rate. Soiling can include everything from debris from an adjacent industrial site to, more commonly, snow.
This kilowatt hour/kilowatt peak (or "kWh/kWp"), more commonly referred to as "Specific Yield", conversion provides a mathematical formula to multiply the size of the array by the estimated production that handicaps the performance for things like snow. When an accumulating snowfall occurs on an array, the system's production will usually decrease significantly, or may even stop entirely (depending on the depth of the snow and how wet it is).
However, don't despair. Once the snow stops and the sun comes out, the solar panels will experience two effects:
1. Solar panels, when active, give off heat. This helps melt the snow from the bottom up.
2. Because most solar panels are installed at an angle, when the bottom layer of snow melts, the panels get slippery and the snow slides or "sluffs" off.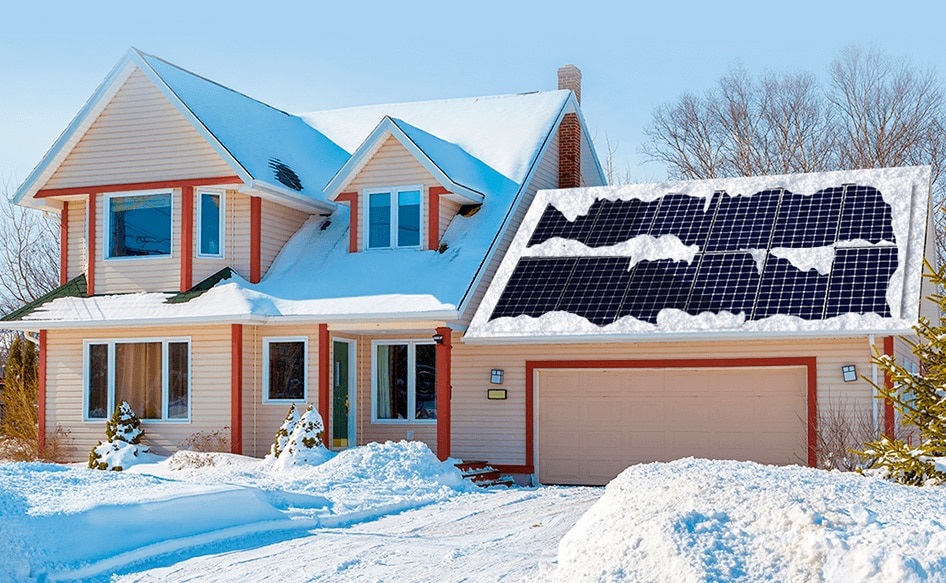 A good solar consultant should advise you on the details of your array location and work to avoid any danger of falling snow for people entering or leaving the structure. You may want to consider a snow guard or gutter system to minimize this risk, although you should then consider the impact this will have on not letting the snow slide off the modules.
It has been anecdotally observed that even on a day when the ambient temperature never gets above freezing, solar panels can be clear of several inches of snow within a matter of hours.
Remember, too, that although the days are shorter, solar modules naturally work more efficiently in cooler temperatures.
So, don't let snow stop you from going solar!
When you go solar, ask for the brand you can trust: LG